Serial 5Q:
Meglos
The Doctor is summoned back to the planet Tigella, where the population is divided along religious and scientific lines. Something is going terribly wrong with Tigella's main power source, the Dodecahedron, but the Savants are prevented from investigating by the zealous Deons. To make matters worse, before the Doctor can solve the problem with the Dodecahedron, he is accused of its theft. The true culprit is Meglos, a shapeshifting Zolfa-Thuran, who intends to unleash the full might of the Dodecahedron upon the universe.
When Christopher H Bidmead became Doctor Who's script editor at the end of 1979, he found himself scrambling to develop stories for the programme's upcoming eighteenth season. Both he and producer John Nathan-Turner were eager to bring new talent onto the show, and so one of the first people Bidmead contacted was an actor he knew named Andrew McCulloch. McCulloch, who had once starred in the police drama Parkin's Patch, had formed a writing partnership with an actor and journalist named John Flanagan, whose television appearances had included The Sweeney. Together, Flanagan and McCulloch had written a stage play and an unsuccessful television pilot called Bricks Without Straw.
On February 25th, 1980, Flanagan and McCulloch were commissioned to write a scene breakdown for an idea they had suggested called Meglos. Nathan-Turner was unimpressed with an adventure that he saw as just standard Doctor Who fare, but with time pressing, Flanagan and McCulloch were contracted to provide full scripts on March 10th. Since the pair wrote quickly, it was decided that "The Golden Star" -- as the adventure had now been renamed -- would be the third story into production, coming after The Leisure Hive and State Of Decay. Unlike the latter, "The Golden Star" would not feature new companion Adric, and so it was slotted as the second broadcast adventure of Season Eighteen.
The name Brotadac was jokingly devised as an anagram of "bad actor"
Serial 5Q went through a number of working titles, apparently including "The Golden Pentangle", "The Golden Pentagram" and "The Last Sol-Fataran" before becoming "The Last Zolfa-Thuran" by the end of April. Several of these names reflected the evolving shape of the Dodecahedron, which was originally a five-sided object (influencing the number of screens found on Zolfa-Thura) rather than a twenty-sided object made up of pentagons. Keen to inject more science into Flanagan and McCulloch's scripts, Bidmead suggested the chronic hysteresis element, the terminology derived from a loop-like phenomenon which arises in fields such as electromagnetism. Meanwhile, Flanagan and McCulloch jokingly devised the name Brotadac as an anagram of "bad actor"!
As with Peter Moffatt, who had directed State Of Decay, Nathan-Turner chose a former colleague on All Creatures Great And Small to direct Serial 5Q. This was Terence Dudley, whose other credits included Doomwatch and Survivors (both of which he also produced), Softly Softly and Secret Army. Dudley was also a writer, and had been invited to contribute to Doctor Who during its first season, although nothing had come of this.
One of Dudley's friends was director Alvin Rakoff, whose wife, Jacqueline Hill, was eager to resume her acting career after a long absence spent rearing their children. Dudley agreed to cast Hill as Lexa in "The Last Zolfa-Thuran" -- much to the approval of Nathan-Turner, who was aware that one of Hill's most successful roles prior to her retirement had been as Barbara Wright, one of the original Doctor Who companions in the mid-Sixties. This marked the only time that a series regular would later return to Doctor Who as a new character. In Flanagan and McCulloch's original storyline, Lexa had simply vanished from the action once she had served her purpose within the narrative. Bidmead suggested her act of self-sacrifice as a more dramatic end for the character.
Although Flanagan and McCulloch had hoped that many of the scenes on Tigella and Zolfa-Thura would be achieved on location, Nathan-Turner decided that Serial 5Q represented an opportunity to save money, and so it was recorded entirely in the studio. The first session was held from June 25th to 27th in BBC Television Centre Studio 8, during which Dudley opted to record all of the Tigella scenes. At this point, Tom Baker had finally begun to slowly recover from the illness which had plagued him throughout the season to date. Meanwhile, by this time the adventure's title had reverted back to the writers' original choice: Meglos.
The Scene-Sync process was offered for use in Meglos as a test case, free of charge
The second set of studio days took place in TC3 and spanned July 10th to 12th, concentrating on all of the sequences on Zolfa-Thura. Models shots were completed on the 11th, while taping on the 12th also included an additional scene in the Tigellan jungle and material aboard the Gaztak spaceship. A major element of recording on the middle day involved a new process called Scene-Sync. A more advanced version of the ChromaKey (or Colour Separation Overlay) technique used on Doctor Who throughout the Seventies, Scene-Sync allowed greater camera mobility than had previously been the case. However, it was an unproven process at the BBC and so it was offered to Doctor Who for use on Meglos, free of charge, as a test case. Dudley's implementation of Scene-Sync for some of the Zolfa-Thuran sequences was judged to be a success.
Meglos was Flanagan and McCulloch's only contribution to Doctor Who although another story of theirs, "Project Zeta-Sigma", was at one point planned to open Season Nineteen. Following its abandonment, the pair went on to write for programmes such as Robin Of Sherwood, Peak Practise and Heartbeat. McCulloch also continued acting, notching appearances in shows like The Young Indiana Jones Chronicles.
Meanwhile, on August 29th, popular waxworks museum Madame Tussauds unveiled a display called The Doctor Who Experience to celebrate the debut of the programme's eighteenth season. The exhibit included a waxwork of Tom Baker, in costume as the Fourth Doctor. Following the broadcast of Meglos, this was joined by a statue of the Doctor's Meglos doppelganger, making Baker the first person to be simultaneously represented with two different waxworks at the famed gallery.
Doctor Who: The Handbook: The Fourth Doctor by David J Howe, Mark Stammers and Stephen James Walker (1992), Virgin Publishing, ISBN 0 426 20369 8.
Doctor Who: The Eighties by David J Howe, Mark Stammers and Stephen James Walker (1996), Virgin Publishing, ISBN 1 85227 680 0.
Doctor Who Magazine #285, 15th December 1999, "Archive: Meglos" by Andrew Pixley, Marvel Comics UK Ltd.
Doctor Who Magazine Special Edition #9, 22nd December 2004, "Another One Bites The Dust" by Andrew Pixley, Panini Publishing Ltd.
In·Vision #47, November 1993, "Production" edited by Justin Richards and Peter Anghelides, Cybermark Services.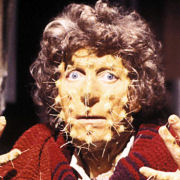 Original Transmission
Episode 1
Date
27th Sep 1980
Time
6.16pm
Duration
24'43"
Viewers

(more)

5.0m (105th)
Appreciation
61%
Episode 2
Date
4th Oct 1980
Time
6.17pm
Duration
21'24"
Viewers

(more)

4.2m (139th)
Appreciation
64%
Episode 3
Date
11th Oct 1980
Time
5.42pm
Duration
21'19"
Viewers

(more)

4.7m (129th)
Episode 4
Date
18th Oct 1980
Time
5.44pm
Duration
19'30"
Viewers

(more)

4.7m (127th)
Appreciation
63%
---
Cast
Doctor Who
Tom Baker
Romana
Lalla Ward
Voice of K·9
John Leeson
General Grugger
Bill Fraser
Lieutenant Brotadac
Frederick Treves
Zastor
Edward Underdown
Lexa
Jacqueline Hill
Caris
Colette Gleeson
Deedrix
Crawford Logan
Earthling
Christopher Owen
Tigellan Guard
Simon Shaw
---
Crew
Written by
John Flanagan and
Andrew McCulloch
Directed by
Terence Dudley
Produced by
John Nathan-Turner
Incidental Music
Paddy Kingsland
Peter Howell
Special Sound
Dick Mills
Production Assistant
Marilyn Gold
Production Unit Manager
Angela Smith
Director's Assistant
Hermione Stewart
Assistant Floor Manager
Valerie McCrimmon
Visual Effects Designer
Steven Drewett
Video Effects
David Jervis
Vision Mixer
Graham Giles
Technical Manager
Brendan Carr
Senior Cameraman
Alec Wheal
Video Tape Editor
Ian Williams
Sam Upton
Lighting
Bert Postlethwaite
Sound
John Holmes
Costume Designer
June Hudson
Make Up Artist
Cecile Hay-Arthur
Script Editor
Christopher H Bidmead
Title Sequence
Sid Sutton
Designer
Philip Lindley
Executive Producer
Barry Letts
---
Working Titles
The Golden Star
The Golden Pentangle
The Golden Pentagram
The Last Sol-Fataran
The Last Zolfa-Thuran