Serial 6V:
Vengeance On Varos
When the TARDIS runs out of vital Zyton-7 ore, the Doctor makes an emergency landing on the planet Varos, which is rich in the mineral. Varos is a former penal colony whose residents now derive pleasure purely from the televised tortures which perpetually pass across their screens. The Governor of Varos is engaged in negotiations with the ruthless sluglike businessman Sil, who is trying to cheat the Varosians out of their rightful profit on Zyton-7. It is up to the Doctor and Peri to stop Sil's plans, and break the natives of Varos out of their daily cycle of video nasties.
Philip Martin had started his career in the entertainment industry as an actor, including roles in the feature film The Loneliness Of The Long Distance Runner and numerous small parts in Z Cars. In the late Sixties, he turned his hand to writing, contributing episodes of Z Cars and Shoestring. He also created the hard-hitting series Gangsters, which began life as an installment of the BBC's Play For Today.
Martin was no stranger to science-fiction, having provided a genre entry called The Unborn for BBC2 Playhouse in 1980. The same year, he declined an invitation from script editor Christopher Bidmead to write for Doctor Who. Two years later, however, Martin became intrigued by Doctor Who after watching Season Nineteen with his young daughter Hilary. He felt that the show offered him an opportunity to explore ideas in a manner unlike other programmes, and came up with an idea about an alien corporation which markets snuff films depicting real deaths. This was a highly contemporary issue: the debate over violence and gore in popular entertainment was heating up, enflamed by the increasing availability of direct-to-video horror films from America and the continent, which had incensed media watchdogs such as perennial Doctor Who nemesis Mary Whitehouse.
Philip Martin was inspired by the debate over violence and gore in popular entertainment
Martin submitted his idea to new Doctor Who script editor Eric Saward. Saward, who was a fan of Martin's work on Gangsters, was enthusiastic about the proposal, and commissioned a storyline on April 13th under the title "Domain". Producer John Nathan-Turner was concerned that "Domain" might be overtly political, however, and so he instructed Saward to work closely with Martin in developing the adventure. Martin had conceived "Domain" with the Fifth Doctor, Nyssa and Tegan in mind; he was now informed that Nyssa was going to be written out during Season Twenty, to be replaced by Turlough.
Although Saward was happy with the finished storyline for "Domain", work on the adventure slowed during the summer. Finally, on October 14th, Martin was commissioned to script the first episode; it was now hoped that "Domain" would be scheduled as part of Season Twenty-One. The remaining three installments were requested on January 27th, 1983. However, it soon became clear that there would be a complete overhaul of the regular cast during Doctor Who's twenty-first season, necessitating a number of stories to deal with the transition. It was therefore decided to postpone "Domain" until Season Twenty-Two, which meant that it would now feature the Sixth Doctor and Peri. Saward was not unhappy with the delay: although he continued to feel that "Domain" had a lot of potential, he thought that it was still too unfocussed, and could use the extra time for development.
In mid-1983, however, Martin's scripts incurred a significant setback when it was decided that Season Twenty-Two would be comprised of thirteen forty-five minute episodes instead of twenty-six twenty-five minutes installments. This meant that the four-part "Domain" would now have to be reformatted as two longer episodes. Martin spent much of the summer revising his scripts, which gained the title "Planet Of Fear". Martin then endured several months of limited contact with the Doctor Who production office, although the serial was recommissioned -- to take into account the new episode lengths -- on November 28th.
When Saward was finally able to revisit "Planet Of Fear" in early 1984, he came to the conclusion that there remained several outstanding problems. Most notably, he felt that the scripts were too short, and that Peri's role in the action was not sufficiently prominent. Saward also wanted Martin to build up the minor role of an alien businessman named Sil, making him more of a central antagonist while the Governor would now be portrayed as Sil's reluctant accomplice. (Martin had originally conceived the reptilian Sil as a reaction to a quote he recalled from author Isaac Asimov, who had observed that aquatic creatures rarely featured in science-fiction film and television.) These new requirements were conveyed to Martin at a meeting on February 9th.
Eric Saward encouraged Philip Martin to build up Sil, providing a layer of humour in an otherwise dark script
Martin was receptive to Saward's suggestions, and in particular approved of the idea that the semi-comical Sil could help provide a layer of humour to an otherwise dark script. However, he refused to engage in such wholesale changes without being paid an additional fee. The BBC finally consented to this request around the end of February, and Martin quickly completed his work on the serial. It was at this time that Martin added the "Greek chorus" of Arak and Etta, who helped provide context to the "video nasty" element of the storyline while also addressing Saward's concerns about the brevity of the scripts.
"Planet Of Fear" was originally intended to be the fifth story of Season Twenty-Two, where it would be designated Serial 6Y. In May, however, it was decided at the last minute that the planned second story -- "The Space Whale" by Pat Mills -- was not working out. With replacement scripts needed urgently, "Planet Of Fear" was brought forward to fill the gap as Serial 6V; its original slot would eventually be taken by Timelash. At about the same time, it was observed that "Planet Of Fear" was too similar a title to the previous season's Planet Of Fire. As a result, Martin rechristened his tale Vengeance On Varos.
Although Michael Owen Morris -- who had helmed The Awakening for Season Twenty-One -- was approached about returning for Serial 6V, the director's chair eventually went to Ron Jones, who had most recently worked on the previous year's Frontios. Perhaps Jones' most noteworthy casting decision was the role of Jondar. This went to the son of acting legend Sean Connery; Jason Connery's career was still in its formative stages, but would be propelled the next year when he took over the lead role in Robin Of Sherwood.
A greater challenge for Jones was finding an actor to play Sil. Martin had originally envisaged the character as floating in a tank of water, but Nathan-Turner felt that this would be too difficult to realise in the studio, and so it was decided that Sil would actually sit on a platform above his water tank. Nonetheless, a performer of diminutive proportions would be needed for the role, and so Jones unsuccessfully auditioned several short-statured actors.
Around the same time, BBC producer Alan Shallcross had written his colleagues to encourage them to make a greater effort to hire disabled performers. Shallcross' memo was conveyed to Jones, which led him to contacting Nabil Shaban, an actor who suffered from osteogenesis imperfecta -- brittle bone disease -- and had badly underdeveloped legs as a result. Shaban was a Doctor Who fan (having in the past submitted a story idea entitled "Invasion Of The Veridians" and put his name forward to play both the Doctor and the Master at different times) and was intrigued by the prospect of portraying such a complex villain. Shallcross, however, was outraged to learn that his appeal had led to Shaban being cast as a monster.
Nabil Shaban, who suffered from osteogenesis imperfecta, had once put his name forward to play the Doctor
On June 25th, Nicola Bryant's contract option for Vengeance On Varos and the final four serials of Season Twenty-Two was taken up. Three weeks later, production on Serial 6V began at BBC Television Centre Studio 6, where it would be made in two three-day blocks. The first of these took place from July 18th to 20th, with much of the time spent recording corridor scenes.
The 18th also dealt with material in the Punishment Dome, the mortuary, Areta's cell, and the illusory desert, alongside a model shot of the city. This work included the sequence in which two Varos guards fall into a vat of acid. This segment necessitated several retakes, and although Jones was satisfied with the final result, he was aware that it had been taped in a manner that made it appear that the Doctor was directly responsible for the men's demise. In fact, Martin had scripted this as an essentially comedic routine and was dismayed by the way in which it was portrayed onscreen. In addition to further corridor material, the Purple Zone featured during recording on July 19th, while scenes in the Governor's office and the transmutation cell were taped on the 20th. Nicola Bryant suffered mightily portraying the half-bird incarnation of Peri, as she was allergic to the feathers glued to her skin.
Taping resumed in TC6 on July 31st, with the corridor sets again featuring heavily on the first two days of the block. Also completed on the 31st were sequences involving the poisonous vines, as well as the remaining material in the Governor's office. August 1st dealt with scenes in the Prison Communications Centre and the changing room. Finally, production wrapped up on the 2nd with recording on the sets for the TARDIS console room, as well as the cell and gallows areas. The scaffolding collapsed at one point as Baker and Connery started to climb it, but fortunately neither actor was injured.
Doctor Who: The Handbook: The Sixth Doctor by David J Howe, Mark Stammers and Stephen James Walker (1993), Virgin Publishing, ISBN 0 426 20400 8.
Doctor Who: The Eighties by David J Howe, Mark Stammers and Stephen James Walker (1996), Virgin Publishing, ISBN 1 85227 680 0.
Doctor Who Magazine #309, 17th October 2001, "Archive: Vengeance On Varos" by Andrew Pixley, Panini Publishing Ltd.
Doctor Who Magazine Special Edition #3, 22nd January 2003, "Everything Must Change" by Andrew Pixley, Panini Publishing Ltd.
In·Vision #80, October 1998, "Production" edited by Anthony Brown, Cybermark Services.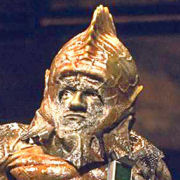 Original Transmission
Episode 1
Date
19th Jan 1985
Time
5.22pm
Duration
44'42"
Viewers

(more)

7.2m (110th)
Appreciation
63%
Episode 2
Date
26th Jan 1985
Time
5.21pm
Duration
44'43"
Viewers

(more)

7.0m (108th)
Appreciation
65%
---
Cast
The Doctor
Colin Baker
Peri
Nicola Bryant
Governor
Martin Jarvis
Sil
Nabil Shaban
Quillam
Nicolas Chagrin
Jondar
Jason Connery
Chief Officer
Forbes Collins
Arak
Stephen Yardley
Etta
Sheila Reid
Areta
Geraldine Alexander
Bax
Graham Cull
Maldak
Owen Teale
Rondel
Keith Skinner
Priest
Hugh Martin
---
Crew
Written by
Philip Martin
Directed by
Ron Jones
Produced by
John Nathan-Turner
Incidental Music
Jonathan Gibbs
Special Sound
Dick Mills
BBC Radiophonic Workshop
Production Manager
Margot Eavis
Production Associate
Sue Anstruther
Production Assistant
Jane Whittaker
Assistant Floor Manager
Sophie Neville
Visual Effects Designer
Charles Jeanes
Video Effects
Dave Chapman
Technical Co-ordinator
Alan Arbuthnott
Camera Supervisor
Alec Wheal
Vision Mixers
Nigel Finnis
Jayne Beckett
Videotape Editor
Hugh Parson
Lighting Director
Dennis Channon
Studio Sound
Andy Stacey
Costume Designer
Anne Hardinge
Make-up Designers
Cecile Hay-Arthur
Dorka Nieradzik
Script Editor
Eric Saward
Title Sequence
Sid Sutton
Designer
Tony Snoaden
---
Working Titles
Domain
Planet Of Fear