Serial T:
Galaxy 4
When the TARDIS lands on a barren world, the three companions emerge to find a robot that Vicki nicknames a Chumbley. They are rescued from the Chumbley by the beautiful Drahvins; their leader, Maaga, explains that the robot serves their hideous enemies, the Rills. The Drahvins and the Rills were engaged in a battle in space when they both crashlanded on this planet -- a planet that is on the verge of exploding. But even as the Drahvins start using increasingly strong-arm tactics to get the time travellers to help them, the Doctor discovers that the planet's doom is not days away... but mere hours.
Around the time that Dennis Spooner became Doctor Who's story editor, at the end of October 1964, he met with writer William Emms, who had been watching Doctor Who since its debut in 1963. Emms developed a storyline premised on a reversal of expectations, in which grotesque aliens turned out to be benign while attractive aliens were revealed as malevolent. This parable about the dangers of judging by physical appearance was commissioned on March 1st, 1965. It became known as "The Chumblies", from the name Emms coined for the narrative's endearing robots -- a portmanteau of "chum" and "friendly". Ironically, Emms' serial would be in development just as Spooner was preparing to depart Doctor Who, to be replaced by Donald Tosh.
Initially, the villains of "The Chumblies" were the male Dravians, who were then renamed Drahvins. It was producer Verity Lambert who suggested that the central plot twist would be more effective if all of the Drahvins were women. The Drahvin leader was called Gar for much of the serial's development, but the character was renamed Maaga at a late stage.
Replacing Ian and Barbara with Steven presented a challenge for Donald Tosh
"The Chumblies" was originally written for the companion team of Ian, Barbara and Vicki. However, by the start of April it was known that Ian and Barbara would soon be written out of Doctor Who, to be replaced with a single character: Steven Taylor. This presented Tosh with a challenge in reconfiguring Emms' scripts. Steven largely assumed Barbara's role, meaning that he would sometimes behave in an uncharacteristic fashion, such as by letting the Drahvins trap him in an airlock despite his background as an astronaut. Emms felt that his serial suffered as a result of these changes.
As production began in June 1965, Emms' adventure was renamed Galaxy 4. By this time, Lambert had largely stepped back from her duties as Doctor Who's producer, with the transition to John Wiles virtually complete. The director allocated to Galaxy 4 was Mervyn Pinfield, who had served as the programme's associate producer during its first year, and who had recently directed The Space Museum. It was planned that Galaxy 4 and the subsequent one-episode serial, Mission To The Unknown, would be made as though they formed a single, five-part serial, with the same crew handling both.
Five days of filming on Galaxy 4 and Mission To The Unknown took place at the BBC Television Film Studios in Ealing, London from June 22nd. For Emms' serial, this chiefly concerned material on the planet's surface. Unfortunately, as work progressed, Pinfield fell badly ill and it became clear that he would be unable to fulfil his duties. At the time, junior director Derek Martinus was a candidate to helm The Myth Makers, the opening serial of the third production block; instead, he accepted Lambert's offer to substitute for the ailing Pinfield. Martinus took over the Ealing schedule on June 24th, working with Pinfield for the remainder of the week.
Meanwhile, trouble was brewing for the new production team of John Wiles and Donald Tosh. William Hartnell, Maureen O'Brien and Peter Purves all disliked Emms' scripts, with Purves particularly frustrated that his nascent character was being undermined by playing a role in the serial originally intended for a very different companion. Matters became so heated that Wiles threatened to fire Hartnell if he did not follow the script. He also began formulating plans to replace O'Brien when her contract expired at the end of The Myth Makers.
With Martinus now in sole possession of the director's chair, recording for Galaxy 4 started at BBC Television Centre on July 9th; each installment would be recorded on consecutive Fridays as normal, with the first three episodes taped in Studio 4 and the last in Studio 3. Unusually, it was decided that the final scene of The Exploding Planet -- the cliffhanger into Mission To The Unknown -- would be made as part of that serial's single recording day on August 6th, to avoid having to erect an extra set and hire actor Barry Jackson (who played Garvey) a week early. With the bulk of Galaxy 4 completed on July 30th, Hartnell, O'Brien and Purves wrapped up their work on Doctor Who for more than a month. Because Mission To The Unknown was designed to feature none of the regular cast, the series stars would not be reunited in the studio until the start of the third production block in September.
On September 11th, part one of Galaxy 4 got Doctor Who's third season under way
On September 11th, part one of Galaxy 4 got Doctor Who's third season under way, returning to the same timeslot it had occupied for the latter part of Season Two: after Juke Box Jury, and before a news update and then The Dick Van Dyke Show. During the six Saturdays since The Time Meddler had capped Season Two, its place in the schedules had primarily been filled by compilations of old Laurel and Hardy short films. Beginning with episode two, however, the news and weather were brought forward to follow Juke Box Jury, meaning that Doctor Who would now air ten minutes later, at 5.50pm. Then, on October 2nd, the conclusion of Galaxy 4 led directly into the premiere of Dixon Of Dock Green's twelfth season.
Although Galaxy 4 was not a popular story with the stars of Doctor Who, it appears to have had a somewhat different reception amongst the production team. On October 14th, John Wiles inquired with the BBC Copyright Department about the ownership of rights to the Drahvins. But while this suggests that he may have been contemplating a sequel to Galaxy 4, no such story ever came to be.
Doctor Who Magazine #299, 10th January 2001, "Archive: Galaxy 4" by Andrew Pixley, Panini Publishing Ltd.
Doctor Who Magazine Special Edition #7, 12th May 2004, "I'm Into Something Good" by Andrew Pixley, Panini Publishing Ltd.
Doctor Who: The Complete History #6, 2017, "Story 18: Galaxy 4", edited by Mark Wright, Hachette Partworks Ltd.
Doctor Who: The Handbook: The First Doctor by David J Howe, Mark Stammers and Stephen James Walker (1994), Virgin Publishing.
Doctor Who: The Sixties by David J Howe, Mark Stammers and Stephen James Walker (1992), Virgin Publishing.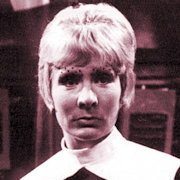 Original Transmission
1: Four Hundred Dawns
Date
11th Sep 1965
Time
5.41pm
Duration
22'21"
Viewers

(more)

9.0m (23rd)
Appreciation
56%
2: Trap Of Steel
Date
18th Sep 1965
Time
5.50pm
Duration
24'51"
Viewers

(more)

9.5m (22nd)
Appreciation
55%
3: Air Lock
Date
25th Sep 1965
Time
5.52pm
Duration
24'19"
Viewers

(more)

11.3m (13th)
Appreciation
54%
4: The Exploding Planet
Date
2nd Oct 1965
Time
5.50pm
Duration
24'47"
Viewers

(more)

9.9m (20th)
Appreciation
53%
---
Cast
Dr Who
William Hartnell (bio)
Vicki
Maureen O'Brien (bio)
Steven
Peter Purves (bio)
Maaga
Stephanie Bidmead
Drahvin One
Marina Martin
Drahvin Two
Susanna Carroll
Drahvin Three
Lyn Ashley
Chumbley Operators
Jimmy Kaye
William Shearer
Angelo Muscat
Pepi Poupee
Tommy Reynolds
Rill voice
Robert Cartland
Garvey
Barry Jackson
---
Crew
Written by
William Emms (bio)
Directed by
Derek Martinus (bio)
Mervyn Pinfield (bio) (uncredited)
Title music by
Ron Grainer and
the BBC Radiophonic Workshop
Costumes supervised by
Daphne Dare
Make-up supervised by
Sonia Markham
Lighting
Ralph Walton
Derek Hobday
Sound
George Prince
Story Editor
Donald Tosh (bio)
Designer
Richard Hunt
Producer
Verity Lambert (bio)
---
Archive Holdings
Episodes Missing
Episodes 1, 2, 4
Clips Extant
Episode 1 (6'03" in 2 clips)
Telesnaps Surviving
None
---
Working Titles
Whole Story
The Chumblies