New Series Episode 43:
Time Crash
Something goes wrong with the TARDIS, bringing the Doctor into a confrontation with his fifth incarnation. The two Doctors must find a way to work together before their time machine is utterly annihilated.
Ever since its return in 2005, Doctor Who had been a major part of the BBC's annual Children In Need telethon. This involvement began with a special mini-episode -- Children In Need (2005) -- which served as a prequel for the 2005 Christmas special, The Christmas Invasion. In 2006, the Doctor Who production team coordinated a lavish charity concert spotlighting Murray Gold's incidental music for the series. For 2007, it was decided that a second mini-episode should be created. Unlike the 2005 edition, which had been written by executive producer Russell T Davies, the scripting duties on this occasion were assigned to Steven Moffat, whose most recent contribution to the series had been 2007's Blink. Moffat had also written another Doctor Who charity production -- the satirical The Curse Of Fatal Death -- for the Comic Relief appeal in 1999.
Since 2005, a segment of Doctor Who fandom had been clamoring for the appearance of an old Doctor in the new series. Davies had resisted the temptation to this point -- although the faces of many of the earlier Doctors could be glimpsed in the form of rough sketches in 2007's Human Nature -- but Moffat thought that the charity mini-episode was the ideal vehicle for such a gimmick. David Tennant concurred enthusiastically, and he and Moffat agreed that they should approach Peter Davison -- who had played the Fifth Doctor -- about appearing. Both Moffat and Tennant were very fond of Davison's portrayal of the Doctor, and Moffat had come to know the actor through his wife, Sue Vertue, who had recently produced Davison's sitcom Fear, Stress And Anger.
Peter Davison, his children and grandson were all fans of the revived Doctor Who
As it happened, Davison had been enjoying the revived Doctor Who tremendously ever since its return, and his children and grandson were also big fans. As a result, Davison was delighted to be asked back to Doctor Who; although he had been participating in the Doctor Who audio plays produced by Big Finish Productions since their debut in 1999, this would be his first onscreen appearance as the Fifth Doctor since another Children In Need special, Dimensions In Time, in 1993.
Moffat designed the mini-episode, entitled Time Crash, to take place in the midst of the closing moments of the 2007 season finale, Last Of The Time Lords. As such, all of the action would take place in the TARDIS, enabling the special to be recorded in a single day. Brought on board to direct was Graeme Harper, who had just completed work on Planet Of The Ood and The Unicorn And The Wasp for Doctor Who's 2008 season; ironically, Harper's first directing job on Doctor Who had been Davison's final regular story, 1984's The Caves Of Androzani.
Time Crash was recorded at Upper Boat Studios on October 7th, 2007. It was made alongside the year's fourth production block, which consisted of the 2008 season premiere, Partners In Crime. A month and a half later, on November 16th, Time Crash aired as the centrepiece of the Children In Need event. Thanks in part to Doctor Who, the twenty-eighth edition of Children In Need raised more than 19 million pounds for the youth of Great Britain.
Outpost Gallifrey: New Doctor Who Series News Page, edited by Shaun Lyon.
Doctor Who Magazine Special Edition #20, 19th November 2008, "Children In Need: Time Crash" by Andrew Pixley, Panini Publishing Ltd.
Doctor Who: The Writer's Tale by Russell T Davies and Benjamin Cook (2008), BBC Books, ISBN 978 1 846 07571 1.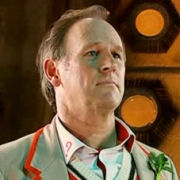 Original Transmission
Date
16th Nov 2007
Time
8.16pm
Duration
7'42"
Viewers

(more)

11.0m (7th)
---
Cast
The Doctor
David Tennant
Peter Davison
---
Crew
Written by
Steven Moffat
Directed by
Graeme Harper
Produced by
Phil Collinson
1st Assistant Director
Dan Mumford
3rd Assistant Director
Andy Newbery
Additional Assistant Director
Kevin Myers
Driver
Kevin Kearns
Continuity
Non Eleri Hughes
Script Editor
Brian Minchin
Focus Puller
Ant Hugill
Grip
John Robinson
Camera Assistant
Tom Hartley
Jimmy Jib
Arun Taylor
Boom Operator
Ramon Pyndiah
Electricians
Ben Griffiths
Clive Johnson
Supervising Art Director
Arwel Wyn Jones
Associate Designer
James North
Senior Props Maker
Penny Howarth
Assistant Costume Designer
Rose Goodhart
Costume Supervisor
Lindsay Bonaccorsi
Costume Assistant
Barbara Harrington
Make-Up Artist
Morag Smith
Assistant Editor
Carmen Roberts
Post Production Supervisors
Samantha Hall
Chris Blatchford
Post Production Co-ordinator
Marie Brown
3D Artist
Mark Wallman
2D Artist
Simon C Holden
On Line Editors
Matthew Clarke
Mark Bright
Colourist
Mick Vincent
Dubbing Mixer
Tim Ricketts
Sound Editor
Paul McFadden
Sound FX Editor
Paul Jefferies
Original Theme Music
Ron Grainer
Casting Director
Andy Pryor

CDG
Production Executive
Julie Scott
Production Accountant
Oliver Ager
Sound Recordist
Ray Parker
Costume Designer
Louise Page
Make-Up Designer
Barbara Southcott
Music
Murray Gold
Visual Effects
The Mill
Visual FX Producers
Will Cohen
Marie Jones
Visual FX Supervisor
Dave Houghton
Editor
Ceres Doyle
Production Designer
Edward Thomas
Director of Photography
Rory Taylor
Production Manager
Jennie Fava
Executive Producers
Russell T Davies
Julie Gardner