Serial AAA:
Spearhead From Space
The newly-regenerated Doctor is exiled to modern-day Earth by the Time Lords, where he becomes attached to the British branch of UNIT as their scientific adviser, ostensibly taking orders from Brigadier Lethbridge-Stewart. Aided by Liz Shaw, the Doctor's first task is to investigate a shower of mysterious meteorites which landed in the countryside. The Time Lord discovers that these are no ordinary meteorites: in fact, the plastic-controlling Nestenes have landed, intending to use their automated servants, the Autons, to take over the Earth.
More than a year before it was to begin transmission, it was clear that Doctor Who's seventh season was to be very different from its six predecessors. In the wake of the success of The Web Of Fear and The Invasion -- both stories set on modern-day Earth and including a significant military presence -- outgoing producer Peter Bryant and his successor, Derrick Sherwin, felt that Doctor Who should be reformatted to emphasise this sort of adventure. With Patrick Troughton electing not to return to the show for Season Seven and Nicholas Courtney (who had played Brigadier Lethbridge-Stewart in both serials) confirming his interest in assuming a regular role in Doctor Who, Bryant and Sherwin set about defining the programme's new status quo from about December 1968.
In the early months of 1969, the basic elements of Doctor Who's revised format fell into place. The Doctor would be exiled to Earth in the modern-day or the very near future. There, he would come to work with Lethbridge-Stewart and the UNIT organisation which had been introduced in The Invasion. Since the Doctor's two previous companions, Jamie and Zoe, would also be written out at the end of Season Six, a new assistant -- a scientist named Liz -- was created by Sherwin, with input from script editor Terrance Dicks. It was thought that Liz would be more intelligent and mature than most previous Doctor Who companions. The Third Doctor himself was cast on May 21st when Jon Pertwee agreed to the role; Courtney was contracted on the 27th. Both actors were booked to appear in at least twenty-one episodes.
Season Seven would see Doctor Who broadcast in colour for the first time
The changes to Doctor Who would not be limited to matters of cast or storyline, however. BBC1 was scheduled to begin transmitting in colour from November, and so it was decided that Season Seven would see Doctor Who broadcast in colour for the first time. The number of episodes comprising the new season would also be sharply reduced, as it was planned that Doctor Who would now run for only six months instead of nine. One of Troughton's major complaints about his tenure on the programme had been the exhausting production schedule, and it was felt that the reduced episode count would ameliorate the situation. Because of all this, Season Seven's debut was scheduled around New Year 1970 rather than at the start of autumn 1969.
Meanwhile, on February 12th, Dicks commissioned a storyline entitled "Facsimile" from Robert Holmes, who had recently written The Space Pirates for Season Six. "Facsimile" was intended to serve as Serial AAA, the first adventure of the revamped Doctor Who. Since it was hoped that the Earthbound setting would allow the introduction of more relevant, timely dangers into the series, Holmes drew inspiration from concerns about the still-new technology of plastics. Full scripts were subsequently commissioned from the writer on June 3rd.
During this time, Pertwee's take on the Doctor was gradually being developed, with the actor receiving considerable feedback from his old friend, Shaun Sutton, who was then serving as the BBC's Head of Drama. Although Bryant had assumed that Pertwee would portray the role in a rather comedic vein, Pertwee instead opted to assume a more serious aspect; Sutton advised the actor to basically play the Doctor as himself. For his costume, Pertwee suggested a high-collared black outfit in the style of Pandit Nehru. However, costume designer Christine Rawlins liked the way Pertwee had dressed at his introductory press call on June 7th, when he had worn a velvet smoking jacket, a frilly shirt and his grandfather's Inverness cape; she decided to use this as the basis for the Doctor's new look.
Casting for the role of Liz occurred during July. Photos of actress Caroline John were forwarded to Bryant and Sherwin by another BBC producer, James Cellan-Jones, and John was subsequently contracted for two serials on July 28th. The actress' experience to date was largely confined to the stage, though she had a handful of film and television credits to her name, including an episode of The Power Game. John was revealed to the press on September 10th. She was initially very keen to read up on the scientific terminology she'd be spouting in Doctor Who, and was subsequently dismayed to discover that most of it was made-up gibberish.
On September 10th, Caroline John was revealed to the press as new companion Liz Shaw
Holmes' storyline, meanwhile, had undergone a number of changes. In episode one, the Doctor was originally kidnapped from his bed and taken to a storeroom for interrogation; he escaped through a window after feigning unconsciousness. The Autons were defeated in the end by a high-frequency sound Liz arranged to have transmitted from Broadcasting House at the Doctor's request. For a time, Sam Seeley was accompanied by a son. Liz's surname was revised from "Shore" to "Shaw", while Captain Munro's last name was originally spelt "Monro".
With the change of Doctor and the move to colour, it was decided that a new title sequence was needed for Doctor Who. Bernard Lodge was once again pressed into service. His original plan was to generate interesting-looking feedback patterns -- as he had done for his two earlier efforts -- but he found the colour results disappointing compared to what he had achieved in monochrome. With Ben Palmer, Lodge instead decided to film shifting diamond patterns in black-and-white, then tint them with colour gels using an optical printer. Pertwee's countenance and a new Doctor Who logo were then added to the mix. One aspect which was abandoned was the idea of beginning the sequence with Pertwee throwing his cape over the screen, with the colour patterns then emerging from the darkness. The title sequence was filmed on August 3rd at Television Centre Studio 5. For the first time, an end credit sequence was also created -- to date, Doctor Who's closing credits had usually run over a simple black background.
The director assigned to "Facsimile" was Derek Martinus, who had last worked on The Ice Warriors two years earlier. Martinus had been trying to distance himself from Doctor Who, and agreed to the assignment with considerable reluctance. His work began with a week of filming starting on September 13th; around this time, the serial's title was amended to Spearhead From Space. The first day of filming began at the Favourite Doll Factory in Holloway, London which stood in for the Auto Plastics Factory. Liz's arrival at UNIT headquarters was then filmed around St Pancras Station. Geoff Brighty was cast as the UNIT commissionaire in this sequence, but upon recording he was found to be unsuitable for the part. Sherwin himself stepped in to play the role.
September 14th was taken up with action on the Broadway in Ealing. On the 15th and 16th, land owned by the Royal Horticultural Society in Wisley, Surrey served as the woods while nearby Hatchford Park School was used as the hospital grounds on the 17th. Finally, more factory scenes were filmed at TCC Condensers in Ealing on the 18th and 19th. It seems that Martinus intended to film the Doctor and Liz arriving at Madame Tussaud's in London, but these plans were abandoned at some point.
With industrial action threatening the studio recording, Derrick Sherwin convinced his bosses to complete the story on film
Studio recording was then supposed to occur on Monday, October 13th for episode one, followed by three consecutive Thursdays -- October 23rd and 30th and November 6th -- for the remaining installments. However, while cast and crew were carrying out the location filming, the Association of Broadcast Staff began industrial action in the wake of a salary dispute with BBC management. With recording dates for all programmes at Television Centre threatened, Sherwin was aware that Spearhead From Space might have to be abandoned altogether. To avoid the loss of his season premiere, Sherwin convinced his bosses to allow him to complete the serial entirely on film.
Work resumed on October 8th; the filming dates largely coincided with the original schedule for rehearsal and studio recording. One casualty of the changed plans was that the original voice of Dr Lomax, Henry McCarthy (who also played Dr Beavis), was replaced by Ellis Jones (also cast as the UNIT technician). The majority of the filming took place at the BBC's Engineering Training Centre at Wood Norton, near Evesham, Hereford and Worcester. Wheelbarrow Castle Cottage in nearby Radford was used for Seeley's home, while the Mansion House Hotel in Evesham served as Scobie's residence. After a break on November 1st and 2nd, the material in the Army tent was filmed at Van Arden Studios in Ealing on the 3rd and 4th. Finally, Madame Tussaud's itself was visited on November 5th. Model shots were completed at the Ealing Television Film Studios on November 19th, and Martinus remounted the Doctor's climactic confrontation with the Nestene creature at Ealing on the 22nd, as he was unsatisfied with the original effort.
In the midst of filming, Doctor Who's production office got a major shake-up when the BBC decided to shift both Bryant and Sherwin over to a troubled German coproduction, the thriller series Paul Temple. Sutton first asked Douglas Camfield (whose most recent Doctor Who directorial assignment was The Invasion) to take over as producer. When he declined, Sutton instead approached Barry Letts, who had helmed The Enemy Of The World during Season Five. At that time, Letts had voiced a number of ideas on how Doctor Who should be made, some of which Bryant and Sherwin had since implemented. Letts' appointment came on October 20th.
The BBC decided to shift both Peter Bryant and Derrick Sherwin from Doctor Who to a troubled German coproduction
Spearhead From Space was consequently the last Doctor Who story on which Sherwin received a credit. After finishing up on Paul Temple, Sherwin left the BBC to form an independent production company called SkiBoy. In the Eighties, he headed up the computer animation firm Electronic Arts for a time; he subsequently continued to both write and produce. Sherwin passed away on October 17th, 2018 after a long illness.
True to his word, Spearhead From Space also brought Derek Martinus' involvement with Doctor Who to an end. Martinus left the BBC to go freelance in the mid-Seventies, during which time he directed episodes of series such as Blake's 7 and Into The Labyrinth. Later in life, Martinus concentrated his efforts on stage productions; he passed away in March 2014.
Despite all the behind-the-scenes changes, the new-look Doctor Who debuted on January 3rd, 1970. Despite the fact that the audience was roughly twice that of the final Troughton serial, The War Games, it remained to be seen whether audiences would accept an Earthbound, action-oriented colour version of the series which had already been running for more than half a decade.
Doctor Who: The Handbook: The Third Doctor by David J Howe and Stephen James Walker (1996), Virgin Publishing, ISBN 0 426 20486 7.
Doctor Who: The Seventies by David J Howe, Mark Stammers and Stephen James Walker (1994), Virgin Publishing, ISBN 1 85227 444 1.
Doctor Who Magazine #181, 25th December 1991, "Archive: Spearhead From Space" by Andrew Pixley, Marvel Comics UK Ltd.
Doctor Who Magazine Special Edition #2, 5th September 2002, "Instant Karma" by Andrew Pixley, Panini Publishing Ltd.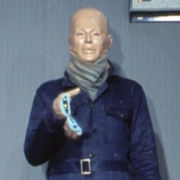 Original Transmission
Episode 1
Date
3rd Jan 1970
Time
5.16pm
Duration
23'38"
Viewers

(more)

8.4m (54th)
Appreciation
54%
Episode 2
Date
10th Jan 1970
Time
5.16pm
Duration
24'21"
Viewers

(more)

8.1m (57th)
Episode 3
Date
17th Jan 1970
Time
5.15pm
Duration
24'16"
Viewers

(more)

8.3m (49th)
Episode 4
Date
24th Jan 1970
Time
5.15pm
Duration
24'38"
Viewers

(more)

8.1m (51st)
Appreciation
57%
---
Cast
Doctor Who
Jon Pertwee
Brigadier Lethbridge-Stewart
Nicholas Courtney
Liz Shaw
Caroline John
Channing
Hugh Burden
Seeley
Neil Wilson
Mullins
Talfryn Thomas
Captain Munro
John Breslin
Dr Henderson
Antony Webb
Nurse
Helen Dorward
Corporal Forbes
George Lee
UNIT Officer
Tessa Shaw
Technician
Ellis Jones
Wagstaffe
Allan Mitchell
2nd Reporter
Prentis Hancock
Major General Scobie
Hamilton Dyce
Dr Beavis
Henry McCarthy
Hibbert
John Woodnutt
Ransome
Derek Smee
Meg
Betty Bowden
Sergeant
Clifford Cox
Attendant
Edmund Bailey
---
Crew
Written by
Robert Holmes
Directed by
Derek Martinus
Produced by
Derrick Sherwin
Title Music by
Ron Grainer &
the BBC Radiophonic Workshop
Incidental Music
Dudley Simpson
Special Sound by
Brian Hodgson &
the BBC Radiophonic Workshop
Special Effects designed by
John Horton
Costumes
Christine Rawlins
Make-up
Cynthia Goodwin
Film Camera Team
Stan Speel
Robert McDonnell
Sound Recordist
Derek Medus
Film Editors
William Symon
Adam Dawson
Script Editor
Terrance Dicks
Designer
Paul Allen
---