A Brief History of

A Brief History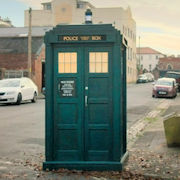 Doctor Who: A Brief History Of Time (Travel) first went online in late December 1995. It originally consisted of little more than a programme guide and a basic history of the show. In the spring of 1996, The Doctor Who News Page went online, quickly becoming one of the most popular Doctor Who destinations on the Web. In February 1999, the Historium project began, offering a more in-depth, story-by-story guide to Doctor Who's history.
In November 1999, the News Page was moved off-site and taken over by Mark Phippen; it was later merged with Shaun Lyon's website at Outpost Gallifrey, which was itself eventually succeeded by a new page associated with the Gallifrey Base forum. In July 2001, as the Historium project neared the end of its first phase, A Brief History underwent its first major visual and navigational overhaul.
In March 2005, to celebrate the debut of the new Doctor Who series, version 3 of A Brief History was introduced. Major revisions, corrections and streamlining of the Story pages took place, alongside the development of a compendium of unmade Doctor Who stories and an alternative diary-style format for accessing the core information. Except for ongoing updates for new seasons of Doctor Who (and the eventual expansion of sections covering the various spin-off series), all major sections of the website were completed by September 2015, just ahead of its twentieth anniversary.
All content on A Brief History is written by Shannon Patrick Sullivan, an author and mathematician from St. John's, Newfoundland and Labrador, Canada. Beyond the worlds of Doctor Who, he has written the dark fantasy novel The Dying Days (2006) and is a faculty member in the Department of Mathematics and Statistics at Memorial University of Newfoundland, having completed his Ph.D. there in 2009.
Doctor Who: A Brief History Of Time (Travel) is copyright © 1995-2019 Shannon Patrick Sullivan. Individuals interested in reproducing the information contained on this site (ie any page whose URL begins http://www.shannonsullivan.com/drwho/) should contact me at shannon@mun.ca.
Doctor Who is copyright © 2019 by the British Broadcasting Corporation. No infringement is intended upon the rights of the BBC or any holders of any copyright referenced herein.
Comments and corrections are always welcome at shannon@mun.ca.