Serial 6C:
Time-Flight
When a Concorde disappears, the Doctor discovers that it has been hijacked back through time to the Pleistocene Era. Arriving there, he, Nyssa and Tegan find that Concorde's crew and passengers have been enslaved by the sinister Kalid, who is forcing them to excavate a sanctum within a mysterious citadel. Entombed within is the consciousness of a gestalt race called the Xeraphin, who possess devastating mental powers. The Doctor learns that Kalid is really the Master, who plans to harness the evil side of the Xeraphin in order to wreak havoc throughout the cosmos.
By 1979, Peter Grimwade was no stranger to Doctor Who. Grimwade had worked on the programme as a production assistant as far back as Spearhead From Space in 1970. Over the course of the intervening decade, he began amassing experience as a scriptwriter, contributing to Z Cars, and latterly completed the BBC's internal directors course. Around this time, Grimwade approached Doctor Who script editor Douglas Adams with an idea for the programme, concerning an evil force which came to control a rogue element amongst an alien species.
The concept was relayed to Adams' successor, Christopher H Bidmead, who was intrigued and embarked upon further discussions with Grimwade. During one such meeting, the pair ran an errand at Heathrow Airport, which inspired the notion of involving Concorde -- the world's first commercial supersonic aircraft, which had only been in service for four years at that point -- in Grimwade's adventure. Bidmead thought that this would be a nice way to bridge the writer's fantastical notions with reality, while Grimwade himself hoped it might lead to a chance to ride aboard Concorde. Soon thereafter, on March 14th, 1980, Grimwade was commissioned to produce a storyline under the title "Zanadin" -- a name which had been conceived by Grimwade, Bidmead and producer John Nathan-Turner to be intentionally bizarre.
Doctor Who was the first TV drama to gain access to both Heathrow Airport and a British Airways Concorde for filming
Grimwade worked quickly on his outline, and consideration was given to positioning the story (now renamed "Xeraphin") as the finale of Doctor Who's eighteenth season. At about this time, however, Nathan-Turner decided to hire Grimwade to direct another Doctor Who adventure, Full Circle, delaying work on "Xeraphin". It was subsequently agreed that Grimwade would revisit his adventure at the end of the summer -- after completing Full Circle and before directing another Doctor Who serial, Logopolis -- with a view to making "Xeraphin" as part of Season Nineteen.
The postponement of "Xeraphin" was beneficial in at least one respect, because it gave Nathan-Turner more time to negotiate access to both Heathrow Airport and a British Airways Concorde for filming -- both firsts for a television drama. Aided by false intimations that the Doctor Who production office was in discussions with Air France for similar accommodations, Nathan-Turner scored a major coup when he was able to obtain the necessary permissions from both Heathrow and British Airways.
As 1980 wore on, it became clear that Grimwade would have to make several changes to his storyline. Tom Baker had now decided to leave Doctor Who, and so "Xeraphin" would feature an entirely different line-up of Doctor and companions. In addition, Nathan-Turner and Bidmead had reintroduced the Doctor's Time Lord archnemesis, the Master, and the producer was eager to feature the character in two stories every year. It was planned that the Master would appear in Season Nineteen's debut serial, and Nathan-Turner asked Grimwade to incorporate the character into "Xeraphin" as well. With the storyline duly amended, Grimwade was formally commissioned to script his adventure on September 22nd. The contract was issued under the title "Zanadin", but the story reverted back to "Xeraphin" soon thereafter.
More changes came over the course of 1981. It had been decided that Adric would be dropped as a companion in the story preceding "Xeraphin", and so would have to be removed from the action. Furthermore, since "Xeraphin" was now intended to be the last story of Season Nineteen, Nathan-Turner wanted to end the year on something of a cliffhanger, akin to the Doctor's regeneration at the conclusion of Logopolis. It was agreed that "Xeraphin" should culminate with Tegan apparently being left behind as the Doctor and Nyssa leave in the TARDIS. There were no plans to write Janet Fielding out of Doctor Who, but this development would also give Nathan-Turner the ability to change his mind about retaining Tegan as recording for Season Nineteen progressed. Meanwhile, new script editor Eric Saward felt that the Master had worn out his welcome and championed the idea of killing him off in "Xeraphin". Nathan-Turner, however, stood by his plan to feature the Master as a recurring foe for the foreseeable future.
Eric Saward championed the idea of killing off the Master in Time-Flight
During the summer, the job of directing "Xeraphin" -- now classified as Serial 6C -- was offered to Andrew Morgan, whose credits included Blake's 7. Unfortunately, Morgan was unimpressed by Grimwade's scripts, and turned down the offer at the last minute. Left with little time to find a replacement, Nathan-Turner turned to Ron Jones, a neophyte director who was just competing Black Orchid, his first assignment. Jones agreed to move directly onto "Xeraphin". Meanwhile, both of Grimwade's Concorde captains had to be renamed to avoid confusion with real individuals: Irving became Markham and then Urquhart, while Rathbone became Stapley. Flight Engineer Tulley was subsequently rechristened Scobie as well.
Anthony Ainley was contracted to play the Master on October 1st. It was agreed that he would be credited as "Leon Ny Taiy" (an anagram of "Tony Ainley") at the end of part one, in order to preserve the surprise of Kalid's unmasking in the second installment. It was also observed that the death of Adric in the preceding story, Earthshock, might be spoiled if advance listings for Serial 6C omitted Matthew Waterhouse's name. Consequently, a brief appearance by an illusory Adric was added to episode two. Meanwhile, the novelty of the strange title "Xeraphin" had gradually worn off on the production team, and in mid-December, the story was renamed Time-Flight.
Heathrow Airport in Hounslow, Middlesex was the only location used for Time-Flight. Work there began on January 6th, 1982, with material on the concourse shot in Terminal One. The next day, cast and crew shifted to the roof of Terminal Three; by this stage, Fielding had been reassured that Tegan was coming back in Season Twenty, and indeed this decision had been made as far back as September. Waterhouse was issued a contract for his cameo appearance on this day. Work at Heathrow was intended to conclude on the 8th, but the weather was stormy and the Concorde which British Airways had planned to provide had to be pressed into service. As a result, scenes in Concorde and on the tarmac were postponed to January 11th, at the British Airways Maintenance Area.
Jones had hoped that some of the scenes on the prehistoric heath might be filmed on location or at the Ealing Television Film Studios, and was disappointed to learn that the budget for Time-Flight would not permit this. In the event, the heath was the main concern during the serial's first studio block on January 19th and 20th in BBC Television Centre Studio 8. Originally, this work was intended to be confined to the first day, but technical problems pushed some scenes back to the 20th. It was then a race to complete the other planned shots -- in and around the Heathrow offices, as well as various special effects. Nathan-Turner was dissatisfied with the results, and some of the material was remounted in TC8 on January 24th.
On February 2nd, Matthew Waterhouse returned to finish out his tenure on Doctor Who
Meanwhile, it had been discovered that the script for part three was drastically short, and on the 25th, Saward asked Grimwade to contribute a further seven minutes for the episode. Later that week, Grimwade provided various new and extended scenes, including more material involving Bilton and Stapley spying on the Master and later trying to pilot the TARDIS, and additional exposition about the Xeraphin.
The second studio block -- again in TC8 -- spanned February 1st to 3rd. The initial day concentrated on TARDIS material. The 2nd was devoted to scenes in the Concorde hold, the area outside the sanctum, and the various corridors of the citadel. Waterhouse returned on this day to finish out his tenure on Doctor Who, more than two months after recording his farewell adventure. Waterhouse concentrated on the theatre after leaving Doctor Who, although he had a small role in a 1984 science-fiction film called The Killing Edge and recorded a cameo appearance as Adric in Peter Davison's final story, The Caves Of Androzani. Waterhouse's first novel, Fates, Flowers, was self-published in 2006.
February 3rd was the final day of filming for both Time-Flight and Doctor Who's nineteenth production block. The material that remained to be recorded included the sequences in Kalid's chamber, as well as the Xeraphin sanctum. The transmission of Time-Flight episode four then brought Doctor Who's nineteenth season to a close on March 30th.
Doctor Who: The Handbook: The Fifth Doctor by David J Howe and Stephen James Walker (1995), Virgin Publishing, ISBN 0 426 20458 9.
Doctor Who: The Eighties by David J Howe, Mark Stammers and Stephen James Walker (1996), Virgin Publishing, ISBN 1 85227 680 0.
Doctor Who Magazine #294, 23rd August 2000, "Archive: Time-Flight" by Andrew Pixley, Panini Publishing Ltd.
Doctor Who Magazine Special Edition #1, 2001, "Prince Charming" by Andrew Pixley, Panini Publishing Ltd.
In·Vision #61, November 1995, "Production" edited by Anthony Brown, Cybermark Services.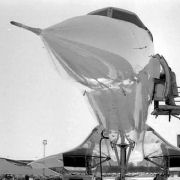 Original Transmission
Episode 1
Date
22nd Mar 1982
Time
6.57pm
Duration
24'56"
Viewers

(more)

10.0m (26th)
Episode 2
Date
23rd Mar 1982
Time
7.06pm
Duration
23'58"
Viewers

(more)

8.5m (48th)
Episode 3
Date
29th Mar 1982
Time
6.57pm
Duration
24'29"
Viewers

(more)

8.9m (46th)
Episode 4
Date
30th Mar 1982
Time
6.52pm
Duration
24'30"
Viewers

(more)

8.1m (64th)
---
Cast
The Doctor
Peter Davison
Adric
Matthew Waterhouse
Nyssa
Sarah Sutton
Tegan
Janet Fielding
Captain Stapley
Richard Easton
Flight Engineer Scobie
Keith Drinkel
First Officer Bilton
Michael Cashman
Horton
Peter Dahlsen
Sheard
Brian McDermott
Captain Urquhart
John Flint
Andrews
Peter Cellier
Angela Clifford
Judith Byfield
The Master
Anthony Ainley
Professor Hayter
Nigel Stock
Anithon
Hugh Hayes
Zarak
André Winterton
---
Crew
Written by
Peter Grimwade
Directed by
Ron Jones
Produced by
John Nathan-Turner
Incidental Music
Roger Limb
Special Sound
Dick Mills
Production Manager
Liz Mace
Production Associate
Angela Smith
Production Assistant
Joan Elliott
Assistant Floor Manager
Lynn Richards
Film Cameraman
Peter Chapman
Film Sound
John Gatland
Film Editor
Mike Houghton
Visual Effects Designer
Peter Logan
Video Effects
Dave Chapman
Vision Mixer
Nigel Finnis
Technical Manager
Peter Granger
Senior Cameraman
Alec Wheal
Videotape Editor
Rod Waldron
Studio Lighting
Eric Wallis
Studio Sound
Martin Ridout
Costume Designer
Amy Roberts
Make-up Artist
Dorka Nieradzik
Script Editor
Eric Saward
Title Sequence
Sid Sutton
Designer
Richard McManan-Smith
---
Working Titles
Zanadin
Xeraphin