Serial 5Z:
Castrovalva
While the Doctor retreats to the TARDIS Zero Room to recover from his regeneration, the Master kidnaps Adric and sends the TARDIS hurtling back in time to the Big Bang, where it will be torn apart. Tegan and Nyssa manage to save the time machine, and soon find themselves arriving on Castrovalva, a place legendary for its serene atmosphere. There they hope that the Doctor will be able to recuperate from his recent trauma. But the Master is lurking on Castrovalva, and it soon becomes clear that he has drawn the time travellers into a trap from which there may be no escape.
The story originally pegged to introduce the Fifth Doctor at the start of Doctor Who's nineteenth season was "Project '4G'" by John Flanagan and Andrew McCulloch, the team responsible for Meglos the previous year. At an early stage, it was decided to incorporate this adventure into a loose trilogy of tales featuring the Master, whom producer John Nathan-Turner and script editor Christopher H Bidmead had decided to resurrect as a way of bridging the transition from Tom Baker's Doctor to Peter Davison's. A storyline for "Project '4G'" was commissioned on August 15th, 1980, followed by full scripts on October 7th.
By early 1981, Flanagan and McCulloch's serial had been retitled "Project Zeta-Sigma". Bidmead had now left Doctor Who; his temporary replacement was Antony Root, who would himself be succeeded by Eric Saward in April. With production less than two months away, serious issues began to arise with "Project Zeta-Sigma", most notably the inclusion of various invisible characters in the first episode. On February 19th, Nathan-Turner and Root came to the conclusion that "Project Zeta-Sigma" could not proceed in its current form. It was decided that Four To Doomsday, scheduled to be the season's second story, would be now be the first to go before the cameras. It appears that some thought was given to delaying "Project Zeta-Sigma" by just a few weeks and recording it after Four To Doomsday, but Flanagan and McCulloch's scripts were ultimately abandoned altogether.
The BBC decided to hold Doctor Who back until January, to avoid having Peter Davison star in two programmes simultaneously
Fortunately, the Doctor Who production team now had the luxury of several extra months before Season Nineteen was due to begin transmission. Davison was already committed to a second season of the sitcom Sink Or Swim, which would be taped during a two-month hiatus in Doctor Who's nineteenth recording block in June and July. Sink Or Swim was intended to air in the autumn, so the BBC decided to hold Doctor Who back until January 1982, to avoid having Davison star in two very different programmes simultaneously.
Furthermore, Doctor Who had fared very badly in the ratings throughout Season Eighteen, as competition from ITV's glossy American import Buck Rogers In The 25th Century proved devastating to the programme's audience. BBC1 Controller Alan Hart concluded that Doctor Who's traditional Saturday teatime slot -- which it had occupied since debuting in 1963 -- was no longer appropriate for the series. At the same time, the BBC was engaged in long-term plans to introduce a soap opera which would be broadcast on two nights each week; this would ultimately become EastEnders. Before committing to what was, at that point, a revolutionary plan, the BBC was eager to test this scheduling model on established programmes. Doctor Who was selected for this experiment, and it was decided that Season Nineteen would air on both Monday and Tuesday evenings.
The result of the overhaul of Doctor Who's premiere date was that Nathan-Turner enjoyed unprecedented flexibility in rearranging his recording schedule. He had now come to the conclusion that Davison would be better served if he could record several stories before tackling his debut adventure, and so it was decided that the scripts chosen to replace "Project Zeta-Sigma" would be made fourth, after Four To Doomsday, The Visitation and Kinda; as a result, it would be designated Serial 5Z.
To write this story, Nathan-Turner and Root contacted Bidmead, who had returned to freelance writing after leaving Doctor Who. They asked the former script editor to write a story featuring the Master in which the new Doctor would be suffering from regeneration trauma (induced by the escalating entropy field encountered in Logopolis, the Bidmead-written finale to Season Eighteen). It was felt that this turmoil would help establish the Fifth Doctor as being more vulnerable than his almost superheroic predecessor. For his part, Bidmead wanted to explore the TARDIS more fully -- something that he had also addressed in Logopolis.
Christopher Bidmead was inspired by the optical illusions of artist and mathematician MC Escher
In crafting his storyline, Bidmead remembered two prints in the office of Graeme McDonald, the Head of Drama, whose optically illusory nature had irritated Nathan-Turner. These had been drawn by the Dutch artist and mathematician Maurits Cornelis (MC) Escher, whose works included Relativity (1953), in which figures are seen to walk up or down all sides of a series of staircases, Belvedere (1958), in which the perspective of a building changes between floors, and Ascending And Descending (1960), in which a staircase endlessly loops back onto itself. Bidmead thought that an environment exhibiting these sorts of traits could complement a story which dealt with the mathematical concept of recursion, in which one member of a sequence is generated by one or more of the preceding members of that sequence. Recursion can be used to construct special lists of numbers (such as the Fibonacci sequence, in which the next term is formed by adding the two preceding terms), functions which are defined in terms of themselves, and algorithms which call themselves.
On March 9th, Bidmead was commissioned to write a storyline called "The Visitor". While developing his ideas, he was inspired by a 1930 Escher lithograph called Castrovalva, depicting the environs of a village in the Abruzzo region of Italy which sits atop a sheer cliff. Bidmead decided to use a similar image in his Doctor Who story, and by the time he was asked to provide full scripts for on April 8th, the title had become Castrovalva. By this point, Root had left Doctor Who and Nathan-Turner himself was serving as the programme's script editor until the beginning of Saward's appointment in the middle of the month. Nathan-Turner instructed Bidmead to incorporate changes to Nyssa's costume which had been implemented for Four To Doomsday, including the replacement of her skirt with corduroy trousers, and the elimination of her tiara and fur stole. He also asked that Bidmead include the Doctor's addition of a celery stick to the lapel of his cricketing jacket.
The director assigned to Castrovalva was Fiona Cumming, a former actress who had enjoyed small roles in programmes such as Dr Finlay's Casebook. After a few years, Cumming had decided to leave acting and take jobs behind the scenes in television instead. In this capacity, she had worked on Doctor Who during the Sixties and Seventies, first as an assistant floor manager on The Massacre Of St Bartholomew's Eve, and then as a production assistant on The Highlanders, The Seeds Of Death and The Mutants. More recently, Cumming had become a director, earning credits on programmes such as Z Cars, The Omega Factor and Blake's 7.
The regulars had been working together for 5 months, so Fiona Cumming had to encourage them to behave with less familiarity
All of the location filming for Castrovalva took place in East Sussex. This began on September 1st at the Crowborough Wireless Telegraph Station in Duddleswell, which served as the grounds of the Pharos Project. Ironically, because the four regulars had now been working together for almost five months, Cumming found herself having to encourage them to behave with less familiarity towards one another.
The next two days were spent at Buckhurst Park in Withyham, where many of the Castrovalvan exterior scenes were filmed. Upon arriving at Buckhurst Park, Nathan-Turner greeted a man he assumed to be the gardner, only to discover that he was actually addressing the estate's owner, William Herbrand Sackville, the tenth Earl De La Warr. Despite this case of mistaken identity, Earl De La Warr was delighted to have Doctor Who filming on his premises, and asked to be photographed in front of the TARDIS in lieu of receiving a fee. Earl De La Warr also threw a party for the cast and crew during which alcohol was liberally available. Matthew Waterhouse indulged rather too much on this night; during the next day's recording, immediately after shooting the story's final scene, he found himself vomiting against the nearest tree.
Cast and crew visited three locations during the last day of filming on September 4th. First, the stony rise to the town of Castrovalva was actually Harrison's Rocks in Groombridge. Cumming had to shoot this material carefully due to Janet Fielding's severe fear of heights, framing the action to make it appear as if the actors were at a much greater elevation than was really the case. Next, the area where the TARDIS materialises was situated in nearby Birchden Wood. Finally, the sequences involving the Castrovalvan hunting party were filmed at Aytton's Wood.
John Nathan-Turner insisted that Peter Davison be credited as "the Doctor" rather than "Doctor Who"
Studio work then began with a two-day session in BBC Television Centre Studio 1, on September 15th and 16th. This block was dedicated to scenes inside the TARDIS, with model shots also completed on the second day. The Castrovalva sequences were then dealt with during the second studio block, which took place in TC6 over three days between September 29th and October 1st. On the 29th, the production was visited by Patrick Troughton, who had played the Second Doctor; Troughton was invited to stand in for Davison during camera rehearsals. Taping on this day involved scenes in the time travellers' rooms on Castrovalva, while some of the model shots were also remounted. On the 30th, material in the village square and on the walkways was recorded. The young girl was played by Souska John, the niece of Caroline John, who had played companion Liz Shaw. Finally, the sequences in the Portreeve's chamber, the Castrovalvan entrance tunnel, and the Master's TARDIS were taped on October 1st.
Episode one of Castrovalva was broadcast on January 4th, 1982, marking the return of Doctor Who to British television after an absence of more than eight months -- the longest in the programme's history to that point. For episode three, it was agreed that Anthony Ainley's portrayal of the Portreeve would be credited to "Neil Toynay" -- an anagram of "Tony Ainley" -- to avoid giving away the Master's masquerade too early. Meanwhile, Nathan-Turner insisted that Davison should be listed as playing "the Doctor" rather than "Doctor Who", marking a break with a tradition that dated all the way back to the programme's very first episode.
Doctor Who: The Handbook: The Fifth Doctor by David J Howe and Stephen James Walker (1995), Virgin Publishing, ISBN 0 426 20458 9.
Doctor Who: The Eighties by David J Howe, Mark Stammers and Stephen James Walker (1996), Virgin Publishing, ISBN 1 85227 680 0.
Doctor Who Magazine #258, 19th November 1997, "Archive: Castrovalva" by Andrew Pixley, Panini UK Ltd.
Doctor Who Magazine Special Edition #1, 2001, "Prince Charming" by Andrew Pixley, Panini Publishing Ltd.
In·Vision #55, January 1995, "Production" edited by Anthony Brown, Cybermark Services.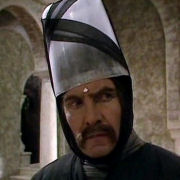 Original Transmission
Episode 1
Date
4th Jan 1982
Time
6.55pm
Duration
24'14"
Viewers

(more)

9.1m (54th)
Episode 2
Date
5th Jan 1982
Time
7.02pm
Duration
24'13"
Viewers

(more)

8.6m (84th)
Episode 3
Date
11th Jan 1982
Time
6.55pm
Duration
23'35"
Viewers

(more)

10.2m (47th)
Episode 4
Date
12th Jan 1982
Time
7.06pm
Duration
24'12"
Viewers

(more)

10.4m (46th)
---
Cast
The Doctor
Peter Davison
Adric
Matthew Waterhouse
Nyssa
Sarah Sutton
Tegan
Janet Fielding
The Master
Anthony Ainley
Head Of Security
Dallas Cavell
Ruther
Frank Wylie
Shardovan
Derek Waring
Mergrave
Michael Sheard
Child
Souska John
---
Crew
Written by
Christopher H Bidmead
Directed by
Fiona Cumming
Produced by
John Nathan-Turner
Incidental Music
Paddy Kingsland
Special Sound
Dick Mills
Production Manager
Margot Hayhoe
Production Associate
Angela Smith
Production Assistant
Olivia Cripps
Assistant Floor Manager
Renny Tasker
Film Cameraman
John Baker
Film Sound
Jim McAlister
Film Editor
Robin Jackman
Visual Effects Designer
Simon McDonald
Video Effects
Dave Chapman
Technical Manager
Clive Gulliver
Senior Cameraman
Alec Wheal
Vision Mixer
Carol Johnson
Videotape Editor
Rod Waldron
Studio Lighting
Ron Bristow
Studio Sound
Laurie Taylor
Costume Designer
Odile Dicks-Mireaux
Make-Up Artist
Marion Richards
Script Editor
Eric Saward
Title Sequence
Sid Sutton
Designer
Janet Budden
---
Working Titles
The Visitor