New Series Episode 69:
Amy's Choice
The Doctor, Amy and Rory are confronted by a cryptic figure who calls himself the Dream Lord. The Dream Lord has caused the three time travellers to flit back and forth between two different realities -- one in which they're stranded aboard a crippled TARDIS, the other in which Amy and Rory have settled down in Leadworth and are about to become parents. In both cases, the trio face a mortal danger... but they first have to deduce which is the true reality, or risk becoming trapped in the dream for the rest of their lives.
By 2008, Simon Nye was a veteran television scriptwriter whose credits included Is It Legal?, How Do You Want Me?, Hardware and a TV movie adaptation of The Railway Children. However, the programme which had launched his career was the raunchy sitcom Men Behaving Badly, which was based on Nye's 1989 novel of the same name. Nye had been encouraged to adapt Men Behaving Badly for television by producer Beryl Vertue, and it was through Vertue that he later came to know her son-in-law, Steven Moffat, who was also making a name for himself as one of Britain's top comedy writers. When Moffat became Doctor Who's showrunner in 2008, Nye indicated that he was interested in writing for the programme. However, Nye's busy schedule meant that it was not until 2009 that he could confirm his availability to contribute a script for Season Thirty-One.
At this stage, Moffat's conception of his first Doctor Who season was well-formed. Aware that Nye was skilled at writing interpersonal relationships, Moffat asked him to devise a story which would deal with the love triangle, of sorts, entangling the Doctor and his companions, Amy and Rory. In particular, Moffat wanted the script to firmly establish Amy's deep love for Rory -- an important development because Nye's episode would come immediately before The Hungry Earth / Cold Blood, the adventure which would climax with Rory's death. Nye's tale was also conceived with an eye on the programme's budget, requiring a small guest cast and making substantial use of the standing TARDIS set. Similarly, Nye's aliens, the Eknodines, could be straightforwardly realised, although there was some indecision as to whether one or two eyeballs should emerge from the mouths of the possessed senior citizens.
Nye's script, entitled "The Dream Lord", was scheduled to be made as part of Block Seven -- the final production block for Season Thirty-One -- alongside The Lodger. The director was Catherine Morshead, who had directed Nye's script for The Railway Children, as well as episodes of programmes including Heartbeat, The Bill, Shameless and Ashes To Ashes. Given the nature of the episode, Morshead spent more time than usual recording on the TARDIS set at Upper Boat Studios, including the first three days of work on "The Dream Lord" from February 18th to 20th, 2010. More TARDIS filming took place there on the 22nd; by now, the console room had been given a frozen appearance using a spray of wax and plastic.
The first location for "The Dream Lord" was Skenfrith Village in Monmouthshire, which posed as Upper Leadworth from February 23rd to 25th. The filming which took place there included the sequences at the ruins -- actually Skenfrith Castle, which had been derelict since the sixteenth century. The portrayal of this site as the destination of a school field trip replaced material originally set in a primary school playground. Next, Keepers Cottage near Cowbridge served as Amy and Rory's home in Upper Leadworth. Morshead's team recorded scenes there on the 26th, and again on the 1st and 2nd of March. On the 3rd, AP Young Butchers in Llantwit Major provided the Doctor's temporary refuge from the Eknodines. Next, cast and crew spent March 6th at Lanelay Hall in Pontyclun, Llantrisant, which was dressed at the rest home.
It was back to Upper Boat on March 9th for more scenes in the TARDIS. Morshead then spent several days devoted to The Lodger, with work on "The Dream Lord" finally resuming on the 19th. More TARDIS footage was captured on this day, as were sequences on the laneways of Upper Leadworth (especially in the camper van), recorded on Eglwysilan Road in Abertridwr, Caerphilly. Filming wrapped up on March 20th, when the remaining TARDIS material -- plus effects shots and inserts -- was completed at Upper Boat.
Around this time, the decision was made to rename the story Amy's Choice. This echoed the title of the 1979 novel Sophie's Choice by William Styron (as well as its 1982 film adaptation starring Meryl Streep), about a Jewish woman at a Nazi concentration camp who is forced to choose which of her two children will be executed.
Doctor Who Magazine Special Edition #27, 16th March 2011, "Amy's Choice" by Andrew Pixley, Panini Publishing Ltd.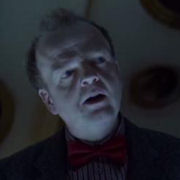 Original Transmission

| | |
| --- | --- |
| | |
| Date | 15th May 2010 |
| Time | 6.24pm |
| Duration | 44'08" |
| · BBC1 | 7.1m |
| · BBCHD | 485k |
| Appreciation | 84% |
---
Cast
The Doctor
Matt Smith
Amy Pond
Karen Gillan
Rory
Arthur Darvill
Dream Lord
Toby Jones
Mr Nainby
Nick Hobbs
Mrs Hammill
Joan Linder
Mrs Poggit
Audrey Ardington
---
Crew
Written by
Simon Nye
Directed by
Catherine Morshead
Produced by
Tracie Simpson
1st Asst Director
Kiaran Murray-Smith
2nd Asst Director
James DeHaviland
3rd Asst Director
Heddi-Joy Taylor-Welch
Runners
Nicola Eynon Price
Laura Jenkins
Location Manager
Gareth Skelding
Unit Manager
Rhys Griffiths
Production Co-ordinator
Jess van Niekerk
Production Management Asst
Claire Thomas
Production Runner
Siân Warrilow
Asst Production Accountant
Carole Wakefield
Script Editor
Brian Minchin
Continuity
Non Eleri Hughes
Camera Operator
Richard Stoddard
B Camera Operator
Matthew Poynter
Focus Puller
Steve Rees
Grip
John Robinson
Camera Assistants
Tom Hartley
Jon Vidgen
Camera Trainee
Darren Chesney
Boom Operator
Dafydd Parry
Sound Maintenance Engineer
Jeff Welch
Gaffer
Mark Hutchings
Best Boy
Pete Chester
Electricians
Ben Griffiths
Steve Slocombe
Bob Milton
Alan Tippetts
Stunt Co-ordinator
Crispin Layfield
Stunt Performers
Gordon Seed
Belinda McGinley
Dani Biernat
Helen Steinway-Bailey
Supervising Art Director
Stephen Nicholas
Assistant Art Director
Jackson Pope
Art Dept Co-ordinator
Amy Oakes
Production Buyer
Ben Morris
Set Decorator
Keith Dunne
Props Buyer
Catherine Samuel
Standby Art Director
Ellen Woods
Set Designer
Al Roberts
Storyboard Artist
James Iles
Concept Artists
Richard Shaun Williams
Peter McKinstry
Standby Props
Phill Shellard
Tom Evans
Standby Carpenter
Will Pope
Standby Rigger
Keith Freeman
Standby Painter
Clive Clarke
Props Master
Paul Aitken
Props Chargehand
Matt Wild
Dressing Props
Martin Broadbent
Philip Everett-Lyons
Art Department Driver
Tom Belton
Props Fabrication Manager
Barry Jones
Props Makers
Penny Howarth
Nicholas Robatto
Practical Electrician
Albert James
Construction Manager
Matthew Hywel-Davies
Construction Chargehand
Scott Fisher
Construction Workshop Manager
Mark Hill
Scenic Artists
John Pinkerton
John Whalley
Graphics
BBC Wales Graphics
Title Sequence
FrameStore
Costume Supervisor
Bobbie Peach
Costume Assistants
Sara Morgan
Maria Franchi
Costume Trainee
Nikki Lightfoot
Make-Up Supervisor
Pam Mullins
Make-Up Artists
Abi Brotherton
Morag Smith
Assistant Editor
Becky Trotman
VFX Editor
Cat Gregory
Post Prod. Supervisors
Ceres Doyle
Nerys Davies
Post Prod. Co-ordinator
Marie Brown
Dubbing Mixer
Tim Ricketts
Sound Supervisor
Paul McFadden
Dialogue Editor
Matthew Cox
Sound Effects Editor
Paul Jefferies
Colourist
Jon Everett
On-Line Conform
Geraint Parri Huws
Jeremy Lott
Original Theme Music
Ron Grainer
Casting Director
Andy Pryor CDG
Production Executive
Julie Scott
Production Accountant
Ceri Tothill
Sound Recordist
Bryn Thomas
Costume Designer
Ray Holman
Make-Up Designer
Barbara Southcott
Music
Murray Gold
Visual Effects
BBC Wales Graphics
Editor
Jamie Pearson
Production Designer
Tristan Peatfield
Director Of Photography
Erik Wilson
Line Producer
Patrick Schweitzer
Executive Producers
Piers Wenger
Beth Willis
Steven Moffat
---
Working Titles
The Dream Lord
---
Media
DVD Release
Doctor Who: Series 5 Volume 3 (single disc; 2010)
Buy: UK
Doctor Who: The Complete Fifth Series (2010; boxed set)
Buy: Canada · UK
· USA
Blu-ray Release
Doctor Who: Series 5 Volume 3 (single disc; 2010)
Buy: UK
Doctor Who: The Complete Fifth Series (2010; boxed set)
Buy: Canada · UK
· USA