New Series Episode 94:
Dinosaurs On A Spaceship
In 2367, Earth's security forces are on high alert as an unidentified spaceship hurtles towards the planet. The Doctor assembles a team to investigate, including the legendary Queen Nefertiti, a big game hunter named Riddell, Amy, Rory... and, inadvertently, Rory's father Brian. Materialising aboard the mystery ship, they're surprised to find it populated by dinosaurs. With time running out before the ship is blasted out of the sky, the Doctor must confront a vicious criminal named Solomon, as the lives of his companions and the dinosaurs hang in the balance.
Forthcoming.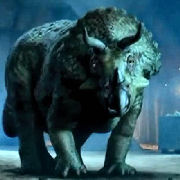 Original Transmission

| | |
| --- | --- |
| | |
| Date | 8th Sep 2012 |
| Time | 7.35pm |
| Duration | 45'10" |
| · BBC1/HD | 7.6m |
| Appreciation | 87% |
---
Cast
The Doctor
Matt Smith
Amy Pond
Karen Gillan
Rory Williams
Arthur Darvill
Riddell
Rupert Graves
Brian Williams
Mark Williams
Solomon
David Bradley
Queen Nefertiti
Riann Steele
Indira
Sunetra Sarker
Robot 1
Noel Byrne
Robot 2
Richard Garaghty
Bleytal
Richard Hope
ISA Worker
Rudi Dharmalingam
Robot 1 Voice
David Mitchell
Robot 2 Voice
Robert Webb
---
Crew
Written by
Chris Chibnall
Directed by
Saul Metzstein
Produced by
Marcus Wilson
Stunt Coordinators
Crispin Layfield
Gordon Seed
Stunt Performers
Will Willoughby
Rob Cooper
Mike Lambert
First Assistant Director
Nick Brown
Second Assistant Director
James DeHaviland
Third Assistant Director
Heddi-Joy Taylor-Welch
Assistant Director
Danielle Richards
Location Manager
Iwan Roberts
Unit Manager
Geraint Williams
Production Manager
Phillipa Cole
Production Coordinator
Claire Hildred
Asst Production Coordinator
Gabriella Ricci
Production Secretary
Sandra Cosfeld
Production Assistants
Rachel Vipond
Samantha Price
Asst Production Accountant
Rhys Evans
Script Supervisor
Lindsay Grant
Camera Operator
Joe Russell
Focus Pullers
Steve Rees
James Scott
Grip
Gary Norman
Camera Assistants
Meg de Koning
Sam Smithard
Cai Thompson
Assistant Grip
Owen Charnley
Sound Maintenance Engineers
Jeff Welch
Chris Goding
Gaffer
Mark Hutchings
Best Boy
Stephen Slocombe
Electricians
Bob Milton
Gareth Sheldon
Matt Wilson
Supervising Art Director
Paul Spriggs
Set Decorator
Adrian Anscombe
Production Buyer
Charlie Lynam
Art Director
Amy Pickwoad
Assistant Art Director
Richard Hardy
Art Department Coordinator
Donna Shakesheff
Prop Master
Paul Smith
Prop Chargehand
Bernie Davies
Set Dresser
Jayne Davies
Prop Hand
Austin J Curtis
Standby Props
Phill Shellard
Helen Atherton
Dressing Props
Mike Elkins
Ian Griffin
Tom Belton
Graphic Artist
Christina Tom
Graphic Designer
Chris J Lees
Petty Cash Buyer
Helen O'Leary
Standby Carpenter
Will Pope
Standby Rigger
Bryan Griffiths
Props Makers
Penny Howarth
Alan Hardy
Jamie Thomas
Props Driver
Gareth Fox
Construction Manager
Terry Horle
Construction Chargehand
Dean Tucker
Assistant Costume Designer
Fraser Purfit
Costume Supervisor
Carly Griffith
Costume Assistants
Katarina Cappellazzi
Gemma Evans
Make-Up Artists
Sara Angharad
Vivienne Simpson
Allison Sing
Casting Associate
Alice Purser
Assistant Editor
Becky Trotman
VFX Editor
Joel Skinner
Dubbing Mixer
Tim Ricketts
ADR Editor
Matthew Cox
Dialogue Editor
Darran Clement
Sound Effects Editor
Paul Jefferies
Foley Editor
Jamie Talbutt
Graphics
Peter Anderson Studio
Online Conform
Mark Bright
Online Editor
Geraint Pari Huws
Colourist
Mick Vincent
Original Theme Music
Ron Grainer
Casting Director
Andy Pryor CDG
Production Executive
Julie Scott
Post Production Supervisor
Nerys Davies
Production Accountant
Jeff Dunn
Sound Recordist
Deian Llŭr Humphreys
Costume Designer
Howard Burden
Make-Up Designer
Barbara Southcott
Music
Murray Gold
Visual Effects
The Mill
Special Effects
Real SFX
Prosthetics
Millennium FX
Editor
Tim Porter
Production Designer
Michael Pickwoad
Director Of Photography
Stephan Pehrsson
Associate Producer
Denise Paul
Line Producer
Diana Barton
Executive Producers
Steven Moffat
Caroline Skinner
---
Media
DVD Release
Doctor Who: Series 7 Part 1 (double disc; 2012)
Buy: Canada · UK
· USA
Doctor Who: The Complete Seventh Series (2013; boxed set)
Buy: Canada · UK
· USA
Blu-ray Release
Doctor Who: Series 7 Part 1 (double disc; 2012)
Buy: Canada · UK
· USA
Doctor Who: The Complete Seventh Series (2013; boxed set)
Buy: Canada · UK
· USA