Serial 7B:
The Trial Of A Time Lord
Segment Two
(aka Mindwarp)
At the Doctor's trial, the Valeyard presents the Doctor and Peri's most recent adventure. The dying words of a Thordon warlord send the pair to Thoros-Beta, home of the Mentors -- including their old foe, Sil. The Mentor leader, Kiv, has had his intelligence enhanced by the human geneticist Crozier, but now his brain is outgrowing his skull. Crozier sets his eyes on Peri as the new host for Kiv's brain. But when the Doctor appears to turn evil under the effects of one of Crozier's devices, it is left to the berserk warlord King Yrcanos to save his companion.
The villainous Sil, created by Philip Martin for his Season Twenty-Two story Vengeance On Varos, had proved highly popular with Doctor Who producer John Nathan-Turner and script editor Eric Saward. Martin was quickly asked to bring the character back for a second encounter with the Doctor. Originally, this would have occurred in a serial entitled "Mission To Magnus", which paired Sil with the Ice Warriors and was likely intended to be the fourth story of Season Twenty-Three. However, this adventure became one of the many casualties of the BBC's decision to delay and shorten that season, leading to the development of a new set of scripts linked by the common thread of the Doctor being placed on trial by the Time Lords.
Martin was part of the team of writers assembled for the new Season Twenty-Three, alongside Robert Holmes, David Halliwell and Jack Trevor Story. The season was envisaged as following the pattern of the 1846 Charles Dickens novel A Christmas Carol, with evidence at the trial given in the form of the Doctor's past, present and future adventures. Martin was tasked with devising the "present" chapter -- that is, the Doctor's most recent escapades prior to being summoned to face the Time Lord courtroom. Once again, he was asked to incorporate Sil into his storyline. But a more dire requirement for Martin's serial was that it should culminate in the death of Peri, whom the production team had decided to replace with a new companion, Melanie Bush, partway through the year. Nicola Bryant, meanwhile, was beginning to worry that her acting career might suffer from a prolonged association with a single role, and so she was agreeable when Nathan-Turner informed her of this turn of events.
Philip Martin was instructed that his scripts should culminate in the death of Peri
Since writing Vengeance On Varos, Martin had joined BBC Radio as a drama producer; consequently, staff clearance was requested for Martin's Doctor Who scripts on September 13th, 1985. The title "The Planet Of Sil" was originally applied to Martin's story, which soon became known as "Mindwarp" and designated Serial 7B. Ron Jones was engaged as director; he had helmed Vengeance On Varos and likely would have served in the same capacity on "Mission To Magnus". Sadly, these episodes would be amongst Jones' final television work. After spending some time directing for German broadcasters, his career was prematurely curtailed by a long illness. Jones died on July 9th, 1993.
As "Mindwarp" neared production, Nathan-Turner decided that the entirety of Season Twenty-Three should be broadcast as a single, fourteen-episode serial. Consequently, Martin's story would become parts five to eight of The Trial Of A Time Lord. Amongst the cast assembled by Jones was Brian Blessed, an acclaimed Shakespearean actor who had risen to prominence on television in the police drama Z Cars. In August 1983, Blessed had been widely -- if erroneously -- reported by the British press as the man who would succeed Peter Davison as the star of Doctor Who. Nabil Shaban had also agreed to reprise the role of Sil.
Recording for the second segment of The Trial Of A Time Lord began under a cloud. The rapport between Nathan-Turner and Saward had been deteriorating for some time, as the script editor increasingly found himself disagreeing with his producer's decisions. On April 13th, Saward resigned his post but agreed to complete his friend Robert Holmes' script for the season's concluding episode, since the writer was now too ill to work on it himself. Sadly, Holmes passed away on May 24th, placing a further strain on the relationship between Nathan-Turner and Saward. The situation had also impacted rehearsals on Martin's adventure, with Colin Baker finding that no one could explain to him whether the Doctor's aberrant behaviour was meant to be a genuine reflection of the effects of Crozier's machine, a ruse, or evidence of tampering with the Matrix record.
No one could explain to Colin Baker whether the Doctor's behaviour was genuine, a ruse, or evidence of tampering with the Matrix
Parts five to eight of The Trial Of A Time Lord were largely studio-bound, taped in two three-day sessions. The first block began on Tuesday, May 27th in BBC Television Centre Studio 1. Here, an uncredited Deep Roy wore a repainted Terileptil mask (from Season Nineteen's The Visitation) as the Possican delegate. The initial two days concentrated on scenes in Crozier's laboratory and the corridors, including Peri's death scene (for which Bryant wore a bald skullcap). Unfortunately, painstaking lighting changes in the corridors provoked a labour dispute, and as a result the work proceeded slowly. Consequently, the completion of material in Kiv's chamber and profit room on the 29th represented significantly less than Jones had planned to accomplish to that point, despite permission being granted for a fifteen-minute overrun.
Happily, the second studio block, which started on Wednesday, June 11th in TC6, was a smoother affair. Nonetheless, there was another flare-up of the industrial strife which had plagued the first session, when the lighting crew objected to the lowering of two lighting rigs for use as the circular entrances to the Alphan Induction Centre. A compromise was eventually reached whereby the actual lights on these rigs would not be turned on. Tunnel and corridor scenes were scheduled throughout this block. Otherwise, the first day dealt with the sets for Matrona Kani's chamber, the cell, and the tide control room; the second with the caverns and the problematic Induction Centre; and the third with the Time Lord courtroom.
Production then wrapped up with location filming on June 15th and 16th at Telscombe Cliffs near Peacehaven in East Sussex, for sequences on the pebble beach and at the Rock of Sorrows. Unfortunately, a crewmember had accidentally noted the times of high and low tide in reverse, which resulted in the water being much deeper than anticipated when shooting the scene of the Doctor and Peri arriving on Thoros-Beta. In post-production, Jones elected to use a new digital compositor called Harry to alter the colours in these scenes. This was in accordance with Martin's scripts, which described Thoros-Beta as boasting purple mountains, a bright green sky, and a pink sea.
Nicola Bryant was disappointed to learn that John Nathan-Turner had changed his mind about Peri's death
The conclusion of work at Telscombe Cliffs marked the end of Nicola Bryant's tenure on Doctor Who. The actress was pleased that Peri's death represented a powerful and unusual exit for a companion. Consequently, she was disappointed to learn that Nathan-Turner had changed his mind about the manner of her departure, with the season's closing episode now revealing that Peri's death was a fiction conjured by the Valeyard. Much of Bryant's subsequent career concentrated on the theatre, although she continued to make periodic television appearances, including Blackadder's Christmas Carol, Holby City and Doctors. She reprised her role as Peri for the thirtieth-anniversary special Dimensions In Time in 1993, and on many occasions for Big Finish Productions' range of Doctor Who audio dramas, beginning with Whispers Of Terror in November 1999.
This was also Philip Martin's last televised Doctor Who story. Although much of his later work would be in radio, he continued to write occasionally for television as well, such as episodes of Star Cops, The Bill and Doctors. He novelised both of his broadcast Doctor Who adventures, as well as "Mission To Magnus", for Target Books. More recently, he contributed several scripts to Big Finish, including an audio adaptation of "Mission To Magnus". He died on December 13th, 2020 following a battle with leukaemia.
Doctor Who: The Handbook: The Sixth Doctor by David J Howe, Mark Stammers and Stephen James Walker (1993), Virgin Publishing, ISBN 0 426 20400 8.
Doctor Who: The Eighties by David J Howe, Mark Stammers and Stephen James Walker (1996), Virgin Publishing, ISBN 1 85227 680 0.
Doctor Who Magazine #249, 12th March 1997, "Archive: The Trial Of A Time Lord Parts Five To Eight" by Andrew Pixley, Marvel Comics UK Ltd.
Doctor Who Magazine Special Edition #3, 22nd January 2003, "It's Alright (Baby's Coming Back)" by Andrew Pixley, Panini Publishing Ltd.
In·Vision #87, November 1999, "Production" edited by Anthony Brown, Cybermark Services.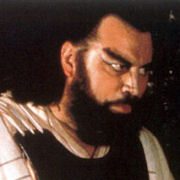 Original Transmission
Episode 5
Date
4th Oct 1986
Time
5.47pm
Duration
24'42"
Viewers

(more)

4.8m (76th)
Appreciation
71%
Episode 6
Date
11th Oct 1986
Time
5.46pm
Duration
24'45"
Viewers

(more)

4.6m (87th)
Appreciation
69%
Episode 7
Date
18th Oct 1986
Time
5.47pm
Duration
24'33"
Viewers

(more)

5.1m (87th)
Appreciation
66%
Episode 8
Date
25th Oct 1986
Time
5.48pm
Duration
24'44"
Viewers

(more)

5.0m (84th)
Appreciation
72%
---
Cast
The Doctor
Colin Baker
Peri
Nicola Bryant
The Valeyard
Michael Jayston
The Inquisitor
Lynda Bellingham
King Yrcanos
Brian Blessed
Sil
Nabil Shaban
Kiv
Christopher Ryan
Crozier
Patrick Ryecart
Matrona Kani
Alibe Parsons
Frax
Trevor Laird
The Lukoser
Thomas Branch
Tuza
Gordon Warnecke
Mentor
Richard Henry
---
Crew
Written by
Philip Martin
Directed by
Ron Jones
Produced by
John Nathan-Turner
Incidental Music
Richard Hartley
Special Sound
Dick Mills
Production Manager
Kevan van Thompson
Production Associate
Angela Smith
Production Assistant
Karen Jones
Assistant Floor Manager
Anna Price
OB Lighting
Colin Widgery
OB Sound
Mike Johnstone
Visual Effects Designer
Peter Wragg
Video Effects
Danny Popkin
Vision Mixer
Jim Stephens
Technical Co-Ordinator
Alan Arbuthnott
Studio Camera Supervisor
Alec Wheal
Videotape Editor
Hugh Parson
Studio Lighting
Don Babbage
Studio Sound
Brian Clark
Costume Designer
John Hearne
Make-up Designer
Dorka Nieradzik
Script Editor
Eric Saward
Designer
Andrew Howe-Davies
---
Working Titles
The Planet Of Sil
Mindwarp