Serial 7E:
Paradise Towers
The Doctor and Mel go to Paradise Towers for a holiday, only to find the famed complex in ruins. Long ago, the adults went off to fight a war and never returned. Left behind are the Kangs, gangs of wild teenaged girls; the Rezzies, cannibalistic old women; the Caretakers, who ostensibly look after the Towers; and Pex, who was too scared to go to war. But also lurking is Kroagnon, architect of Paradise Towers, who has taken mental possession of the Chief Caretaker and the cleaning robots in an attempt to rid his creation of human life forever.
In late 1986, with Andrew Cartmel's appointment as Doctor Who script editor still weeks away, it was left to producer John Nathan-Turner to find writers for Season Twenty-Four. For the most part, Nathan-Turner was reticent to use those who had worked on Doctor Who in the past, since many of them were connected with former script editor Eric Saward, with whom the producer had had a much-publicised falling out. Consequently, he was receptive when he was approached by a writer new to television named Stephen Wyatt. Wyatt had written for theatre and radio, and had recently begun working at the BBC Script Unit. The dark comedy Claws had been commissioned for the anthology series Screen One, and Wyatt was using it as an audition piece in the hope of attracting additional work elsewhere within the BBC.
Nathan-Turner arranged a meeting with Wyatt, who developed a satirical idea steeped in Doctor Who continuity. However, when Andrew Cartmel joined the programme on January 16th, he found that this notion did not live up to the promise of Claws. Instead, he and Wyatt discussed developing a story along the lines of JG Ballard's 1975 novel High Rise, a parable for middle-class existence about a skyscraper whose tenants descend into pseudo-tribal warfare. Wyatt also recalled visiting friends at an East End tower block and being disquieted by the way the building seemed to take on a life of its own. This appealed to Cartmel, who wanted to introduce some of the same aesthetic into Doctor Who that he admired in the work of comic book writers such as Alan Moore, author of The Ballad Of Halo Jones, The Saga Of Swamp Thing, V For Vendetta and Watchmen. In particular, Cartmel was keen to embrace more offbeat and complex ideas.
Stephen Wyatt recalled being disquieted by the way a tower block seemed to take on a life of its own
On January 30th, Wyatt was commissioned to write the first episode of "Paradise Tower" as a trial. Despite the fact that no actor had yet been cast as the Seventh Doctor, Wyatt worked quickly and both Cartmel and Nathan-Turner were pleased with the results. As such, the remaining episodes were requested on February 19th, with the title amended slightly to Paradise Towers. Soon afterward, Sylvester McCoy was contracted to star in Doctor Who, and Wyatt was provided with his audition tape as a guide to characterising the Seventh Doctor. This process was helped by the fact that Wyatt remembered seeing McCoy on stage; he also shared Nathan-Turner's vision that the new Doctor should echo Patrick Troughton's incarnation.
As the scripts developed, Cartmel encouraged Wyatt to make greater use of the cleaning robots, who would fill the role of the traditional Doctor Who monster. The name Kroagnon was originally given to the planet, but this was later applied to the villainous architect of Paradise Towers instead, with the world referred to as Griphos. The Caretakers were meant to be old men gone to seed, while Pex was envisaged as a muscle-bound oaf who would satirise popular American action heroes such as Sylvester Stallone's John Rambo.
Unfortunately, finding the right actor to play Pex proved to be a challenge for director Nicholas Mallett, who was returning to Doctor Who after working on The Trial Of A Time Lord (Segment One) the year before. Those actors of the appropriate age and build whom Mallett considered for Pex were reluctant to engage in the level of self-parody that the script required. Finally, to Wyatt's disappointment, it was decided to turn the character's concept completely on its head by casting Howard Cooke -- a small, slender actor who was clearly not the physical specimen which Pex made himself out to be. Meanwhile, playing Fire Escape would be Julie Brennon; she was the wife of Mark Strickson, who had played the Fifth Doctor's companion Turlough.
The pool at Elmswell House was filled with bitterly cold water, much to the chagrin of Bonnie Langford
Production on Paradise Towers (designated Serial 7E) began with two days of location filming on May 21st and 22nd at Elmswell House in Chalfont St Giles, Buckinghamshire. This was for the scenes around the pool -- which was found to be filled with bitterly cold, much to the chagrin of Bonnie Langford and her stunt double, Ellie Bertram. Mallett's team then regrouped for a two-day session in BBC Television Centre Studio 1, starting on Thursday, June 4th. Scenes in the square and the Rezzies' flat were recorded on both days, together with those in the TARDIS, the lift, and the third- and fourth-floor corridors on the 4th. Recording resumed with a three-day block in TC8 from Wednesday, June 17th. The focus was on the hallways of the higher-numbered floors, along with more material in the lift on the last two days. Other sets in use included the Red Kang's headquarters on the 17th, the Caretakers' base of operations on the 18th, and the basement and the Rezzies' flat on the 19th.
When he became producer of Doctor Who in 1980, Nathan-Turner had decreed that the programme's incidental music would be devised in-house by the BBC Radiophonic Workshop, rather than allocated to external composers. More recently, however, his position had softened, and the commission for Paradise Towers went to freelancer David Snell, who had submitted samples which impressed Nathan-Turner. Unfortunately, as Snell's work began to be dubbed onto the completed episodes, Nathan-Turner was dismayed by the results, finding the music dull and repetitive. On September 11th, Nathan-Turner wrote to Snell to inform him that his incidental music would not be used. The composer was aghast, having been unaware there were any misgivings about his work, and offered to rescore as much of the programme as necessary free of charge. Nathan-Turner, however, had already asked Keff McCulloch to step in and hastily put together a replacement composition; McCulloch had already worked on the season opener, Time And The Rani, and was then in the process of scoring the year's third serial, Delta And The Bannermen. Snell would not work on Doctor Who again, but went on to a long career as a conductor, with his work appearing in feature films such as Chocolat and Belle.
The Hungerford massacre on August 19th resulted in Paradise Towers being reedited for overseas sale
During the months between the completion of Paradise Towers and its transmission, the United Kingdom suffered one of the worst mass killings in its modern history, when Michael Ryan went on a shooting spree in the town of Hungerford, Berkshire. Sixteen people died before Ryan committed suicide, and in the weeks that followed, violence on British television came under careful scrutiny. Although no alterations were made to Paradise Towers prior to its broadcast in October, complaints from the public prompted BBC1 Controller Michael Grade to ask Nathan-Turner to reedit the serial for overseas sale. As a result, several trims were made to the sequences in Tilda and Tabby's flat which made conspicuous use of knives.
Meanwhile, Wyatt was happy with his first Doctor Who story, and began to consider the possibility of a sequel to Paradise Towers. This would have revisited the Kangs, now sent away from the complex to attend a boarding school but instead to determined to find their male counterparts. Nothing would come of this, however, and Wyatt would instead write The Greatest Show In The Galaxy for Season Twenty-Five.
Doctor Who: The Handbook: The Seventh Doctor by David J Howe and Stephen James Walker (1998), Virgin Publishing, ISBN 0 426 20527 8.
Doctor Who: The Eighties by David J Howe, Mark Stammers and Stephen James Walker (1996), Virgin Publishing, ISBN 1 85227 680 0.
Doctor Who Magazine #326, 5th February 2003, "Archive: Paradise Towers" by Andrew Pixley, Panini Publishing Ltd.
Doctor Who Magazine Special Edition #10, 13th April 2005, "Crazy Crazy Nights" by Andrew Pixley, Panini Publishing Ltd.
In-Vision #92, October 2000, "Production" edited by Anthony Brown, Cybermark Services.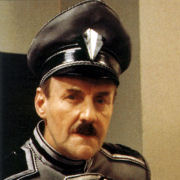 Original Transmission
Episode 1
Date
5th Oct 1987
Time
7.34pm
Duration
24'33"
Viewers

(more)

4.5m (88th)
Appreciation
61%
Episode 2
Date
12th Oct 1987
Time
7.38pm
Duration
24'39"
Viewers

(more)

5.2m (84th)
Appreciation
58%
Episode 3
Date
19th Oct 1987
Time
7.36pm
Duration
24'30"
Viewers

(more)

5.0m (79th)
Appreciation
58%
Episode 4
Date
26th Oct 1987
Time
7.35pm
Duration
24'21"
Viewers

(more)

5.0m (93rd)
Appreciation
57%
---
Cast
The Doctor
Sylvester McCoy
Melanie
Bonnie Langford
Chief Caretaker
Richard Briers
Deputy Chief
Clive Merrison
Tilda
Brenda Bruce
Tabby
Elizabeth Spriggs
Fire Escape
Julie Brennon
Bin Liner
Annabel Yuresha
Pex
Howard Cooke
Blue Kang Leader
Catherine Cusack
Young Caretaker
Joseph Young
Yellow Kang
Astra Sheridan
Maddy
Judy Cornwell
Video Commentary
Simon Coady
---
Crew
Written by
Stephen Wyatt
Directed by
Nicholas Mallett
Produced by
John Nathan-Turner
Theme Music composed by
Ron Grainer
Theme Arrangement / Incidental Music
Keff McCulloch
Special Sound
Dick Mills
Production Manager
Ian Fraser
Production Associate
Ann Faggetter
Production Assistant
Frances Graham
Assistant Floor Manager
Val McCrimmon
OB Lighting
Ian Dow
OB Sound
Doug Whittaker
OB Cameramen
Alastair Mitchell
David Hunter
Visual Effects Designer
Simon Tayler
Video Effects
Dave Chapman
Technical Co-Ordinator
Richard Wilson
Studio Camera Supervisor
Alec Wheal
Vision Mixer
Shirley Coward
Videotape Editor
Hugh Parson
Studio Lighting
Henry Barber
Studio Sound
Brian Clark
Costume Designer
Janet Tharby
Make-up Designer
Shaunna Harrison
Script Editor
Andrew Cartmel
Graphic Designer
Oliver Elmes
Designer
Martin Collins
---
Working Titles
Paradise Tower