Serial 7F:
Delta And The Bannermen
The Doctor and Mel win a vacation on a time-travelling tour bus to a 1950s holiday camp. Also on the bus is Delta, the last of the Chimeron race, who is being hunted by the genocidal Bannermen and their brutish leader, Gavrok. When a mercenary on the bus alerts Gavrok to Delta's whereabouts, it is up to the Doctor and Mel to stop the assassins and find a way to give the Chimerons a new lease on life.
When Andrew Cartmel joined Doctor Who as its script editor on January 16th, 1987 he was faced with a cupboard bare of scripts. Producer John Nathan-Turner had already commissioned the first story of Season Twenty-Four, Time And The Rani, from Pip and Jane Baker. He had also initiated discussions with Stephen Wyatt, who would soon begin work on Paradise Towers. But the season needed two more serials.
Cartmel was eager to introduce a more modern storytelling style into Doctor Who. He was a fan of comic books, and particularly the work of British author Alan Moore, who had created V For Vendetta for Warrior, The Ballad Of Halo Jones for 2000 AD, and had also written strips for Doctor Who Weekly in 1980 and 1981. Moore had become increasingly prominent in recent years by virtue of his transformative American work, including The Saga Of Swamp Thing and Watchmen. Cartmel was excited by the way Moore reinvented familiar concepts in ways that were offbeat and thought-provoking, telling stories that worked on multiple levels. Indeed, one of his first acts as script editor was to contact Moore to see if he would be interested in writing for Doctor Who, only to learn that the author was too busy with his comic book work (including the seminal Batman: The Killing Joke which would be published in 1988).
Having come to Doctor Who via the BBC Script Unit, Andrew Cartmel decided to contact some of the young writers he had met there
Cartmel had come to Doctor Who by way of his participation in workshops run by the BBC Script Unit. As such, he next decided to contact some of the other young writers he had met there. Amongst them was Malcolm Kohll, who had trained as a journalist in his native South Africa before coming to London to try to break into film and television. After Kohll proposed several ideas which were too similar to other Doctor Who stories, Nathan-Turner suggested he consider an adventure set in South Wales. The producer was keen to move the programme outside the London area, while the notion appealed to Kohll because he was familiar with the region from holidays on Barry Island and by virtue of the fact that his brother lived there.
Kohll was told to structure his story as a three-part adventure which would be made entirely on location. This was because the new fourteen-episode season imposed on Doctor Who as of Season Twenty-Three had forced the production team to rethink the structure of their schedule. Time And The Rani and Paradise Towers would both be four-part tales, leaving a balance of six episodes. Nathan-Turner felt that this would be too long for a single story (indeed, no Doctor Who serial of that length had been attempted since the unfinished Shada at the end of Season Seventeen), but the two-part stories attempted in recent years had not been entirely successful. As such, the remaining episodes would be evenly divided into a pair of three-part adventures, with costs saved by having them allocated to a single team. To easily divide the labour, one of these stories would be made entirely on location, while the other would be exclusively studiobound.
With these requirements in mind, Kohll was commissioned to provide a storyline for Serial 7F on January 31st. It was decided that his adventure would be set in 1957: while Doctor Who had ventured into the distant past on many occasions, this would be the first time that the latter half of the twentieth century was used as an "historical" setting. Kohll selected various period rock 'n roll songs which he felt were appropriate for the setting, and incorporated a Vincent motorcycle because he had always wanted to ride one.
Kohll initially referred to his storyline as "Flight Of The Chimeron", but when the script for part one was commissioned on March 16th, it was under the title Delta And The Bannermen. This was devised as a play on such early rock bands as Tommy James and the Shondells or Martha and the Vandellas, as well as the contemporary act Echo & the Bunnymen. Episodes two and three were contracted under the same title on March 31st.
The Bannermen hailed from a planet which they had overpolluted to the point of making it uninhabitable
However, around the end of May, it became clear that Kohll's scripts were overlong, and Cartmel worked with the writer to restructure them. The major casualty was a subplot in which it was revealed that the United States had launched a satellite ahead of the Soviet Sputnik, only to have it collide with the Nostalgia Tours spacebus. The removal of this element allowed Kohll to transplant the story from 1957 to 1959, expanding the range of music available to him. Also discarded was more background about the Chimerons and the Bannermen, with the latter described as hailing from a planet which they had overpolluted to the point of making it uninhabitable, motivating their invasion of the Chimeron homeworld.
One element of Kohll's scripts which appealed greatly to Nathan-Turner and Cartmel was teenaged girl Ray. Back in mid-January, Bonnie Langford had informed the producer that she was considering leaving Doctor Who at the end of the season, having grown dissatisfied with Mel's lack of depth. On January 26th, Nathan-Turner and Cartmel created a character outline for a prospective new companion named Alf. This was conveyed to writer Ian Briggs, who adapted it to form the basis of the character Ace in the season's other three-part story, Dragonfire. However, the production team also saw companion potential in Ray, and so it was agreed that, should Langford opt not to come back for Season Twenty-Five, then either Ace or Ray could be chosen as the new companion. This, in turn, would determine the order in which the two stories would be broadcast.
The director assigned to the final six episodes of Season Twenty-Four was Chris Clough, who had similarly worked on The Trial Of A Time Lord (Segment Three) and The Trial Of A Time Lord (Segment Four) the year before. Originally, both stories were planned to be made under the production code Serial 7F, but ultimately it was decided that Dragonfire would be designated Serial 7G. There was great uncertainty as to whether the title Delta And The Bannermen would seem too corny, and on May 5th, it reverted back to "Flight Of The Chimeron".
With Langford appearing more and more likely to be on her way out of Doctor Who, casting the roles of Ray and Ace took on greater importance. Clough saw several actresses for both parts, with Welsh actress Lynn Gardner ultimately chosen for Ray over Sara Griffiths and Georgia Slowe. Meanwhile, he cast Belinda Mayne as Delta; she had been considered for the role of the original Romana in 1978. It had also been agreed that costs for the serial would be defrayed by rerecording the period music, rather than paying for the rights for the original versions. As such, composer Keff McCulloch assembled a band who would appear onscreen as the Lorells (originally the Shirells). Amongst these were McCulloch himself, his fiancee Tracey Wilson, and her sister Jodie Wilson.
Bonnie Langford offered to appear in the next season's first story, but John Nathan-Turner did not want to start the year with a departure
Meanwhile, Langford finally confirmed to Nathan-Turner that she wanted to wind down her time on Doctor Who. The producer offered her a contract for eight additional episodes, taking Langford to the midway point of Season Twenty-Five and ensuring that she would have appeared in two full seasons. After her agent initially suggested that the actress would need until December to make her decision -- an impossible situation, given the need to begin commissioning scripts several months before that -- Langford ultimately declined, but did indicate an interest in remaining for the next season's debut adventure alone. Nathan-Turner disliked the notion of beginning the year with a departure, and concluded that Mel should be written out at the end of Season Twenty-Four. It was at this point that he and Cartmel agreed that Ace, not Ray, should become the new companion. As a result, "Flight Of The Chimeron" would be the season's third broadcast serial, with Dragonfire rounding out the year.
As it turned out, fate would have prevented Lynn Gardner from becoming a Doctor Who regular even if the production team had elected to retain Ray. On June 14th, Gardner was practicing riding a scooter for "Flight Of The Chimeron" -- part of the advertised requirements for the role -- when she fell and injured herself severely enough that she would be unable to continue as Ray. Sara Griffiths was hired to replace her, although Gardner would still be paid; she was also cast as the Iceworld announcer in Dragonfire by way of compensation.
The first day of work on "Flight Of The Chimeron" was June 24th, with Springwell Quarry in Rickmansworth, Hertfordshire posing as the surface of the Chimeron planet. Make-up designer Gillian Thomas modified a Draconian mask from 1973's Frontier In Space for the Chimeron male, although Nathan-Turner and Cartmel were unhappy with the result. Kohll, meanwhile, was disappointed that the garden world he had envisaged had instead become yet another example of an alien setting in Doctor Who being staged in a quarry. Don Henderson, playing Gavrok, threw himself into the production; elements such as the Bannermen having purple tongues came at his suggestion.
Cast and crew then travelled to Wales, with their first port of call being Sutton Farm near Penarth on June 25th and 27th for the material in and around Goronwy's cottage. Unfortunately, this work fell badly behind schedule due to rain, preventing Clough from capturing all of the required shots. In between, on the 26th, scenes at the lake were taped at Pysgodlyn Mawr in Hensol Forest, near Welsh St Donats. After a day off, production on "Flight Of The Chimeron" resumed on June 29th at Coed-Y-Wallas near Castle-Upon-Alun, for scenes on the forest paths and at Hawk and Weismuller's camp.
Don Henderson informed John Nathan-Turner that he would be happy to return to play Gavrok's twin brother
Serial 7F's major location was the Majestic Holiday Camp on Barry Island. Filming there ran from June 30th to July 4th, taking in all of the material at Shangri-La; on the 30th, a set for the Bannerman spacecraft was also erected in a service tunnel. At Clough's request, Nathan-Turner agreed to allow his dog Pepsi to appear as Burton's pet. Originally, one additional day of filming at the Holiday Camp was planned for July 6th, but Clough's team got so far ahead of schedule that this was no longer needed. Instead, the day could now be used to return to Sutton Farm and complete the leftover sequences there. The last location for "Flight Of The Chimeron" was the British Tissues Hangar on the Llandow Trading Estate at Llandow. This served as the tollport on July 7th, with comedy legend Ken Dodd playing the Tollmaster. Finally, the only studio material required for the story was aboard the TARDIS, recorded during work on Dragonfire on August 12th in BBC Television Centre Studio 3.
On September 15th, the production team again changed their mind about Serial 7F's title; this time, the change back to Delta And The Bannermen would be permanent. Meanwhile, Don Henderson had greatly enjoyed his time on Doctor Who, and informed Nathan-Turner that he would be happy to return to play Gavrok's twin brother! However, Delta And The Bannermen would turn out to be Kohll's only contribution to the programme, despite Cartmel's interest in working with him again. He would go on to become a producer, with his credits including the movie The 51st State and the short-lived adventure series SAF3. Kohll was also contacted regarding his possible involvement in the TV movie revival Doctor Who (1996).
Doctor Who: The Handbook: The Seventh Doctor by David J Howe and Stephen James Walker (1998), Virgin Publishing, ISBN 0 426 20527 8.
Doctor Who: The Eighties by David J Howe, Mark Stammers and Stephen James Walker (1996), Virgin Publishing, ISBN 1 85227 680 0.
Doctor Who Magazine #184, 18th March 1992, "Archive: Delta And The Bannermen" by Andrew Pixley, Marvel Comics UK Ltd.
Doctor Who Magazine Special Edition #10, 13th April 2005, "Crazy Crazy Nights" by Andrew Pixley, Panini Publishing Ltd.
In·Vision #93, December 2000, "Production" edited by Anthony Brown, Cybermark Services.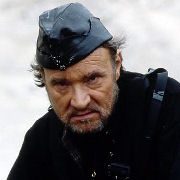 Original Transmission
Episode 1
Date
2nd Nov 1987
Time
7.35pm
Duration
24'47"
Viewers

(more)

5.3m (90th)
Appreciation
63%
Episode 2
Date
9th Nov 1987
Time
7.36pm
Duration
24'23"
Viewers

(more)

5.1m (93rd)
Appreciation
60%
Episode 3
Date
16th Nov 1987
Time
7.35pm
Duration
24'22"
Viewers

(more)

5.4m (87th)
Appreciation
60%
---
Cast
The Doctor
Sylvester McCoy
Melanie
Bonnie Langford
Gavrok
Don Henderson
Delta
Belinda Mayne
Weismuller
Stubby Kaye
Hawk
Morgan Deare
Tollmaster
Ken Dodd
Burton
Richard Davies
Billy
David Kinder
Ray
Sara Griffiths
Murray
Johnny Dennis
Keillor
Brian Hibbard
Chima
Tim Scott
Bollitt
Anita Graham
Adlon
Leslie Meadows
The Lorells
Robin Aspland
Keff McCulloch
Justin Myers
Ralph Salmins
Vocalists
Tracey Wilson
Jodie Wilson
Goronwy
Hugh Lloyd
Vinny
Martyn Geraint
Callon
Clive Condon
Arrex
Richard Mitchley
Young Chimeron
Jessica McGough
Amy Osborn
Chimeron Princess
Laura Collins
Carley Joseph
---
Crew
Written by
Malcolm Kohll
Directed by
Chris Clough
Produced by
John Nathan-Turner
Stunt Arranger
Roy Scammell
Theme Music composed by
Ron Grainer
Theme Arrangement / Incidental Music
Keff McCulloch
Special Sound
Dick Mills
Production Manager
Gary Downie
Production Associate
Ann Faggetter
Production Assistant
Rosemary Parsons
Assistant Floor Managers
Christopher Sandeman
Kim Wilcocks
Visual Effects Designer
Andy McVean
Video Effects
Dave Chapman
Vision Mixer
Shirley Coward
Film Cameraman
William Dudman
Engineering Manager
John Wilson
Cameramen
Alastair Mitchell
Chas Snare
Videotape Editor
Hugh Parson
Properties Buyer
Cathy Cosgrove
Lighting
Ian Dow
Sound
Doug Whittaker
Brian Clark
Costume Designer
Richard Croft
Make-up Designer
Gillian Thomas
Script Editor
Andrew Cartmel
Graphic Designer
Oliver Elmes
Designer
John Asbridge
---
Working Titles
Flight Of The Chimeron