Serial 7G:
Dragonfire
The TARDIS lands on Iceworld, an enormous shopping complex on Svartos. There, the Doctor and Mel meet up with a time-displaced teenaged waitress from Earth named Ace and their old friend Sabalom Glitz. Glitz is searching for the treasure of the legendary Dragon who is supposed to dwell beneath Iceworld. But when the Doctor joins Glitz in his quest, they discover more than they bargained for, unearthing the millennia-old secret of Kane, Iceworld's murderous ruler.
Ian Briggs had studied drama at Manchester University and worked as a crewmember in theatre before becoming involved with the BBC's Script Unit. There he met Andrew Cartmel who, in January 1987, became script editor of Doctor Who. Briggs was one of the young writers invited by Cartmel to pitch for Doctor Who, but his original idea was cliched and derivative, rather than exhibiting the novel approach the script editor wanted. Cartmel asked Briggs to try again, and indicated that he was looking for a story which was entirely studiobound. This was because it had now been decided that the final six episodes of Season Twenty-Four would consist of two three-part serials -- one made on location, the other in studio, and both by the same team. The location-based adventure would be Delta And The Bannerman, written by Briggs' Script Unit colleague Malcolm Kohll.
This time, Briggs came up with an idea entitled "Absolute Zero" about a fourteen-year-old financial genius and his sidekick, Mr Spewey, who seek a treasure -- revealed to be a living creature -- in the depths of an ice planet. Cartmel was sufficiently happy with the core of Briggs' proposal to commission a storyline on March 9th, but disliked its more overtly farcical elements, especially since Delta And The Bannermen already had a comic bent. Consequently, Briggs developed the sinister Hess as the new villain of his piece. He also considered less on-the-nose titles such as "Pyramid In Space" and "The Pyramid's Treasure", reflecting the new setting of a frozen, pyramid-shaped space station which would be revealed as a massive warship. At this point, the Doctor secretly allowed Hess to reactivate the vessel: once it moved out of the shadow cast by the planet it orbited, the sun's rays caused Hess to melt.
The potential new companion, Alf, was an independent-minded teenager whisked away from modern-day London by a time storm
Meanwhile, throughout the first half of 1987, there was doubt as to whether Bonnie Langford would continue to play Mel into Season Twenty-Five. To this end, on January 26th, an outline for a potential new companion was issued. This character was nicknamed Alf, and was described as an independent-minded teenager who was whisked away from modern-day London by a time storm. Briggs was shown a copy of the outline, but was asked not to use Alf in "The Pyramid's Treasure" due to the uncertainty regarding Langford's status.
Nonetheless, elements of Alf fed into Briggs' conception of Ace; at the time, he was tutoring drama at Questors Youth Theatre, and the name came from the slang he heard his students speaking. In particular, three girls from Perivale named Anna-Marie, Joanne and Juno fuelled Ace, as did Judy Garland's performance as Dorothy Gale in the 1939 feature film The Wizard Of Oz. (Indeed, Briggs' notes indicated that Ace's real name was "Dorothy Gale", although her surname was never stated onscreen.) The production team took note of Ace as one possible replacement for Mel, along with the Welsh tomboy Ray whom Kohll had created for Delta And The Bannermen. Should Langford opt to leave Doctor Who at the end of Season Twenty-Four, it was decided that either one could be positioned as the year's final story, and rewritten to have Ace or Ray leave with the Doctor.
Briggs was asked to script the first episode of his adventure, now referred to as Dragonfire, on April 2nd. The name change was necessitated by the decision to replace the orbiting Pyramid with the Iceworld complex situated on the planet Svartos (originally Tartros), which would be easier to realise. At this stage, Nathan-Turner suggested that Briggs replace his pirate character Razorback (also referred to as Swordfish) with the very similar Sabalom Glitz, who had been introduced the previous year in The Trial Of A Time Lord (Segment One). Parts two and three of Dragonfire were commissioned on April 13th. Some consideration had been given to making both Delta And The Bannermen and Dragonfire as Serial 7F, but by now it had been decided that Briggs' story would be classified as Serial 7G.
Ian Briggs renamed his villain after the ruthless Charles Foster Kane from the 1941 Orson Welles classic Citizen Kane
Ace's debt to The Wizard Of Oz was not the only element of Dragonfire which referenced cinematic history. When the news broke that Nazi war criminal Rudolph Hess was petitioning for release from prison, Briggs renamed his villain Kane, after the ruthless businessman and politician Charles Foster Kane from the 1941 Orson Welles classic Citizen Kane. Similarly, Hess' accomplice Krylla became Xana, after Charles Foster Kane's estate Xanadu. Briggs also made reference to Russian actor/director Vsevolod Pudovkin, Hungarian critic Béla Balázs, German critic Siegfried Kracauer, German-American critic Rudolph Arnheim, and French critic André Bazin. Bazin's partner was originally called Eisenstein (after Russian director Sergei Eisenstein) but when it was feared that the surfeit of foreign names might be construed as racism, this was changed to McLuhan (for Canadian mass media theorist Herbert Marshall McLuhan).
Even more references were ultimately eliminated or went unacknowledged on-screen: another mercenary was named after American critic Andrew Sarris, Ace's boss was called Anderson for British director Lindsay Anderson, and a tannoy announcement referenced American critic Pauline Kael. Movies also gave rise to the Iceworld cafeteria (inspired by the Mos Eisley cantina in 1977's Star Wars) and the holographic messages from the dead (which mirror Jor El's message to his son in the 1978 version of Superman). The name of Glitz's spaceship and the manner of Kane's death both alluded to the 1922 horror film Nosferatu, Eine Symphonie Des Grauens (that is, Nosferatu, A Symphony Of Horror).
One substantial change made to Dragonfire as Briggs worked on his scripts involved Ace's relationship with Kane. Originally, she chose to join him as a mercenary, with his sovereign becoming permanently imprinted on her palm. Ace then rebelled only when ordered to kill Mel. However, these developments were felt to be too similar to Belazs' arc. A stuffed dog companion for Ace, called Wayne, was also dropped. Briggs had maintained the Doctor's trait of mixing up proverbs, heard throughout the other stories of Season Twenty-Four, but Nathan-Turner and Cartmel had now decided to tone down some of the Seventh Doctor's more overtly comedic traits, and so these were removed.
The role of Ace went to Sophie Aldred, who had originally put herself forward for Ray in Delta And The Bannermen
Like Delta And The Bannermen, Dragonfire would be directed by Chris Clough, who was responsible for casting the roles of Ace and Ray. The finalists for Ace were Sophie Aldred (who had originally put herself forward for Ray, since the part required the ability to ride a scooter, and Aldred could drive a motorcycle) and Cassie Stuart; both were invited back for a second audition on May 26th, this time with Nathan-Turner in attendance. The job went to Aldred: her first in television, having mainly appeared in cabaret and children's theatre after studying drama at Manchester University. Around the same time, she was also hired as the host of the children's programme Corners, which would begin recording in late September.
By June, there was still no firm word from Langford's agent as to whether his client would continue with Doctor Who. Nathan-Turner suggested that Mel could be written out halfway through Season Twenty-Five, while the actress responded with an offer to appear in the first serial only. Finally, Nathan-Turner decided to write Mel out at the end of the current season, and he and Cartmel concurred that Ace would provide a better contrast than Ray as the new companion. As such, on June 17th Aldred was contracted for Dragonfire, with options for the entirety of Season Twenty-Five and eight episodes of Season Twenty-Six.
Recording on Dragonfire began with a three-day block in BBC Television Centre Studio 1 from Tuesday, July 28th. On this first day, Nathan-Turner and Aldred agreed that the actress would indeed appear in Season Twenty-Five. The freezer centre set was in use throughout the session (albeit only to remount some material involving Glitz on the 30th, since it had been realised that Tony Selby's sideburns were too dark on the first day). On the 28th, work also began on scenes in the cryogenics chamber which continued through to the following day. Taping on the 29th then proceeded with sequences in the restricted zone, the flight cabin of the Nosferatu, Ace's quarters, and Kane's control room. Cameras were again rolling on the latter on the 30th, as well as the refreshment bar and the docking bays.
With the change in the TARDIS crew now confirmed, Briggs rewrote the final scene of Dragonfire. Originally, the Doctor seemingly ignored Mel's pleas to take Ace along in the TARDIS with them, because he had deduced that Razorback intended to invite her to travel the stars in the Nosferatu II. At McCoy's suggestion, the new dialogue incorporated elements of the script which Cartmel had written for the actors auditioning to play the Seventh Doctor. In addition, on August 3rd, Briggs signed a legal document relinquishing any copyright claim on Ace.
Obscure stage directions and ineffective camera angles resulted in one of Doctor Who's most infamous and literal cliffhangers
Work on Dragonfire continued with two days -- Wednesday, August 12th and Thursday the 13th -- in TC3 for all of the material in the caverns beneath Iceworld, with the concluding TARDIS sequence also taped on the 12th. Amongst the scenes recorded on the 13th was the conclusion to episode one. As originally conceived, the Doctor was supposed to be following the map, only to find himself at the end of a passage; he then tried to scale the ice wall because he had nowhere else to go. Unfortunately, a combination of obscurity in the stage directions and ineffective camera angles would leave viewers with the impression that the Doctor has spontaneously decided to dangle himself over a precipice for no good reason -- making this one of the most infamous and literal cliffhangers in Doctor Who history. August 13th was also the day that a photocall was held to announce Sophie Aldred as the programme's latest companion.
Briggs' early drafts of Dragonfire had been very lengthy, and despite Cartmel's efforts to bring them down to size, all three episodes still needed extensive editing in post-production. One substantial loss was a pair of scenes intended for episode one, in which Glitz accidentally triggered a trap in the corridors beneath Iceworld and had to be rescued by the Doctor. A cut from part three resulted in the loss of a reference to Iceworld customer Joanne Foxley, alluding to one of the girls who had helped inspire Ace. This would have come over the public address system; voicing the announcer was Lynn Gardner, who had originally been cast as Ray in Delta And The Bannermen, but had to withdraw due to an injury. To make up for this, Clough invited her to work on Dragonfire instead.
In late August, John Nathan-Turner was informed that Doctor Who was being renewed for its twenty-fifth season
After leaving Doctor Who, Bonnie Langford suffered through a long period of typecasting during the Nineties before her 2006 appearance in the reality competition Dancing On Ice helped reinvigorate her career. She went on to perform in a number of high-profile musicals, including Chicago and Spamalot. She also continued to make occasional television appearances, such as Agatha Christie's Marple and EastEnders. And Langford would periodically return to the role of Mel, appearing in the thirtieth-anniversary celebration Dimensions In Time, as well as several Doctor Who audio plays for Big Finish Productions beginning with The Fires Of Vulcan in 2000. Dragonfire was also Tony Selby's final appearance in Doctor Who. Amongst his many subsequent television credits were Mulberry, Love Hurts, The Detectives and Burnside.
In late August, shortly after recording wrapped on Season Twenty-Four, Nathan-Turner was informed by the BBC that Doctor Who was being renewed for its twenty-fifth season. Although the producer had been keen to move on to new projects, he was excited by the prospect of the silver anniversary, and agreed to remain on Doctor Who for an eighth season. However, as Season Twenty-Four unfolded on television screens, the weak ratings of 1986 continued to plague the programme, not helped by bruising competition from Coronation Street. Having courted the fans ever since he became producer, Nathan-Turner now found more and more of them demanding his replacement -- a development which did not go unnoticed by the British tabloid press. As Dragonfire part three brought the season to a close on December 7th, it was hard to quell the feeling that Doctor Who would be reaching the quarter-century mark under a cloud...
Doctor Who: The Handbook: The Seventh Doctor by David J Howe and Stephen James Walker (1998), Virgin Publishing, ISBN 0 426 20527 8.
Doctor Who: The Eighties by David J Howe, Mark Stammers and Stephen James Walker (1996), Virgin Publishing, ISBN 1 85227 680 0.
Doctor Who Magazine #255, 27th August 1997, "Archive: Dragonfire" by Andrew Pixley, Marvel Comics UK Ltd.
Doctor Who Magazine Special Edition #10, 13th April 2005, "Crazy Crazy Nights" by Andrew Pixley, Panini Publishing Ltd.
In·Vision #94, January 2001, "Production" edited by Anthony Brown, Cybermark Services.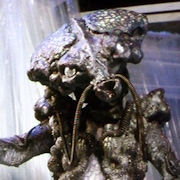 Original Transmission
Episode 1
Date
23rd Nov 1987
Time
7.37pm
Duration
24'01"
Viewers

(more)

5.5m (80th)
Appreciation
61%
Episode 2
Date
30th Nov 1987
Time
7.35pm
Duration
24'40"
Viewers

(more)

5.0m (96th)
Appreciation
61%
Episode 3
Date
7th Dec 1987
Time
7.36pm
Duration
24'26"
Viewers

(more)

4.7m (94th)
Appreciation
64%
---
Cast
The Doctor
Sylvester McCoy
Melanie
Bonnie Langford
Glitz
Tony Selby
Kane
Edward Peel
Belazs
Patricia Quinn
Kracauer
Tony Osoba
Ace
Sophie Aldred
Customer
Shirin Taylor
Anderson
Ian Mackenzie
McLuhan
Stephanie Fayerman
Bazin
Stuart Organ
Zed
Sean Blowers
Pudovkin
Nigel Miles-Thomas
The Creature
Leslie Meadows
Announcer
Lynn Gardner
Stellar
Miranda Borman
Archivist
Daphne Oxenford
Arnheim
Chris MacDonnell
---
Crew
Written by
Ian Briggs
Directed by
Chris Clough
Produced by
John Nathan-Turner
Theme Music composed by
Ron Grainer
Theme Arrangement
Keff McCulloch
Incidental Music
Dominic Glynn
Special Sound
Dick Mills
Production Manager
Gary Downie
Production Associate
Ann Faggetter
Production Assistants
Rosemary Parsons
Karen King
Assistant Floor Manager
Christopher Sandeman
Visual Effects Designer
Andy McVean
Video Effects
Dave Chapman
Technical Co-ordinator
Richard Wilson
Camera Supervisor
Alec Wheal
Vision Mixer
Shirley Coward
Video-tape Editor
Hugh Parson
Film Cameraman
William Dudman
Lighting Director
Don Babbage
Sound
Brian Clark
Costume Designer
Richard Croft
Make-up Designer
Gillian Thomas
Script Editor
Andrew Cartmel
Graphic Designer
Oliver Elmes
Computer Animation
CAL Video
Designer
John Asbridge
---
Working Titles
Absolute Zero
Pyramid In Space
The Pyramid's Treasure