Serial 7P:
Survival
Ace returns to Perivale to visit her friends, only to find many of them have gone missing. The Doctor discovers that they have been abducted to an alien planet by a race called the Cheetah People. Pursuing them, the time travellers find the Cheetah People are being controlled by the Master, who is trapped on the planet, and is slowly turning into a Cheetah Person himself. The Doctor must find a way off the planet, before they all succumb to the dying world's savage influence.
Scots writer Rona Munro had contributed plays for programmes such as The Play On One as well as the Edinburgh Fringe Festival when she was accepted to the BBC's writer's training course. There she met Doctor Who script editor Andrew Cartmel, who was appearing as a guest lecturer. Munro told him that she was eager to write for the show, which she had enjoyed in her youth. Cartmel encouraged her to send him some of her material; this included a play about babysitters which he liked very much. On this basis, he asked Munro to develop ideas for Doctor Who.
Munro's proposal was cheekily titled "Cat-Flap", and drew on her interest in pagan imagery, such as the association of cats with women in the mystic tradition. To this notion Munro was asked to add the Master, who had not appeared since The Trial Of A Time Lord (Segment Four) in 1986. The writer fondly recalled Roger Delgado's portrayal of the villain, and was happy to include him in her storyline. Cartmel did not feel that the "Cat-Flap" title was appropriate, and so when the first episode was commissioned on November 16th, 1988 it was referred to as "Blood-Hunt". The adventure was eyed for the three-part, location-only slot for Season Twenty-Six; the final two installments were contracted on January 11th, 1989.
Originally Ace burned Karra's body on a funeral pyre, continuing the theme of her pyromania
Several changes were made to "Blood-Hunt" as Munro developed her scripts. Paterson was originally a police officer, in which capacity he investigated complaints about the Doctor's behaviour. He instead became a retired army sergeant because the production office was concerned about the connotations of Paterson's violent behaviour. Ace was to burn Karra's body on a funeral pyre, continuing the theme of her pyromania as suggested by her fascination with Nitro Nine, and made explicit in another Season Twenty-Six story, Ghost Light, in which Ace was revealed to have burned down an old mansion. The motorcycle duel between the Doctor and Midge was to have taken place in a disused lot or building site (hence the incongruous appearance of the rubbish on which the Doctor lands), and Midge was originally kicked to death by the other boys. In addition, there was a scene in which the Doctor tried to stuff a large gold coin into Ange's donations tin. He finally got the coin to drop by tapping it with one finger -- which was meant to foreshadow the Doctor's later subdual of Paterson in a similar fashion.
Cartmel also wanted "Blood-Hunt", intended to be the Season Twenty-Six finale, to advance his overarching plans to reimagine the Doctor's background. He had a long-term design to reveal that the Doctor had a connection to the ancient Time Lords such as Rassilon and Omega, and the confrontation with the Master presented an opportunity to explore this further. Nathan-Turner was more cautious about Cartmel's ideas, and instructed his script editor to keep such hints vague. With this in mind, at the story's end Munro originally had the Master return to Earth with the Doctor, whom he no longer believed to be a Time Lord. In keeping with the "survival of the fittest" theme of "Blood-Hunt", the Doctor then responded that he had "evolved" and indeed was not "just" a Time Lord. The Master then escaped using a Kitling which was lurking nearby. However, Nathan-Turner still felt that this dialogue was too explicit, and it was dropped at a very late stage.
Around April, Munro's adventure became known as "The Survival" and finally just Survival. It would be made as Serial 7P in conjunction with Serial 7Q, the studiobound Ghost Light, under director Alan Wareing. Wareing had previously worked on The Greatest Show In The Galaxy the year before. Anthony Ainley agreed to reprise his role as the Master; he had been contracted on February 14th. Cast as Karra was Lisa Bowerman, who had formerly been a regular on Casualty. Although this was Bowerman's first Doctor Who role, her association with the programme would become much stronger in 1998 when she became the voice of the Doctor's companion Bernice Summerfield, who had been created for the Doctor Who: The New Adventures line of novels from Virgin Publishing, and was then brought to life on audio by Big Finish Productions. Bowerman would also direct numerous plays for Big Finish.
Rona Munro had conceived the Cheetah People as being basically human, with cat-like eyes and fangs
A major concern in pre-production was the appearance of the Cheetah People. Munro had originally conceived them as being basically human, with cat-like eyes and fangs, and perhaps a vaguely feline mouth. To this was later added a light fur coat and claws. However, make-up designer Joan Stribling interpreted their appearance much more literally. Despite the implementation of some changes at the behest of Wareing and Nathan-Turner, the cast and crew were still dismayed by the final result. Also disappointing was the animatronic Kitling. Although BBC Visual Effects was confident that they could develop a workable prop -- having already constructed an animatronic dog -- they were hampered by the small size of the Kitling and the need for realism.
The previous story into production, Battlefield, had been hampered by labour action taken against the BBC by the Broadcasting and Entertainment Trades Alliance. The prolonged dispute also affected Survival, which lost part of a rehearsal day as a result. Nonetheless, recording began as planned on June 10th, the first of four days in the Greater London area which were principally spent in the suburb of Perivale, Middlesex as in the scripts. The 10th saw the recording of the scene with the milkman on Medway Drive, after which a block of flats on Medway Parade served as Midge's home.
Joining the Doctor Who team on June 11th was the comedy duo of Gareth Hale and Norman Pace, playing merchants Len and Harvey respectively (an exchange of the roles for which they were originally cast). The exterior of their shop was Drayton Court Public House in London proper, while the interior was Londis Food Market back in Perivale. Later that day, the motorcycle dealership was Motor Cycles Unlimited, while the Doctor and Ace met Ange outside Sceptre Financial Services. On the 12th, the playground was Ealing Central Sports Ground. Various street scenes were filmed this day and the next on Colwyn Avenue, Bleasdale Avenue and Woodhouse Avenue. The black cats hired to play the Kitlings in long shot were uncooperative; indeed, at one point on the 13th, the production team accepted a young neighbourhood boy's offer to use his pet instead, since it proved to be more accommodating!
When the black cats hired to play the Kitlings were uncooperative, a neighbourhood pet proved to be more accommodating
On June 14th, the EYJ Martial Arts Centre in Sudbury Hill, Middlesex posed as the youth club. Then it was back to Perivale on the 15th for the sequences in the wasteground, recorded at Horsendon Hill. When preparing for the game of "chicken", stuntman Tip Tipping was assigned to double for Sylvester McCoy as the Doctor, while champion motorcyclist Eddie Kidd would do likewise for Will Barton as Midge. Despite his pedigree, however, Kidd was only a trainee stuntman, and Tipping felt that he should not be used. Nathan-Turner overruled him; consequently, once the stunt was completed, Tipping walked off the show, advising the production team to donate his fee to the Children In Need charity. Tipping was replaced by Paul Heasman for the rest of the shoot.
The final location for Survival was Warmwell Quarry in Warmwell, Dorset, for all of the scenes on the planet of the Cheetah People. Recording there spanned June 18th to 23rd, during which the weather became blazingly hot. Sophie Aldred suffered from dehydration, while an extra playing a Cheetah Person at one point tore off her mask and declared that she was finished for the day (whereupon she was immediately sacked). The labour dispute was still unresolved, forcing an early end to filming on the 20th. On the 23rd, word reached the cast and crew that another work stoppage would occur that day -- a potential disaster given that it was the last day of the shoot. However, the good weather meant that Wareing was already ahead of schedule, and the team worked quickly to ensure that everything was completed.
By this time, rumours were escalating that the BBC was not planning to renew Doctor Who for its twenty-seventh season. Indeed, at Warmwell Quarry, there was some discussion that the programme's cancellation was already a fait accompli. Although the production team pressed ahead with Ghost Light, the final story to go before the cameras, it became clear during post-production on Survival that Season Twenty-Seven would, at the very least, be delayed. In many respects, Doctor Who was now an anachronism: for the most part, the BBC no longer made half-hour dramas, science-fiction, or programmes aimed at a family (rather than juvenile) audience, let alone a show which attempted to be all of these things. It was not viewed warmly by the Corporation's upper management, and it now also seemed to have lost its audience, with Battlefield part one -- the season premiere, broadcast on September 6th -- reaching an all-time low of only 3.1 million viewers. Furthermore, the BBC was increasingly relying on independent production companies to create content, rather than developing new programming in-house.
On September 11th, Sylvester McCoy and Sophie Aldred were informed that their options for Season 27 were not being taken up
As a result, on September 11th, Nathan-Turner informed McCoy and Aldred that their contract options for Season Twenty-Seven were not being taken up. While this did not mean that they had been fired from Doctor Who, it did reflect the fact that the programme was in limbo, with no start date for production on the next season having been set by the BBC. With the likelihood now strong that Survival might turn out to be the last Doctor Who story ever, Nathan-Turner asked Cartmel to write additional dialogue for the Doctor, to be dubbed over the final shot of episode three. This would serve as a capstone for the programme's twenty-six-year run, while also alluding to the never-ending nature of adventures in the TARDIS.
Survival was Munro's only Doctor Who story; her novelisation was published by Target Books in 1990. She would go on to become an award-winning playwright of works like The James Plays, and also continued to write for television (such as Casualty and Screen Two) and film (including Ladybird Ladybird and Oranges And Sunshine). Meanwhile, Anthony Ainley had largely retired from acting. He returned to play the Master one last time for the video game Doctor Who: Destiny of the Doctors, released in 1998. Ainley passed away following an illness on May 3rd, 2004.
Sylvester McCoy recorded the Doctor's new closing words on November 23rd -- ironically, Doctor Who's twenty-sixth anniversary. Thirteen days later, on December 6th, the Doctor's declaration to Ace that "we've got work to do" appeared to draw the curtain on Doctor Who as a television entity. But even as Season Twenty-Six concluded, there were stirrings of life. Already, an American television executive and longtime fan named Philip David Segal was already negotiating with the BBC to forge a co-production agreement which would see Doctor Who cross the Atlantic.
The broadcast of Survival episode three on December 6th appeared to draw the curtain on Doctor Who as a television entity
And throughout the British entertainment industry, young men and women who had grown up with a deep and abiding love for Doctor Who were now forging careers of their own -- as writers and directors, in visual effects and production design and so much more. One such fan, a writer and script editor for On The Waterfront called Russell T Davies, would soon embark on his first science-fiction project, to be broadcast by the BBC in 1991 as Dark Season. Another, schoolteacher-turned-writer Steven Moffat, had just launched the children's programme Press Gang, which quickly developed a cult following. In print, Virgin Publishing's Doctor Who: The New Adventures range of original novels was about to nurture emerging talents such as Paul Cornell and Mark Gatiss.
As the dying First Doctor so memorably put it during Doctor Who's first true brush with mortality in 1966, it was far from being all over...
Doctor Who: The Handbook: The Seventh Doctor by David J Howe and Stephen James Walker (1998), Virgin Publishing, ISBN 0 426 20527 8.
Doctor Who: The Eighties by David J Howe, Mark Stammers and Stephen James Walker (1996), Virgin Publishing, ISBN 1 85227 680 0.
Doctor Who Magazine Summer Special 1994, "Archive: Survival" by Andrew Pixley, Marvel Comics UK Ltd.
Doctor Who Magazine Special Edition #10, 13th April 2005, "Ride On Time" by Andrew Pixley, Panini Publishing Ltd.
In·Vision #104, September 2002, "Production" edited by Anthony Brown, Cybermark Services.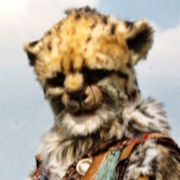 Original Transmission
Episode 1
Date
22nd Nov 1989
Time
7.36pm
Duration
24'14"
Viewers

(more)

5.0m (89th)
Appreciation
69%
Episode 2
Date
29th Nov 1989
Time
7.35pm
Duration
24'13"
Viewers

(more)

4.8m (96th)
Appreciation
69%
Episode 3
Date
6th Dec 1989
Time
7.35pm
Duration
24'20"
Viewers

(more)

5.0m (91st)
Appreciation
71%
---
Cast
The Doctor
Sylvester McCoy
Ace
Sophie Aldred
The Master
Anthony Ainley
Paterson
Julian Holloway
Karra
Lisa Bowerman
Harvey
Norman Pace
Len
Gareth Hale
Midge
Will Barton
Shreela
Sakuntala Ramanee
Derek
David John
Stuart
Sean Oliver
Ange
Kate Eaton
Woman
Kathleen Bidmead
Squeak
Adele Silva
Neighbour
Michelle Martin
---
Crew
Written by
Rona Munro
Directed by
Alan Wareing
Produced by
John Nathan-Turner
Stunt Arranger
Paul Heasman
Theme Music composed by
Ron Grainer
Incidental Music
Dominic Glynn
Special Sound
Dick Mills
Production Manager
Gary Downie
Production Assistant
Valerie Whiston
Assistant Floor Managers
Stephen Garwood
Leigh Poole
Visual Effects Designer
Malcolm James
Video Effects
Dave Chapman
Vision Mixer
Susan Brincat
Graphic Designer
Oliver Elmes
Properties Buyer
Nick Barnett
Computer Animation
CAL Video
Engineering Manager
Brian Jones
OB Cameramen
Paul Harding
Alan Jessop
Videotape Editor
Hugh Parson
Lighting
Ian Dow
Sound
Les Mowbray
Scott Talbott
Costume Designer
Ken Trew
Make-up Designer
Joan Stribling
Script Editor
Andrew Cartmel
Production Associate
June Collins
Designer
Nick Somerville
---
Working Titles
Cat-Flap
Blood-Hunt
The Survival