Serial 7Q:
Ghost Light
The Doctor takes Ace back to 1883, to a house called Gabriel Chase she burned down in the present day. In the 19th century, Gabriel Chase is the home of amateur scientist Josiah Smith, who is conducting research into evolution against the wishes of the Church. But Smith is really an alien who has spent millennia adapting to humanity, and now intends to assassinate Queen Victoria and seize the British throne. Meanwhile, buried in the basement is Smith's former master -- a powerful entity who intends to halt all evolution on Earth.
A longtime fan of Doctor Who, Marc Platt had been trying to write for the programme since late 1975, when he submitted the Gallifrey-set storyline "Fires Of The Starmind" on spec. Script editor Robert Holmes rejected the proposal, but saw potential in Platt and encouraged him to keep writing. Platt kept in touch with the Doctor Who production office, discussing various ideas with script editor Christopher H Bidmead in late 1980, and in 1983 he and fellow fan Jeremy Bentham submitted the Sontaran adventure "Warmongers". A year later, Platt tried again with the complex "Cat's Cradle"; a reworked version of this storyline, offered to the production office in 1987, brought him into contact with new Doctor Who script editor Andrew Cartmel. By this time, Platt was working in BBC administration cataloguing radio programmes, after leaving the catering industry.
Cartmel admired "Cat's Cradle", but felt that it was too ambitious for the limited Doctor Who budget. Soon, though, Platt began meeting with Cartmel and writer Ben Aaronovitch, who was developing Remembrance Of The Daleks for Season Twenty-Five. With their assistance, he developed a Russian period piece called "Shrine" in late 1987, and then another idea set on Gallifrey entitled "Lungbarrow" during 1988. This would see the Doctor facing his greatest fears by confronting his bizarre cousins in their ancestral home of Lungbarrow. It would also further develop Cartmel's ideas about the Doctor's background by revealing a genetic link between the Doctor and the Other, a shadowy figure from ancient Time Lord history.
John Nathan-Turner was concerned that Lungbarrow revealed too much about the Doctor, too quickly
Producer John Nathan-Turner, however, was concerned that "Lungbarrow" revealed too much about the Doctor, too quickly. While he liked the setting of a creepy old house and its weird denizens -- inspired by Mervyn Peake's 1950 fantasy novel Gormenghast -- he did not want the Gallifreyan elements retained. Platt agreed to rework his storyline, relocating the mansion house to Victorian England and shifting the focus from the Doctor's greatest fears to Ace's. Some elements of "Lungbarrow" were reimagined for the new setting; for instance Mackenzie, the policeman in suspended animation had originally been a character trapped in a transporter for three centuries, while Redvers Fenn-Cooper's invitation to Buckingham Palace had earlier been a will for which characters were vying in "Lungbarrow". Cartmel also suggested making evolution a theme of the piece, while Platt's BBC duties inspired Light's mission to document all forms of life on Earth.
During the autumn of 1988, Platt prepared a revised storyline entitled "The Bestiary". This was now intended to be the three-part, studio-only story for Season Twenty-Six, and so Platt ensured that it took place entirely within the walls of Gabriel Chase. Although he liked the way "Lungbarrow" had been transformed, Nathan-Turner was unhappy with the title. Platt briefly referred to his storyline as the facetious "Not The Bestiary", before it became "Life Cycle" when the scripts were commissioned on November 16th.
Platt drew heavily on Victorian literature as inspiration for "Life Cycle". Light was derived from the angels in the works of William Blake (and Platt at one point hoped that the character could have wings, until this was deemed unfeasible). Control's evolution into a "ladylike" was an accelerated version of Eliza Doolittle's social metamorphosis in the 1913 George Bernard Shaw play Pygmalion. Mrs Grose was a lift from another haunted house story: Henry James' 1898 novel The Turn Of The Screw. Gwendoline was originally called Maud, after the character Maud Ruthyn in the 1864 Joseph Sheridan Le Fanu novel Uncle Silas; the name had to be changed due to a BBC adaptation of the book (as The Dark Angel) set to air around the same time. Gwendoline was the name of Platt's mother; similarly, his father was called Ernest and his grandfather Josiah. Redvers Fenn-Cooper was based on H Rider Haggard's classic adventurer Allan Quatermain, who debuted in King Solomon's Mines (1885). The character's name was an homage to James Fenimore Cooper, author of the 1826 novel The Last Of The Mohicans. In the Bible, Nimrod was a renowned hunter and the great-grandson of Noah.
The husks were a response to John Nathan-Turner's preference for a traditional Doctor Who monster
As "Life Cycle" developed, Nathan-Turner became concerned at the lack of a traditional Doctor Who monster. In response, Platt devised the husks in the basement, which represented Josiah's earlier evolutionary forms. Originally, he envisioned an army of the creatures, before the numbers were trimmed to three and then just two (omitting a fish-man husk). It was hoped that the faces of the reptilian and insectoid husks might incorporate echoes of Josiah's human features. At a late stage, Platt considered changing "Josiah Samuel Smith" to "Josiah Solomon Smith", to avoid any potential issue with the Samuel Smith Brewery company from whom he had borrowed the name in the first place.
In April 1989, the adventure's title became Ghost Light. It was planned to be the third story of Season Twenty-Six, but in June, it was interchanged with the intended second story, The Curse Of Fenric, because Nathan-Turner wanted the latter to air around Hallowe'en. Unfortunately, this undermined a premonition of Ghost Light which had been incorporated into The Curse Of Fenric. Here, Ace first alluded to having once burned down a creepy old house, the implication being that the Doctor subsequently decides to bring her to that house in the past to face whatever had scared her there. Ghost Light was designated Serial 7Q, to be made in tandem with Survival by director Alan Wareing.
Wareing's first order of business for Ghost Light was to record establishing shots of Gabriel Chase at Stanton Court in Weymouth, Dorset on June 21st. The initial studio block was then held in BBC Television Centre Studio 3 on Tuesday, July 18th and Wednesday the 19th. The main focus on both days was material in the trophy room and the upper and lower observatories. Some scenes in the access tunnel, the lift and the study were also taped on the 19th, but Wareing fell badly behind schedule. As a result, several sequences in the study were either dropped altogether (such as Nimrod tendering his resignation) or relocated to other sets. Amongst the latter was Mackenzie being chased by a machete-wielding night maid (explaining his hurry when he has his fateful encounter with Light), which was moved to the hallway only to be dropped in editing.
The final studio session for Season Twenty-Six ran for three days beginning on Tuesday, August 1st. Again, the venue was TC3. Of principal concern throughout were the hallways, the drawing room, the dining room, and the empty bedroom where Fenn-Cooper is held. More lift scenes were recorded on the first two days, as well as those in Gwendoline's bedroom on the last. It was McCoy's idea to change the Doctor's closing line from "That's my girl!" to "Wicked."
It was Sylvester McCoy's idea to change the Doctor's closing line from "That's my girl!" to "Wicked."
By the time production ended on Doctor Who's twenty-sixth season, rumours were already rampant that the programme was about to be cancelled. Matters were by no means improved when the new run of episodes premiered on September 6th with Battlefield part one, which earned historically low viewing figures. It quickly became clear that Season Twenty-Seven would, at the very least, face a lengthy postponement and so, on September 11th, Nathan-Turner had the unenviable task of informing Sylvester McCoy and Sophie Aldred that their contract options were not being taken up.
As a result, Ghost Light was Aldred's final appearance in televised Doctor Who, with the exception of a brief return for the thirtieth-anniversary special Dimensions In Time. Aldred went on to a successful career as a presenter for children's television and as a voice-over artiste, with her credits including Melvin & Maureen's Musicagrams, Noddy In Toyland and Tree Fu Tom. During the Nineties, she appeared in a variety of unofficial Doctor Who spinoff videos for BBV. Aldred reprised the role of Ace for a 1990 episode of the educational programme Search Out Science, the BBC's 2001 online audio play Death Comes To Time, and regularly for Big Finish Productions beginning with The Fearmonger in 2000. With Mike Tucker, she wrote the 1996 book Ace!: The Inside Story Of The End Of An Era.
Marc Platt had been a candidate to write a story for Season Twenty-Seven, bringing back the Ice Warriors and chronicling Ace's departure; instead, Ghost Light would be his only televised script. Platt novelised both Ghost Light and Aaronovitch's Battlefield for Target Books. He then transformed his rejected "Cat's Cradle" and "Lungbarrow" storylines into novels for Virgin Publishing's Doctor Who: The New Adventures range. He also scripted the unofficial spin-off Downtime for Reeltime Pictures in 1995, which he subsequently novelised as part of Virgin's Doctor Who: The Missing Adventures line. Platt then became a prolific contributor to Big Finish's audio adventure strands, starting with Loups-Garoux in 2001. His second Doctor Who audio play, the Cyberman origin story Spare Parts, became the basis for the 2006 television adventure Rise Of The Cybermen / The Age Of Steel.
Alan Wareing continued to have a busy career after the apparent demise of Doctor Who, becoming particularly well-regarded as a director of soap operas. His subsequent credits included Casualty, Emmerdale, Coronation Street and Holby City.
In 2011, Andrew Cartmel shepherded a Big Finish Productions audio series focussing on the unmade 1990 season
During the summer of 1989, Andrew Cartmel was offered a position as the script editor of Casualty. In light of the uncertainty regarding the future of Doctor Who, he decided to take this job for a season. With the exception of a brief sojourn on the fantasy series Dark Knight, Cartmel's career beyond Casualty lay outside television. He wrote plays and toured as a stand-up comic. He authored several original novels beginning with The Wise in 1999, and also contributed to tie-in ranges for Judge Dredd and The Prisoner. But Cartmel often returned to the world of Doctor Who, principally as a novelist for Virgin, BBC Books and Telos Publishing, starting with Cat's Cradle: Warhead for Doctor Who: The New Adventures in 1992. Cartmel also wrote a 2000 audio for Big Finish entitled Winter For The Adept, and returned to the company in 2011 to shepherd a run of Doctor Who: The Lost Stories which focussed on ideas originally developed for the programme's unmade 1990 season.
As Doctor Who celebrated its twenty-sixth anniversary on November 23rd, BBC Head of Serials Peter Cregeen confirmed in the pages of the Radio Times that fans could expect a longer-than-usual wait before Season Twenty-Seven entered production -- although he vowed that Doctor Who had not been cancelled. For several years thereafter, however, these words rang hollow. Sylvester McCoy now assumed that his time as the Seventh Doctor had come to an end. John Nathan-Turner was adamant that he had produced his final episode of Doctor Who for television, and indeed left the BBC on August 31st, 1990 to become a freelancer in charge of his own production company. As it turned out, both men were mistaken...
Doctor Who: The Handbook: The Seventh Doctor by David J Howe and Stephen James Walker (1998), Virgin Publishing, ISBN 0 426 20527 8.
Doctor Who: The Eighties by David J Howe, Mark Stammers and Stephen James Walker (1996), Virgin Publishing, ISBN 1 85227 680 0.
Doctor Who Magazine #190, 2nd September 1992, "Archive: Ghost Light" by Andrew Pixley, Marvel Comics UK Ltd.
Doctor Who Magazine Special Edition #10, 13th April 2005, "Ride On Time" by Andrew Pixley, Panini Publishing Ltd.
In-Vision #102, May 2002, "Production" edited by Anthony Brown, Cybermark Services.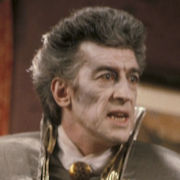 Original Transmission
Episode 1
Date
4th Oct 1989
Time
7.34pm
Duration
24'17"
Viewers

(more)

4.2m (94th)
Appreciation
68%
Episode 2
Date
11th Oct 1989
Time
7.34pm
Duration
24'18"
Viewers

(more)

4.0m (93rd)
Appreciation
68%
Episode 3
Date
18th Oct 1989
Time
7.35pm
Duration
24'17"
Viewers

(more)

4.0m (104th)
Appreciation
64%
---
Cast
The Doctor
Sylvester McCoy
Ace
Sophie Aldred
Josiah
Ian Hogg
Mrs Pritchard
Sylvia Syms
Redvers Fenn-Cooper
Michael Cochrane
Control
Sharon Duce
Gwendoline
Katharine Schlesinger
Reverend Ernest Matthews
John Nettleton
Nimrod
Carl Forgione
Mrs Grose
Brenda Kempner
Inspector Mackenzie
Frank Windsor
Light
John Hallam
---
Crew
Written by
Marc Platt
Directed by
Alan Wareing
Produced by
John Nathan-Turner
Theme Music composed by
Ron Grainer
Incidental Music
Mark Ayres
Special Sound
Dick Mills
Production Manager
Gary Downie
Production Assistant
Valerie Whiston
Assistant Floor Manager
Stephen Garwood
Visual Effects Designer
Malcolm James
Video Effects
Dave Chapman
Properties Buyer
Nick Barnett
Technical Co-ordinator
Richard Wilson
Camera Supervisor
Spencer Payne
Graphic Designer
Oliver Elmes
Vision Mixer
Susan Brincat
Videotape Editor
Hugh Parson
Lighting Director
Henry Barber
Sound
Scott Talbott
Keith Bowden
Costume Designer
Ken Trew
Make-up Designer
Joan Stribling
Script Editor
Andrew Cartmel
Production Associate
June Collins
Designer
Nick Somerville
---
Working Titles
The Bestiary
Life Cycle