Serial M:
The Romans
Whilst vacationing in AD 64 Rome, Ian and Barbara are kidnapped and sold as slaves. Ian ends up on a doomed galley ship, while Barbara becomes a handmaiden in Nero's palace pursued by the lusty Caesar himself. Meanwhile, unaware of their friends' plight, the Doctor and Vicki become caught up in the events culminating in the Great Fire of Rome.
The idea of doing a Doctor Who story set in Roman times had been bandied about at least as early as April 1964. On the 14th of that month, a document was issued outlining possible adventures should Doctor Who proceed to a second recording block; a four-part "Past", "Roman" serial was included as its penultimate storyline. On August 31st, Dennis Spooner was commissioned to write The Romans -- though it's unclear whether this is the same story referred to in the April schedule or an independent creation.
By this point in time, Spooner -- who had recently completed The Reign Of Terror -- had been appointed the successor to David Whitaker as Doctor Who's story editor, although the post would not officially change hands until October 31st. With a new companion, Vicki, being introduced in Whitaker's The Rescue, it was agreed that The Romans should follow it into production so that Spooner could help define the character.
A comedic story was part of Verity Lambert's efforts to test the boundaries of Doctor Who
Producer Verity Lambert suggested to Spooner that The Romans might be an appropriate venue to attempt a comedic Doctor Who story, part of Lambert's efforts to test the boundaries of the programme's format. Spooner's original idea was to spoof the 1951 film Quo Vadis, which led him to choosing the time of the Great Fire of Rome as his setting. Whereas previous Doctor Who historicals had paid often scrupulous attention to accurately portraying events, Spooner eschewed this approach in favour of the popular myths surrounding first-century Rome, such as Nero's apocryphal fiddle-playing during the conflagration.
Spooner also drew liberally from true history to inspire his characters. In addition to Nero and Poppaea, Locusta was real and allegedly did help Nero poison some of his enemies, including his adoptive father, Emperor Claudius, and his step-brother, Britannicus. Her position as "court poisoner", on the other hand, was invented. Flavius Guiscard was named for the 11th-century Norman adventurer Robert Guiscard, while Delos is actually a Greek island. Tigilinus drew his name from that of the commander of Nero's imperial bodyguard. The creation of Tigilinus the cup-bearer was in fact a late addition to the scripts; originally, the Doctor saved Nero from being poisoned by accidentally knocking over the Caesar's goblet. Other modifications included rewriting the end of the scene in which Ian and Barbara are kidnapped to have Barbara, and not Sevcheria, be the one who knocks Ian unconscious.
It was originally thought that Richard Martin -- who had recently directed The Dalek Invasion Of Earth -- would handle The Romans. However, by October it was agreed that The Rescue and The Romans would both use the same production team so that they could essentially be made as a six-part serial. The director's job therefore went to Christopher Barry, who was also helming The Rescue.
The Rescue and The Romans were essentially made as a six-part serial
Production on The Romans began at the Ealing Television Film Studios, where model shots and the image of the burning map of Rome were filmed on November 17th and 18th. Episode one, The Slave Traders, was then recorded in Riverside 1 (where all four parts would be housed) on December 18th. After a week's break for Christmas, All Roads Lead To Rome was taped on January 1st, 1965. However, Barry was unhappy with Nero's introductory scene, and during the next week there was some discussion of remounting it while making Conspiracy on the 8th; this does not appear to have been undertaken. Production then wrapped up with Inferno on the 15th. Four days earlier, Lambert had been informed that Doctor Who's second recording block was to be extended from 26 episodes to 35, and that this would be followed by a third block. Five episodes from the second block would be held over to start Doctor Who's third season in September.
No story editor was named on-screen during The Romans in order to avoid giving Spooner a dual credit. This was also the final serial for which Mervyn Pinfield would be listed as associate producer, although he had largely ceased his involvement with Doctor Who as of The Dalek Invasion Of Earth at the end of the first recording block. Pinfield's decision was officially made on January 11th. The broadcast of episode one on the 16th marked a new milestone for the programme, as it rose to seventh place amongst programmes airing that week.
Doctor Who: The Handbook: The First Doctor by David J Howe, Mark Stammers and Stephen James Walker (1994), Virgin Publishing, ISBN 0 426 20430 1.
Doctor Who: The Sixties by David J Howe, Mark Stammers and Stephen James Walker (1992), Virgin Publishing, ISBN 1 85227 420 4.
Doctor Who Magazine #251, 7th May 1997, "Archive: The Romans" by Andrew Pixley, Panini UK Ltd.
Doctor Who Magazine Special Edition #7, 12th May 2004, "I'm Into Something Good" by Andrew Pixley, Panini Publishing Ltd.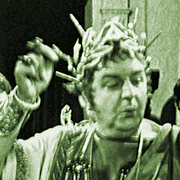 Original Transmission
1: The Slave Traders
Date
16th Jan 1965
Time
5.40pm
Duration
24'14"
Viewers

(more)

13.0m (7th)
Appreciation
53%
2: All Roads Lead To Rome
Date
23rd Jan 1965
Time
5.40pm
Duration
23'14"
Viewers

(more)

11.5m (15th)
Appreciation
51%
1: Conspiracy
Date
30th Jan 1965
Time
5.40pm
Duration
26'18"
Viewers

(more)

10.0m (28th)
Appreciation
50%
4: Inferno
Date
6th Feb 1965
Time
5.40pm
Duration
23'09"
Viewers

(more)

12.0m (13th)
Appreciation
50%
---
Cast
Dr Who
William Hartnell
Ian Chesterton
William Russell
Barbara Wright
Jacqueline Hill
Vicki
Maureen O'Brien
Sevcheria
Derek Sydney
Didius
Nicholas Evans
Centurion
Dennis Edwards
Stall Holder
Margot Thomas
Slave Buyer
Edward Kelsey
Maximus Pettulian
Bart Allison
Ascaris
Barry Jackson
Delos
Peter Diamond
Tavius
Michael Peake
Woman Slave
Dorothy-Rose Gribble
Galley Master
Gertan Klauber
1st Man in Market
Ernest Jennings
2nd Man in Market
John Caesar
Court Messenger
Tony Lambden
Nero
Derek Francis
Tigilinus
Brian Proudfoot
Poppaea
Kay Patrick
Locusta
Ann Tirard
---
Crew
Written by
Dennis Spooner
Directed by
Christopher Barry
Produced by
Verity Lambert
Title music by
Ron Grainer
with the BBC Radiophonic Workshop
Incidental music composed and conducted by
Raymond Jones
Fight Arranger
Peter Diamond
Costumes Supervised by
Daphne Dare
Make-up Supervised by
Sonia Markham
Lighting
Howard King
Sound
Richard Chubb
Designer
Raymond P Cusick
Associate Producer
Mervyn Pinfield