Serial U:
The Myth Makers
The TARDIS takes its occupants to ancient Greece, during the siege of Troy. The Doctor is mistaken for the god Zeus, while Vicki is captured and taken inside the walls of the besieged city. The Doctor must match wits with the suspicious Odysseus, while Vicki tries to escape the fate that history has decreed for the Trojans.
In April 1965, Donald Tosh replaced Dennis Spooner as Doctor Who's story editor, and soon thereafter contacted an old acquaintance, Donald Cotton. Cotton had written numerous musical revues for the stage, expanding his horizons to television in the Fifties. More recently, he had been writing plays for BBC Radio, often with a comedic bent. Tosh and incoming producer John Wiles were keen to push the boundaries of the programme, and felt that Cotton might be able to deliver a high comedy.
Cotton accepted Tosh's invitation on the condition that he be allowed to choose his own subject material and involve some of his BBC Radio colleagues in the production. Several of Cotton's plays had involved elements of Greek mythology, and so he suggested the Trojan War as a suitable setting for a Doctor Who story. The War, most famously related in Homer's Iliad, may have been based upon real historical events which took place around the start of the twelfth century BC, and many of the legendary figures involved were probably actual people.
Since the Trojan Horse was likely fictional, Donald Cotton made it a plot point that the Doctor would try not to suggest it
One significant element that was likely fictional was the famous Trojan Horse (possibly inspired by early siege engines which were first being introduced around that time), and so Cotton opted to make it a plot point that the Doctor would not want to mention the Horse for fear of changing history. Also appearing in the Iliad but not historically factual was Paris, who originated in an earlier Greek myth. Cotton omitted him from his initial storyline, but after the first two episodes were commissioned under the title "The Mythmakers" on May 13th, the character was introduced into the plot.
Another source of inspiration for Cotton was the story of Troilus and Cressida. Variations of this romance started to appear as early as the twelfth century, and it was later made famous in the works of Boccaccio, Chaucer and Shakespeare. In the legend, the Trojan prince Troilus falls for a young priestess, Cressida. However, Cressida ultimately leaves him for the Greek warrior Diomede, leading to Troilus' death during the fall of Troy. Cotton envisioned Vicki taking on the name "Cressida" and falling in love with Troilus, only to leave at the story's conclusion with "Diomede" -- the guise Steven has assumed.
Cotton also made liberal use of other Greek myths in his dialogue and in naming his characters. The spy Cyclops, for example, took his name from the legendary one-eyed giants who would most famously appear in the Odyssey, Homer's sequel to the Iliad. One story element -- Steven's wounding during the closing moments of the final episode -- came by request of Terry Nation, who planned to incorporate it into the first part of the next serial, the epic The Daleks' Master Plan.
As Cotton wrote his scripts during the summer of 1965, the title mutated slightly to "The Myth-Makers" by the time the third and fourth episodes were requested on June 11th. The serial finally became known simply as The Myth Makers. (The name "The Trojans" appeared on some documentation, and "The Trojan War" has also been suggested as a working title.) Cotton's planned episode titles were altered due to BBC disapproval of the punning theme the author had devised for them. Only the original name for the second episode, Small Prophet, Quick Return survived at Tosh's insistence.
John Wiles was unhappy with Maureen O'Brien, and therefore decided that Vicki would be written out of Doctor Who
A major change came during the break between Doctor Who's second production block and its third (for which The Myth Makers would be the first serial in production). During the making of Galaxy 4 in July, Wiles had been unhappy with Maureen O'Brien's complaints about her dialogue in that story. He therefore decided that Vicki would be written out in The Myth Makers, which coincided with the expiry of O'Brien's contract. Cotton's storyline was amended to have Vicki stay with Troilus and help him escape the siege of Troy, despite the fact that this now contradicted the traditional myth.
Wiles and Tosh conceived a new companion, Trojan handmaiden Katarina, to replace Vicki; she would be introduced in the final episode of Cotton's story. It quickly became clear that the character's archaic background would limit her potential, however, so Wiles and Tosh elected to kill off Katarina midway through The Daleks' Master Plan.
The original candidate considered for the director's chair on The Myth Makers was Derek Martinus, who had to be pressed into service on Galaxy 4 and Mission To The Unknown in place of the ailing Mervyn Pinfield. Instead, Michael Leeston-Smith was brought on board for Serial U. Leeston-Smith had worked behind the scenes on both film and television in a variety of capacities since the Thirties. He had finally become a director for the BBC in 1961, working on such programmes as Z Cars; this would be his lone Doctor Who assignment.
Work on The Myth Makers began with location filming at Frensham Little Pond in Surrey, which posed as the plains around Troy. This got under way on August 27th and continued until September 2nd. A focus during this period was the various sword fights required by the script; both Cavan Kendall (Achilles) and James Lynn (Troilus) received minor injuries as a result, forcing remounts of some scenes. Shortly after location shooting wrapped up, Leeston-Smith spent a day (possibly September 3rd) filming model shots at the Ham Polo Club in Middlesex.
After returning from vacation, Maureen O'Brien was shocked to learn that The Myth Makers would be her swansong
Meanwhile, the regular cast had returned from their vacation unaware that Doctor Who would imminently undergo a major change in front of the cameras. O'Brien had been issued a revised contract on July 30th which included a BBC option for twenty episodes beyond The Myth Makers, and she had scarcely contemplated the possibility that this might not be pursued. It therefore came as a shock to her when, on September 3rd, she was informed that The Myth Makers would be her Doctor Who swansong. (On the same day, Peter Purves' option was picked up, keeping him on the show at least through Serial Y.) O'Brien was not entirely unhappy with the situation, though, as she had long been dissatisfied with the series.
Less pleased, on the other hand, was William Hartnell, who had already experienced some friction with Wiles, exacerbated by the fact that Wiles was now firmly in control of Doctor Who after replacing original producer Verity Lambert at the end of the second recording block (The Myth Makers would be the first serial on which Wiles received the producer's credit). To make matters worse, Hartnell's health had begun to deteriorate, with his arteriosclerosis making it more difficult for the actor to remember his lines. Furthermore, Hartnell was unhappy by what he saw as the Doctor's diminished role in Cotton's scripts. He feared that he was being upstaged by prominent guest stars, including Francis de Wolff (Agamemnon) and especially Max Adrian (Priam). Adrian was Jewish and a homosexual, neither of which met with Hartnell's approval.
On September 9th, Adrienne Hill was cast as the temporary companion, Katarina, by Douglas Camfield, the director of The Daleks' Master Plan (ironically, Hill's first work on Doctor Who would be filming her death scene for that serial). Hill had mainly acted in repertory theatre when she was encouraged to audition for the role of Joanna in The Crusade, which Camfield had also directed. Although she lost out to Jean Marsh in that case, Camfield had kept her in mind for another suitable part.
On September 9th, Adrienne Hill was cast as the temporary companion, Katarina
Studio recording saw Doctor Who return to its regular home of Riverside 1; each episode was taped on a Friday, beginning on September 17th. During rehearsals on this day, Hartnell was bruised after being struck on the shoulder by a camera platform, although he soldiered on through the taping. Hill appeared in the studio for the first time on October 8th, for the recording of Horse Of Destruction.
This was also O'Brien's final day on Doctor Who. She would find herself typecast for some time thereafter, and even became a substitute teacher during this interval. O'Brien's career would be reinvigorated during the Seventies, however, and she became a prominent stage actress. She has also appeared on radio and television, including shows like Casualty and Cracker. More recently, O'Brien has become a successful novelist, particularly with the John Bright series of crime fiction. After shying away from the Doctor Who spotlight for many years, O'Brien finally returned to the series in 2006 to record the role of Alice Bultitude for the Sixth Doctor audio play Year Of The Pig from Big Finish Productions.
The only episode of The Myth Makers which underwent significant editing in post-production was the fourth. For timing reasons, one of Hill's major scenes ended up on the cutting room floor. This featured an exchange between Vicki and Katarina, in which the two discuss how Katarina came to serve as a handmaiden. In the process, Katarina would have revealed that recent auguries have foretold her imminent death...
Doctor Who: The Handbook: The First Doctor by David J Howe, Mark Stammers and Stephen James Walker (1994), Virgin Publishing, ISBN 0 426 20430 1.
Doctor Who: The Sixties by David J Howe, Mark Stammers and Stephen James Walker (1992), Virgin Publishing, ISBN 1 85227 420 4.
Doctor Who Magazine #284, 17th November 1999, "Archive: The Myth Makers" by Andrew Pixley, Panini UK Ltd.
Doctor Who Magazine Special Edition #7, 12th May 2004, "I'm Into Something Good" by Andrew Pixley, Panini Publishing Ltd.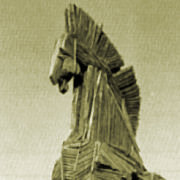 Original Transmission
1: Temple Of Secrets
Date
16th Oct 1965
Time
5.51pm
Duration
24'45"
Viewers

(more)

8.3m (34th)
Appreciation
48%
2: Small Prophet, Quick Return
Date
23rd Oct 1965
Time
5.49pm
Duration
24'43"
Viewers

(more)

8.1m (40th)
Appreciation
51%
3: Death Of A Spy
Date
30th Oct 1965
Time
5.50pm
Duration
25'39"
Viewers

(more)

8.7m (33rd)
Appreciation
49%
4: Horse Of Destruction
Date
6th Nov 1965
Time
5.50pm
Duration
24'25"
Viewers

(more)

8.3m (38th)
Appreciation
52%
---
Cast
Dr Who
William Hartnell
Vicki
Maureen O'Brien
Steven
Peter Purves
King Priam
Max Adrian
Paris
Barrie Ingham
Achilles
Cavan Kendall
Hector
Alan Haywood
Odysseus
Ivor Salter
Agamemnon
Francis de Wolff
Menelaus
Jack Melford
Cyclops
Tutte Lemkow
Cassandra
Frances White
Messenger
Jon Luxton
Troilus
James Lynn
Katarina
Adrienne Hill
---
Crew
Written by
Donald Cotton
Directed by
Michael Leeston-Smith
Produced by
John Wiles
Fight Arranger
Derek Ware
Title music by
Ron Grainer and
the BBC Radiophonic Workshop
Film Cameraman
Peter Hamilton
Film Editor
Caroline Shields
Costumes supervised by
Daphne Dare
Tony Pearce
Make-up supervised by
Elizabeth Blattner
Sonia Markham
Lighting
Ralph Walton
Sound
Dave Kitchen
Bryan Forgham
Story Editor
Donald Tosh
Music composed and conducted by
Humphrey Searle
Designer
John Wood
---
Archive Holdings
Episodes Missing
Episodes 1-4
Clips Extant
Episode 1 (0'21" in 3 clips)
Episode 2 (0'20" in 7 clips)
Episode 4 (0'11" in 1 clip)
Telesnaps Surviving
None
---
Working Titles
Whole Story
The Mythmakers
The Myth-Makers
The Trojans
The Trojan Horse
Episode 1
Deus Ex Machina
Episode 3
A Doctor In The Horse
Is There A Doctor In The Horse?
Episode 4
The Horse Of Destruction