Torchwood Episode 3:
Ghost Machine
Gwen recovers an errant piece of alien technology which provides glimpses into the past. While experimenting with the device, Owen witnesses an horrific rape and murder which has gone unsolved for more than four decades. As the rest of the Torchwood team investigates the machine's origins, Owen teeters on obsession with bringing the killer to justice.
Helen Raynor had been a script editor on the first two seasons of the revived Doctor Who series when she was invited to contribute a script to Torchwood. Raynor had also written for Brief Encounters, as well as for radio. The intent was that Raynor's script would be held back in case of emergency, or else for a hypothetical second season of Torchwood, but the production team was so impressed by Raynor's ideas that the episode was added to the season schedule under the title Ghost Machine.
Ghost Machine formed part of Torchwood's second recording block, paired with Greeks Bearing Gifts. It was directed by Colin Teague, whose other credits included Holby City and London's Burning. A last-minute rewrite had to be undertaken on the story's opening chase sequence. Originally, this would have featured Jack, Owen and Gwen pursuing Bernie Harris through the streets of Cardiff. However, John Barrowman twisted his ankle while filming on the Hub set just a few days before, preventing him from running. The scene was therefore rewritten to have Jack show up partway through in the Torchwood vehicle.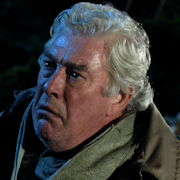 Original Transmission

| | |
| --- | --- |
| | |
| Date | 29th Oct 2006 |
| Time | 10.00pm |
| Duration | 48'22" |
| · BBC3 | 1.8m |
| · BBC2 | 2.5m |
| Appreciation | 84% |
---
Cast
Captain Jack Harkness
John Barrowman
Gwen Cooper
Eve Myles
Owen Harper
Burn Gorman
Toshiko Sato
Naoko Mori
Ianto Jones
Gareth David-Lloyd
Rhys Williams
Kai Owen
Ed Morgan
Gareth Thomas
Bernie
Ben McKay
Eleri
Llinos Daniel
Tom Flanagan
John Normington
Lizzie Lewis
Emily Evans
Young Ed Morgan
Christopher Elson
Young Tom Flanagan
Christopher Greene
Bernie's Mum
Julie Gibbs
Snooker Player
Ian Kay
Kid In Arcade
Ryan Conway
Woman In Shop
Kathryn Howard
---
Crew
Written by
Helen Raynor
Directed by
Colin Teague
Produced by
Richard Stokes
Created by
Russell T Davies
Co-Producer
Chris Chibnall
1st Assistant Director
Nick Rae
2nd Assistant Director
Lynsey Muir
3rd Assistant Director
Rhian Salisbury
Runner
Glenn Coxon
Location Manager
Paul Davies
Unit Manager
Geraint Havard Jones
Production Co-ordinator
Carmelina Palumbo
Asst Prod Co-ordinator
Kate Powell
Production Secretary
Margarita Felices
Script Secretary
Claire Thomas
Contracts Assistant
Beth Britton
Continuity
Vicky Cole
Script Editor
Brian Minchin
Camera Operator
Gareth Hughes
Focus Puller
Duncan Fowlie
Camera Assistant
Mani Blaxter Paliwala
Grip
Dai Hopkins
Boom Operator
Jeff Welch
Gaffer
Dave Fowler
Best Boy
Steve Slocombe
Stunt Co-ordinator
Tom Lucy
Stunt Performers
Gary Hoptrough
Crispin Layfield
Jo McLaren
Curtis Rivers
Chief Super Art Director
Stephen Nicholas
Supervising Art Director
Keith Dunne
Art Dep Prod Manager
Jonathan Marquand Allison
Art Dep Op Manager
Adrian Anscombe
Assistant Art Director
Matthew Savage
Art Dep Co-ordinator
Matthew North
Design Assistants
Ben Austin
Al Roberts
Standby Art Director
Leonie Rintler
Standby Props
Brian Patrick Henry
Standby Carpenter
Will Pope
Standby Rigger
Keith Freeman
Concept Artists
Ian Bunting
Peter McKinstry
Designer
Penny Harvey
Property Master
Nick Thomas
Production Buyer
Catherine Samuel
Props Storeman
Charlie Malik
Specialist Props Maker
Mark Cordory
Props Maker
Penny Howarth
Construction Manager
Matthew Hywel-Davies
Construction Chargehand
Scott Fisher
Graphics
BBC Wales Graphic Design
Costume Supervisor
Debra Haggett
Costume Assistants
Bobby Peach
Sam Benbow
Make-Up Supervisor
Claire Pritchard
Make-Up Artists
Sarah Astley-Hughes
Kate Roberts
Casting Associate
Andy Brierley
Assistant Editor
Matt Mullins
Post Prod Supervisors
Helen Vallis
Chris Blatchford
Post Prod Co-ordinator
Marie Brown
On Line Editor
Matthew Clarke
Colourist
Mick Vincent
Vis Effects Co-ordinator
Kim Phelan
2D Artists
Astrid Busser-Casas
Simon Holden
Joe Courtis
Dubbing Mixer
Tim Ricketts
Supervising Sound Editor
Doug Sinclair
Sound Editor
Paul McFadden
Sound FX Editor
Howard Eaves
Senior Prod Accountant
Endaf Emyr Williams
Casting Director
Andy Pryor CDG
Production Accountant
Ceri Tothill
Sound Recordist
Jeff Matthews
Costume Designer
Ray Holman
Make-Up Designer
Marie Doris
Music
Murray Gold
Ben Foster
Visual Effects
The Mill
Visual Effects Producers
Will Cohen
Marie Jones
Visual FX Supervisor
Dave Houghton
On-Set Vis FX Supervisor
Barney Curnow
Special Effects
Any Effects
Production Manager
Catrin Lewis Defis
Editor
Mike Hopkins
Production Designer
Edward Thomas
Director of Photography
Mark Waters
Associate Producer
Terry Reeve
Production Executive
Julie Scott
Assistant Producer
Sophie Fante
Executive Producers
Russell T Davies
Julie Gardner