Torchwood Episode 7:
Greeks Bearing Gifts
In 1812 Cardiff, a prostitute named Mary fleeing a murderous soldier comes upon an eerie light. Two centuries later, a body and an alien device are uncovered on a building site in the city -- and the same woman is watching the excavation. Soon, Mary has inveigled herself into Tosh's life, giving her a pendant which allows the wearer to hear people's thoughts. But what are Mary's true intentions? And can Toshiko handle the enormous power she now wields?
Of the initial slate of Torchwood writers, the only person to have previously contributed a script for Doctor Who besides executive producer Russell T Davies was Toby Whithouse. Whitehouse had scribed School Reunion for the new Doctor Who series' second season, and now developed Greeks Bearing Gifts for Torchwood. Originally announced as the eighth episode of the year, it was eventually bumped up to seventh in the running order. Greeks Bearing Gifts was made as part of the season's second production block, alongside Ghost Machine, and was directed by Colin Teague.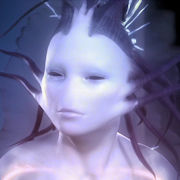 Original Transmission

| | |
| --- | --- |
| | |
| Date | 26th Nov 2006 |
| Time | 10.01pm |
| Duration | 49'36" |
| · BBC3 | 1.3m |
| · BBC2 | 1.9m |
| Appreciation | 83% |
---
Cast
Captain Jack Harkness
John Barrowman
Gwen Cooper
Eve Myles
Owen Harper
Burn Gorman
Toshiko Sato
Naoko Mori
Ianto Jones
Gareth David-Lloyd
Mary
Daniela Denby-Ashe
Soldier
Tom Robertson
Neil
Ravin J Ganatra
Carol
Eiry Thomas
Danny
Shaheen Jafargholi
Weevil
Paul Kasey
---
Crew
Written by
Toby Whithouse
Directed by
Colin Teague
Produced by
Richard Stokes
Created by
Russell T Davies
Co-Producer
Chris Chibnall
1st Assistant Director
Nick Rae
2nd Assistant Director
Lynsey Muir
3rd Assistant Director
Rhian Salisbury
Runner
Llywarch Davies
Location Manager
Paul Davies
Unit Manager
Geraint Havard Jones
Production Co-ordinator
Carmelina Palumbo
Asst Prod Co-ordinator
Kate Powell
Production Secretary
Margarita Felices
Script Secretary
Helen Pugsley
Accounts Assistant
Debi Griffiths
Beth Britton
Continuity
Vicky Cole
Script Editor
Helen Raynor
Camera Operator
Gareth Hughes
Focus Puller
Duncan Fowlie
Camera Assistant
Mani Blaxter Paliwala
Grip
Dai Hopkins
Boom Operator
Jeff Welch
Gaffer
Dave Fowler
Best Boy
Steve Slocombe
Stunt Co-ordinator
Tom Lucy
Chief Super Art Director
Stephen Nicholas
Supervising Art Director
Keith Dunne
Art Dep Prod Manager
Jonathan Marquand Allison
Art Dep Op Manager
Adrian Anscombe
Associate Designer
Matthew Savage
Art Dep Co-ordinator
Matthew North
Design Assistants
Ben Austin
Rob Dicks
Standby Art Director
Leonie Rintler
Standby Props
Brian Patrick Henry
Standby Carpenter
Will Pope
Standby Rigger
Keith Freeman
Concept Artists
Ian Bunting
Peter McKinstry
Designer
Penny Harvey
Property Master
Nick Thomas
Production Buyer
Catherine Samuel
Props Storeman
Charlie Malik
Specialist Props Maker
Mark Cordory
Props Maker
Penny Howarth
Construction Manager
Matthew Hywel-Davies
Construction Chargehand
Scott Fisher
Graphics
BBC Wales Graphic Design
Costume Supervisor
Debra Haggett
Costume Assistants
Bobby Peach
Sam Benbow
Make-Up Supervisor
Claire Pritchard
Make-Up Artists
Sarah Astley-Hughes
Kate Roberts
Casting Associate
Andy Brierley
Assistant Editor
Matt Mullins
Post Prod Supervisors
Helen Vallis
Chris Blatchford
Post Prod Co-ordinator
Marie Brown
On Line Editor
Matthew Clarke
Colourist
Mick Vincent
Vis Effects Co-ordinator
Natalie Stopford
2D Artists
Sara Bennett
Simon Holden
Bronwyn Edwards
Charlie Bennett
3D Artists
Adam Burnett
Nicolas Hernandez
Jean-Claude Deguara
Jean-Yves Audouard
Neil Roche
Dubbing Mixer
Tim Ricketts
Supervising Sound Editor
Doug Sinclair
Sound Editor
Paul McFadden
Sound FX Editor
Howard Eaves
Senior Prod Accountant
Endaf Emyr Williams
Casting Director
Andy Pryor CDG
Production Accountant
Ceri Tothill
Sound Recordist
Jeff Matthews
Costume Designer
Ray Holman
Make-Up Designer
Marie Doris
Music
Murray Gold
Ben Foster
Visual Effects
The Mill
Visual Effects Producers
Will Cohen
Marie Jones
Visual FX Supervisor
Dave Houghton
On-Set Vis FX Supervisor
Barney Curnow
Special Effects
Any Effects
Prosthetics
Neill Gorton &
Millennium Effects
Production Manager
Catrin Lewis Defis
Editor
Mike Hopkins
Production Designer
Edward Thomas
Director of Photography
Mark Waters
Associate Producer
Terry Reeve
Production Executive
Julie Scott
Assistant Producer
Sophie Fante
Executive Producers
Russell T Davies
Julie Gardner