Serial 5W:
Four To Doomsday
Trying to get Tegan home, the Doctor instead lands the TARDIS on a spaceship heading towards Earth. Its owner, the frog-like Monarch, has visited Earth four times in the past, kidnapping specimens of human culture on each occasion. His true goal, however, is to find a way to travel faster than light, thereby going back to the beginning of time where he hopes to meet God, whom he believes is actually himself. In pursuit of this aim, he has exhausted the resources of his home planet, Urbanka. Now he intends to transplant the Urbankans to Earth -- and eradicate humanity to make room for his people.
During the summer of 1980, Doctor Who producer John Nathan-Turner and script editor Christopher H Bidmead formulated plans to handle the transition from the Fourth to the Fifth Doctor, following Tom Baker's departure at the end of Season Eighteen. They decided to resurrect the Doctor's archenemy, the Master, in the penultimate story of the year. In the season finale, the Master would instigate the events leading to the Doctor's regeneration, and then the Fifth Doctor would confront his old foe in the first serial of Season Nineteen. Johnny Byrne's The Keeper Of Traken was revised to fill the first of these slots, while Bidmead himself -- who was in the process of leaving Doctor Who -- agreed to supply Baker's swansong, called Logopolis.
For the final chapter in the trilogy, Nathan-Turner and Bidmead approached the writing team of John Flanagan and Andrew McCulloch, who had contributed Meglos to the eighteenth season. On August 15th, Flanagan and McCulloch were commissioned to write "Project '4G'", which addressed the issue of nuclear disarmament in a science-fiction setting. Flanagan and McCulloch continued working on their story -- subsequently retitled "Project Zeta Plus" and "Project Zeta-Sigma" -- through the remainder of 1981, by which time Antony Root had taken over as Doctor Who's interim script editor. Unfortunately, by mid-February 1982 it was becoming clear that the inclusion of elements such as invisible characters would make "Project Zeta-Sigma" unfeasible to produce. On February 19th it was formally abandoned, forcing a reappraisal of recording plans for Season Nineteen.
Terence Dudley's storyline was envisioned as a satire on bureaucracy and megalomania
One of the first stories that Bidmead had set in motion for the Fifth Doctor was a submission by Terence Dudley, the director of Meglos. On August 29th, Dudley was commissioned to prepare a four-part outline envisioned as a satire on bureaucracy and megalomania. This came to be known as "Day Of Wrath"; full scripts were requested on December 23rd. "Day Of Wrath" was one of the final stories that executive producer Barry Letts passed comment on before it was agreed that he was no longer needed to supervise Nathan-Turner, although he would not be credited for this work.
Dudley wrote efficiently, and so when "Project Zeta-Sigma" was deemed unworkable, "Day Of Wrath" -- now retitled Four To Doomsday -- was available to replace it in the shooting schedule. However, by this point Nathan-Turner had decided that it would be better for his new Doctor, Peter Davison, to get his feet wet on an undemanding story before having to portray the traumatic aftereffects of regeneration in the season premiere. As such, Four To Doomsday would be the second story aired as part of Season Nineteen -- the first time in Doctor Who history that a lead actor's debut serial in production was not also first full televised adventure.
Fortunately, the production team now enjoyed more flexibility in rearranging the recording schedule than had traditionally been the case. In recent years, Doctor Who had been in production from about late March to December or January. Early in 1981, however, it became apparent that -- for the first time since 1974 -- Doctor Who would not begin its new season in the autumn. Davison was already committed to the second season of the sitcom Sink Or Swim, the recording of which would force a lengthy pause in the middle of Doctor Who's normal production schedule, pushing the end of recording off until February. Furthermore, it was already planned that Sink Or Swim would premiere in the autumn, and it was felt that having Davison simultaneously appear in two very different high-profile series might dilute the appeal of both programmes. Consequently, it was decided that Doctor Who would be held over to begin transmission in the winter.
Meanwhile, work was ongoing to shape the Fifth Doctor. Nathan-Turner wanted all the regulars to wear distinctive costumes which would remain essentially the same from serial to serial; not only would this save on wardrobe costs, but it was also seen as a way to increase Doctor Who's marketability. An early idea for the new Doctor would have seen him dressed in a morning suit with a collapsible topper. Subsequently, a polo outfit with jodhpurs was suggested.
Peter Davison liked the idea of his costume having a sports motif, but preferred cricketing garb to a polo outfit
Davison liked the idea of a sports motif, but offered cricketing garb as an alternative, since this was a game that he played and enjoyed. Indeed, a photo of Davison in a charity cricket match had originally inspired Nathan-Turner to consider him for Doctor Who, and so the producer readily agreed. However, he was insistent that the question-mark shirt collars introduced during Baker's final season be retained. This was not to Davison's liking, because he felt that it made the Doctor's costume look overly designed. Nathan-Turner also asked for something to adorn the Fifth Doctor's lapel, and decided out of the blue that a stick of celery would be appropriately quirky and unusual.
Davison found the process of developing his Doctor's personality more frustrating. Apart from a strong desire on the part of Nathan-Turner and BBC upper management to draw a marked contrast from Baker's incarnation, Davison was given little other indication of how to play the new Doctor. Finally, he recalled his December 3rd appearance on Pebble Mill At One, shortly after it was announced that he would be Baker's successor. During a panel discussion, one fan had suggested that his Doctor should be "Tristan Farnon, with bravery and intellect", referring to Davison's popular character on All Creatures Great And Small. Although Davison had originally dismissed this idea, it stuck with him, and he eventually decided to use it as the basis for his portrayal of the Fifth Doctor after all. Davison was also determined to occasionally incorporate moments of whimsy, despite Nathan-Turner's insistence that jokiness be eliminated from Doctor Who.
At the same time, Nathan-Turner was considering how to handle the newly-expanded line-up of companions. The original plan had been for Adric and Tegan to accompany the Fifth Doctor, with Nyssa added to the regular cast of characters at a late date after Nathan-Turner grew fond of how Johnny Byrne had written for her in The Keeper Of Traken. Around the start of March, Nathan-Turner decided to retain Nyssa throughout Season Nineteen; Davison had lobbied for the character, whom he felt was best suited to his vision of the Doctor. Adric, on the other hand, would be written out of Doctor Who before the end of the year, as it was generally felt that the character had not worked out the way he had originally been envisioned.
By now, it was known that Season Nineteen would encompass only twenty-six episodes -- Doctor Who's standard length throughout the Seventies, but two episodes shorter than Season Eighteen. At that time, Nathan-Turner had lobbied for the extra budget so that the year could be comprised only of four-part adventures, doing away with the six-part stories that the producer felt were no longer viable. Now, however, it was agreed that the budget for those episodes could be put towards a fifty-minute pilot for a proposed spin-off series, K·9 And Company, to air around Christmas 1981.
The budget for two Season Nineteen episodes was put towards a pilot for a proposed spin-off series, K·9 And Company
Consequently, all of the regular cast had to be issued revised contracts. Davison and Janet Fielding were booked for all twenty-six episodes on February 20th and 18th, respectively. The serial intended to air after Four To Doomsday, called Kinda, had been conceived without Nyssa, and it was felt that the storyline could not be revised to include her. As a result, Sutton's contract issued on the 18th was for two episodes fewer than her castmates. Waterhouse, on the other hand, would appear in only twenty episodes; his contract was amended on February 25th.
As the start of work on Doctor Who's nineteenth production block approached, Nathan-Turner elected to retain several design elements he had introduced the year before. These included Sid Sutton's title graphics, which were simply updated to replace Baker's face with Davison's. In addition, it was decided that Davison would be credited as "The Doctor" rather than "Doctor Who", as had traditionally been the case. Sarah Sutton's costume was amended to include corduroy trousers rather than the less practical diaphanous skirt she had worn in The Keeper Of Traken and Logopolis. It was decided that the change of outfit would be explained in Castrovalva, the story now intended to replace "Project Zeta-Sigma" as the season premiere.
As the first serial of the recording block, Four To Doomsday was designated Serial 5W. Its director was John Black, who had previously helmed The Keeper Of Traken. In the role of Monarch, Black and Nathan-Turner cast Stratford Johns, who had been considered for the role of the Third Doctor in 1969. Nathan-Turner was now taking an active role in the selection of guest performers, and was keen to attract as many big names to Doctor Who as possible, in order to maximise publicity. Meanwhile, Matthew Waterhouse -- who had endured a lukewarm working relationship with Baker -- got off to a bad start with Davison as well, after he took it upon himself to point out mistakes he felt the new star was making.
Work on Four To Doomsday began with a three-day studio session in BBC Television Centre Studio 6, spanning April 13th to 15th. The first day dealt with scenes in the control room of Monarch's ship and in the TARDIS, while work on the 14th shifted to the Mobiliary and the surgery. The final day of the block centred on many of the scenes in the Linkways, as well as the guest quarters and the library.
The opening shot of Monarch's spacecraft in flight was intended to be an homage to Star Wars
Cast and crew returned to TC6 for the second studio block, which ran from April 28th to 30th. Taping began with the remaining Linkways sequences, along with model work. The opening shot of Monarch's spacecraft in flight was suggested by Nathan-Turner, who intended it to be an homage to the start of the 1977 feature film Star Wars. April 29th was concerned with scenes in the Recreational Room and the Flora Room, leaving all of the material in the Throne Room for the final day of production.
Four To Doomsday was the final Doctor Who serial directed by Black, although he also worked on the ill-fated spin-off K·9 And Company later in 1981. Soon afterward, Black left television altogether to become the head of the video division at Longman Video and then at WH Smith.
Doctor Who: The Handbook: The Fifth Doctor by David J Howe and Stephen James Walker (1995), Virgin Publishing, ISBN 0 426 20458 9.
Doctor Who: The Eighties by David J Howe, Mark Stammers and Stephen James Walker (1996), Virgin Publishing, ISBN 1 85227 680 0.
Doctor Who Magazine #213, 8th June 1994, "Archive: Four To Doomsday" by Andrew Pixley, Marvel Comics UK Ltd.
Doctor Who Magazine Special Edition #1, 2001, "Prince Charming" by Andrew Pixley, Panini Publishing Ltd.
In·Vision #56, March 1995, "Production" edited by Anthony Brown, Cybermark Services.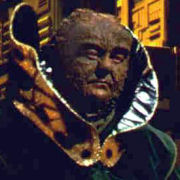 Original Transmission
Episode 1
Date
18th Jan 1982
Time
6.57pm
Duration
23'36"
Viewers

(more)

8.4m (66th)
Episode 2
Date
19th Jan 1982
Time
7.05pm
Duration
24'11"
Viewers

(more)

8.8m (61st)
Episode 3
Date
25th Jan 1982
Time
6.57pm
Duration
24'09"
Viewers

(more)

8.9m (63rd)
Episode 4
Date
26th Jan 1982
Time
7.07pm
Duration
24'52"
Viewers

(more)

9.4m (53rd)
---
Cast
The Doctor
Peter Davison
Adric
Matthew Waterhouse
Nyssa
Sarah Sutton
Tegan
Janet Fielding
Monarch
Stratford Johns
Persuasion
Paul Shelley
Enlightenment
Annie Lambert
Bigon
Philip Locke
Lin Futu
Burt Kwouk
Kurkutji
Illarrio Bisi Pedro
Villagra
Nadia Hammam
---
Crew
Written by
Terence Dudley
Directed by
John Black
Produced by
John Nathan-Turner
Fight Arranger
BH Barry
Choreographer
Sue Lefton
Incidental Music
Roger Limb
Special Sound
Dick Mills
Production Manager
Henry Foster
Production Associate
Angela Smith
Production Assistant
Jean Davis
Assistant Floor Manager
Val McCrimmon
Visual Effects Designer
Mickey Edwards
Video Effects
Dave Chapman
Technical Manager
Robert Hignett
Senior Cameraman
Alec Wheal
Vision Mixer
Carol Johnson
Videotape Editor
Rod Waldron
Lighting
Don Babbage
Sound
Alan Machin
Costume Designer
Colin Lavers
Make-up Artist
Dorka Nieradzik
Script Editor
Antony Root
Title Sequence
Sid Sutton
Designer
Tony Burrough
---
Working Titles
Day Of Wrath