New Series Episodes 12 & 13:
Bad Wolf / The Parting Of The Ways
The Doctor, Rose and Captain Jack are transmatted out of the TARDIS and onto the Game Station in the far future. There they must compete in a variety of reality and quiz shows based on twentieth-century television... only this time, they're playing for their lives. But the Doctor discovers that the Game Station is concealing an even more sinister threat -- one that lies in wait in the darkness at the edge of the solar system.
One of the television trends which had developed during Doctor Who's lengthy hiatus from the airwaves was the popularity of game shows and "reality" series -- a genre of which Russell T Davies was particularly enamoured. In early 2002, Head of Drama Serials Laura Mackie approached Davies about creating a new programme for the BBC. To her surprise, Davies indicated that his preferred project was a revival of Doctor Who, and amongst the story ideas he suggested included a far future setting where reality television was taken to absurd and deadly extremes.
More than a year later, Davies' initial discussions with Mackie led to his appointment as Doctor Who's executive producer. He had not forgotten his game show idea in the interim, and while developing his season outline in the autumn of 2003, Davies decided to reserve the concept for the year's concluding two-part story, which would also involve the second appearance of the Daleks. Having reinvigorated the monsters with a story involving a lone member of the race in Dalek, Davies now wanted to bring a much larger Dalek army onscreen, as had usually been the case in Dalek stories during Doctor Who's original run.
Originally, the Game Station was run by a mentally-enhanced teenager named Edward
The reality show theme was largely confined to the adventure's first installment, which Davies called "Gameshow World!". Always intended to make use of the Satellite 5 sets from The Long Game earlier in the season as a cost-saving measure, "Gameshow World!" was originally set five hundred years after the events of that story (the timeframe subsequently being truncated to just one century later). Davies first posited that the Game Station would be run by a mentally-enhanced teenager named Edward, but quickly came to dislike this idea. He first replaced Edward with an elderly man and then, inspired by the feature film Minority Report, with a pale, androgynous Controller instead. Initially, the Controller survived into the second episode, called The Parting Of The Ways, to provide the Doctor with someone to talk to, until Davies decided it would be more effective to have him converse with the Emperor Dalek instead.
One plot thread absent from Davies' pitch document was the running theme of the words "bad wolf" dogging the Doctor and Rose throughout the season's adventures. (This appeared in dialogue from the Moxx of Balhoon in The End Of The World, during Gwyneth's conversation with Rose in The Unquiet Dead, as spraypainted graffiti on the side of the TARDIS in Aliens Of London / World War Three, as Henry van Statten's codename in Dalek, as a TV channel in The Long Game, scrawled on a poster in Father's Day, in German as the name of the bomb in The Empty Child / The Doctor Dances, and finally in Welsh as the designation of the nuclear power station in Boom Town. The words had also crept up in various associated media, such as the spin-off novels from BBC Books and in additional footage on the BBC's Doctor Who website.) Davies had begun developing the notion while writing Aliens Of London. Although he was initially uncertain as to whether the "bad wolf" element would continue into a potential second season (or even be abandoned altogether), Davies eventually planned for the arc to come to fruition in the year's final adventure. Consequently, he renamed "Gameshow World!" as Bad Wolf.
Davies was also aware that Christopher Eccleston might choose to remain with Doctor Who for only one season, and so The Parting Of The Ways, was designed to facilitate a regeneration, if necessary. Eccleston confirmed his intention to leave the series around January 2005. Nonetheless, Davies also wrote an alternative climax in which the Doctor and Rose actually head to the planet Barcelona, with Rose unknowingly on the verge of death due to her exposure to the time vortex. It was planned that this ending would still be recorded, at least partly to serve as a red herring; Eccleston and the production team had agreed that his departure would not be announced ahead of time so that the regeneration would come as a genuine shock to the viewers.
Endemol UK were very helpful, even designing a futuristic version of the Big Brother logo
Meanwhile, work had been under way since December 2003 to acquire the rights to mimic three well-known reality properties in Bad Wolf. While game show The Weakest Link and fashion series What Not To Wear were both BBC properties, reality programme Big Brother was not, being owned instead by Endemol UK and broadcast on Channel 4. Fortunately, Endemol proved very helpful with the parody of Big Brother, even designing a futuristic version of the show's logo for use in Doctor Who. Davies was also delighted when each of the programmes' presenters -- Anne Robinson of The Weakest Link, Davina McCall of Big Brother, and Trinny Woodall and Susannah Constantine of What Not To Wear -- agreed to lend their vocal talents to Bad Wolf. Davies had assumed that soundalikes would have to be employed in their stead.
Bad Wolf and The Parting Of The Ways formed the sixth and final production block for the new Doctor Who series' first season. It was overseen by director Joe Ahearne, who was finishing work on the preceding episode, Boom Town, at the same time. Filming began with two days at a house in Canton, Cardiff on February 16th and 17th, 2005, for all the scenes in the Big Brother house. A week followed in the studio at Unit Q2 in Newport; this spanned February 18th to 24th (omitting only the 20th) and largely concerned scenes on Floor 500 and in the TARDIS.
The scenes from The Weakest Link were taped on the 25th and 28th at the Newport City Live Arena. Four more days at Unit Q2 -- March 1st to 4th -- ensued, dealing with sequences set throughout the Game Station and in the TARDIS (including the fake ending). On the 5th and 7th, the production moved to Enfys Television Studios in Cardiff, where the interiors of the Dalek spaceship had been erected. March 7th was Eccleston's final day of filming on Doctor Who. Two more days at Unit Q2 followed on the 8th and 9th for further TARDIS and Game Station footage. March 10th and 11th were spent at Louden Square in Cardiff, where the material in the chip shop and outside the TARDIS in London were recorded.
The last of the three parody segments, the What Not To Wear send-up, was taped at Unit Q2 on March 12th. The final day of regular recording for the season occurred in the same venue on the 14th, which largely dealt with scenes involving Jack on the Game Station. Davies had decided that Jack needed to be separated from the Doctor and Rose because, given his 51st-century origins, he would view the regeneration too nonchalantly, making for more muted drama. Nonetheless, it was already planned to bring Jack back should Doctor Who survive to a third season.
On April 21st, David Tennant recorded his contribution to the regeneration scene
Model filming was conducted at the BBC Model Unit Stage in London on March 22nd and 23rd. A month later, on April 21st, the final material for the new Doctor Who series' inaugural season was recorded on the TARDIS set in Unit Q2: this was David Tennant's contribution to the regeneration scene, marking his debut as the Tenth Doctor. Unfortunately, by now the news of Eccleston's departure and Tennant's casting had already been leaked to the press.
Nonetheless, a surprise was still in store for viewers during the week between the transmissions of Bad Wolf and The Parting Of The Ways. At a BAFTA screening of the season finale on June 15th, Davies and Head of Drama Jane Tranter revealed that Doctor Who -- which had already been renewed for a Christmas special and a second season at the end of March -- would in fact be returning for a third season (including a second Christmas special) as well. Three days later, on June 18th, the appearance of the Tenth Doctor at the conclusion of The Parting Of The Ways closed the book on the first new season of Doctor Who in sixteen years.
For two decades, Doctor Who had languished in increasing obscurity, viewed by the general public -- and by the BBC -- as either a quaint relic of bygone times or as a cheaply-made embarrassment. In the span of thirteen weeks, the new series had captured the hearts and minds of the British audience, climbed to the upper echelons of the ratings charts, reinvigorated Saturday night family viewing, and redefined the boundaries of what British television could accomplish. Doctor Who was back, and its future had perhaps never looked so rosy.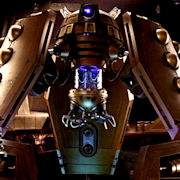 Original Transmission
1: Bad Wolf
Date
11th Jun 2005
Time
7.00pm
Duration
42'50"
Viewers

(more)

6.8m (19th)
Appreciation
86%
2: The Parting Of The Ways
Date
18th Jun 2005
Time
6.59pm
Duration
45'30"
Viewers

(more)

6.9m (17th)
Appreciation
89%
---
Cast
Doctor Who
Christopher Eccleston
David Tennant
Rose Tyler
Billie Piper
Captain Jack
John Barrowman
Lynda
Jo Joyner
Strood
Jamie Bradley
Crosbie
Abi Eniola
Voice of Davinadroid
Davina McCall
Rodrick
Paterson Joseph
Floor Manager
Jenna Russell
Voice of Anne Droid
Anne Robinson
Voice of Trine-E
Trinny Woodall
Voice of Zu-Zana
Susannah Constantine
Male Programmer
Jo Stone Fewings
Female Programmer
Nisha Nayar
Agorax
Dominic Burgess
Fitch
Karren Winchester
Colleen
Kate Loustau
Broff
Sebastian Armesto
Controller
Martha Cope
Security Guard
Sam Callis
Androids
Alan Ruscoe
Paul Kasey
Dalek Operators
Barnaby Edwards
Nick Pegg
David Hankinson
Dalek Voice
Nicholas Briggs
Mickey
Noel Clarke
Jackie
Camille Coduri
---
Crew
Written by
Russell T Davies
Directed by
Joe Ahearne
Produced by
Phil Collinson
Daleks originally created by
Terry Nation
1st Assistant Director
Peter Bennett
2nd Assistant Director
Steffan Morris
3rd Assistant Director
Dan Mumford
Location Manager
Llyr Morus
Production Co-ordinator
Jess van Niekerk
Production Runners
Anna Evans
Tim Hodges
Debbie Meldrum
A/Production Accountants
Debi Griffiths
Kath Blackman
Continuity
Non Eleri Hughes
Script Editor
Helen Raynor
Camera Operator
Martin Stephens
Focus Puller
Mark Isaac
Grip
John Robinson
Boom Operator
Damian Richardson
Gaffer
Mark Hutchings
Best Boy
Peter Chester
Stunt Co-ordinator
Jamie Edgell
Stunt Performers
Tony Lucken
Stuart Clarke
Derek Lea
Art Dept Co-ordinator
Gwenllian Llwyd
Concept Artist
Bryan Hitch
Production Buyer
Catherine Samuel
Set Decorator
Liz Griffiths
Supervising Art Director
Stephen Nicholas
Standby Art Director
Julian Luxton
Property Master
Adrian Anscombe
Construction Manager
Andrew Smith
Standby Props
Phill Shellard
Trystan Howell
Graphic Artist
Jenny Bowers
Wardrobe Supervisor
Yolanda Peart-Smith
Make-Up Supervisor
Linda Davie
Make-Up Artists
Claire Pritchard
Steve Williams
Casting Associate
Kirsty Robertson
Assistant Editor
Ceres Doyle
Post Production Supervisor
Marie Brown
2D VFX Artists
David Bowman
Simon C Holden
Jennifer Herbert
Bronwyn Edwards
Astrid Busser-Casas
Richard Roberts
Chad Meire
3D VFX Artists
Chris Petts
Andy Howell
Paul Burton
Matt McKinney
Nick Webber
Mark Wallman
Nicolas Hernandez
Jean-Claude Deguara
Digital Matte Painter
Alexander Fort
Model Unit Supervisor
Mike Tucker
Model Unit DOP
Peter Tyler
On Line Editor
Matthew Clarke
Colourist
Paul Harrison
Dubbing Mixer
Tim Ricketts
Dialogue Editor
Paul McFadden
Sound FX Editor
Paul Jefferies
Picture Publicist
Francine Holdgate
Rights Executive
James Dundas
Finance Manager
Richard Pugsley
Original Theme Music
Ron Grainer
Casting Director
Andy Pryor CDG
Production Accountant
Endaf Emyr Williams
Sound Recordist
Ian Richardson
Costume Designer
Lucinda Wright
Make-Up Designer
Davy Jones
Music
Murray Gold
Special Effects
Any Effects
Visual Effects
The Mill
Prosthetics
Millennium Effects
Visual FX Producer
Will Cohen
Visual FX Supervisor
Dave Houghton
Editor
Graham Walker
Production Designer
Edward Thomas
Director of Photography
Ernie Vincze BSC
Production Manager
Tracie Simpson
Associate Producer
Helen Vallis
Executive Producers
Russell T Davies
Julie Gardner
Mal Young
---
Working Titles
Episode 1
Gameshow World!