New Series Episode 85:
A Good Man Goes To War
Months ago, a newly-pregnant Amy was kidnapped by the Headless Monks and their agent, the ruthless Madame Kovarian. Now she has given birth to her daughter, Melody, who is to be taken away so that she can be used as a weapon against the Doctor. But the Doctor and Rory have called in favours and gathered a strike force to rescue Amy and Melody. Only River Song refuses to heed the Doctor's summons. She knows that this is the day of the Doctor's greatest victory, and his greatest defeat... and the day that he will finally learn who she is.
Forthcoming.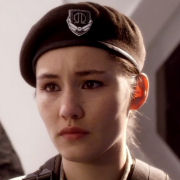 Original Transmission

| | |
| --- | --- |
| | |
| Date | 4th Jun 2011 |
| Time | 6.40pm |
| Duration | 48'17" |
| · BBC1/HD | 7.5m |
| Appreciation | 88% |
---
Cast
The Doctor
Matt Smith
Amy Pond
Karen Gillan
Rory
Arthur Darvill
River Song
Alex Kingston
Madame Kovarian
Frances Barber
Fat One
Charlie Baker
Thin One
Dan Johnston
Lorna Bucket
Christina Chong
Lucas
Joshua Hayes
Dominicus
Damian Kell
Madame Vastra
Neve McIntosh
Jenny
Catrin Stewart
Captain Harcourt
Richard Trinder
Eleanor
Annabel Cleare
Arthur
Henry Wood
Commander Strax
Dan Starkey
Dorium Maldavar
Simon Fisher-Becker
Colonel Manton
Danny Sapani
Henry Avery
Hugh Bonneville
Toby Avery
Oscar Lloyd
Voice of the Cybermen
Nicholas Briggs
---
Crew
Written by
Steven Moffat
Directed by
Peter Hoar
Produced by
Marcus Wilson
Stunt Coordinator
Crispin Layfield
Stunt Performers
Gordon Seed
Will Willoughby
Dean Forster
1st Assistant Director
Toby Ford
2nd Assistant Director
James DeHaviland
3rd Assistant Director
Heddi-Joy Taylor-Welch
Assistant Directors
Janine H Jones
Michael Curtis
Location Manager
Iwan Roberts
Unit Manager
Rhys Griffiths
Location Assistant
Geraint Williams
Production Manager
Steffan Morris
Production Coordinator
Claire Hildred
Asst Production Coordinator
Helen Blyth
Production Secretary
Scott Handcock
Production Assistant
Charlie Coombes
Asst Production Accountant
Rhys Evans
Script Executive
Lindsey Alford
Script Supervisor
Lindsay Grant
Camera Operator
Joe Russell
Focus Pullers
Steve Rees
Jonathan Vidgen
Grip
Gary Norman
Camera Assistants
Simon Ridge
Svetlana Miko
Matthew Lepper
Assistant Grip
Owen Charnley
Sound Maintenance Engineers
Jeff Welch
Dafydd Parry
Gaffer
Mark Hutchings
Best Boy
Pete Chester
Electricians
Ben Griffiths
Bob Milton
Stephen Slocombe
Alan Tippetts
Supervising Art Director
Stephen Nicholas
Set Decorator
Julian Luxton
Production Buyer
Ben Morris
Standby Art Director
Amy Pickwoad
Assistant Art Director
Jackson Pope
Concept Artist
Richard Shaun Williams
Props Master
Paul Aitken
Props Buyer
Adrian Anscombe
Prop Chargehand
Rhys Jones
Standby Props
Phill Shellard
Helen Atherton
Dressing Props
Tom Belton
Kristian Wilsher
Graphic Artist
Christina Tom
Draughtsman
Julia Jones
Design Assistant
Dan Martin
Petty Cash Buyer
Kate Wilson
Standby Carpenter
Will Pope
Standby Rigger
Bryan Griffiths
Store Person
Jayne Davies
Props Makers
Penny Howarth
Nicholas Robatto
Alan Hardy
Props Driver
Medard Mankos
Practical Electrician
Albert James
Construction Manager
Matthew Hywel-Davies
Construction Chargehand
Scott Fisher
Graphics
BBC Wales Graphics
Assistant Costume Designer
Samantha Keeble
Costume Supervisor
Heather Leat
Costume Assistants
Jason Gill
Yasemin Kascioglu
Frances Morris
Make-Up Supervisor
Pam Mullins
Make-Up Artists
Vivienne Simpson
Allison Sing
VFX Producer
Beewan Athwal
Casting Associate
Alice Purser
Assistant Editor
Becky Trotman
VFX Editor
Cat Gregory
Post Production Supervisor
Nerys Davies
Post Production Coordinator
Marie Brown
Dubbing Mixer
Tim Ricketts
Dialogue Editor
Paul McFadden
Sound Effects Editor
Paul Jefferies
Foley Editor
Jamie Talbutt
Online Editor
Jeremy Lott
Colourist
Mick Vincent
Online Conform
Mark Bright
Cybermen created by
Kit Pedler &
Gerry Davis
Silurians created by
Malcolm Hulke
Sontarans created by
Robert Holmes
Ood and Judoon created by
Russell T Davies
Original Theme Music
Ron Grainer
Casting Director
Andy Pryor CDG
Production Executive
Julie Scott
Production Accountant
Dyfed Thomas
Sound Recordist
Bryn Thomas
Costume Designer
Barbara Kidd
Make-Up Designer
Barbara Southcott
Music
Murray Gold
Visual Effects
The Mill
Special Effects
Real SFX
Prosthetics
Millennium FX
Editor
Úna Ní Dhonghaíle
Production Designer
Michael Pickwoad
Director Of Photography
Stephan Pehrsson
Associate Producer
Denise Paul
Line Producer
Diana Barton
Executive Producers
Steven Moffat
Piers Wenger
Beth Willis
---
Working Titles
Demon's Run
His Darkest Hour
---
Media
DVD Release
Doctor Who: Series 6 Part 1 (double disc; 2011)
Buy: Canada · UK
· USA
Doctor Who: The Complete Sixth Series (2011; boxed set)
Buy: Canada · UK
· USA
Blu-ray Release
Doctor Who: Series 6 Part 1 (double disc; 2011)
Buy: Canada · UK
· USA
Doctor Who: The Complete Sixth Series (2011; boxed set)
Buy: Canada · UK
· USA