Serial 4H:
Planet Of Evil
The Doctor and Sarah land on Zeta Minor, at the very edge of the universe. A scientific team led by Professor Sorenson is being terrified by an anti-matter monster, a situation which deteriorates when Sorenson takes a sample of anti-matter off-planet. The Doctor must stop Sorenson, who has begun mutating into a Jekyll-and-Hyde-like anti-man, and restore the balance on Zeta Minor before death comes calling for them all.
In developing ideas for Doctor Who's thirteenth season, producer Philip Hinchcliffe and script editor Robert Holmes agreed that the programme had spent too much time on Earth in recent years. To this end, they entered into discussions with designer Roger Murray-Leach about creating a truly alien environment within the confines of the Ealing Television Film Studios. For the story which would make use of the proposed sets, Hinchcliffe suggested taking inspiration from the 1956 science-fiction classic Forbidden Planet, which he had enjoyed in his youth. Unlike Forbidden Planet, in which a monster was revealed to be embodiment of the dark side of a scientist's mind, Hinchcliffe suggested that the monster could actually represent the dark side of a planet. Holmes, for his part, was interested in an adventure which drew upon Robert Louis Stevenson's seminal 1886 novel The Strange Case Of Dr Jekyll And Mr Hyde.
To write such a serial, Holmes approached Louis Marks, with whom he had worked in the mid-Sixties. Marks had twice contributed to Doctor Who over the course of the past decade, most recently scribing Day Of The Daleks three years earlier. It was decided that Marks' scripts would be set in a jungle environment, in contrast to the barren world of Forbidden Planet. Marks, who was under contract to the BBC as a script editor, received staff clearance for his scripts on May 19th, 1975; in reality, he had been working on them since much earlier in the year.
Originally, Sorenson did not reappear after plunging into the black pool, but Philip Hinchcliffe deemed this an unsuitable fate
Serial 4H came to be called Planet Of Evil, although the slightly lengthier "The Planet Of Evil" was also employed on occasion. While scheduled for production after Pyramids Of Mars, it was planned to transmit Planet Of Evil first to maintain a better balance between stories set on Earth and in space, and between those recorded on location and in studio, over the course of Season Thirteen. Shortly before production began, Hinchcliffe requested an amendment to the closing moments of Planet Of Evil. In Marks' original version, Sorenson did not reappear after plunging into the black pool. Hinchcliffe felt that this was not a suitable fate for a well-intentioned character, and so asked Holmes to adjust the ending to have Sorenson survive.
Assigned to direct Planet Of Evil (designated Serial 4H) was David Maloney, who had recently completed work on Genesis Of The Daleks. Having been an important part of the initial discussions about the story, Murray-Leach was brought aboard the crew as well. With no location filming allocated to the production, Murray-Leach was given the freedom to design a fabulously detailed, exotic and alien jungle set at Ealing, for filming on June 11th and 12th. This set proved so successful that it was extensively photographed by the BBC Educational Service, which would use it as an example of design excellence for years afterward. Nonetheless, the jungle set did cause some problems, in particular making it virtually impossible to position sound booms; this forced most of the dialogue to be dubbed in post-production.
Work at Ealing continued on June 13th, filming scenes in the void. Model shots were also completed there on the 14th. As usual, studio recording for Planet Of Evil took place in fortnightly blocks on Mondays and Tuesdays. The first of these, in BBC Television Centre Studio 6, encompassed June 30th and July 1st, for material from episodes one and two, respectively. The second session occurred on July 14th and 15th, this time in TC3. In addition to recording scenes from episode three on the 14th, the TARDIS sequences for part one were also taped. The second day was devoted entirely to the serial's concluding installment.
Doctor Who: The Handbook: The Fourth Doctor by David J Howe, Mark Stammers and Stephen James Walker (1992), Virgin Publishing, ISBN 0 426 20369 8.
Doctor Who: The Seventies by David J Howe, Mark Stammers and Stephen James Walker (1994), Virgin Publishing, ISBN 1 85227 444 1.
Doctor Who Magazine #183, 19th February 1992, "Archive: Planet Of Evil" by Andrew Pixley, Marvel Comics UK Ltd.
Doctor Who Magazine Special Edition #8, 1st September 2004, "Bohemian Rhapsody" by Andrew Pixley, Panini Publishing Ltd.
In-Vision #8, September 1988, "Production" edited by Justin Richards and Peter Anghelides, Cybermark Services.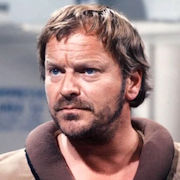 Original Transmission
Episode 1
Date
27th Sep 1975
Time
5.45pm
Duration
24'02"
Viewers

(more)

10.4m (19th)
Episode 2
Date
4th Oct 1975
Time
5.46pm
Duration
22'30"
Viewers

(more)

9.9m (24th)
Appreciation
56%
Episode 3
Date
11th Oct 1975
Time
6.07pm
Duration
23'50"
Viewers

(more)

9.1m (29th)
Appreciation
57%
Episode 4
Date
18th Oct 1975
Time
5.46pm
Duration
23'43"
Viewers

(more)

10.1m (26th)
Appreciation
54%
---
Cast
Doctor Who
Tom Baker
Sarah Jane Smith
Elisabeth Sladen
Sorenson
Frederick Jaeger
Vishinsky
Ewen Solon
Salamar
Prentis Hancock
De Haan
Graham Weston
Ponti
Louis Mahoney
Morelli
Michael Wisher
Braun
Terence Brook
Baldwin
Tony McEwan
O'Hara
Haydn Wood
Reig
Melvyn Bedford
---
Crew
Written by
Louis Marks
Directed by
David Maloney
Produced by
Philip Hinchcliffe
Production Assistant
Malachy Shaw Jones
Production Unit Manager
Janet Radenkovic
Title Music by
Ron Grainer &
BBC Radiophonic Workshop
Title Sequence
Bernard Lodge
Incidental Music by
Dudley Simpson
Special Sound
Peter Howell
Costume Designer
Andrew Rose
Make-Up
Jenny Shircore
Visual Effects Designer
Dave Havard
Studio Lighting
Brian Clemett
Studio Sound
Tony Millier
Film Cameramen
Kenneth MacMillan
Stan Speel
Film Sound
Colin March
Film Editor
MAC Adams
Script Editor
Robert Holmes
Designer
Roger Murray-Leach
---
Working Titles
The Planet Of Evil