Serial 4G:
Pyramids Of Mars
It is 1911, and the TARDIS lands in the home of sibling scientists Laurence and Marcus Scarman. Laurence desperately needs the Doctor's help, since his brother has been behaving very oddly ever since returning from an archaeological dig in Egypt. To confuse matters further, Laurence has begun detecting strange radio signals from the surface of Mars. The Doctor discovers that Marcus has become the avatar on Earth of Sutekh, a powerful alien Osirian imprisoned centuries earlier by his people for his terrible crimes. Now Sutekh is using Marcus to regain his freedom, and herald the end of the world.
Amongst the new writers considered by incoming Doctor Who script editor Robert Holmes was Lewis Greifer. In addition to story-editing for ATV, Greifer had created the series Who-Dun-It, and had also written for programmes such as The Prisoner and Ghost Squad under the pseudonym "Joshua Adam". Aware that Greifer had an interest in Egyptian mythology, Holmes suggested that he consider an adventure which would combine science-fiction with the trappings of mummy horror films, such as Universal's 1932 movie The Mummy, and the 1959 Hammer Films production of the same name.
With these ideas in mind, Greifer submitted a storyline in July 1974 entitled Pyramids Of Mars. In it, the Doctor and his companion (generically referred to as "Jane") attend a conference on food reserves at the British Museum, along with UNIT's Brigadier Lethbridge Stewart (who it was suggested might be killed off during the adventure). The Doctor's friend Professor Fawzi and his partner, Dr Robertson, are there to unveil their work on a new type of grain which can flourish on the surface of the Moon, thereby solving the world's hunger problems. However, the conference is soon attacked by the crocodile-like Egyptian god Sebek and his army of mummies. Sebek and his master, Seth, are aliens who came to Earth millennia ago intent on conquest, but were placed in suspended animation via a powerful artefact called the Eye wielded by Horus, another of their kind. Having reawakened, they now intend to replace Fawzi and Robertson's grain with one which will result in the Moon's disintegration -- which, in turn, will have catastrophic effects on Earth. The Doctor manages to locate Seth's resting place beneath an Egyptian pyramid, and is assisted by Horus and another deity, Isis, in defeating Seth and destroying the probe in mid-flight.
Barry Letts thought that the Egyptian gods might originate from different planets, explaining their varying physical forms
Despite grave misgivings with regard to Greifer's understanding of Doctor Who's format, Holmes met with the author on July 4th. He suggested that the would-be gods could actually be from Mars, having fled the planet after it was devastated by galactic conflict. Holmes disliked the idea of the special grain, and instead recommended that the Earth project be one to begin the transformation of Mars' surface into a habitable environment. Seth would attempt to hijack the mission, his goal being to fire a rocket at the Great Pyramid of Mars where his jailers still sleep in suspended animation. Holmes also encouraged Greifer to establish scientific explanations for some of the supernatural phenomena he described. Producer Barry Letts, who was in the process of handing over to his successor, Philip Hinchcliffe, thought that the Egyptian gods might actually originate from different planets outside our solar system, explaining why their physical forms vary greatly.
Holmes formally commissioned Greifer to write a storyline for Pyramids Of Mars on July 8th. At this point, he was considering the possibility of making a search for the Eye of Horus -- which would disappear at the story's climax -- a recurring theme in subsequent adventures. Holmes continued to have reservations about Pyramids Of Mars even after Greifer submitted his revised outline, but still contracted the writer to script the four episodes on July 23rd. Greifer's story now involved a fortune hunter named Hennessy who, at Fawzi's behest, is pursuing ancient wild rice hidden in an Egyptian sarcophagus, which is also the target of Shebek (as Sebek had been renamed).
Greifer delivered the script for episode one on October 7th; this prompted Holmes to advise the writer that he was straying too far away from the mummy horror movie premise. Matters deteriorated from there. First, Greifer was taken badly ill, delaying the completion of the final three installments. Then, Holmes discovered that these were unsuitable for broadcast, failing to tie up key plot points and lacking a suitable emphasis on the Doctor's role. In late November, Greifer left England for Tel Aviv University in Israel, where he had previously committed to a teaching position.
Finally, on March 7th, 1975, Holmes informed Greifer's agent that his client's scripts would be abandoned. With production looming, Holmes was forced to rewrite the adventure from scratch. He was assisted by Paddy Russell, who had been assigned to direct the story; Russell's last Doctor Who work had been on Invasion Of The Dinosaurs two years before. Jettisoning most of Greifer's concepts -- such as the modern-day setting, UNIT, and Shebek -- Holmes instead situated the action in 1911, allowing him to better pay homage to the mummy horror genre. Seth became the focal villain, with Holmes referring to the character as Set and then Sutekh, both alternative names for the deity in Egyptian mythology.
The visit to the devastated 1980 was intended to offset the presumption that threats encountered in historical stories didn't matter
Holmes also took the opportunity to include a scene in the second episode which depicted how the events of 1911 could change Sarah Jane's "present". He felt that this would help offset the general presumption by viewers that threats encountered in historical stories didn't matter, since modern-day Earth has been seen to endure in other Doctor Who serials. Hinchcliffe, meanwhile, suggested the inclusion of the logic puzzle in the concluding installment, drawing on Franz Kafka's 1926 novel The Castle. The character of Ernie Clements was intended to survive the story in Holmes' original version, but Russell elected to kill him off instead.
The frustrating series of events that led to Holmes penning a completely new version of Pyramids Of Mars prompted Hinchcliffe to secure from Graeme McDonald, the Head of Serials, a special dispensation for Holmes to write up to two Doctor Who adventures per season. This was highly unusual, given the disapproval with which the BBC viewed script editors writing for their own series.
Pyramids Of Mars was scheduled to be the first story of Doctor Who's thirteenth recording block, and given the production code Serial 4G. Initially, it was also envisioned as the first adventure to air as part of Season Thirteen, but these plans changed when the BBC decided to bring forward the broadcast of the new season to autumn 1975 rather than early 1976. With Terror Of The Zygons now being held over from the twelfth production block to begin Season Thirteen, consideration was given to pushing Pyramids Of Mars as far back as fourth. Ultimately, it was decided to swap it in the running order with Planet Of Evil, the next story to be made, to avoid beginning the season with two Earthbound serials.
Location filming for Pyramids Of Mars took place on the grounds of Stargrove Manor in East End, Hampshire. At the time, the property was owned by Mick Jagger, lead singer of the Rolling Stones. Work at Stargrove began on April 29th, and continued until May 2nd. This was followed by three days of model filming, from May 7th to 9th, at the BBC Television Centre Puppet Theatre.
Lewis Greifer requested the removal of his name from a serial which bore almost no resemblance to what he had written
For the thirteenth production block, Doctor Who was chiefly taped in two-day studio blocks on fortnightly Mondays and Tuesdays. For Pyramids Of Mars, the first of these sessions occurred in BBC Television Centre Studio 3 on May 19th and 20th. These days focussed on completing the majority of episodes one and two, respectively, although Russell also opted to tape part four's TARDIS scene on the 20th, to avoid erecting the set again. Two more days of model filming then took place on the 22nd and 23rd.
Recording concluded with the second studio block on June 2nd and 3rd, this time in TC6. Episode three was taped on the first day, alongside the initial four scenes of the final installment, material in Sutekh's prison and the organ room for part two, and the opening Egyptian tomb sequence for part one. The rest of episode four was then recorded on the 3rd. By this time, Lewis Greifer had requested the removal of his name from a serial which bore almost no resemblance to what he had written; instead, Pyramids Of Mars bore an onscreen credit to the pseudonymous "Stephen Harris".
Doctor Who: The Handbook: The Fourth Doctor by David J Howe, Mark Stammers and Stephen James Walker (1992), Virgin Publishing, ISBN 0 426 20369 8.
Doctor Who: The Seventies by David J Howe, Mark Stammers and Stephen James Walker (1994), Virgin Publishing, ISBN 1 85227 444 1.
Doctor Who Magazine #300, 7th February 2001, "Archive: Pyramids Of Mars" by Andrew Pixley, Panini Publishing Ltd.
Doctor Who Magazine Special Edition #8, 1st September 2004, "Bohemian Rhapsody" by Andrew Pixley, Panini Publishing Ltd.
In-Vision #9, October 1988, "Production" edited by Justin Richards and Peter Anghelides, Cybermark Services.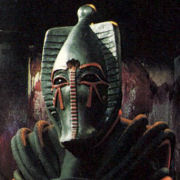 Original Transmission
Episode 1
Date
25th Oct 1975
Time
5.47pm
Duration
25'22"
Viewers

(more)

10.5m (28th)
Episode 2
Date
1st Nov 1975
Time
5.48pm
Duration
23'53"
Viewers

(more)

11.3m (15th)
Episode 3
Date
8th Nov 1975
Time
5.46pm
Duration
24'32"
Viewers

(more)

9.4m (37th)
Episode 4
Date
15th Nov 1975
Time
5.45pm
Duration
24'52"
Viewers

(more)

11.7m (22nd)
Appreciation
60%
---
Cast
Doctor Who
Tom Baker
Sarah Jane Smith
Elisabeth Sladen
Marcus Scarman
Bernard Archard
Laurence Scarman
Michael Sheard
Dr Warlock
Peter Copley
Namin
Peter Mayock
Collins
Michael Bilton
Ahmed
Vik Tablian
Mummies
Nick Burnell
Melvyn Bedford
Kevin Selway
Ernie Clements
George Tovey
Sutekh
Gabriel Woolf
---
Crew
Written by
Robert Holmes
Lewis Greifer
(as Stephen Harris)
Directed by
Paddy Russell
Produced by
Philip Hinchcliffe
Production Unit Manager
George Gallaccio
Production Assistant
Peter Grimwade
Title Music by
Ron Grainer &
BBC Radiophonic Workshop
Title Sequence
Bernard Lodge
Incidental Music by
Dudley Simpson
Special Sound
Dick Mills
Costume Designer
Barbara Kidd
Make-up
Jean Steward
Visual Effects Designer
Ian Scoones
Studio Lighting
Ron Koplick
Studio Sound
Brian Hiles
Film Cameraman
John McGlashan
Film Sound
Andrew Boulton
Film Editor
MAC Adams
Script Editor
Robert Holmes
Designer
Christine Ruscoe
---
Working Titles
Pyramid Of Mars