Serial 5Y:
Kinda
The TARDIS brings the Doctor, Adric, Nyssa and Tegan to the idyllic jungle world of Deva Loka, which is being surveyed for possible Earth colonisation. Deva Loka is already home to a race of apparent savages, however: a mysterious people with strange powers which have mentally unbalanced the members of the expedition. To make matters worse, an ancient enemy of the natives -- a serpentine being called the Mara -- still lurks on Deva Loka. The Mara is intent upon revenge, and latches onto Tegan's mind as its bridgehead to victory.
Amongst the new writers approached by Doctor Who script editor Christopher H Bidmead in early 1980 was an English graduate named Christopher Bailey, who had contributed plays to Second City Firsts and ITV Playhouse. Bailey was a student of Buddhism, and devised a satire of nineteenth-century British colonisation combined with elements of Buddhist mysticism. A storyline entitled "The Kinda" was commissioned on April 10th. In developing his ideas, Bailey may have been influenced by the Ursula K LeGuin novel The Word For World Is Forest (1972), about the discovery of a planet where the natives possess unexpected powers, although Bailey professes no memory of having read it.
By the time full scripts for "The Kinda" were requested on September 25th, change was in the air on Doctor Who. Although Bailey had conceived his storyline with Tom Baker's Doctor in mind, it was now known that Baker would be leaving the programme at the end of Season Eighteen. This forced Bailey to reimagine the Doctor's function in "The Kinda": he had originally envisioned the Doctor playing the role of a "wise sage", but the younger Doctor anticipated by the production team would no longer suit this portrayal. Furthermore, two new companions were being introduced in the form of Adric and Tegan. Bailey duly accounted for these changes, and began work on his scripts.
There was no room in the plot for Nyssa, and making wholesale changes to include her might damage the storyline
Later in the autumn, however, it was decided to retain Nyssa as a regular character as well. This presented a greater difficulty for Bailey: there was no room for a third companion in his plot, and he and Bidmead were concerned that the wholesale changes necessitated by her inclusion would damage the storyline. Consequently, it was agreed that Nyssa should appear only at the start and end of the serial, but would be written out of the main action. This echoed a practise common on Doctor Who throughout the Sixties, when members of the regular cast would be omitted from an episode once or twice per season in order to afford them a week's holiday.
Bailey infused "The Kinda" with many Buddhist terms and ideas. In particular, he named many of the characters after Buddhist words, including the Mara ("temptation"), Dukkha ("suffering"), Panna ("wisdom"), Karuna ("compassion"), Anicca ("impermanence") and Anatta ("without self"). The Jhana Box (also spelt "Jana Box" in the scripts) alluded to a Buddhist meditative state of complete immersion, while Deva Loka was named for the heavenly realm of supernatural beings (called "devas"). Sanders, on the other hand, was named for the 1935 film Sanders Of The River.
Bailey made great use of symbolism in his depiction of Tegan's dream environment (which he referred to as "the Wherever"). Some of this -- such as the phallic nature of the Mara's serpentine form -- was felt to be too adult, and had to be toned down. Other aspects of "The Kinda" also needed considerable work. Bailey's lack of familiarity with Doctor Who resulted in his scripts being generally slow-paced and lacking proper cliffhangers. There was also concern about the Doctor's minimal involvement in the action, as well as the lack of definition of the Mara as a tangible enemy.
Three script editors worked with Bailey on "The Kinda": Bidmead (who left Doctor Who at the end of 1980), his interim replacement Antony Root, and finally Eric Saward. Saward initially received a short-term appointment in the event that Root was able to rejoin Doctor Who. During the summer of 1981, however, Root was given a permanent job script-editing Juliet Bravo, and so Saward agreed to remain on Doctor Who. "The Kinda" would be his first story into production. The relationship between Bailey and Saward was uneasy, as the author felt that the script editor was performing unnecessarily broad rewrites on his episodes, forcing him to make further changes at the last minute in an attempt to find middle ground.
Kinda followed a two-month break in production while Peter Davison recorded his sitcom Sink Or Swim
In mid-June, the title of Bailey's serial was modified slightly to simply Kinda. It was the first story to go before the cameras after an almost two-month break in production, which enabled new star Peter Davison to record the second season of his popular sitcom Sink Or Swim. By now, the scripting problems which had caused such upheaval before the hiatus had largely been resolved, and with the exception of the premiere adventure, Castrovalva, the remainder of Season Nineteen would be made in broadcast order. This included Kinda, which was designated Serial 5Y.
The director was Peter Grimwade, who had last helmed Tom Baker's swangsong, Logopolis. Ironically, Grimwade cast Richard Todd in the role of Sanders; Todd had starred in the 1963 remake of Sanders Of The River (which had also been distributed under the title of Death Drums Along The River). During rehearsals, producer John Nathan-Turner disapproved of Bailey's intended final scene, in which Sanders and Hindle link arms and walk into the forest, holding a flower. He feared that this would appear too campy, and ordered that it be excised from the shooting script.
Kinda was made in two three-day studio blocks, both of which took place in BBC Television Centre Studio 8. The first session, from July 29th to 31st, concentrated on sequences inside the expedition dome; some material in the Wherever was also completed on the third day. The second block spanned August 12th to 14th. This time, scenes in the Deva Lokan forest were the focus, although the remaining Wherever sequences were recorded on the 12th, while work on the 14th included the material in Panna's cave and her vision (referred to in the scripts as being set in "the Beyond").
Eric Saward was forced to ask Christopher Bailey to provide four minutes of material to pad out the last episode
Unfortunately, the second studio block proved very tense: Grimwade was extremely unhappy with the forest set, which he felt did little to conceal its studiobound nature. In particular, significant amounts of time were lost concealing the studio floor beneath scattered leaves, resulting in Grimwade eventually proceeding without camera rehearsals. Even with this concession, Grimwade was forced to abandon some of his planned shots, including a complex effects sequence in which Panna in seen to be sat atop a crumbling plinth. The loss of this scene, into which much thought and planning had been invested, infuriated visual effects designer Peter Logan, who subsequently requested that special effects be given greater consideration by Doctor Who directors in the future.
In editing, it was discovered that although parts one and two overran significantly (resulting in a number of minor edits), episode four could not be made to stretch to its requisite duration. Because of the structure of the third installment, it would be difficult to move up material to help fill the gap, as was the normal practise. Consequently, on September 30th, Saward was forced to ask Bailey -- who was already working on a sequel to Kinda, called Snakedance -- to provide four minutes' worth of extra material featuring only the regular cast to pad out the episode. Bailey developed two scenes set in the expedition dome's airlock, one involving Tegan and Adric discussing Hindle's bomb, and another in which the Doctor assures them that Hindle is no longer a threat. These two scenes were recorded in TC8 on November 11th, during the making of Earthshock, Grimwade's next Doctor Who serial.
Doctor Who: The Handbook: The Fifth Doctor by David J Howe and Stephen James Walker (1995), Virgin Publishing, ISBN 0 426 20458 9.
Doctor Who: The Eighties by David J Howe, Mark Stammers and Stephen James Walker (1996), Virgin Publishing, ISBN 1 85227 680 0.
Doctor Who Magazine #226, 7th June 1995, "Archive: Kinda" by Andrew Pixley, Marvel Comics UK Ltd.
Doctor Who Magazine #327, 5th March 2003, "Moments Of Pleasure" by Benjamin Cook, Panini Publishing Ltd.
Doctor Who Magazine Special Edition #1, 2001, "Prince Charming" by Andrew Pixley, Panini Publishing Ltd.
In-Vision #57, May 1995, "Production" edited by Anthony Brown, Cybermark Services.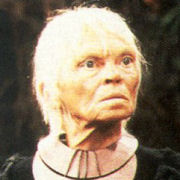 Original Transmission
Episode 1
Date
1st Feb 1982
Time
6.57pm
Duration
24'50"
Viewers

(more)

8.4m (78th)
Episode 2
Date
2nd Feb 1982
Time
7.04pm
Duration
24'58"
Viewers

(more)

9.4m (45th)
Episode 3
Date
8th Feb 1982
Time
6.57pm
Duration
24'17"
Viewers

(more)

8.5m (67th)
Episode 4
Date
9th Feb 1982
Time
7.06pm
Duration
24'28"
Viewers

(more)

8.9m (56th)
---
Cast
The Doctor
Peter Davison
Adric
Matthew Waterhouse
Nyssa
Sarah Sutton
Tegan
Janet Fielding
Sanders
Richard Todd
Todd
Nerys Hughes
Hindle
Simon Rouse
Anatta
Anna Wing
Anicca
Roger Milner
Dukkha
Jeffrey Stewart
Aris
Adrian Mills
Panna
Mary Morris
Karuna
Sarah Prince
Trickster
Lee Cornes
---
Crew
Written by
Christopher Bailey
Directed by
Peter Grimwade
Produced by
John Nathan-Turner
Incidental Music
Peter Howell
Special Sound
Dick Mills
Production Manager
Ann Faggetter
Production Associate
Angela Smith
Production Assistant
Rosemary Parsons
Assistant Floor Manager
Val McCrimmon
Visual Effects Designer
Peter Logan
Video Effects
Dave Chapman
Technical Manager
David Hare
Senior Cameraman
Alec Wheal
Vision Mixer
James Gould
Videotape Editor
Steve Murray
Lighting
Mike Jefferies
Sound
Alan Machin
Costume Designer
Barbara Kidd
Make-up Artist
Suzan Broad
Script Editor
Eric Saward
Title Sequence
Sid Sutton
Designer
Malcolm Thornton
---