Serial 6D:
Snakedance
The Mara once again takes control of Tegan's mind and compels her to direct the TARDIS to Manussa, seat of its once-mighty empire. Generations earlier, the Mara was driven off Manussa with the use of the Great Crystal, a device which enhances its users' mental abilities. Now, the Mara intends to use the Crystal to return to power. It is up to the Doctor to unearth the terrible origins of the Mara, and seek out the one man who can show him how to defeat the Mara in psychic combat.
While Kinda, Christopher Bailey's first Doctor Who serial, was wrapping up production in August 1981, he and script editor Eric Saward were already beginning discussions about a possible sequel for the next season. Working closely with Saward, Bailey drafted an outline for a new story called Snakedance (sometimes referred to as Snake Dance), which was commissioned on September 28th. Happy with the outcome, Saward requested the full scripts from Bailey on November 9th.
Snakedance was soon pencilled in as the second story of Season Twenty. However, it was placed first in the production order, as Serial 6D. Since it was a purely studio-bound story, it was not subject to the vagaries of spring weather, and thus was a better candidate for recording in April than the intended season opener, Arc Of Infinity, which would boast location filming in Amsterdam. As with Kinda, Bailey infused the names he chose for Snakedance with various hidden meanings. Buddhist terms again made an appearance, inspiring Manussa ("the human realm"), Tanha ("craving") and Dugdale (from duggati, "unhappy existence"). Dojjen was an homage to Dogen, a Zen master who lived in thirteenth-century Japan. Dugdale had earlier been called Duchan (a platform used by Hebrew priests), while Chela was named for a Hindi word meaning "religious disciple".
At Sarah Sutton's urging, it was agreed that Nyssa would be portrayed as an increasingly mature woman prior to her departure
While Bailey was working on his scripts for Snakedance, it was decided that Nyssa had been developed as far as possible, and Sarah Sutton would bow out of Doctor Who midway through Season Twenty. At Sutton's urging, it was agreed that Nyssa would be portrayed as an increasingly mature young woman throughout the opening stories of the season, and Bailey was asked to reflect this in his scripts. The regular Doctor Who cast each received new contracts in February 1982. Reflecting the plans for her character, Sutton was booked for twenty out of twenty-six episodes on the 10th; however, the same day, Janet Fielding was contracted for only eighteen episodes, suggesting that there may have been some uncertainty about how much longer Tegan would remain on the show. On the 11th, Peter Davison was booked for the entirety of Season Twenty.
One change for the companions in the new year would be their costumes: producer John Nathan-Turner had favoured a uniform look during the nineteenth season, with Adric, Nyssa and Tegan all wearing essentially the same clothes in every story. Now, both Nyssa and Tegan would be allowed to change their outfits from adventure to adventure. Meanwhile, Nathan-Turner himself was beginning to consider life after Doctor Who. As Season Twenty neared production, Nathan-Turner began developing a soap opera named Impact, which was planned to be an updated version of the mid-Sixties BBC programme Compact.
The director assigned to Snakedance was Fiona Cumming, who had worked on Castrovalva the previous year. After making that story, Cumming had informed Nathan-Turner of her willingness to return to Doctor Who, but indicated that she was more interested in character-oriented scripts. Consequently, Nathan-Turner thought that Cumming would be an ideal fit for Snakedance. Amongst the cast Cumming assembled was Brian Miller, playing the showman Dugdale; Miller was the husband of Elisabeth Sladen, who played companion Sarah Jane Smith in the mid-Seventies.
Two weeks prior to the start of production on Snakedance, on March 18th, series star Peter Davison was asked to film what he believed to be a promotional trailer for Australian television. In fact, this was a ruse concocted by Nathan-Turner. In reality, when Davison arrived on location, he was surprised to find Matthew Waterhouse (Adric), Sarah Sutton and Janet Fielding already there in full costume. Davison was even more surprised to discover that they were accompanied by Eamonn Andrews, and that he was the subject of Andrews' popular programme This Is Your Life. The occasion marked the second time that a Doctor Who star had been featured on This Is Your Life, the other being Jon Pertwee in 1971. Davison's episode aired a week later, on March 25th.
For timing reasons, a closing scene in which the Doctor reassures Tegan about the Mara was held over to Mawdryn Undead
Work on Snakedance inaugurated Doctor Who's twentieth recording block, beginning with the scenes set in the Manussan hills, which were filmed at the Ealing Television Film Studios on March 31st. Recording for Snakedance took place in BBC Television Centre Studio 6, starting with a three-day session from April 12th to 14th. The first day dealt with scenes in the Manussan marketplace, while the second concentrated on material in and around Ambril's office. The 14th entailed the use of several venues, including the Hall of Mirrors, the Doctor's cell, and various corridors. Designer Jan Spoczynski had wanted to use an outside firm to build the sets for Snakedance, but permission was withheld until almost the very last minute. Consequently, the sets had to be constructed very quickly, and Spoczynski was disappointed with the results.
The second studio block spanned April 26th to 28th. All three days involved sequences in the cave, while the 26th also dealt with material in Lon and Tanha's chambers, and scenes inside the TARDIS were taped on the final day. In post-production, it was discovered that part four was badly overrunning, forcing Cumming to restructure much of the episode. One major sequence -- in which the Doctor reassures Tegan that she no longer has to worry about the Mara -- was dropped altogether, with the production team electing to hold it over to start the next serial, Mawdryn Undead, instead.
Saward was happy with Snakedance and was eager to work with Bailey again. Late in 1982, Bailey began developing a story called "May Time" (later renamed "Manpower"), although this was eventually abandoned. The next year, Bailey started working on an adventure for the Sixth Doctor entitled "The Children Of Seth" (which Bailey recalls as having been a revised version of "Manwatch"). At this point, however, Bailey became disillusioned with the lack of collaboration in television, and he decided to leave the industry. He subsequently helped found the successful community arts program Same Sky.
Doctor Who: The Handbook: The Fifth Doctor by David J Howe and Stephen James Walker (1995), Virgin Publishing, ISBN 0 426 20458 9.
Doctor Who: The Eighties by David J Howe, Mark Stammers and Stephen James Walker (1996), Virgin Publishing, ISBN 1 85227 680 0.
Doctor Who Magazine #227, 5th July 1995, "Archive: Snakedance" by Andrew Pixley, Marvel Comics UK Ltd.
Doctor Who Magazine #327, 5th March 2003, "Moments Of Pleasure" by Benjamin Cook, Panini Publishing Ltd.
Doctor Who Magazine Special Edition #1, 2001, "Diamond Life" by Andrew Pixley, Panini Publishing Ltd.
In-Vision #64, May 1996, "Production" edited by Anthony Brown, Cybermark Services.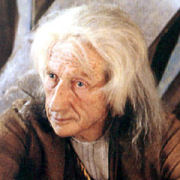 Original Transmission
Episode 1
Date
18th Jan 1983
Time
6.50pm
Duration
24'26"
Viewers

(more)

6.7m (95th)
Appreciation
65%
Episode 2
Date
19th Jan 1983
Time
6.47pm
Duration
24'35"
Viewers

(more)

7.7m (75th)
Appreciation
66%
Episode 3
Date
25th Jan 1983
Time
6.50pm
Duration
24'29"
Viewers

(more)

6.6m (98th)
Appreciation
67%
Episode 4
Date
26th Jan 1983
Time
6.44pm
Duration
24'29"
Viewers

(more)

7.4m (78th)
Appreciation
67%
---
Cast
The Doctor
Peter Davison
Nyssa
Sarah Sutton
Tegan
Janet Fielding
Ambril
John Carson
Tanha
Colette O'Neil
Dojjen
Preston Lockwood
Lon
Martin Clunes
Dugdale
Brian Miller
Fortune Teller
Hilary Sesta
Hawker
George Ballantine
Chela
Johnathon Morris
Puppeteer
Barry Smith
Megaphone Man
Brian Grellis
---
Crew
Written by
Christopher Bailey
Directed by
Fiona Cumming
Produced by
John Nathan-Turner
Incidental Music
Peter Howell
Special Sound
Dick Mills
Production Manager
Margot Hayhoe
Production Associate
Angela Smith
Production Assistant
Rita Dunn
Assistant Floor Manager
Maggy Campbell
Film Cameraman
John Baker
Film Sound
Ron Blight
Film Editor
Alastair Mackay
Visual Effects Designer
Andy Lazell
Video Effects
Dave Chapman
Technical Manager
Derek Thompson
Senior Cameraman
Alec Wheal
Geoff Clark
Vision Mixer
Carol Johnson
Videotape Editor
Rod Waldron
Studio Lighting
Henry Barber
Studio Sound
Martin Ridout
Costume Designer
Ken Trew
Make-up Artist
Marion Richards
Script Editor
Eric Saward
Title Sequence
Sid Sutton
Designer
Jan Spoczynski