Serial J:
Planet Of Giants
When the doors of the TARDIS open in mid-flight, its occupants are reduced to just inches in height. They land in an English country garden, where the unscrupulous Forester plans to profit from a powerful new insecticide called DN6. However, when a government representative named Farrow discovers that DN6 will have devastating effects on the environment, Forester shoots him dead. Despite their diminutive size, the time travellers must find a way to bring Forester to justice -- even as Barbara begins to succumb to the poisonous effects of DN6.
From the earliest days of Doctor Who's development, the production team envisioned a story in which the main characters were shrunk to a fraction of their normal height. Such a scenario had been proposed in the original format guide for the show, completed in early May 1963. The document's author, CE Webber, then developed the notion into a serial called "The Giants", which at one point was intended to be Doctor Who's premiere adventure. However, BBC Head of Drama Sydney Newman was critical of Webber's approach; with the technical limitations of Doctor Who's production home at Lime Grove Studio D also working against it, "The Giants" was abandoned around the middle of June.
The idea of a "miniscules" story was then passed along to Robert Gould and, by mid-September, this was scheduled as Doctor Who's fourth serial. But Gould's scripts soon hit problems and, in early February 1964, he and story editor David Whitaker agreed that its development should cease. However, Whitaker had not yet given up on the idea altogether: as of the end of February, a "miniscules" tale (with no attached writer) was still planned as the penultimate story of the Doctor Who production block, with Richard Martin the intended director.
Louis Marks' scripts were the third attempt at a "miniscules" story
Finally, in late March, Whitaker met with Louis Marks, whom he knew via the Writers' Guild. Marks agreed to make a third attempt at a "miniscules" adventure, and was commissioned to provide a storyline on April 14th. Whereas Webber's approach to "The Giants" was oriented towards action-adventure, Marks took the opportunity to incorporate an environmental slant into the narrative. He was heavily influenced by the 1962 Rachel Carson text Silent Spring, which strongly criticised the broad use of pesticides. Initially referred to as "The Miniscules", Marks' story had become "The Planet Of Giants" by the time its four scripts were commissioned on May 11th, and then simply Planet Of Giants. During the serial's development, one key change was to the character of Farrow; originally he had a financial involvement with DN6, but the pesticide's lethality had motivated him to turn his back on Forester.
Although Planet Of Giants would be made as part of Doctor Who's first recording block, the production team always intended that it would be held over for transmission as part of Season Two. Initially, Planet Of Giants was expected to be the second story of the new slate. However, when Controller of Programmes Donald Baverstock decided that Doctor Who should air later into the summer before wrapping its first season, The Reign Of Terror was held back to end the run, making Planet Of Giants the premiere adventure for the sophomore season.
To this point, each Doctor Who serial had been accorded an alphabetical production code matching the order of recording and broadcast. As the ninth story, Planet Of Giants should have been Serial I, and this identifier was used for a time, it was ultimately designated Serial J. This would be the first of several occasions when letters would be skipped to avoid confusion between similar-looking characters (O and U would also, inconsistently, be avoided over the years), until the system was abandoned following Doctor Who's cancellation in 1989.
Despite earlier indications that Richard Martin would direct Planet Of Giants, he was ultimately assigned to the subsequent serial, The Dalek Invasion Of Earth. Martin was replaced by Mervyn Pinfield, Doctor Who's associate producer, who had previously handled the first four episodes of The Sensorites. Pinfield had been assigned to Doctor Who in the first place because of his affinity for technically-challenging programmes; as such, he was an appropriate choice for the effects-heavy miniaturisation storyline. However, Pinfield would not be available for the recording of the final episode, The Urge To Live. As such, junior director Douglas Camfield was assigned to part four. Camfield had been a production assistant on 100,000 BC and Marco Polo, where director Waris Hussein had allowed him to handle some of the pre-filming.
Dudley Simpson became the largest contributor of incidental music to Doctor Who in the 20th century
On July 20th, Pinfield met with Dudley Simpson to discuss the incidental music for Planet Of Giants. Pinfield had been impressed by Simpson's score for Moonstrike the previous year, and for some time had sought to bring him onto Doctor Who. This was particularly notable because Simpson would go on to handle no fewer than sixty-four Doctor Who serials -- by far, the largest contribution of incidental music to the programme's twentieth-century run.
Work on Planet Of Giants got under way on July 30th with filming at the BBC Television Film Studios in Ealing, London. Effects shots were the primary concern, including many of those where the characters had to be seen standing next to "giant" objects. In situations where it was impossible or impractical to use oversized props -- such as the discovery of Farrow's body -- a film technique was used whereby the object was magnified via a half-silvered mirror, through which the camera could also capture the actors standing against black drapes. Unfortunately, these shots did not turn out well, and had to be remounted at Ealing on August 13th.
Planet Of Giants was the final Doctor Who serial scheduled to be made before the programme moved into its new production home of Riverside Studio 1. All four episodes were recorded in Studio 4 at BBC Television Centre in White City, London. Part one, also titled Planet Of Giants, was recorded on August 21st, with the other three episodes to follow on successive Fridays.
As recording began, producer Verity Lambert finally secured confirmation of a second production block for the series from Donald Baverstock. After months of stalling, Baverstock had agreed to three more months of Doctor Who, with an option for an additional three months. However, when Lambert attempted to negotiate contract extensions with William Hartnell, William Russell and Jacqueline Hill (having already planned to write Carole Ann Ford out of the programme in The Dalek Invasion Of Earth), she encountered resistance from all three actors. Hartnell, in particular, demanded assurance that Doctor Who would continue for at least a full six months, while each of them wanted more money than was being offered.
Lambert sought advice from both Baverstock and Head of Series Elwyn Jones, who was standing in for the vacationing Sydney Newman. Baverstock indicated a willingness to guarantee six months for the new recording block. He also suggested that Doctor Who could be rested for six weeks following The Dalek Invasion Of Earth to give Lambert a chance to find new actors (possibly even overhauling the entire cast). Jones, however, was unhappy with this option, and instead suggested that Hartnell might be able to carry the series by himself for a few episodes, if necessary. Ultimately, the six-month assurance, together with compromise pay raises, were sufficient to convince all three performers to sign new contracts.
Verity Lambert was extremely pleased with Douglas Camfield's directorial work
Meanwhile, the September 4th recording of episode three, Crisis, saw a minor script amendment as Emma Rowse's forename was changed to Hilda. Production on Planet Of Giants then concluded on September 11th, when The Urge To Live was taped; William Russell was ill, and was driven straight home as soon as the cameras had stopped rolling. Lambert was extremely pleased with Camfield's directorial work on this installment and, in a September 14th memo to Head of Serials Donald Wilson, she conveyed her interest in having Camfield return to Doctor Who. He would ultimately become the most prolific of Doctor Who's directors prior to its revival in 2005.
Although Wilson agreed with Lambert about Camfield's work, he was much less enthusiastic about Planet Of Giants as a whole. He worried that the serial, burdened by a lack of resources, would represent an underwhelming start to Doctor Who's new season. Wilson's preference was to delay it until after The Dalek Invasion Of Earth, but Susan's departure in that adventure rendered such a plan unfeasible. Instead, on October 19th, he asked that Planet Of Giants be trimmed down to just three parts, in the hope that this would make it as exciting as possible.
Consequently, it was decided that the final two installments would be edited together, with each losing roughly half of its content. Amongst the more significant cuts were Barbara and Ian watching as the cat died of DN6 poisoning; the Doctor deducing why Farrow was killed and declaring that he must stop Forester; additional phone conversations between Forester and Hilda; Ian and Barbara being consumed by Smithers' cigarette smoke; the TARDIS crew being startled by a tone sent down the phone line by Hilda because Smithers' phone is off the hook; and Smithers beginning to realise that Forester was lying to him about DN6 and Farrow's death. The resulting hybrid episode was entitled Crisis, and only Camfield was credited as director. The original four-part version of Planet Of Giants was later recreated for the 2012 DVD release of the story.
On October 31st, Doctor Who returned to British television screens to begin its second season. Since the conclusion of The Reign Of Terror, its timeslot had been filled by repeats of The Valiant Varneys. Doctor Who now aired directly between Grandstand and Juke Box Jury; The Telegoons, which had often been scheduled either immediately before or immediately after it, had now completed its run.
Doctor Who Magazine #256, 24th September 1997, "Archive: Planet Of Giants" by Andrew Pixley, Panini UK Ltd.
Doctor Who Magazine Special Edition #7, 12th May 2004, "I'm Into Something Good" by Andrew Pixley, Panini Publishing Ltd.
Doctor Who: The Complete History #3, 2016, "Story 9: Planet Of Giants", edited by Mark Wright, Hachette Partworks Ltd.
Doctor Who: The Handbook: The First Doctor by David J Howe, Mark Stammers and Stephen James Walker (1994), Virgin Publishing.
Doctor Who: The Sixties by David J Howe, Mark Stammers and Stephen James Walker (1992), Virgin Publishing.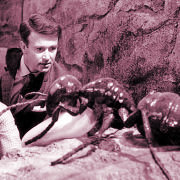 Original Transmission
1: Planet Of Giants
Date
31st Oct 1964
Time
5.16pm
Duration
23'15"
Viewers

(more)

8.4m (37th)
Appreciation
57%
2: Dangerous Journey
Date
7th Nov 1964
Time
5.15pm
Duration
23'40"
Viewers

(more)

8.4m (45th)
Appreciation
58%
3: Crisis
Date
14th Nov 1964
Time
5.15pm
Duration
26'43"
Viewers

(more)

8.9m (33rd)
Appreciation
59%
---
Cast
Dr Who
William Hartnell (bio)
Ian Chesterton
William Russell (bio)
Barbara Wright
Jacqueline Hill (bio)
Susan Foreman
Carole Ann Ford (bio)
Forester
Alan Tilvern
Farrow
Frank Crawshaw
Smithers
Reginald Barratt
Hilda Rowse
Rosemary Johnson
Bert Rowse
Fred Ferris
---
Crew
Written by
Louis Marks (bio)
Directed by
Mervyn Pinfield (bio)
Douglas Camfield (bio) (episode 3)
Title Music by
Ron Grainer with
the BBC Radiophonic Workshop
Incidental music by
Dudley Simpson
Costumes supervised by
Daphne Dare
Make-up supervised by
Sonia Markham
Lighting by
Howard King
Sound Mixing by
Alan Fogg
Story Editor
David Whitaker (bio)
Designer
Raymond P Cusick
Producer
Verity Lambert (bio)
---
Working Titles
Whole Story
The Miniscules
The Planet Of Giants
Episode 2
Death In The Afternoon