Serial J:
Planet Of Giants
When the doors of the TARDIS accidentally open in mid-flight, the Doctor, Susan, Ian and Barbara emerge to find themselves reduced to just inches in height. Barbara is poisoned by a new form of insecticide, while the others try to stop the murderous plans of an unscrupulous businessman to market the insecticide despite its devastating effects on the environment.
The Doctor Who production team had always wanted a story in which the main characters were shrunk to a fraction of their normal height. Such a story had been proposed in the earliest format guide for the show, completed by early May 1963. The format guide's author, CE Webber, then developed the notion into a serial titled "The Giants", which was intended to be Doctor Who's premiere adventure. However, the criticisms of Head of Drama (and Doctor Who creator) Sydney Newman -- combined with the technical limitations of Doctor Who's original studio, Lime Grove D -- ultimately put paid to "The Giants". It was rejected in mid-June, although elements from Webber's first episode would be incorporated into the serial that took its place, 100,000 BC.
Subsequently, the idea of doing a "miniscules" story was passed along to Robert Gould, and by mid-September, this was scheduled as the fourth serial of the season. However, Gould's scripts hit problems, and on February 4th, 1964, he and story editor David Whitaker agreed that work on the adventure would cease. However, Whitaker had clearly not yet given up on the idea: as of the end of February, a "miniscules" tale was still planned as the penultimate story of the production block, with Richard Martin intended to direct but no writer yet lined up.
Louis Marks' scripts were the third attempt at a "miniscules" story
Finally, in late March, Whitaker met with Louis Marks. Marks had written for a variety of adventure and thriller series, including The Adventures Of Robin Hood and Ghost Squad; he also held a Ph.D. from Oxford. Marks agreed to make a third attempt at a "miniscules" story, and was commissioned to write four episodes on April 14th. The serial, originally called "The Miniscules" and later Planet Of Giants, would be made as part of Doctor Who's first recording block but held over for transmission as part of Season Two. It was initially thought that Planet Of Giants would be the second story of the new season. However, when Chief of Programmes Donald Baverstock decided that Doctor Who should run later into the summer before the break between seasons, The Reign Of Terror was held back to end the first batch of episodes, making Planet Of Giants the second-season premiere.
Planet Of Giants was listed as Serial J, although the slot had earlier being identified as Serial I. This would be the first of several occasions when letters would be skipped to avoid confusion between similar-looking characters (O and U would also, inconsistently, be avoided over the years). Unlike Webber, whose storyline for "The Giants" was largely action/adventure-oriented, Marks took the opportunity to incorporate an environmental slant into Planet Of Giants. He was heavily inspired in this regard by the 1962 Rachel Carson text Silent Spring.
Despite earlier indications that Richard Martin would direct Planet Of Giants, Martin was ultimately assigned to the subsequent serial, The Dalek Invasion Of Earth. The man given the director's chair for Serial J was Mervyn Pinfield, Doctor Who's associate producer. Pinfield had previously handled the first four episodes of The Sensorites. Work on Planet Of Giants got under way with filming at the Ealing Television Film Studios on July 30th. In cases in which the characters had to be seen standing next to "giant" objects but for which it was impossible or impractical to use oversized props -- such as Farrow's body -- a film technique was used whereby the object was magnified by projecting its image through a mirror onto black drapes. Unfortunately, these shots did not turn out well and had to be remounted on August 13th.
Planet Of Giants was the final Doctor Who story scheduled to be made at Lime Grove Studio D
Planet Of Giants was the final Doctor Who serial scheduled to be made in the programme's original studio home, Lime Grove D, before Doctor Who shifted to the more spacious and modern confines of Riverside 1. Part one was recorded on August 21st, with the other three episodes to follow on subsequent Fridays. As recording began, producer Verity Lambert had just secured confirmation of a second production block for the series from Baverstock, after months of stalling. Baverstock offered Lambert three more months of Doctor Who, with an option for an additional three months.
However, when Lambert attempted to negotiate contract extensions with William Hartnell, William Russell and Jacqueline Hill (having already planned to write Carole Ann Ford out of the programme in The Dalek Invasion Of Earth), she encountered resistance from all three actors. Hartnell, in particular, wanted assurance that Doctor Who would continue for at least a full six months, while each of them wanted more money than their producer was offering. Lambert sought advice from both Baverstock and Head of Series Elwyn Jones, who was standing in for the vacationing Newman.
Baverstock indicated that he might be willing to guarantee six months for the new recording block. He also suggested that Doctor Who could be rested for six weeks following The Dalek Invasion Of Earth to give Lambert a chance to find new actors (possibly even overhauling the entire cast). Jones, however, was not happy with the latter possibility, and instead suggested that Hartnell might be able to carry the series by himself for a few episodes if necessary. Ultimately, however, the six-month assurance and compromise pay raises enabled Lambert to sign all three performers.
Production on Planet Of Giants wound up with the recording of part four, The Urge To Live, on September 11th. Pinfield was otherwise engaged on this date so the episode was directed instead by Douglas Camfield. Camfield had worked at the BBC since 1955 in several different capacities, including scriptwriter, assistant film editor and production assistant. It was in this latter role that Camfield had worked with Waris Hussein on both 100,000 BC and Marco Polo, and Hussein had allowed Camfield to direct some of the filmed sequences. This led to his being hired for The Urge To Live, and Lambert was extremely pleased with his work on the installment.
Donald Wilson felt that Planet Of Giants would be made more exciting by trimming it to three parts
In viewing the finished Planet Of Giants, however, Head of Serials Donald Wilson decided that the story, burdened by a lack of resources, would make for an underwhelming start to the new season. Wilson's preference was to delay it until after The Dalek Invasion Of Earth, but Susan's departure in that adventure made this impossible. Instead, on October 19th he asked that Planet Of Giants be trimmed down to just three parts, in the hope that this would make it as exciting as possible.
To accomplish this, it was decided that the final two installments -- Crisis and The Urge To Live -- would be edited together, with both episodes losing roughly half of its content. Amongst the more significant cuts were Barbara and Ian watching as the cat dies of DN6 poisoning; the Doctor deducing why Farrow was killed and declaring that he must stop Forester; additional phone conversations between Forester and Hilda; Ian and Barbara being consumed by Smithers' cigarette smoke; the TARDIS crew being startled by a tone sent down the phone line by Hilda because Smithers' phone is off the hook; and Smithers beginning to realise Forester has been lying to him about Farrow's death and DN6. The resulting hybrid episode was entitled Crisis, and only Camfield was credited as director.
Doctor Who: The Handbook: The First Doctor by David J Howe, Mark Stammers and Stephen James Walker (1994), Virgin Publishing, ISBN 0 426 20430 1.
Doctor Who: The Sixties by David J Howe, Mark Stammers and Stephen James Walker (1992), Virgin Publishing, ISBN 1 85227 420 4.
Doctor Who Magazine #256, 24th September 1997, "Archive: Planet Of Giants" by Andrew Pixley, Panini UK Ltd.
Doctor Who Magazine Special Edition #7, 12th May 2004, "I'm Into Something Good" by Andrew Pixley, Panini Publishing Ltd.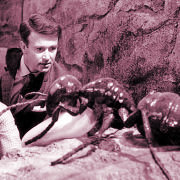 Original Transmission
1: Planet Of Giants
Date
31st Oct 1964
Time
5.16pm
Duration
23'15"
Viewers

(more)

8.4m (37th)
Appreciation
57%
2: Dangerous Journey
Date
7th Nov 1964
Time
5.15pm
Duration
23'40"
Viewers

(more)

8.4m (45th)
Appreciation
58%
3: Crisis
Date
14th Nov 1964
Time
5.15pm
Duration
26'35"
Viewers

(more)

8.9m (33rd)
Appreciation
59%
---
Cast
Dr Who
William Hartnell
Ian Chesterton
William Russell
Barbara Wright
Jacqueline Hill
Susan Foreman
Carole Ann Ford
Forester
Alan Tilvern
Farrow
Frank Crawshaw
Smithers
Reginald Barratt
Hilda Rowse
Rosemary Johnson
Bert Rowse
Fred Ferris
---
Crew
Written by
Louis Marks
Directed by
Mervyn Pinfield
Douglas Camfield (episode 3)
Produced by
Verity Lambert
Title Music by
Ron Grainer with
the BBC Radiophonic Workshop
Incidental music by
Dudley Simpson
Costumes supervised by
Daphne Dare
Make-up supervised by
Sonia Markham
Lighting by
Howard King
Sound Mixing by
Alan Fogg
Story Editor
David Whitaker
Designer
Raymond P Cusick
---
Working Titles
Whole Story
The Miniscules
Episode 2
Death In The Afternoon