Serial UUU:
The Time Warrior
UNIT is called in when scientists begin disappearing and, with the help of journalist Sarah Jane Smith, the Doctor discovers they are being abducted into the past. Travelling to the Middle Ages, the Doctor learns that a Sontaran, Linx, has crashlanded on the planet and allied himself with a cutthroat brigand named Irongron, who has been using Linx's alien weaponry to terrorise the countryside.
Having last written Carnival Of Monsters for Doctor Who a year earlier, Robert Holmes found his latest submission, "The Automata", rejected on January 26th, 1973. Meeting with producer Barry Letts and script editor Terrance Dicks shortly afterward, it was suggested that Holmes instead write a story with an historical setting, something not attempted since Season Four's The Evil Of The Daleks, which partly took place during the Victorian era.
Holmes, however, was less than enamoured of this idea, as he felt that historical stories were relics of Doctor Who's origins as a partly educational series. Nonetheless, he agreed to Dicks' suggestion of an adventure set in medieval times, provided that it would feature no historical figures and would include a strong science-fictional foundation. A storyline was commissioned under the title of "The Time Fugitive" on February 26th.
Robert Holmes wrote his storyline in the form of a military communication between two Sontarans
To offset his ennui with the actual business of writing a storyline, Holmes wrote up his concept in the form of a military communication between "Hol Mes" and "Terran Cedicks", members of the new race of monsters, the Sontarans, he was planning to introduce. Despite Holmes' unorthodox approach, the storyline met with the approval of the production team and full scripts were requested on March 5th, by which time the adventure was going by "The Time Survivor". This, in turn, was changed to The Time Warrior around mid-April.
One significant change made to Holmes' plot involved its climax. Originally, it was the Doctor and not Hal who killed Linx by shooting an arrow into the Sontaran's probic vent. Also of note, The Time Warrior marked the first time that the Doctor's home planet was referred to by name. Holmes originally christened it Galfrey, and this was modified slightly to Gallifrey, as revealed in episode one. The name Irongron came from the histories of Denmark. Early production documentation accorded The Time Warrior the production code VVV, but it later became Serial UUU (with VVV not being used at all).
Meanwhile, Letts and Dicks were confronted with the challenge of devising a companion to replace Jo Grant. A new character was created during the early part of 1973 and this role went to April Walker, an actress who had previously appeared in episodes of The Onedin Line, Dad's Army and Crossroads. Early in the spring, however, the production team found that Walker and Jon Pertwee shared little chemistry during rehearsals. It was decided that they would not proceed with the character, although Walker would be paid in full for all episodes of Season Eleven. Instead, Holmes wrote a new companion called simply "Smith" into his scripts. This was latterly fleshed out as journalist Sarah Jane Smith; Letts and Dicks intended that she be more independent and modern than Jo, in response to the accusations of sexism often levelled at Doctor Who.
Because the production team had taken so long to develop Sarah Jane, her casting was a relatively belated affair. The last actress to be seen for the role was Elisabeth Sladen, who had originally assumed that she was merely being considered for a guest spot. Although mainly a stage actress, Sladen had also enjoyed parts in TV series such as Coronation Street, Doomwatch and Z Cars. After impressing Letts with her audition, Sladen was taken to meet Pertwee, and quickly gained the star's approval as well. Sladen was contracted for twenty-six episodes on May 3rd.
When she auditioned for the role of Sarah Jane Smith, Elisabeth Sladen assumed that it was merely a guest spot
In keeping with the previous recording block -- which saw Carnival Of Monsters taped last, to be held over until the new year -- it was decided that The Time Warrior would be made at the end of the tenth block, but start Season Eleven. Letts originally hoped to direct the story himself, but he and Dicks were busy gearing up for production on a new adult science-fiction series called Moonbase 3 (which they hoped to leave Doctor Who to make). Instead, Alan Bromly was offered The Time Warrior. Bromly had worked as both a director and a producer, on programmes including Compact and Out Of The Unknown.
Location filming for The Time Warrior involved four days -- May 7th to 10th -- at Peckforton Castle in Peckforton, Cheshire. This was used as Irongron's castle. The studio schedule followed the pattern established throughout most of the production block, taking place on fortnightly Mondays and Tuesdays. Episodes one and two were recorded on May 28th and 29th in BBC Television Centre Studio 6. It was on the second day that the strain of wearing the full Sontaran costume became too much for actor Kevin Lindsay, who collapsed. It was discovered that Lindsay had a weak heart, and so Bromly arranged his shooting schedule for the second two-day session to permit Lindsay as much rest as possible. The final installments went before the cameras on June 11th and 12th in TC1, completing Doctor Who's tenth recording block.
Eleven days later, on June 23rd, Elisabeth Sladen was unveiled to the press. Meanwhile, with it clear that Dicks intended to remain on Doctor Who for just one more year, the search was on for a new script editor. Former Doctor Who writer Louis Marks suggested that Holmes might be an appropriate candidate. In spite of an uneasy meeting with Head of Serials Ronnie Marsh, Holmes won the job. It was agreed that he would trail Dicks for the entirety of the eleventh production block, beginning in the autumn.
Over the summer, Letts asked Bernard Lodge to compose a new title sequence for Doctor Who, its first in four years. Lodge decided to eschew the howlaround effect used in all previous versions of the title graphics in favour of the slit-scan technique. He also designed a diamond-shaped logo to replace the version used since the start of Pertwee's time on the show. It was this new sequence which heralded the start of Doctor Who's eleventh season on December 15th.
Doctor Who: The Handbook: The Third Doctor by David J Howe and Stephen James Walker (1996), Virgin Publishing, ISBN 0 426 20486 7.
Doctor Who: The Seventies by David J Howe, Mark Stammers and Stephen James Walker (1994), Virgin Publishing, ISBN 1 85227 444 1.
Doctor Who Magazine #246, 18th December 1996, "Archive: The Time Warrior" by Andrew Pixley, Panini UK Ltd.
Doctor Who Magazine Special Edition #2, 5th September 2002, "The Show Must Go On" by Andrew Pixley, Panini Publishing Ltd.
Invasion Of The Dinosaurs DVD Production Subtitles by David Brunt (2012), 2|entertain.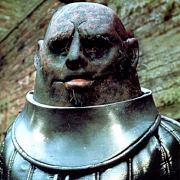 Original Transmission
Episode 1
Date
15th Dec 1973
Time
5.10pm
Duration
24'15"
Viewers

(more)

8.7m (34th)
Appreciation
59%
Episode 2
Date
22nd Dec 1973
Time
5.46pm
Duration
24'10"
Viewers

(more)

7.0m (75th)
Episode 3
Date
29th Dec 1973
Time
5.11pm
Duration
23'30"
Viewers

(more)

6.6m (89th)
Episode 4
Date
5th Jan 1974
Time
5.30pm
Duration
24'57"
Viewers

(more)

10.6m (22nd)
Appreciation
60%
---
Cast
Doctor Who
Jon Pertwee
Sarah Jane Smith
Elisabeth Sladen
Brigadier Lethbridge Stewart
Nicholas Courtney
Linx
Kevin Lindsay
Professor Rubeish
Donald Pelmear
Eleanor
June Brown
Edward of Wessex
Alan Rowe
Hal
Jeremy Bulloch
Meg
Sheila Fay
Eric
Gordon Pitt
Irongron
David Daker
Bloodaxe
John J Carney
Sentry
Steve Brunswick
---
Crew
Written by
Robert Holmes
Directed by
Alan Bromly
Produced by
Barry Letts
Fight Arrangers
Marc Boyle
Terry Walsh
Title Music
Ron Grainer and
BBC Radiophonic Workshop
Title Sequence
Bernard Lodge
Incidental Music
Dudley Simpson
Special Sound
Dick Mills
Costume Designer
James Acheson
Make-Up
Sandra Exelby
Film Cameraman
Max Samett
Film Sound
John Gatland
Film Editor
William Symon
Studio Lighting
Mike Jefferies
Studio Sound
Tony Millier
Visual Effects Designer
Jim Ward
Script Editor
Terrance Dicks
Designer
Keith Cheetham
---
Working Titles
The Time Fugitive
The Time Survivor