Torchwood Episode 12:
Captain Jack Harkness
While investigating a derelict music hall, Jack and Tosh find themselves transported back in time to the midst of the Cardiff Blitz in 1941. In this time period, the music hall is playing host to a group of air force pilots enjoying their final day of leave -- and much to Toshiko's astonishment, one of them is named Captain Jack Harkness. Tosh must find a way to return to the present even as her friend's secrets threaten to come to light, and a mysterious figure watches the events in both centuries.
The inspiration for Captain Jack Harkness essentially came from the idea that the only person the flirting leader of Torchwood could truly fall in love with would be himself. This notion was developed by Catherine Tregenna, who had already written Out Of Time for the programme; Tregenna was the only person, besides head writer Chris Chibnall, to contribute multiple scripts for the season. Captain Jack Harkness was directed by Ashley Way, who was already well-known to the production team, having worked in that capacity on the TARDISose preludes for the 2006 Doctor Who season, as well as the interactive Doctor Who game Attack Of The Graske. In addition, Way had previously helmed episodes of Belonging and Casualty. Captain Jack Harkness was made alongside the season finale, End Of Days.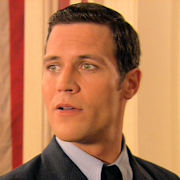 Original Transmission

| | |
| --- | --- |
| | |
| Date | 1st Jan 2007 |
| Time | 9.30pm |
| Duration | 48'11" |
| · BBC3 | 1.2m |
| · BBC2 | 2.1m |
| Appreciation | 86% |
---
Cast
Captain Jack Harkness
John Barrowman
Gwen Cooper
Eve Myles
Owen Harper
Burn Gorman
Toshiko Sato
Naoko Mori
Ianto Jones
Gareth David-Lloyd
The Captain
Matt Rippey
Bilis
Murray Melvin
Nancy
Elen Rhys
Audrey
Nadine Beaton
George
Gavin Brocker
Tim
Peter Sandys-Clark
Smiler
Ciaran Joyce
Singer
Melissa Moore
---
Crew
Written by
Catherine Tregenna
Directed by
Ashley Way
Produced by
Richard Stokes
Created by
Russell T Davies
Co-Producer
Chris Chibnall
1st Assistant Director
Nick Rae
2nd Assistant Director
Lynsey Muir
3rd Assistant Director
Paul Bennett
Runners
Glen Coxon
Llywarch Davies
Joney Lyons
Location Manager
Paul Davies
Unit Manager
Geraint Havard Jones
Production Co-ordinator
Carmelina Palumbo
Production Secretaries
Margarita Felices
Kristy Jones
Script Secretaries
Claire Thomas
Helen Pugsley
Accounts Assistants
Charlotte Cole
Beth Britton
Kath Blackman
Continuity
Susannah Binding
Script Editor
Brian Minchin
Camera Operator
Jenny Budd
Focus Puller
Alwyn Hughes
Camera Assistant
Steve Davies
Grip
Dai Hopkins
Boom Operator
Kevin Staples
Gaffer
Mickey Reeves
Best Boy
Llyr Evans
Chief Supervising Art Dir
Stephen Nicholas
Supervising Art Director
Keith Dunne
Designer
Julie Signy
Art Dept Prod Manager
Jonathan Allison
Art Dept Ops Manager
Adrian Anscombe
Art Dept Co-ordinator
Matthew North
Standby Art Director
Alison Brown
Standby Props
Andy Harris
Standby Carpenter
Will Pope
Standby Rigger
Keith Freeman
Standby Painter
Julia Challis
Property Master
Stuart Wooddisse
Props Buyers
Phil Clarke
Holly Handel
Props Chargehand
Dewi Thomas
Fabrication Manager
Barry Jones
Specialist Prop Maker
Mark Cordory
Props Makers
Nick Robatto
Penny Howarth
Construction Manager
Matthew Hywel-Davies
Construction Chargehand
Scott Fisher
Graphics
BBC Wales Graphic Design
Costume Supervisor
Charlotte Mitchell
Costume Assistants
Bobby Peach
Sara Morgan
Make-Up Supervisor
Claire Pritchard
Make-Up Artists
Sarah Astley-Hughes
Hayley Watkins
Kate Roberts
Casting Associates
Andy Brierley
Kirsty Robertson
Assistant Editor
Matt Mullins
Post Prod Supervisors
Helen Vallis
Chris Blatchford
Post Prod Co-ordinator
Marie Brown
On-Line Editors
Jon Everett
Matthew Clarke
Colourist
Mick Vincent
Dubbing Mixer
Peter Jeffreys
Sound Supervisor
Doug Sinclair
Sound Editor
Paul McFadden
Sound FX Editor
Howard Eaves
Senior Prod Accountant
Endaf Emyr Williams
Casting Director
Andy Pryor CDG
Production Accountant
Ceri Tothill
Sound Recordist
Dave Baumber
Costume Designer
Ray Holman
Make-Up Designer
Marie Doris
Music
Murray Gold
Ben Foster
Visual Effects
The Mill
Visual FX Producers
Will Cohen
Marie Jones
Visual FX Supervisor
Dave Houghton
On Set Vis FX Supervisor
Barney Curnow
Special Effects
Any Effects
Production Manager
Kaela Langan
Editor
Nick Ames
Production Designer
Edward Thomas
Director of Photography
Ray Orton
Associate Producer
Terry Reeve
Production Executive
Julie Scott
Assistant Producer
Sophie Fante
Executive Producers
Russell T Davies
Julie Gardner