Torchwood Episode 10:
Out Of Time
An airplane slips through a rift in time, bringing it from 1953 to the present day. With no way to return the craft's three passengers to their proper place in history, the Torchwood team is left with the task of helping them acclimate themselves to living more than half a century in their own future. But not everyone is prepared to make the adjustment.
Although her resume also boasted some acting roles, Catherine Tregenna had chiefly garnered credits in television as a writer, including episodes of The Bench and Casualty. Her first Torchwood script, Out Of Time, was recorded as part of the programme's fourth recording block. Directed by Alice Troughton, it was made at the same time as Small Worlds.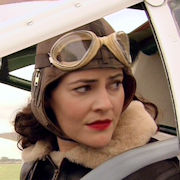 Original Transmission

| | |
| --- | --- |
| | |
| Date | 17th Dec 2006 |
| Time | 10.00pm |
| Duration | 49'39" |
| · BBC3 | 1.0m |
| · BBC2 | 2.2m |
| Appreciation | 80% |
---
Cast
Captain Jack Harkness
John Barrowman
Gwen Cooper
Eve Myles
Owen Harper
Burn Gorman
Toshiko Sato
Naoko Mori
Ianto Jones
Gareth David-Lloyd
Rhys Williams
Kai Owen
Diane
Louise Delamere
John Ellis
Mark Lewis Jones
Emma
Olivia Hallinan
Alan Ellis
Sam Beezely
Nurse
Marion Fenner
Alesha
Janine Carrington
Jade
Rhea Bailey
Flying Instructor
Andrew MacBean
Barman
Ciaran Dowd
---
Crew
Written by
Catherine Tregenna
Directed by
Alice Troughton
Produced by
Richard Stokes
Created by
Russell T Davies
Co-Producer
Chris Chibnall
1st Assistant Director
Nick Rae
2nd Assistant Director
Lynsey Muir
3rd Assistant Director
Paul Bennett
Location Manager
Paul Davies
Unit Manager
Geraint Havard-Jones
Production Co-ordinator
Carmelina Palumbo
Production Secretary
Margarita Felices
Script Secretaries
Claire Thomas
Helen Pugsley
Accounts Assistants
Debi Griffiths
Kath Blackman
Beth Britton
Continuity
Suzannah Binding
Script Editor
Brian Minchin
Camera Operator
Jenny Budd
Focus Puller
Alwyn Hughes
Camera Assistant
Steve Davies
Grip
Dai Hopkins
Boom Operator
Kebin Staples
Gaffer
Mickey Reeves
Best Boy
Llyr Evans
Chief Super Art Director
Stephen Nicholas
Supervising Art Director
Keith Dunne
Designer
Penny Harvey
Assistant Art Director
Nadia Dand
Art Dept Prod Manager
Jonathan Allison
Art Dept Ops Manager
Adrian Anscombe
Art Dept Co-ordinator
Matthew North
Design Assistants
Ben Austin
Al Roberts
Story Board Artist
Shaun Williams
Standby Art Director
Jon Howes
Standby Props
Andy Harris
Standby Carpenter
Will Pope
Standby Rigger
Keith Freeman
Standby Painter
Julia Challis
Property Master
Stuart Wooddisse
Props Buyer
Blaanid Maddrell
Props Chargehand
Dewi Thomas
Fabrication Manager
Barry Jones
Props Makers
Penny Howarth
Nick Robatto
Mark Cordory
Construction Manager
Matthew Hywel-Davies
Construction Chargehand
Scott Fisher
Costume Supervisor
Bobby Peach
Costume Assistants
Marie Jones
Maria Franchi
Sara Morgan
Make-Up Supervisor
Claire Pritchard
Make-Up Assistants
Sarah Astley-Hughes
Kate Roberts
Casting Associates
Andy Brierley
Kirsty Robertson
Assistant Editor
Matt Mullins
Post Prod Supervisors
Helen Vallis
Chris Blatchford
Post Prod Co-ordinator
Marie Brown
On-Line Editors
Jon Everett
Matthew Clarke
Colourist
Mick Vincent
Dubbing Mixer
Tim Ricketts
Sound Supervisor
Doug Sinclair
Sound Editor
Paul McFadden
Sound FX Editor
Howard Eaves
Senior Prod Accountant
Endaf Emyr Williams
Casting Director
Andy Pryor CDG
Production Accountant
Ceri Tothill
Sound Recordist
Dave Baumber
Costume Designer
Ray Holman
Make-Up Designer
Marie Doris
Music
Murray Gold
Ben Foster
Production Manager
Catrin Lewis Defis
Editor
Bobby Sheikh
Production Designer
Edward Thomas
Director of Photography
Ray Orton
Associate Producer
Terry Reeve
Production Executive
Julie Scott
Assistant Producer
Sophie Fante
Executive Producers
Russell T Davies
Julie Gardner