The Sarah Jane Adventures Episodes 18 & 19:
The Mark Of The Berserker
A classmate of Luke, Clyde and Rani's discovers an alien pendant which allows the wearer to control the minds of others. But the power comes at a terrible cost, and Rani is able to retrieve the artefact and bring it to Sarah Jane's for safekeeping. Sarah, however, is out of town... while Clyde's long-absent father, Paul, is back in town, trying to reconnect with his son. When Clyde accidentally gives his dad the opportunity to steal the pendant, Paul quickly finds the lure of its power irresistible.
Forthcoming.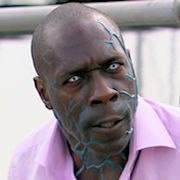 Original Transmission
Episode 1
Date
3rd Nov 2008
Time
5.15pm
Duration
28'02"
· CBBC
531k
· BBC1
870k
Appreciation
75%
Episode 2
Date
10th Nov 2008
Time
5.16pm
Duration
27'51"
· CBBC
628k
· BBC1
870k
Appreciation
84%
---
Cast
Sarah Jane Smith
Elisabeth Sladen
Luke Smith
Tommy Knight
Mr Smith
Alexander Armstrong
Clyde Langer
Daniel Anthony
Rani Chandra
Anjli Mohindra
Haresh Chandra
Ace Bhatti
Carla Langer
Jocelyn Jee Esien
Paul Langer
Gary Beadle
Jacob
Perry Millward
Mr Cunningham
Huw Higginson
Steve Wallace
Elijah Baker
Detention Girl
Jessica Lewis
Detention Boy
Andrew Phillips
Maria Jackson
Yasmin Paige
Alan Jackson
Joseph Millson
Car Salesman
Prasanna Puwanarajah
---
Crew
Written by
Joseph Lidster
Directed by
Joss Agnew
Produced by
Nikki Smith
Created by
Russell T Davies
Co-producer
Phil Ford
1st Assistant Director
Simon Morris
2nd Assistant Director
Anna Evans
3rd Assistant Director
Sarah Davies
Location Manager
Jonathan Allott
Production Co-ordinator
Clare Rutteman
Continuity
Llinos Wyn Jones
Script Editor
Gary Russell
Focus Puller
Steve Rees
Grip
Clive Baldwin
Boom Operator
Jeff Welch
Gaffer
Mark Hutchings
Stunt Co-ordinator
Abbi Collins
Supervising Art Director
James North
Standby Art Director
Alexandra Merchant
Standby Props
Phill Shellard
Graphics
BBC Wales Graphics
Costume Supervisor
Arabella Rhodes
Assistant Editor
Lee Bhogal
Post Production Supervisor
Nerys Davies
Post Production Co-ordinator
Marie Brown
Colourist
Jon Everett
Sound Editing
Bang Post Production
Dubbing Mixer
Mark Ferda
Title Music
Murray Gold
Music
Sam Watts
Casting Directors
Andy Pryor CDG
Andy Brierley
Production Executive
Julie Scott
Production Accountant
Dyfed Thomas
Sound Recordist
Julian Howarth
Costume Designer
Stewart Meachem
Make Up Designer
Emma Bailey
Visual Effects
Craig Higgins
Special Effects
Any Effects
Prosthetics
Millennium FX
Editor
Will Oswald
Production Designer
Arwel Wyn Jones
Director of Photography
Rory Taylor
Production Manager
Phillipa Cole
Associate Producer
Debbi Slater
Series Producer
Matthew Bouch
Executive Producers for BBC Wales
Russell T Davies
Julie Gardner