The Sarah Jane Adventures Episodes 20 & 21:
The Temptation Of Sarah Jane Smith
In August 1951, Eddie and Barbara Smith inexplicably left their infant daughter, Sarah Jane, by the side of the road and, moments later, perished in a traffic accident. In the present day, Sarah Jane discovers a time fissure leading back to her home town of Foxgrove in the summer of 1951. Despite her fears that she's falling into a trap, Sarah can't resist altering the course of events to save her parents' lives. In so doing, she succumbs to a plot by the Trickster to irrevocably alter the Earth's history.
Forthcoming.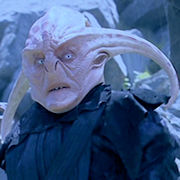 Original Transmission
Episode 1
Date
17th Nov 2008
Time
5.15pm
Duration
28'16"
· CBBC
483k
· BBC1
720k
Appreciation
82%
Episode 2
Date
24th Nov 2008
Time
5.15pm
Duration
27'51"
· CBBC
593k
· BBC1
800k
Appreciation
85%
---
Cast
Sarah Jane Smith
Elisabeth Sladen
Luke Smith
Tommy Knight
Mr Smith
Alexander Armstrong
Clyde Langer
Daniel Anthony
Rani Chandra
Anjli Mohindra
Haresh Chandra
Ace Bhatti
Gita Chandra
Mina Anwar
Barbara Smith
Rosanna Lavelle
Eddie Smith
Christopher Pizzey
The Trickster
Paul Marc Davis
The Graske
Jimmy Vee
Mrs King
Georgie Glen
Oscar
Robert Madge
Voice of the Graske
Philip Hurd-Wood
PC Ferguson
Andrew Bullivant
---
Crew
Written by
Gareth Roberts
Directed by
Graeme Harper
Produced by
Nikki Smith
Created by
Russell T Davies
Co-producer
Phil Ford
1st Assistant Director
Lloyd Elis
2nd Assistant Director
Anna Evans
3rd Assistant Director
Sarah Davies
Location Managers
Jonathan Allott
Iwan Roberts
Production Co-ordinator
Clare Rutteman
Continuity
Llinos Wyn Jones
Script Editor
Gary Russell
Camera Operator
Steve Rees
Focus Pullers
Steve Rees
Tom Hartley
Grip
Dave Holliday
Boom Operator
Jeff Welch
Gaffer
Mark Hutchings
Stunt Co-ordinator
Abbi Collins
Supervising Art Director
James North
Standby Art Director
Ciaran Thompson
Standby Props
Phill Shellard
Graphics
BBC Wales Graphics
Costume Supervisor
Arabella Rhodes
Assistant Editor
Lee Bhogal
Post Production Supervisor
Nerys Davies
Post Production Co-ordinator
Marie Brown
Colourist
Jon Everett
Sound Editing
Bang Post Production
Dubbing Mixer
Mark Ferda
Title Music
Murray Gold
Music
Sam Watts
Casting Directors
Andy Pryor CDG
Andy Brierley
Production Executive
Julie Scott
Production Accountant
Dyfed Thomas
Sound Recordist
Julian Howarth
Costume Designer
Stewart Meachem
Make Up Designer
Emma Bailey
Visual Effects
Craig Higgins
Special Effects
Any Effects
Prosthetics
Millennium FX
Editor
Ceres Doyle
Production Designer
Arwel Wyn Jones
Director of Photography
Rory Taylor
Production Manager
Phillipa Cole
Associate Producer
Debbi Slater
Series Producer
Matthew Bouch
Executive Producers for BBC Wales
Russell T Davies
Julie Gardner