New Series Episodes 79 & 80:
The Impossible Astronaut / Day Of The Moon
The Doctor summons Amy, Rory and River Song to the Utah desert... where he is murdered by an astronaut who rises from a lake. It soon becomes clear that this is a future Doctor, whose final message directs them to travel back to 1969 with a younger version of the Doctor. There they meet ex-FBI agent Canton Everett Delaware the Third and President Richard Nixon, who is being haunted by phone calls from a mysterious child, warning of an alien invasion. But the aliens are already on Earth, unable to be captured by human memory -- and even the Doctor's companions are not immune.
Forthcoming.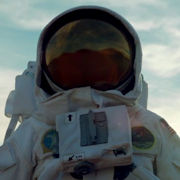 Original Transmission
1: The Impossible Astronaut
Date
23rd Apr 2011
Time
6.02pm
Duration
43'36"
· BBC1/HD
8.9m
Appreciation
88%
2: Day Of The Moon
Date
30th Apr 2011
Time
6.01pm
Duration
45'55"
BBC1/HD
7.3m
Appreciation
87%
---
Cast
The Doctor
Matt Smith
Amy Pond
Karen Gillan
Rory
Arthur Darvill
River Song
Alex Kingston
Canton Delaware
Mark Sheppard
Old Canton Delaware
William Morgan Sheppard
The Silent
Marnix van den Broeke
President Richard Nixon
Stuart Milligan
Carl
Chuk Iwuji
Phil
Mark Griffin
Little Girl
Sydney Wade
Joy
Nancy Baldwin
Prison Guard
Kieran O'Connor
Captain Simmons
Adam Napier
Matilda
Henrietta Clemett
Charles
Paul Critoph
Busboy
Emilio Aquino
Doctor Renfrew
Kerry Shale
Gardner
Glenn Wrage
Grant
Jeff Mash
Sergeant
Tommy Campbell
Doctor Shepherd
Peter Banks
Eye Patch Lady
Frances Barber
Tramp
Ricky Fearon
---
Crew
Written by
Steven Moffat
Directed by
Toby Haynes
Produced by
Marcus Wilson
1st Assistant Director
Martin Curry
2nd Assistant Director
James DeHaviland
3rd Assistant Director
Heddi-Joy Taylor-Welch
Assistant Directors
Michael Curtis
Janine H Jones
Location Manager
Iwan Roberts
Unit Manager
Rhys Griffiths
Location Assistant
Geraint Williams
Line Producer (US)
David Mason
Production Manager
Steffan Morris
Production Coordinator
Claire Hildred
Asst Production Coordinator
Helen Blyth
Production Secretary
Scott Handcock
Production Assistant
Charlie Coombes
Asst Production Accountant
Rhys Evans
Script Executive
Lindsey Alford
Script Editor
Caroline Henry
Script Supervisor
Caroline Holder
Camera Operator
Joe Russell
Focus Pullers
Steve Rees
Jon Vidgen
Grip
Gary Norman
Camera Assistants
Simon Ridge
Svetlana Miko
Matthew Lepper
Assistant Grip
Owen Charnley
Sound Maintenance Engineers
Jeff Welch
Dafydd Parry
Gaffer
Mark Hutchings
Best Boy
Pete Chester
Electricians
Ben Griffiths
Bob Milton
Stephen Slocombe
Alan Tippetts
Stunt Coordinator
Crispin Layfield
Stunt Performer
Jo McLaren
Supervising Art Director
Stephen Nicholas
Set Decorator
Julian Luxton
Production Buyer
Ben Morris
Standby Art Director
Amy Pickwoad
Assistant Art Director
Jackson Pope
Concept Artist
Richard Shaun Williams
Props Master
Paul Aitken
Props Buyer
Catherine Samuel
Prop Chargehand
Rhys Jones
Standby Props
Phill Shellard
Katherine Archer
Dressing Props
Martin Broadbent
Kristian Wilsher
Graphic Artist
Christina Tom
Draughtsman
Julia Jones
Design Assistant
Dan Martin
Petty Cash Buyer
Kate Wilson
Standby Carpenter
Will Pope
Standby Rigger
Bryan Griffiths
Standby Painter
Helen Atherton
Store Person
Jayne Davies
Props Makers
Penny Howarth
Nicholas Robatto
Props Driver
Medard Mankos
Practical Electrician
Albert James
Construction Manager
Matthew Hywel-Davies
Construction Chargehand
Scott Fisher
Graphics
BBC Wales Graphics
Assistant Costume Designer
Caroline McCall
Costume Supervisor
Bobbie Peach
Costume Assistants
Jason Gill
Yasemin Kascioglu
Emma Jones
Make-Up Supervisor
Pam Mullins
Make-Up Artists
Vivienne Simpson
Allison Sing
Choreographer
Ailsa Berk
VFX Producer
Beewan Athwal
Casting Associate
Alice Purser
Assistant Editor
Becky Trotman
VFX Editor
Cat Gregory
Post Production Supervisor
Nerys Davies
Post Production Coordinator
Marie Brown
Dubbing Mixer
Tim Ricketts
Dialogue Editors
Matthew Cox
Darran Clement
ADR Editor
Matthew Cox
Sound Effects Editor
Paul Jefferies
Foley Editor
Jamie Talbutt
Online Editor
Jeremy Lott
Colourist
Mick Vincent
Online Conform
Mark Bright
Original Theme Music
Ron Grainer
Casting Director
Andy Pryor CDG
Production Executive
Julie Scott
Production Accountant
Dyfed Thomas
Sound Recordist
Bryn Thomas
Costume Designer
Barbara Kidd
Make-Up Designer
Barbara Southcott
Music
Murray Gold
Visual Effects
The Mill
Special Effects
Real SFX
Prosthetics
Millennium FX
Editor
Tim Porter
Production Designer
Michael Pickwoad
Director Of Photography
Stephan Pehrsson
Associate Producer
Denise Paul
Line Producer
Diana Barton
Executive Producers
Steven Moffat
Piers Wenger
Beth Willis
---
Working Titles
Episode 1
The Year Of The Moon
Episode 2
Look Behind You
---
Media
DVD Release
Doctor Who: Series 6 Part 1 (double disc; 2011)
Buy: Canada · UK
· USA
Doctor Who: The Complete Sixth Series (2011; boxed set)
Buy: Canada · UK
· USA
Blu-ray Release
Doctor Who: Series 6 Part 1 (double disc; 2011)
Buy: Canada · UK
· USA
Doctor Who: The Complete Sixth Series (2011; boxed set)
Buy: Canada · UK
· USA