New Series Episode 119:
In The Forest Of The Night
Clara and Danny are chaperoning an overnight class trip, when they awaken in the morning to discover that a forest has grown up all across London. Elsewhere in the woods the Doctor meets Maeve, one of their pupils, who seems to have a strange connection to the mysterious goings-on. Searching for Maeve brings Clara to the Doctor, and together they learn that the forest hasn't just infested London -- it's covering the entire world. With a deadly solar flare speeding towards the Earth, they must determine whether the trees are another agent of destruction... or salvation.
Forthcoming.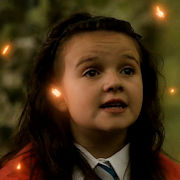 Original Transmission

| | |
| --- | --- |
| | |
| Date | 25th Oct 2014 |
| Time | 8.19pm |
| Duration | 45'15" |
| · BBC1/HD | 6.9m |
| Appreciation | 83% |
---
Cast
The Doctor
Peter Capaldi
Clara
Jenna Coleman
Missy
Michelle Gomez
Danny
Samuel Anderson
Maebh
Abigail Eames
Samson
Jaydon Harris-Wallace
Bradley
Ashley Foster
Ruby
Harley Bird
Maebh's Mum
Siwan Morris
George
Harry Dickman
Minister
James Weber Brown
Neighbour
Michelle Asante
Emergency Services Officer
Curtis Flowers
As herself
Jenny Hill
Paris Reporter
Kate Tydman
Accra Reporter
Nana Amoo-Gottfried
Annabel
Eloise Barnes
---
Crew
Written by
Frank Cottrell-Boyce
Directed by
Sheree Folkson
Produced by
Paul Frift
Stunt Coordinator
Dani Biernat
1st Assistant Director
Jo Lea
2nd Assistant Director
James DeHaviland
3rd Assistant Director
Danielle Richards
Assistant Directors
Gareth Jones
Chris Thomas
Unit Drivers
Sean Evans
Kyle Davies
Location Manager
Iwan Roberts
Unit Manager
Nick Clark
Production Coordinator
Adam Knopf
Assistant Production Coordinator
Sandra Cosfeld
Production Assistants
Matthew Jones
Katie Player
Chaperones
Jenni Tarr
Jan Gordon
Alison Nelson
Assistant Accountant
Bethan Griffiths
Art Department Accountant
Maria Hurley
Script Supervisor
Steve Walker
Script Editor
David P Davis
Camera Operator
Mark McQuoid
Focus Pullers
Jonathan Vidgen
Jason Oxley
Grip
John Robinson
Camera Assistants
Cai Thompson
Katy Kardasz
Tom Rowe
Assistant Grip
Sean Cronin
Sound Maintenance Engineers
Tam Shoring
Christopher Goding
Gaffer
Mark Hutchings
Best Boy
Stephen Slocombe
Electricians
Gafin Riley
Andy Gardiner
Bob Milton
Gareth Sheldon
Steve Hopkins
Art Directors
Sian M Hughes
Vicki Stevenson
Stand by Art Director
Jim McCallum
Set Decorator
Adrian Anscombe
Production Buyer
Helen O'Leary
Prop Buyers
May Johnson
Vicki Male
Prop Master
Paul Smith
Props Chargehand
Kyle Belmont
Standby Props
Liam Collins
Ian Davies
Set Dressers
Jayne Davies
Scott Howe
Jamie Farrell
Storeman
Jamie Southcott
Assistant Storeman
Ryan Milton
Concept Artist
Chris Lees
Graphic Artist
Christina Tom
Standby Carpenter
Paul Jones
Standby Rigger
Bryan Griffiths
Practical Electrician
Christian Davies
Props Makers
Alan Hardy
Jamie Thomas
Props Driver
Gareth Fox
Construction Manager
Terry Horle
Construction Chargehand
Dean Tucker
Carpenters
John Sinnott
Chris Daniels
Lawrie Ferry
Matt Ferry
Julian Tucker
Mark Painter
Joe Painter
Tim Burke
Head Scenic Artist
Clive Clarke
Scenic Painters
Steve Nelms
Matt Weston
Construction Driver
Jonathan Tylke
Assistant Costume Designer
Carly Griffith
Costume Supervisor
Melissa Cook
Costume Assistants
Michelle McGrath
Gemma Evans
Simon Marks
Charlotte Bestwick
Make-up Supervisor
Amy Riley
Make-up Artists
Emma Cowen
Ann Marie Williams
Unit Medic
Glyn Evans
Casting Associate
Alice Purser
Assistant Editor
Katrina Aust
Will Burgess
VFX Editor
Dan Rawlings
Post Production Coordinator
Samantha Price
Dubbing Mixer
Mark Ferda
ADR Editor
Matthew Cox
Dialogue Editor
Darran Clement
Effects Editor
Harry Barnes
Foley Editor
Jamie Talbutt
Graphics
BBC Wales Graphics
Title Concept
Billy Hanshaw
Online Editor
Geraint Pari Huws
Colourist
Gareth Spensley
With Thanks to
the BBC National Orchestra of Wales
Conducted & Orchestrated By
Ben Foster
Mixed By
Jake Jackson
Recorded By
Gerry O'Riordan
Original Theme Music
Ron Grainer
Casting Director
Andy Pryor CDG
Production Executive
Julie Scott
Post Production Supervisor
Nerys Davies
Production Accountant
Jeff Dunn
Sound Recordist
Deian Llŷr Humphreys
Costume Designer
Howard Burden
Make-up Designer
Claire Pritchard-Jones
Music
Murray Gold
Visual Effects
Milk
BBC Wales VFX
Special Effects
Real SFX
Editor
Lucien Clayton
Production Designer
Michael Pickwoad
Director of Photography
Mark Garrett
Line Producer
Tracie Simpson
Executive Producers
Steven Moffat
Brian Minchin