New Series Episode 108:
The Day Of The Doctor
On the last day of the Time War, a man who refuses to call himself "The Doctor" is faced with an appalling choice: in order to end the bloodshed, he must use an ancient Time Lord weapon to slaughter billions. Elsewhere, the Tenth Doctor hunts Zygons in Elizabethan England, while in the present day, the Eleventh Doctor and Clara investigate a mystery at an art gallery. All of these events become intertwined, leading three incarnations of the same Time Lord to confront the most terrible moment of their lives.
Forthcoming.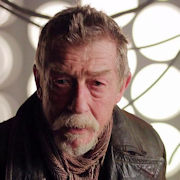 Original Transmission

| | |
| --- | --- |
| | |
| Date | 23rd Nov 2013 |
| Time | 7.50pm |
| Duration | 76'31" |
| · BBC1/HD | 12.8m |
| Appreciation | 88% |
---
Cast
The Doctor
Matt Smith
David Tennant
Christopher Eccleston
John Hurt
Paul McGann
Sylvester McCoy
Colin Baker
Peter Davison
Tom Baker
Jon Pertwee
Patrick Troughton
William Hartnell
Clara
Jenna Coleman
Rose
Billie Piper
Tom
Tristan Beint
Kate Stewart
Jemma Redgrave
Osgood
Ingrid Oliver
Time Lord Soldier
Chris Finch
Androgar
Peter De Jersey
The General
Ken Bones
Arcadia Father
Philip Buck
Time Lord
Sophie Morgan-Price
Elizabeth I
Joanna Page
Lord Bentham
Orlando James
McGillop
Jonjo O'Neill
Atkins
Tom Keller
Zygon
Aidan Cook
Paul Kasey
Voice of the Daleks & Zygons
Nicholas Briggs
Dalek 1
Barnaby Edwards
Dalek 2
Nicholas Pegg
Voice Over Artist
John Guilor
---
Crew
Written by
Steven Moffat
Directed by
Nick Hurran
Produced by
Marcus Wilson
Stunt Coordinators
Crispin Layfield
Gordon Seed
Jo McLaren
Stunt Performers
Annabel Canaven
Tracey Caudle
Dani Biernat
Rob Hunt
Ian Van Temperley
David Newton
Cristian Knight
Kim McGarrity
1st Assistant Director
Fay Selby
2nd Assistant Director
Heddi-Joy Taylor-Welch
3rd Assistant Director
Marie Devautour
Assistant Directors
Gareth Jones
Louisa Cavell
Utility Stand In
Ian William George
Location Manager
Iwan Roberts
Unit Manager
Nick Clark
Production Manager
Phillipa Cole
Production Coordinator
Gabriella Ricci
Assistant Production Coordinator
Sandra Cosfeld
Production Secretary
Rachel Vipond
Production Assistant
Katie Player
Assistant Accountant
Bethan Griffiths
Script Supervisor
Steve Walker
Camera Operator
Joe Russell
Focus Puller
James Scott
Julius Ogden
Grip
Gary Norman
Camera Assistants
Meg de Koning
Chris Johnson
Cai Thompson
Assistant Grip
Owen Charnley
Stereo DIT
Jay Patel
Stereo Supervisor
Adam Sculthorp
Stereo Rig Techs
John Perry
Donald Eke
Sound Maintenance Engineers
Tam Shoring
Christopher Goding
Gaffer
Scott Napier
Best Boy
Colin Price
Electricians
Jordan Brown
Gareth Crean
James Foy
Billy Harron
Thomas Rhodri Moses
Andrew Williams
Board Operator
Jon Towler
Supervising Art Director
Paul Spriggs
Standby Art Director
Jim McCallum
Set Decorator
Adrian Anscombe
Production Buyer
Sarah Frere
Petty Cash Buyer
Helen O'Leary
Assistant Art Director
Richard Hardy
Draughtsperson
Kartik Nagar
Prop Master
Paul Smith
Prop Chargehand
Ian Griffin
Prop Hands
Liam Collins
Ian Davies
Set Dressers
Ian Griffin
Mike Elkins
Jamie Farrell
Storeman
Jamie Southcott
Graphic Designer
Chris Lees
Graphic Artist
Christina Tom
Standby Carpenter
Tim Jones
Standby Rigger
Bryan Griffiths
Practical Electrician
Christian Davies
Props Makers
Alan Hardy
Jamie Thomas
Props Driver
Gareth Fox
Construction Manager
Terry Horle
Construction Chargehand
Dean Tucker
Scenic Artist
Clive Clarke
Assistant Costume Designer
Carly Griffith
Costume Supervisor
Claire Lynch
Costume Assistants
Katarina Cappellazzi
Gemma Evans
Lauren Kilcar
Make-Up Supervisor
Steve Williams
Make-Up Artists
Kathryn Newsome
Jenny Jones
Clare Golds
Casting Associate
Alice Purser
Assistant Editor
Katrina Aust
VFX Editor
Joel Skinner
Additional VFX
Blue Bolt
Jellyfish
Post Production Co-ordinator
Samantha Price
Stereo 3D Consultant
David Wigram
Dubbing Mixer
Tim Ricketts
ADR Editor
Matthew Cox
Dialogue Editor
Darran Clement
Effects Editor
Paul Jefferies
Foley Editor
Jamie Talbutt
Online Editor
Geraint Pari Huws
Colourist
Mick Vincent
Daleks created by
Terry Nation
Zygons created by
Robert Banks Stewart
The Cybermen created by
Kit Pedler &
Gerry Davis
Original Theme Music
Ron Grainer
Original Theme Arranged by
Delia Derbyshire
Casting Director
Andy Pryor CDG
Production Executive
Julie Scott
Script Editor
Richard Cookson
Post Production Supervisor
Nerys Davies
Production Accountant
Jeff Dunn
Sound Recordist
Deian Llŷr Humphreys
Costume Designer
Howard Burden
Make-Up Designer
Lin Davie
Music
Murray Gold
Visual Effects
Milk
BBC Wales Visual Effects
Special Effects
Real SFX
Miniature Effects
The Model Unit
Prosthetics
Millennium FX
Editor
Liana Del Giudice
Production Designer
Michael Pickwoad
Director Of Photography
Neville Kidd
Line Producer
Des Hughes
Executive Producers
Steven Moffat
Faith Penhale