New Series Episodes 120 & 121:
Dark Water / Death In Heaven
When Danny Pink is killed in a traffic accident, Clara demands that the Doctor do something to save him. The Doctor decides to take Clara beyond the veil of death, using the TARDIS telepathic circuits to plot a course. They materialise in the halls of an organisation called 3W, where they meet the enigmatic Missy and learn that the souls of the departed seem to have moved on to the mysterious Nethersphere. But nothing is what it seems: not the Nethersphere, nor the corpses lining 3W's corridors, nor Missy herself -- in reality a very old acquaintance of the Doctor's.
Forthcoming.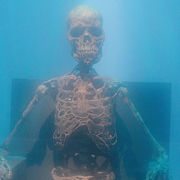 Original Transmission
1: Dark Water
Date
1 Nov 2014
Time
8.15pm
Duration
46'20"
· BBC1/HD
7.3m
Appreciation
85%
2: Death In Heaven
Date
8th Nov 2014
Time
8.02pm
Duration
56'36"
· BBC1/HD
7.6m
Appreciation
83%
---
Cast
The Doctor
Peter Capaldi
Clara
Jenna Coleman
Missy
Michelle Gomez
Danny
Samuel Anderson
Woman
Joan Blackham
Gran
Sheila Reid
Seb
Chris Addison
Dr Chang
Andrew Leung
Fleming
Bradley Ford
Boy
Antonio Bourouphael
Cyberman
Jeremiah Krage
Mr Armitage
Nigel Betts
Osgood
Ingrid Oliver
Kate Lethbridge-Stewart
Jemma Redgrave
Colonel Ahmed
Sanjeev Bhaskar
Teenage Boy
Shane Keogh-Grenade
Teenage Girl
Katie Bignell
Graham
James Pearse
Voice of the Cybermen
Nicholas Briggs
Santa Claus
Nick Frost
---
Crew
Written by
Steven Moffat
Directed by
Rachel Talalay
Produced by
Peter Bennett
Stunt Coordinators
Crispin Layfield
Jo McLaren
Stunt Performers
Rob Pavey
Belinda McGinley
Nellie Burroughes
1st Assistant Director
Simon Morris
2nd Assistant Director
James DeHaviland
3rd Assistant Director
Danielle Richards
Assistant Directors
Gareth Jones
Chris Thomas
Unit Drivers
Sean Evans
Kyle Davies
Location Manager
Iestyn Hampson-Jones
Unit Manager
Nick Clark
Production Coordinator
Adam Knopf
Assistant Production Coordinator
Sandra Cosfeld
Production Assistants
Matthew Jones
Katie Player
Assistant Accountant
Bethan Griffiths
Art Department Accountant
Maria Hurley
Script Supervisor
Steve Walker
Script Editor
David P Davis
Camera Operator
Mark McQuoid
Focus Pullers
Jonathan Vidgen
Jason Oxley
Grip
John Robinson
Camera Assistants
Cai Thompson
Katy Kardasz
Tom Rowe
Assistant Grip
Sean Cronin
Sound Maintenance Engineers
Tam Shoring
Christopher Goding
Gaffer
Mark Hutchings
Best Boy
Stephen Slocombe
Electricians
Gafin Riley
Andy Gardiner
Bob Milton
Gareth Sheldon
Garry Owen
Supervising Art Director
Paul Spriggs
Art Director
Vicki Stevenson
Stand by Art Director
Jim McCallum
Set Decorator
Adrian Anscombe
Production Buyer
Helen O'Leary
Prop Buyers
May Johnson
Vicki Male
Draughtsperson
Kartik Nagar
Prop Master
Paul Smith
Props Chargehand
Kyle Belmont
Standby Props
Liam Collins
Ian Davies
Set Dressers
Jayne Davies
Scott Howe
Jamie Farrell
Storeman
Jamie Southcott
Assistant Storeman
Ryan Milton
Concept Artist
Chris Lees
Graphic Artist
Christina Tom
Standby Carpenter
Paul Jones
Standby Rigger
Bryan Griffiths
Practical Electrician
Christian Davies
Props Makers
Alan Hardy
Jamie Thomas
Props Driver
Gareth Fox
Construction Manager
Terry Horle
Construction Chargehand
Dean Tucker
Carpenters
John Sinnott
Chris Daniels
Lawrie Ferry
Matt Ferry
Julian Tucker
Mark Painter
Joe Painter
Tim Burke
Head Scenic Artist
Clive Clarke
Scenic Painters
Steve Nelms
Matt Weston
Construction Driver
Jonathan Tylke
Assistant Costume Designer
Carly Griffith
Costume Supervisor
Melissa Cook
Costume Assistants
Michelle McGrath
Gemma Evans
Charlotte Bestwick
Make-up Supervisor
Emma Cowen
Make-up Artists
Amy Riley
Ann Marie Williams
Unit Medic
Glyn Evans
Casting Associate
Alice Purser
Assistant Editors
Katrina Aust
Will Burgess
Joshua Williams
VFX Editor
Dan Rawlings
Post Production Coordinator
Samantha Price
Dubbing Mixer
Tim Ricketts
ADR Editor
Matthew Cox
Dialogue Editor
Darran Clement
Effects Editors
Harry Barnes
Helen Dickson
Foley Editor
Jamie Talbutt
Graphics
BBC Wales Graphics
Title Concept
Billy Hanshaw
Online Editor
Geraint Pari Huws
Colourist
Gareth Spensley
With Thanks to
the BBC National Orchestra of Wales
Conducted & Orchestrated By
Ben Foster
Mixed By
Jake Jackson
Recorded By
Gerry O'Riordan
Original Theme Music
Ron Grainer
The Cybermen Created by
Kit Pedler and
Gerry Davis
Casting Director
Andy Pryor CDG
Production Executive
Julie Scott
Post Production Supervisor
Nerys Davies
Production Accountant
Jeff Dunn
Sound Recordist
Deian Llŷr Humphreys
Costume Designer
Howard Burden
Make-up Designer
Claire Pritchard-Jones
Music
Murray Gold
Visual Effects
Milk
BBC Wales VFX
Special Effects
Real SFX
Prosthetics
Millennium FX
Editor
Will Oswald
Production Designer
Michael Pickwoad
Director of Photography
Rory Taylor
Line Producer
Tracie Simpson
Executive Producers
Steven Moffat
Brian Minchin