New Series Episode 143:
The Pyramid At The End Of The World
The sudden appearance of an ancient pyramid in close proximity to the planet's three mightiest armies heralds the start of the Monks' scheme to take over the Earth. Once again pressed into service as President of the world, the Doctor finds himself coordinating the responses of the American, Russian and Chinese forces, even as the Monks promise that the end of the human race is at hand. But in a lab in Yorkshire, a series of seemingly random events are playing out that hold the key to the Monks' plan, forcing Bill to make an awful choice.
Forthcoming.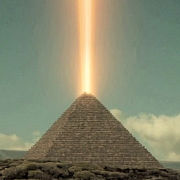 Original Transmission

| | |
| --- | --- |
| | |
| Date | 27th May 2017 |
| Time | 7.45pm |
| Duration | t/b/a |
| · BBC1/HD | t/b/a |
| Appreciation | t/b/a |
---
Cast
The Doctor
Peter Capaldi
Nardole
Matt Lucas
Bill
Pearl Mackie
Secretary General
Togo Igawa
The Commander
Nigel Hastings
Colonel Don Brabbit
Eben Young
Erica
Rachel Denning
Douglas
Tony Gardner
Ilya
Andrew Byron
Xiaolian
Daphne Cheung
Monk
Jamie Hill
Voice of the Monk
Tim Bentinck
---
Crew
Written by
Peter Harness &
Steven Moffat
Directed by
Daniel Nettheim
Produced by
Peter Bennett
Stunt Coordinator
Crispin Layfield
1st Assistant Director
Fletcher Rodley
2nd Assistant Director
James DeHaviland
3rd Assistant Director
Christopher J Thomas
Assistant Directors
Rhun Llewelyn
Lauren Pate
Unit Drivers
Sean Evans
Paul Watkins
Location Manager
Iwan Roberts
Unit Manager
Beccy Jones
Production Manager
Adam Knopf
Production Coordinator
Sandra Cosfeld
Assistant Production Coordinator
Nicola Chance
Production Assistants
Virginia Bonet
Jamie Shaw
Assistant Accountant
Matthew Fisher
Art Department Accountant
Bethan Griffiths
Script Supervisor
Nicki Coles
Script Executive
Lindsey Alford
Script Editor
Emma Genders
Camera Operator
Mark McQuoid
Focus Pullers
Jonathan Vidgen
Elhein De Wet
Camera Assistants
Gethin Williams
Drew Marsden
Dan Patounas
Grip
John Robinson
Assistant Grip
Sean Cronin
Sound Maintenance Engineers
Tam Shoring
Christopher Goding
Gaffer
Mark Hutchings
Best Boy
Andy Gardiner
Electricians
Gawain Nash
Gareth Sheldon
Bob Milton
Sion Davies
Andrew Williams
Supervising Art Director
Paul Spriggs
Art Director
Tim Overson
Standby Art Director
Christina Tom
Set Decorator
Adrian Anscombe
Production Buyer
Jen Saguaro
Prop Buyers
Jo Pearce
Charlotte Lailey de Ville
Draughtperson
Matt Sanders
Prop Master
Paul Smith
Props Chargehand
Kyle Belmont
Standby Props
Matt Ireland
Jonathan Barclay
Prop Hands
Scott Howe
Nigel Magni
Matt Watts
Storeman
Jamie Southcott
Concept Artist
Darren Fereday
Graphic Artist
Lawrence Hearn
Graphics Assistant
Jack Bowes
Standby Carpenter
Paul Jones
Rigging
Shadow Scaffolding
Standby Rigger
Colin Toms
Practical Electricians
Callum Alexander
Austin Curtis
Props Driver
Gareth Fox
Construction Manager
Terry Horle
Construction Chargehand
Dean Tucker
Chargehand Carpenter
John Sinnott
Carpenters
Tim Burke
Keith Richards
Matt Ferry
Campbell Frazer
Chris Daniels
Joe Painter
George Rees
Alan Jones
Dan Berrow
Mike Venables
Tom Berrow
Construction Driver
Jonathan Tylke
Construction Labourer
Jason Tylke
Head Scenic Artist
Clive Clarke
Painters
Steve Nelms
John Nelms
Paul Murray
Debby McShane
Model Makers
Alan Hardy
Jamie Thomas
Assistant Costume Designer
Zoe Howerska
Costume Supervisor
Kat Willis
Costume Assistants
Rebecca Cunningham
Leila Headon
Jenny Tindle
Make-up Supervisor
James Spinks
Make-up Artists
Megan Bowes
Lolly Goodship
Unit Medic
Glyn Evans
Casting Associate
Ri McDaid-Wren
Casting Assistant
Louis Constantine
Business Affairs Executive
Carol Griggs
Assistant Editors
Becky Trotman
David Davies
VFX Editor
Dan Rawlings
Post Production Coordinator
Hannah Jones
Dubbing Mixers
Mark Ferda
Darran Clement
ADR Editor
Matthew Cox
Dialogue Editor
Helen Dickson
Sound Effects Editor
Harry Barnes
Foley Editor
Simon Clement
Foley Artist
Julie Ankerson
Titles
BBC Wales Graphics
Title Concept
Billy Hanshaw
Online Editors
Geraint Pari Huws
Mark Hardyman
Assistant Online Editor
Christine Kelly
Colourist
Gareth Spensley
Music Conducted & Orchestrated By
Alastair King
Music Mixed By
Jake Jackson
Music Recorded By
Gerry O'Riordan
Music Score Assistant
Jack Sugden
Original Theme Music
Ron Grainer
With Thanks to
BBC National Orchestra of Wales
Casting Director
Andy Pryor CDG
Head of Production
Gordon Ronald
Production Executive
Tracie Simpson
Post Production Supervisor
Samantha Price
Production Accountant
Simon Wheeler
Sound Recordist
Deian Llŷr Humphreys
Costume Designer
Hayley Nebauer
Make-up Designer
Barbara Southcott
Music
Murray Gold
Visual Effects
Milk
BBC Wales VFX
Special Effects
Real SFX
Special Creature Effects & Prosthetics
Millennium FX
Editor
Xavier Russell
Production Designer
Michael Pickwoad
Director of Photography
Ashley Rowe
Line Producer
Steffan Morris
Executive Producers
Steven Moffat
Brian Minchin