Serial 4Q:
The Face Of Evil
The TARDIS lands on a planet where the population is divided into two warring factions: the barbaric Sevateem and the brilliant Tesh. The Doctor himself is regarded as a demon by the Sevateem, and to the Time Lord's consternation, he discovers that a giant carving of the Evil One is in fact a replica of his own head. With the help of a Sevateem warrior named Leela, the Doctor discovers that the Sevateem god, Xoanon, is really a schizophrenic computer, whose malfunction is the fault of the Doctor himself.
In early 1975, the Doctor Who production office received an unsolicited submission entitled "The Silent Scream" from a part-time scriptwriter named Chris Boucher. Although he was a lifelong fan of science-fiction, Boucher's credits to date had mainly been confined to comedy programmes such as Braden's Week, Dave Allen At Large and Romany Jones. "The Silent Scream", though unusable, prompted Doctor Who producer Philip Hinchcliffe and script editor Robert Holmes to work with Boucher on more suitable concepts.
Many of Boucher's ideas dealt with a civilisation which had evolved abnormally over the course of generations, and so two of his efforts -- "The Dreamers Of Phados" and "The Mentor Conspiracy" -- were set on a giant colony ship. Finally, however, Hinchcliffe recommended that Boucher instead transfer his storyline to a planetary setting, and also devised the notion of the Doctor discovering his own face carved into a mountainside. He and Holmes thought that it would be interesting to have an adventure which would explore the consequences of the Doctor's travels through time and space. With these concepts in mind, Boucher began working on "The Tower Of Imelo". This was finally commissioned as a four-part storyline on August 19th, under the revised title "Prime Directive" (or "The Prime Directive").
Chris Boucher envisaged Leela as a mix of Palestinian terrorist Leila Khaled and Emma Peel from The Avengers
In writing "Prime Directive", Boucher was inspired by many of the science-fiction stories he had adored since childhood: Aldous Huxley's 1932 classic Brave New World influenced Boucher's ideas about how the Sevateem religion had evolved, while he drew upon Harry Harrison's 1969 novel Captive Universe for the element of an insane computer. For a supporting Sevateem character called Leela (who, like the tribe leader Andor, had also appeared in the outline for "The Mentor Conspiracy"), Boucher envisaged a mix of Palestinian terrorist Leila Khaled (whose name he also borrowed) and Diana Rigg's dynamic Emma Peel from The Avengers. On January 27th, 1976, full scripts for the serial were requested, now using the title "The Day God Went Mad".
By this stage, it was known that Elisabeth Sladen would be leaving Doctor Who early in Season Fourteen, and Hinchcliffe and Holmes had decided that no new permanent companion would be introduced right away. Instead, Boucher was told to develop one character who could fill that role for the duration of "The Day God Went Mad". To this end, Boucher began expanding the role of a male Sevateem warrior named Loke. However, while reading the draft of Boucher's script for part two in mid-March, Hinchcliffe became engaged by Leela, and he asked the writer to concentrate on her instead. Leela duly took over many of the duties intended for Loke, and the latter was subsequently renamed Tomas.
To this point, the predominant idea for the next ongoing companion had come from Holmes. He was eager to commission a "Jack the Ripper"-style story set in Victorian London, and wanted to use it as a vehicle to introduce a street urchin whom the Doctor could take in. Holmes thought that the Doctor could then educate her over the course of Season Fifteen, in the manner of Eliza Doolittle from George Bernard Shaw's 1913 play Pygmalion (further popularised in the 1964 film adaptation My Fair Lady, starring Audrey Hepburn and Rex Harrison). At one point, it appears that Holmes hoped "The Gaslight Murders" by Basil Dawson would fill this role, but it was quickly abandoned. Holmes next planned to feature a Victorian-era story as the season finale; this meant that the Doctor would have to remain on his own for both "The Day God Went Mad" and the serial which would follow it into production.
Philip Hinchcliffe was not opposed to the idea of a street urchin companion, but preferred a strong, more relatable character
However, while he was not opposed to Holmes' idea, Hinchcliffe preferred a strong, more relatable female protagonist. In the self-confident but primitive and childlike Leela, both the producer and the script editor were presented with a character who could satisfy both their needs. This quality took on a new importance following Holmes' scripting of the preceding adventure, The Deadly Assassin, during which he found that writing for the solo Doctor was very taxing.
In mid-June, Hinchcliffe and Holmes decided that Leela should be retained for at least one more story, leaving open the possibility that they might still follow the original plan of introducing the Victorian companion in the season's final serial. Since only Boucher was familiar with Leela, they commissioned a second adventure from him, called The Robots Of Death. As a means of further developing their new regular character, Holmes suggested that Leela possess some sort of supernatural powers, which he thought might be inherited from a witch-priestess grandmother. Boucher was not fond of this idea, and instead opted to grant her a sort of sixth sense for danger.
By now, however, both Hinchcliffe and Holmes were considering leaving Doctor Who after Season Fourteen, and there was concern that if the new production team did not like Holmes' street urchin character then considerable work would have been expended for little gain. Consequently, it was decided that Leela should remain with the Doctor for at least a third adventure, the last of the current schedule.
By July, Boucher's initial commission gained its final title of The Face Of Evil. Serial 4Q would be directed by Pennant Roberts, whose earlier credits included episodes of Doomwatch, Survivors and Softly, Softly: Task Force. In its "Eliza Doolittle" incarnation, Twiggy -- a former phenomenon in the modelling world who had recently earned a Golden Globe Award for The Boy Friend -- had been mooted for the role of the new companion, but this did not come to pass. Consequently, Roberts began auditioning sixty actresses to play Leela. Amongst the fifty-nine unsuccessful applicants was Pamela Salem, who was instead offered voicework on The Face Of Evil, as well as the prominent part of Toos in The Robots Of Death.
Her blue eyes deemed inappropriate for the savage Leela, Louise Jameson would have to wear brown contact lenses
The actress ultimately hired to play Leela was Louise Jameson. Jameson's resume included considerable stagework, plus the horror film Disciple Of Death. On television, she had appeared in programmes such as Emmerdale Farm, Z Cars and Space: 1999; she had also been shortlisted for the role of Purdey on The New Avengers. On August 27th, Jameson was engaged for fourteen episodes of Doctor Who, encompassing the three remaining serials of the season. Her contract included a provision that required she wear brown contact lenses, as it was felt that her blue eyes were not appropriate for the savage character she would be portraying. For the same reason, it was decided that Jameson would wear make-up to darken her skin. Originally, this make-up was a very deep brown colour, but it was eventually made lighter to produce Leela's final look; the darker shade was still visible in several publicity photos, however.
No location filming was carried out for The Face Of Evil; instead, seven days were spent at the Ealing Television Film Studios, beginning on September 20th. Tom Baker greeted Jameson frostily as they started working together: he objected in general to being saddled with a new companion, but in particular to a character who wore a distractingly brief costume and exhibited violent tendencies that he felt were inappropriate in Doctor Who. Baker grudgingly accepted Jameson when he was told that Leela was only due to appear in a trio of stories.
The first three days of filming at Ealing took place on the jungle set. September 23rd and 24th then took in the action in the Horda Pit, with the latter day also encompassing more jungle material. After a break for the weekend, the 27th and 28th completed the jungle filming; the last day was not originally a part of the shooting schedule, but had to be added when several scenes could not be finished in time.
All studio work for The Face Of Evil took place at BBC Television Centre Studio 3, and began with a two-day session on October 11th and 12th. The first day saw most of part one recorded, along with scenes in the jungle for parts two and four which had not already been captured at Ealing. The next day was occupied with effects work, alongside most of the outstanding episode two material and the sole remaining sequence in Neeva's sanctum for episode three.
Louise Jameson's photocall on October 26th had to be hastily arranged after news of her casting broke the night before
Recording wrapped up with a three-day block from October 24th to 26th. The 24th was largely devoted to scenes outside and within the titular Face, although time was also spent on part three material in the control room and the particle analyser. For the episode three cliffhanger, Xoanon's line "Who am I?" had been recorded by twelve year-old Anthony Frieze, a pupil at the school where Roberts' wife worked as a teacher. The next day finished off the extant material for this episode and moved on to a small amount of recording for part four. The remainder of the concluding script was then performed on the 26th.
On the same day that studio taping wrapped up, a photocall for Louise Jameson was held. This event had to be hastily arranged after the Evening Standard broke the news of her casting the night before. Originally, Leela's debut was intended to air on November 27th, with The Face Of Evil then completing its run before a one-week Christmas break. However, with Holmes forced to assume the writing duties for the season finale, The Talons Of Weng-Chiang, at short notice, it was decided to give the production team some breathing room by deferring The Face Of Evil until the New Year. As a result, Leela finally made her first on-screen appearance on January 1st, 1977.
Doctor Who: The Handbook: The Fourth Doctor by David J Howe, Mark Stammers and Stephen James Walker (1992), Virgin Publishing, ISBN 0 426 20369 8.
Doctor Who: The Seventies by David J Howe, Mark Stammers and Stephen James Walker (1994), Virgin Publishing, ISBN 1 85227 444 1.
Doctor Who Magazine #229, 30th August 1995, "Archive: The Face Of Evil" by Andrew Pixley, Marvel Comics UK Ltd.
Doctor Who Magazine Special Edition #8, 1st September 2004, "Take It To The Limit" by Andrew Pixley, Panini Publishing Ltd.
In-Vision #19, October 1989, "Production" edited by Justin Richards and Peter Anghelides, Cybermark Services.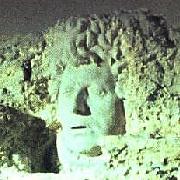 Original Transmission
Episode 1
Date
1st Jan 1977
Time
6.22pm
Duration
24'58"
Viewers

(more)

10.7m (23rd)
Appreciation
61%
Episode 2
Date
8th Jan 1977
Time
6.30pm
Duration
24'58"
Viewers

(more)

11.1m (19th)
Episode 3
Date
15th Jan 1977
Time
6.22pm
Duration
24'40"
Viewers

(more)

11.3m (20th)
Appreciation
59%
Episode 4
Date
22nd Jan 1977
Time
6.27pm
Duration
24'46"
Viewers

(more)

11.7m (19th)
Appreciation
60%
---
Cast
Doctor Who
Tom Baker
Leela
Louise Jameson
Neeva
David Garfield
Andor
Victor Lucas
Tomas
Brendan Price
Calib
Leslie Schofield
Sole
Colin Thomas
Lugo
Lloyd McGuire
Guards
Tom Kelly
Brett Forrest
Xoanon
Rob Edwards
Pamela Salem
Anthony Frieze
Roy Herrick
Jabel
Leon Eagles
Gentek
Mike Elles
Acolyte
Peter Baldock
---
Crew
Written by
Chris Boucher
Directed by
Pennant Roberts
Produced by
Philip Hinchcliffe
Fight Arranger
Terry Walsh
Incidental Music by
Dudley Simpson
Title Music by
Ron Grainer and
the BBC Radiophonic Workshop
Title Sequence by
Bernard Lodge
Production Assistant
Marion McDougall
Production Unit Manager
Christopher D'Oyly-John
Lighting
Derek Slee
Sound
Colin Dixon
Film Cameraman
John McGlashan
Film Recordist
Stan Nightingale
Film Editors
Pam Bosworth
Tariq Anwar
Visual Effects Designer
Mat Irvine
Special Sound
Dick Mills
Costume Designer
John Bloomfield
Make-Up Artist
Ann Ailes
Designer
Austin Ruddy
Script Editor
Robert Holmes
---
Working Titles
The Tower Of Imelo
[The] Prime Directive
The Day God Went Mad