Serial 4R:
The Robots Of Death
The TARDIS brings the Doctor and Leela to a Sandminer, a giant mining ship. The crew of the Sandminer is slowly being killed off one by one, and the time travellers are the obvious suspects. But the Doctor discovers that the impossible is coming true: the Sandminer's robot workers and manservants are responsible for the deaths, having fallen under the influence of the crazed scientist Taren Capel, who wishes to supplant the human race with his robotic creations.
Chris Boucher was already in the process of preparing The Face Of Evil for Doctor Who's fourteenth season when he was asked to provide the script for the next adventure as well. This slot had originally been earmarked for The Hand Of Fear, until problems with Douglas Camfield's "The Lost Legion" earlier in the season caused it to be pulled forward. Boucher was asked to write the replacement story because producer Philip Hinchcliffe and script editor Robert Holmes had decided that Leela, whom Boucher had introduced in The Face Of Evil, would serve as a short-term companion until the end of the year. With no time to distribute a character outline, Boucher was the natural choice to scribe Leela's second appearance.
On June 22nd, 1976, Boucher was commissioned to write a storyline for "Planet Of The Robots", which also went by the title "The Storm-Mine Murders". This developed from Holmes' desire to explore robotic life in a Doctor Who serial: he had earlier attempted this in The Brain Of Morbius, but that story's evolution had steered it away from Holmes' initial premise. As with The Face Of Evil, Boucher was also inspired by his lifelong love of science-fiction. Clifford D Simak's 1950 short story Bathe Your Bearings In Blood! (also known as Skirmish) suggested the element of an outside influence inciting a robot rebellion, while the axioms which held the robots in check were reminiscent of the Laws of Robotics created by Isaac Asimov, as first given in the 1941 short story Liar! (later included in I, Robot). The Sandminer itself drew upon elements of Frank Herbert's Dune novels, published from 1963. The murder mystery structure, on the other hand, owed a debt to Agatha Christie's iconic 1939 novel Ten Little Niggers (rereleased as And Then There Were None and Ten Little Indians).
Chris Boucher's scripts were littered with namechecks of science-fiction authors, including Isaac Asimov and Poul Anderson
Full scripts were requested from Boucher on July 20th. The writer acknowledged his sources by littering "Planet Of The Robots" with namechecks to well-known science-fiction authors: Uvanov was a corruption of "Asimov", Poul was a reference to Poul Anderson, and Taren Capel was an homage to Karel Čapek (who first coined the term "robot" in his play RUR (Rossum's Universal Robots) in 1921). Around September, Serial 4R became known as The Robots Of Death. At about the same time, it was discovered that part two was underrunning. As a result, its closing moments were augmented with the subplot about the overloading motive units; the cliffhanger had originally centred on Zilda's death.
The director assigned to The Robots Of Death was Michael Briant, whose most recent Doctor Who work had been on Revenge Of The Cybermen two years earlier. Briant was unhappy with Boucher's scripts and resolved to enhance the serial with strong design elements. Consequently, Briant worked closely with designer Ken Sharp and costume designer Elizabeth Waller to conceive a distinctive art deco look for the story. Amongst Briant's cast was Pamela Salem, playing Toos. Salem had unsuccessfully auditioned for the role of Leela, but had made a good impression on the Doctor Who production team. Her appearance in The Robots Of Death led to erroneous media reports that Toos would also become a regular Doctor Who character.
Meanwhile, both Hinchcliffe and Holmes had been contemplating leaving Doctor Who at the end of the season. Head of Drama Bill Slater asked Hinchcliffe to remain for a fourth year, however, and Hinchcliffe agreed. He and Holmes duly set to work coming up with ideas for Season Fifteen, such as a new alien race with smooth silicon skin. Stories they were planning included an historical adventure (featuring a love interest for Leela), one set on a generation-spanning vessel (which was an idea Boucher had pursued prior to writing The Face Of Evil), a London-based tale which saw an immense spaceship arriving in the skies above the city, a story inspired by the works of H Rider Haggard (author of King Solomon's Mines and She), and another based upon Joseph Conrad's 1899 novel Heart Of Darkness (which was to be written by Holmes).
In October, it was decided to move Graham Williams to Doctor Who in place of Philip Hinchcliffe
During the autumn, however, the decision to extend Hinchliffe's duties on Doctor Who was reevaluated, and a new name entered the picture: Graham Williams. Williams had gotten his start in theatre before moving over to television in 1966. Originally intending to stay with the BBC only until he had earned enough money to return to the stage, Williams quickly fell in love with the new medium. He soon became a script editor, working on programmes such as Z Cars and Barlow At Large. He was then promoted to producer, and began developing two series: a hard-hitting police drama named Target and an American coproduction called The Zodiac Factor. When The Zodiac Factor ran into problems in October, it was decided to move Williams to Doctor Who. Hinchcliffe would, in turn, take over Target, which was viewed as a better fit for his edgy style.
At the same time, The Robots Of Death entered production, with model filming taking place at the Ealing Television Film Studios on November 2nd, 4th and 5th, directed by production assistant Peter Grimwade. In-between, on the 3rd, the part one cliffhanger in which the Doctor is buried alive was also recorded at Ealing. Baker disliked the resolution of this scene (particularly SV7 rescuing the Doctor), suggesting instead an action-packed sequence in which the Doctor swings on his scarf to kick the door open. He and Briant argued vociferously until Briant revealed that Graham Williams was present to observe the shoot. Baker quickly agreed to follow the director's instructions.
The first studio session was scheduled for November 22nd and 23rd, at BBC Television Centre Studio 8. Briant opted to use the first day exclusively for camera rehearsals; he then taped most of episodes one and two on the 23rd, alongside the episode three material in the crew room and the commander's office. Although it was not realised at the time, this day marked the final use of the wooden TARDIS console room which had been introduced in The Masque Of Mandragora at the start of the season. The set was not required for the next adventure, The Talons Of Weng-Chiang, and the wood became damp and warped in storage before the start of shooting on Season Fifteen, necessitating its replacement.
Work on The Robots Of Death continued with a three-day studio block spanning December 5th to 7th in TC1; again, Briant reserved the first day for camera rehearsals. December 6th concentrated on sequences for part three, as well as scenes on the control deck for part two and in Toos' cabin for part four. Baker and Gregory de Polnay, playing D84, enjoyed a very good working relationship, to the point that de Polnay harboured aspirations that D84 might be saved and made a regular companion.
Having enjoyed a good working relationship with Tom Baker, Gregory de Polnay hoped that D84 might become a regular companion
The last studio day, December 7th, largely dealt with material from the final installment. During recording, Baker changed the scripted mention of "Grimwol's Syndrome" to "Grimwade's Syndrome" in honour of production assistant Peter Grimwade. Also completed was footage in the workroom for part three, plus those sequences in the silo, the dust scoop and the control room which needed Colour Separation Overlay.
Briant had only reluctantly returned to Doctor Who to direct The Robots Of Death, and although Williams was eager for him to helm another story during Season Fifteen, Briant resisted all such entreaties, bringing his Doctor Who career to an end. He went on to direct episodes of Blake's 7, Secret Army, Howards' Way, and the Emmy Award-winning 1980 version of A Tale Of Two Cities. Briant also briefly ran his own film production company, Linked Ring, and spent much of the Nineties working in Dutch television. Briant now lives in France, indulging his lifelong love of sailing and producing and directing documentaries about his travels.
Doctor Who: The Handbook: The Fourth Doctor by David J Howe, Mark Stammers and Stephen James Walker (1992), Virgin Publishing, ISBN 0 426 20369 8.
Doctor Who: The Seventies by David J Howe, Mark Stammers and Stephen James Walker (1994), Virgin Publishing, ISBN 1 85227 444 1.
Doctor Who Magazine #296, 18th October 2000, "Archive: The Robots Of Death" by Andrew Pixley, Panini Publishing Ltd.
Doctor Who Magazine Special Edition #8, 1st September 2004, "Take It To The Limit" by Andrew Pixley, Panini Publishing Ltd.
In-Vision #20, November 1989, "Production" edited by Justin Richards and Peter Anghelides, Cybermark Services.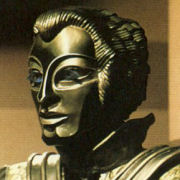 Original Transmission
Episode 1
Date
29th Jan 1977
Time
6.20pm
Duration
24'06"
Viewers

(more)

12.8m (14th)
Appreciation
62%
Episode 2
Date
5th Feb 1977
Time
6.22pm
Duration
24'15"
Viewers

(more)

12.4m (17th)
Episode 3
Date
12th Feb 1977
Time
6.23pm
Duration
23'51"
Viewers

(more)

13.1m (15th)
Episode 4
Date
19th Feb 1977
Time
6.26pm
Duration
23'42"
Viewers

(more)

12.6m (18th)
Appreciation
57%
---
Cast
Doctor Who
Tom Baker
Leela
Louise Jameson
Uvanov
Russell Hunter
Toos
Pamela Salem
Dask
David Bailie
Poul
David Collings
Borg
Brian Croucher
Zilda
Tania Rogers
Cass
Tariq Yunus
Chub
Rob Edwards
D84
Gregory de Polnay
SV7
Miles Fothergill
Robots
Mark Blackwell Baker
John Bleasdale
Mark Cooper
Peter Langtry
Jeremy Ranchev
Richard Seager
---
Crew
Written by
Chris Boucher
Directed by
Michael E Briant
Produced by
Philip Hinchcliffe
Incidental Music by
Dudley Simpson
Title Music by
Ron Grainer and
the BBC Radiophonic Workshop
Title Sequence by
Bernard Lodge
Production Assistant
Peter Grimwade
Production Unit Manager
Christopher D'Oyly-John
Lighting
Duncan Brown
Sound
Tony Millier
Film Cameraman
Peter Chapman
Visual Effects Designer
Richard Conway
Special Sound
Dick Mills
Costume Designer
Elizabeth Waller
Make-Up Artist
Ann Briggs
Script Editor
Robert Holmes
Designer
Kenneth Sharp
---
Working Titles
The Storm-Mine Murders
Planet Of The Robots