Serial 5S:
Warriors' Gate
Trying to escape from E-Space, the Doctor, Romana, Adric and K·9 instead land in an eerie white void whose only feature is a crumbling old keep. Also trapped in the void is a privateering ship captained by the cruel Rorvik, whose time sensitive pilot, the leonine Tharil Biroc, escapes and lures the Doctor into the keep and the mirror gateway beyond. There, the Doctor witnesses the rise and fall of the once-mighty Tharil Empire. He realises that he must free the Tharils enslaved on the privateering ship and escape through the gateway, before Rorvik's vengeful actions destroy them all.
One of the first writers contacted by Douglas Adams when he assumed the post of Doctor Who script editor in October 1978 was Christopher Priest. Priest was a well-admired writer of science-fiction short stories and novels, including Fugue For A Darkening Island (1973) and The Space Machine (1976), but was not keen on Doctor Who. Nonetheless, he agreed to develop a storyline for a four-part adventure.
By the time Christopher H Bidmead replaced Adams in late 1979, Priest's storyline had been all but forgotten by the Doctor Who production office. Bidmead was himself a huge fan of science-fiction literature, however, and viewed Priest's work as exactly the kind of high-concept fare that he envisioned for Doctor Who. Unaware of Priest's discussions with Adams, he contacted the author himself and was surprised to discover that Priest had already spent time devising ideas for Doctor Who. Agreeing to pick up where Priest and Adams had left off, Bidmead commissioned a storyline called "Sealed Orders" on February 27th, 1980.
The departure of Romana and K·9 was part of John Nathan-Turner's efforts to make the regular cast more relatable
By now, Bidmead had secured the reluctant approval of producer John Nathan-Turner to feature a three-story arc in the middle of Season Eighteen. Depicting the Doctor's adventures while trapped in a pocket universe called E-Space, this would culminate with the departure of Romana and K·9 from the series, part of Nathan-Turner's efforts to make Doctor Who's regular cast more relatable for the viewing audience. Bidmead wanted "Sealed Orders" to be the final chapter of the arc. As such, when full scripts were commissioned on March 24th, it was planned that Priest's story would be the season's fifth serial. At the same time, Bidmead recognised that, despite Priest's experience as a prose writer, he was new to television scripting. He was concerned that "Sealed Orders" still might not pan out, and decided to commission a back-up story which could replace Priest's serial at short notice.
Another writer Bidmead had been in touch with was Stephen Gallagher, a longtime Doctor Who fan who had written science-fiction radio plays such as The Last Rose Of Summer (which he had also novelised). Gallagher had come to Bidmead's attention when his radio script An Alternative To Suicide was forwarded to the Doctor Who production office. After meeting with Bidmead in late December, Gallagher had prepared a Doctor Who storyline called "The Dream Time" (or simply "Dream Time"), which was based on unused concepts for a sequel to The Last Rose Of Summer. This was commissioned on January 17th. Bidmead subsequently decided that Gallagher's adventure would also make a suitable conclusion to the E-Space trilogy, and so it would be kept in reserve in case there were problems with "Sealed Orders". If everything went smoothly with Priest's scripts, then "The Dream Time" could always be revised to stand on its own as part of Season Nineteen.
As things transpired, Priest was unable to make the leap from the printed page to the small screen, delivering scripts which contained the big ideas that Bidmead wanted, but not written in a manner suitable for television. Bidmead worked closely with Priest and carried out some editing of the scripts, but this created friction between himself and the author, and their relationship began to deteriorate. Finally, in April, Priest withdrew "Sealed Orders" from consideration. It was formally abandoned in June, although Nathan-Turner and Bidmead still held out hoped that it could be resurrected at a later date.
Stephen Gallagher was inspired by the Dreamtime, the metaphysical "time outside time" of Australian aborigines
Bidmead now turned his attention to "The Dream Time", and Gallagher was commissioned to write the four scripts on April 14th. Gallagher's original idea, developed before his discussions with Bidmead, involved a person discovering the home of a forgotten civilisation where a hall of mirrors provides access to parallel worlds. This was inspired by the Dreamtime, the metaphysical "time outside time" also called the Dreaming or alcheringa which is central to the beliefs of Australian aborigines. In adapting this concept to Doctor Who, Gallagher was influenced by the films of the French surrealist Jean Coctau -- particularly 1946's La belle et la bête (Beauty And The Beast) and 1949's Orphée (Orpheus). He also drew upon elements of Alfred Bester's 1953 novel The Demolished Man and Joe Halderman's 1974 work The Forever War.
By the early summer, word that both Romana and K·9 would be leaving Doctor Who had been leaked to the press. The robot dog's departure, in particular, incited an outcry from the programme's fans, with The Sun even embarking upon a "Save K·9" letter-writing campaign. This culminated in mid-July, when the newspaper took Nathan-Turner's announcement that K·9 would appear in twenty of the season's twenty-eight episodes as an opportunity to claim victory. In fact, Nathan-Turner was merely acknowledging what had been the plan all along: part four of "The Dream Time" would indeed be the twentieth episode of Season Eighteen, after which K·9 would be written out of Doctor Who.
The director assigned to "The Dream Time" -- now designated Serial 5S -- was Paul Joyce, whose previous credits included a Play For Today (which he had also written). Joyce was keen on Gallagher's Cocteau-fuelled imagery, and wanted this influence to extend throughout the production. He also envisaged making the story in the style of a feature film, and was enthusiastic about pushing the boundaries of what could be accomplished on a Doctor Who production. By midsummer, Serial 5S had gained its final title of Warriors' Gate; Gallagher had earlier rejected Bidmead's suggestion of "Gateway", which he feared would be confused with the 1977 novel of the same name by Frederick Pohl.
With Stephen Gallagher busy on other projects, Paul Joyce received formal permission to overhaul the scripts
As pre-production progressed, Joyce became concerned that -- like Priest before him -- Gallagher's inexperience in writing for television was resulting in scripts that would not translate well to a visual medium. By late summer, Gallagher had had to move on to duties on other programmes, and so on August 29th, Joyce received formal permission to overhaul the scripts. However, he refused to take a writing credit on Warriors' Gate out of respect for Gallagher. Working closely with Bidmead, Joyce's version of the scripts omitted elements like an opening sequence depicting an attack on the Privateer by an "Antonine Killer" which led to the ship becoming trapped at the Gateway. A crewman named Nestor was excised (his lines being shared between Lane and Packard), while Waldo was rechristened Royce. The MZ was named after Bidmead's computer. The Gundans were originally Shoguns (simply "Guns" was also considered), while the Tharils had been Tharks, Thars, and Tharls. The latter was altered at a late stage on the suggestion of fan advisor Ian Levine, who fretted that longtime fans would confuse it with "Thals", aliens who had appeared in The Daleks and Planet Of The Daleks.
It was not only Gallagher's work that was causing some concern amongst the crew of Warriors' Gate. Production assistant Graeme Harper, a Doctor Who veteran, became increasingly worried that Joyce was not adequately planning the creatively and technically complex recording, and informed Nathan-Turner of his fears. The situation was made worse when the original dates for the first studio block -- September 17th to 19th -- had to be scrapped at the last minute due to a carpenter's strike.
In the event, taping on Warriors' Gate began with three days in BBC Television Centre Studio 6, starting on September 24th. The mood was tense: Baker and Ward, who had renewed their romantic relationship some weeks earlier, were fighting (with Ward's imminent departure from the series not helping matters), and both were deeply unhappy with their dialogue. Ward also disliked the fact that Romana's final scene was written so dispassionately, but Nathan-Turner was adamant that he did not want elements of soap opera to creep into Doctor Who. Even more seriously, Joyce's decision to incorporate the studio lighting gantry into the Privateer set drew the objections of John Dixon, who was in charge of lighting. Recording was delayed for two hours, and Joyce came close to relieving Dixon of his duties. In the event, only scenes in the hold, corridor, entrance hatchway and storeroom of the Privateer were completed.
John Nathan-Turner felt that Paul Joyce had been an ill-advised choice as director, and contemplated firing him
Nathan-Turner now realised that Joyce had been an ill-advised choice as director for Warriors' Gate, and contemplated firing him. With Joyce having been such an intimate part of the creative process, however, the producer decided to stick with him for the remainder of the shoot. The final two days of the block remained fraught, with safety concerns about the sets causing further delays. September 25th saw more scenes recorded in the storeroom and corridor, along with material on the bridge and in the damaged area. The latter set remained in use on the 26th, when some sequences in the TARDIS console room were also taped.
By the time that the second studio session began in TC1 on October 2nd, the strenuous production was visibly taking its toll on Joyce. Nathan-Turner, too, had come under fire for the situation, with Head of Serials Graeme McDonald writing him to express his concern. The 2nd involved the completion of scenes in the TARDIS console room, as well as those in the palace gardens and corridor, and in the banqueting hall in the days when it was new. The banqueting hall set was redressed to appear disused, and it was the centre of work on the 3rd, along with material in the adjacent passage and the space behind the mirror. Finally, October 4th saw the taping of sequences in the Void, the Privateer entrance hatchway, and the space behind the mirror. By now, Joyce was so fatigued that Harper had largely taken over the production, with assistance from Nathan-Turner.
Despite the chaos surrounding the making of Warriors' Gate, Nathan-Turner was delighted with the finished serial; Joyce wrote the producer to apologise for the debacle on January 26th, 1981. Nonetheless, Nathan-Turner was effectively obliged to remove Joyce from consideration for any future Doctor Who work. His subsequent credits included Tickets For The Titanic. The tense production also convinced Bidmead that he should not extend his contract as script editor beyond Season Eighteen. Bidmead felt that he was expending too much time and energy on Doctor Who without suitable respect or reward, and his working relationship with Nathan-Turner was beginning to sour. Like Baker before him, Bidmead's decision became final when a request for a sizeable raise was rejected.
On December 13th, 1980 Tom Baker and Lalla Ward were wed
October 4th marked Lalla Ward's final regular appearance on a Doctor Who set. She continued performing in programmes such as Schoolgirl Chums and Riviera, as well as various stage plays, but Ward's career as an actress was gradually eclipsed by her work as an illustrator. Ward was wed to Tom Baker on December 13th, 1980, but the marriage was unsatisfying for both parties and they divorced in April 1982. In 1992, Ward married eminent evolutionary biologist Richard Dawkins, to whom she was introduced by Douglas Adams. The next year, Ward returned to play Romana in the thirtieth-anniversary Doctor Who sketch Dimensions In Time. More recently, she provided Romana's voice in various Doctor Who audio plays for Big Finish Productions, beginning with The Armageddon Element in 2000. Ward went on to reprise the role in Big Finish's remake of the unfinished story Shada and the long-running Gallifrey series, amongst others. Ward also played a thinly-disguised version of Romana for two audio plays from BBV in 1999.
Warriors' Gate was also the end of John Leeson's second stint as the voice of K·9, although soon afterward he starred in the ill-fated 1981 spin-off K·9 And Company. He went on to appear in programmes such as Sorry!, Bugs and Doctors, while remaining in frequent demand for voice work, including as the Daleks in 1988's Remembrance Of The Daleks. Leeson returned to voice K·9 on numerous occasions, beginning with the celebratory The Five Doctors in 1983, and continuing with the educational programme Search Out Science in 1990, Dimensions In Time in 1993, and various audios for Big Finish Productions and BBV beginning in the late Nineties. Leeson finally returned to televised Doctor Who when he voiced K·9 in 2006's School Reunion, a role he again reprised in episodes of The Sarah Jane Adventures during 2007, and in Journey's End in 2008.
Doctor Who: The Handbook: The Fourth Doctor by David J Howe, Mark Stammers and Stephen James Walker (1992), Virgin Publishing, ISBN 0 426 20369 8.
Doctor Who: The Eighties by David J Howe, Mark Stammers and Stephen James Walker (1996), Virgin Publishing, ISBN 1 85227 680 0.
Doctor Who Magazine #315, 3rd April 2002, "Archive: Warriors' Gate" by Andrew Pixley, Panini Publishing Ltd.
Doctor Who Magazine Special Edition #9, 22nd December 2004, "Another One Bites The Dust" by Andrew Pixley, Panini Publishing Ltd.
In·Vision #50, April 1994, "Production" edited by Justin Richards and Peter Anghelides, Cybermark Services.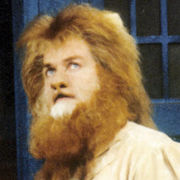 Original Transmission
Episode 1
Date
3rd Jan 1981
Time
5.21pm
Duration
22'54"
Viewers

(more)

7.1m (88th)
Appreciation
59%
Episode 2
Date
10th Jan 1981
Time
5.10pm
Duration
23'47"
Viewers

(more)

6.7m (93rd)
Episode 3
Date
17th Jan 1981
Time
5.11pm
Duration
22'15"
Viewers

(more)

8.3m (59th)
Episode 4
Date
24th Jan 1981
Time
5.10pm
Duration
24'53"
Viewers

(more)

7.8m (69th)
Appreciation
59%
---
Cast
Doctor Who
Tom Baker
Romana
Lalla Ward
Voice of K·9
John Leeson
Adric
Matthew Waterhouse
Rorvik
Clifford Rose
Packard
Kenneth Cope
Lane
David Kincaid
Aldo
Freddie Earle
Royce
Harry Waters
Biroc
David Weston
Sagan
Vincent Pickering
Gundan
Robert Vowles
Lazlo
Jeremy Gittins
---
Crew
Written by
Steve Gallagher
Paul Joyce (uncredited)
Directed by
Paul Joyce
Produced by
John Nathan-Turner
Incidental Music
Peter Howell
Special Sound
Dick Mills
Production Assistant
Graeme Harper
Production Unit Manager
Angela Smith
Director's Assistant
Joyce Stansfield
Assistant Floor Manager
Val McCrimmon
Visual Effects Designer
Mat Irvine
Video Effects
Robin Lobb
Vision Mixers
Jim Stephens
Paul Del Bravo
Technical Manager
John Dean
Senior Cameraman
Alec Wheal
Video-Tape Editor
Rod Waldron
Lighting
John Dixon
Sound
Alan Fogg
Costume Designer
June Hudson
Make Up Artist
Pauline Cox
Script Editor
Christopher H Bidmead
Title Sequence
Sid Sutton
Designer
Graeme Story
Executive Producer
Barry Letts
---
Working Titles
[The] Dream Time