Serial 6G:
Terminus
Turlough's sabotage causes the TARDIS to make an emergency landing on a space station called Terminus, where victims of the horrible, virulent Lazar disease go to die. The Doctor discovers that Terminus is powered by two enormous engines, one of which exploded long ago, an event which instigated the Big Bang and the creation of the universe. Now the other engine is on the brink of detonating as well -- an event which will have cataclysmic consequences for the cosmos.
Stephen Gallagher's first Doctor Who story was Season Eighteen's Warriors' Gate. As production was beginning on that serial during the summer of 1980, Gallagher began discussing further ideas with script editor Christopher Bidmead. He suggested a notion about a spaceship from another dimension with an experimental "Pandora drive" which had the potential to destroy the entire universe. Bidmead and producer John Nathan-Turner were both very happy with Warriors' Gate, and encouraged Gallagher to start developing his new concept.
Almost a year then passed without communication from the Doctor Who production office. Finally, on May 12th, 1981, an inquiry from Gallagher's agent prompted Nathan-Turner to write to him and apologise for the delay. Nathan-Turner explained that the overhaul of the show's principal cast (most notably the departure of Tom Baker and the addition of Peter Davison), and the replacement of Bidmead by Antony Root and then Eric Saward, had left the production office in a state of upheaval for several months. He assured Gallagher that he was nonetheless still interested in the proposed storyline, and on August 4th, he and Saward met with Gallagher to discuss its status.
Peter Davison lobbied to retain Nyssa, whom he felt was the most appropriate companion for his Doctor
At this point, the production team was in the midst of planning a trilogy of stories for Season Twenty. Intended to be the core of the year's schedule, these adventures would introduce a new companion named Turlough who would secretly be in the service of the evil Black Guardian. Nathan-Turner and Saward felt that Gallagher's idea was appropriate for the trilogy's second installment, in which Turlough would unsuccessfully attempt to destroy the Doctor, but without calling suspicion on himself. Suitably amended, Gallagher's storyline was commissioned under the title Terminus on August 10th.
After delivering his story breakdown, Gallagher met again with the production team on October 14th. At this time, he was informed that Terminus would be the final story for Nyssa, a character Nathan-Turner felt had run its course. Davison disagreed with his producer and actively lobbied to retain Nyssa, whom he felt to be the most appropriate companion for his Doctor. Saward asked Gallagher to provide a fitting swansong for Nyssa, placing more emphasis on the character than was usually the case.
The script for part one of Terminus was commissioned on September 15th, with the remaining episodes contracted on December 3rd. Gallagher found inspiration in Norse mythology, naming the Vanir after a lesser group of fertility gods. The individual Vanir also bore monikers redolent of the Norse culture: Bor was the father of Odin, head of the Norse pantheon; Sigurd was a great Norse hero (also known as Siegfried and Sivard Snarensvend); and Eirak was initially called Eirik, after a king of Norway and Northumbria also known as Eric Haraldsson or Eric Bloodaxe. Similarly, the Garm was named for a monstrous hellhound (also known as Garmr) who appears during the time of Ragnarok, the twilight of the Norse gods. Meanwhile, the term "lazar" was an archaic word for "leper", derived from the Biblical figure of Lazarus. It also seems that Gallagher originally wanted to call Kari "Yoni", but was asked to rechristen the character when Saward observed that "yoni" is the Sanskrit word for the female reproductive organ.
Terminus was designated Serial 6G, and would be the only Doctor Who story directed by BBC veteran Mary Ridge. In addition to serving as an associate producer on The Duchess Of Duke Street, Ridge had amassed a plethora of credits as a director, including Z Cars, Dixon Of Dock Green, The Newcomers and Blake's 7; she died in September 2000. Unfortunately, Ridge was confronted with trouble almost immediately upon starting work on Terminus. She had originally been allocated six studio days -- a typical number for a Doctor Who story with no location filming. However, an industrial dispute was brewing between the BBC and the electricians' union, resulting in a major reorganisation of shooting schedules. As a result, Ridge saw one of her studio days clawed back, meaning that her team would be up against the clock to get Terminus in the can.
An industrial dispute resulted in one of the six studio days for Terminus being clawed back
More troubles arose in the area of costume design. A miscommunication with Rod Vass of freelance props firm Imagineering led him to believe that the Vanir armour he was asked to fabricate would be purely decorative. He was therefore shocked to learn upon delivery that they would be required for combat. The costumes proved to be extremely noisy when involved in vigorous activity, and costly refurbishing was required to address the problem.
Ridge would also later claim that costume designer Dee Robson crafted the outfits for Kari and Olvir in light blue, despite the fact that Ridge had made it known that this would be the "key" colour employed for special effects involving colour separation overlay. According to Ridge, this meant that the costumes then had to be recast in white, at significant cost. (This account has been disputed by Robson, who has asserted that Kari and Olvir's costumes had always been white.)
Production on Terminus began on September 28th, 1982, when model filming took place at BBC Television Centre Presentation Studio B. The next two days were spent at the Ealing Television Film Studios, working on the scenes in the ductwork. Shortly thereafter, it was discovered that episode one was underrunning, and Saward asked Gallagher to provide two new one-minute scenes. Unfortunately, Gallagher misinterpreted the request and instead extended several existing scenes to fill out two minutes' worth of material. Consequently, Gallagher's amendments were discarded.
The first studio session for Terminus took place in TC6 on October 11th and 12th. Sadly, the production continued to be plagued with problems. On the first day, a power failure resulted in a two-hour delay; when the crew was finally ready to go, Ridge discovered that one set had been erected off its marks, incurring a further stoppage. Then, Nathan-Turner was forced to call a halt to the recording of scenes involving the interior of the TARDIS console because the correct circuity was missing. This meant that Ridge had to record sequences on other sets which were not yet properly lit. Later, it was learned that neither of the drone robot props had been tested before being brought into the studio, and indeed only one of them was found to work correctly. Despite all of these disruptions, Ridge was able to complete almost all of the scenes set within the TARDIS and the adjoining liner corridor.
Sarah Sutton was disappointed with her final story, and could not understand the rationale for Nyssa removing her skirt
More troubles arose the next day. Visual effects designer Peter Pegrum was responsible for Kari and Olvir's helmets, but he had believed that these would only be carried, and never worn. When Liza Goddard and Dominic Guard donned the headgear, they quickly found that a lack of air holes meant that the helmets easily fogged up, and had to be modified. Later, one of the extras playing a Lazar accidentally grabbed at Janet Fielding's top during a scene, causing the actress to expose herself.
Ridge concentrated on material in the liner control room as well as various corridor sequences, but was unable to complete everything she had planned. For the first time in her prolific career, Ridge was appalled to realise that she would have to delay some scenes until the already-packed second studio block. This resulted in an increasingly tense atmosphere on set, with Davison incensed that the actors' performances were being given short shrift in the rush to record. Sarah Sutton, meanwhile, was very disappointed with her final story, and could not understand the rationale for Nyssa removing her skirt.
For the second studio session, spanning October 25th to 27th, Terminus moved to TC8. On the 25th, Ridge's team dealt with scenes in the receiving area, the stockyard and the elevator, alongside some of the material in the Terminus control room. The pilot had originally been dressed with cobwebs; Davison objected, observing that he was not meant to be dead but simply moving very slowly, and Ridge accordingly ordered them removed. Nyssa's farewell was amongst the sequences recorded on this day. Originally, she and the Doctor merely shook hands as they parted, but Davison and Sutton decided that the Doctor should kiss Nyssa on the cheek instead.
October 26th saw the recording of scenes in the recovery room, the Vanir headquarters, the equipment store and the Lazar ward, while material in the damaged area was left for the 27th. The sets for the Terminus control room and various corridors were used on both days. As time ticked away on the 27th, it looked as though an extra hour of recording time arranged by Nathan-Turner would permit Ridge to complete all the outstanding sequences. At the last minute, however, Nathan-Turner informed the director that she would not be able to have the additional hour after all, and a remount would be necessary.
At the last minute, Mary Ridge found out that she could not have the extra hour she needed to finish recording
Ridge was furious; the incident set a frost into her relationship with Nathan-Turner which would never completely thaw. Sutton was deeply disappointed by the development, because it meant that after dealing with the high emotion of leaving Doctor Who, she would now have to come back and complete her last serial at a later date. Davison was also very frustrated with Nathan-Turner, whose sour demeanour he blamed for casting a pall over Sutton's farewell party.
It was originally hoped that Terminus would be remounted during the making of the next story, Enlightenment. However, the production of Enlightenment was itself delayed until early 1983 because of the electricians' industrial action, and so Terminus ultimately reentered the studio on December 18th, partway through the making of The King's Demons. The remaining scenes in the TARDIS console room and corridor, as well as those in the liner control room, were finally completed in TC1; in the interim, the liner set had unfortunately been damaged in storage. Sadly, even the long-delayed end of its recording was not the last of the problems which faced Terminus. Following its broadcast in February 1983, the Doctor Who production office came under fire from several organisations involved in leprosy awareness who felt that Terminus promulgated archaic beliefs about the nature of the disease.
The end of the tumultuous production of Terminus also marked Sarah Sutton's final regular Doctor Who performance. After leaving the programme, Sutton made a handful of appearances in theatre, radio and television -- including episodes of Casualty and Unnatural Pursuits -- but largely withdrew from acting to raise her daughter, Hannah. She contributed cameo performances as Nyssa to Peter Davison's last serial, 1984's The Caves Of Androzani, and later to the thirtieth-anniversary special, Dimensions In Time, in 1993. Since 2000, Sutton has made regular appearances as Nyssa in Big Finish Productions' range of Doctor Who audio plays.
Terminus was also Stephen Gallagher's last Doctor Who story, although he submitted one further script idea, called "Nightmare Country" which was rejected for reasons of cost. Gallagher went on to write more than a dozen novels, including Oktober, The Boat House and The Kingdom Of Bones, as well as episodes of shows such as Bugs and Rosemary & Thyme. More recently, he has developed such television projects as Crusoe (for American television) and Eleventh Hour.
Doctor Who: The Handbook: The Fifth Doctor by David J Howe and Stephen James Walker (1995), Virgin Publishing, ISBN 0 426 20458 9.
Doctor Who: The Eighties by David J Howe, Mark Stammers and Stephen James Walker (1996), Virgin Publishing, ISBN 1 85227 680 0.
Doctor Who Magazine #291, 31st May 2000, "Archive: Terminus" by Andrew Pixley, Panini UK Ltd.
Doctor Who Magazine Special Edition #1, 2001, "Diamond Life" by Andrew Pixley, Panini Publishing Ltd.
In-Vision #66, July 1996, "Production" edited by Anthony Brown, Cybermark Services.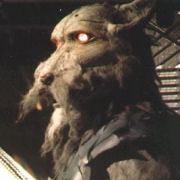 Original Transmission
Episode 1
Date
15th Feb 1983
Time
6.55pm
Duration
24'58"
Viewers

(more)

6.8m (86th)
Appreciation
65%
Episode 2
Date
16th Feb 1983
Time
6.46pm
Duration
24'40"
Viewers

(more)

7.5m (75th)
Appreciation
67%
Episode 3
Date
22nd Feb 1983
Time
6.55pm
Duration
24'39"
Viewers

(more)

6.5m (97th)
Appreciation
64%
Episode 4
Date
23rd Feb 1983
Time
6.46pm
Duration
24'49"
Viewers

(more)

7.4m (80th)
Appreciation
67%
---
Cast
The Doctor
Peter Davison
Nyssa
Sarah Sutton
Tegan
Janet Fielding
Turlough
Mark Strickson
Kari
Liza Goddard
Olvir
Dominic Guard
Black Guardian
Valentine Dyall
Inga
Rachael Weaver
Tannoy Voice
Martin Muncaster
Eirak
Martin Potter
Valgard
Andrew Burt
Sigurd
Tim Munro
Bor
Peter Benson
The Garm
RJ Bell
---
Crew
Written by
Steve Gallagher
Directed by
Mary Ridge
Produced by
John Nathan-Turner
Fight Arranger
John Waller
Incidental Music
Roger Limb
Special Sound
Dick Mills
BBC Radiophonic Workshop
Production Manager
Steve Goldie
Production Associate
June Collins
Production Assistant
Rena Butterwick
Assistant Floor Manager
Polly Davidson
Film Cameraman
Remi Adefarasin
Film Sound
Graham Hare
Film Editor
Frances Parker
Visual Effects Designer
Peter Pegrum
Video Effects
Dave Chapman
Technical Manager
Jeff Jeffery
Senior Cameraman
Alec Wheal
Vision Mixer
Carol Johnson
Mary Kellehar
Videotape Editor
Rod Waldron
Studio Lighting
Sam Barclay
Studio Sound
Scott Talbott
Costume Designer
Dee Robson
Make-up Artist
Joan Stribling
Script Editor
Eric Saward
Title Sequence
Sid Sutton
Designer
Dick Coles