Serial 6S:
The Twin Dilemma
The Doctor experiences serious regenerative instability, causing him to attack Peri and then decide to live as a hermit on the barren moon of Titan. There he stumbles upon a plot by his old friend, the Time Lord Azmael, who has kidnapped twin mathematical geniuses named Romulus and Remus. Azmael's adopted planet, Joconda, has been taken over by the sluglike Mestor and his Gastropods, forcing the Time Lord to do Mestor's bidding. But even Azmael is unaware of Mestor's true plan -- to destroy Joconda's sun, and thereby scatter Gastropod eggs throughout the galaxy.
Part of the motivation behind casting Colin Baker as the Sixth Doctor was to create as great a contrast with Peter Davison, the outgoing star of Doctor Who, as Davison had made with his own predecessor, Tom Baker. Over the summer of 1983, the primary concern of Doctor Who producer John Nathan-Turner and script editor Eric Saward -- not to mention Baker himself -- was the development of the new Doctor. It was agreed that Baker should adopt many of his own larger-than-life characteristics, diverging from the more subdued demeanour of Davison's Doctor.
It was also felt that Baker should emphasise the notion that, although the Doctor may look human, he is nonetheless an alien, with a different mindset to mankind. The Sixth Doctor would therefore be unpredictable, argumentative and boisterous, sometimes offering a worldview very much at odds with his companion's; he would solve problems with dizzying leaps of logic in the manner of Sherlock Holmes. Baker wanted to make viewers initially suspicious of his Doctor, but gradually earn their trust over the course of his tenure. Nathan-Turner aspired to craft a character similar to the aloof but ultimately reliable Mr Darcy in Jane Austen's 1813 novel Pride And Prejudice. It was also thought that the new Doctor should boast very florid dialogue, incorporating both a plethora of quotations -- both real and fictional -- and a penchant for obscure vernacular. (Baker hoped that the latter trait would encourage children to look up the words for themselves in a dictionary, thereby expanding their own vocabularies.)
Colin Baker wanted to make viewers initially suspicious of his Doctor, but gradually earn their trust
It was suggested that these defining mannerisms of the Sixth Doctor should be particularly accentuated in his debut serial, with his regeneration provoking manic and violent mood swings. Again, this was meant to provide a contrast with the Fifth Doctor, whose own introductory story -- Season Nineteen's Castrovalva -- saw him amnesiac, placid and vulnerable. However, it was agreed that this would be a challenging depiction to write, especially since Nathan-Turner and Saward had decided on the unusual move of giving Baker a full serial of his own at the end of Season Twenty-One, before the break in transmission. The portrayal of the Sixth Doctor in this adventure, then, would be the abiding impression in viewers' minds for nine months.
To this end, Nathan-Turner suggested recruiting veteran writer Anthony Steven, with whom he had worked on All Creatures Great And Small. Saward agreed to discuss the matter with Steven, although he and Nathan-Turner had very different impressions of the kind of script that Steven should write. Nathan-Turner wanted a straightforward adventure pitting the Doctor against a strong villain, while Saward felt that the new Doctor's personality would be better showcased in a more unusual storyline. This was just one of an increasing number of points of disagreement between the producer and his script editor, amongst them Saward's unhappiness with Baker's casting in the first place.
Originally a reporter, Steven had been writing for television since the Fifties. Much of his early work had concentrated on adaptations of classic novels such as The Three Musketeers and The Man In The Iron Mask, but Steven had also contributed many original scripts, including episodes of The Prime Of Miss Jean Brodie and Dr Finlay's Casebook, in addition to All Creatures Great And Small. Steven was interested in trying his hand at Doctor Who, and on July 19th, submitted a storyline entitled "A Stitch In Time".
Nathan-Turner and Saward decided to proceed forward with the development of Steven's serial, and on August 2nd he was commissioned for the script to episode one; the title had now been amended to "A Switch In Time". The remaining installments were contracted on August 24th, by which time the title had changed again, to The Twin Dilemma. The character of Azmael was inserted into the story at the prompting of unofficial fan adviser Ian Levine, who had suggested that the Doctor should meet his old mentor, referred to in The Time Monster and State Of Decay. Unfortunately, Steven misunderstood the nature of the Doctor's relationship with the character, and made Azmael a tutor at the Prydonian Academy instead.
Anthony Steven's slow progress was apparently because his typewriter had "literally exploded"
During the autumn, Steven's progress on The Twin Dilemma slowed to a crawl. To the mystification of the production team, he began explaining away his problems with increasingly bizarre excuses -- most famously, a claim that his typewriter had "literally exploded"! To make matters worse, The Twin Dilemma did not meet the approval of its assigned director, Peter Moffat, who had most recently helmed the twentieth-anniversary special The Five Doctors. Moffat implored Saward to intervene, pointing out a number of concerns of both a storytelling and logistical nature. By now, however, Steven had fallen badly ill, and could not continue working on the serial. The Twin Dilemma would be his only contribution to Doctor Who; Steven died in May 1990.
Left with no other choice, Saward took on the task of heavily revising The Twin Dilemma himself. He restructured the climax of the adventure, shifting it from space back to Joconda and beefing up Mestor's role. He also excised the suggestion that Mestor was in fact possessed by an extraterrestrial intelligence called Aslan. The Chamberlain was originally female, while Commander Fabian (apparently an homage to the Fifties crime drama Fabian Of Scotland Yard) was male, and merely a general. Azmael, meanwhile, was a reference to the fallen angel Azazel, while Remus and Romulus Sylvest were named after the legendary founders of Rome.
While the scripts for The Twin Dilemma were slowly hammered into shape, other elements of the new era of Doctor Who were falling into place. Having been contracted for the final five episodes of Season Twenty-One on September 30th, Baker's services for Season Twenty-Two were secured on October 4th. This contract also included an option for three additional years: Nathan-Turner was keen to avoid the brevity of Davison's tenure, while Baker -- long an enthusiastic fan of Doctor Who -- was in fact eager to eclipse Tom Baker's record seven seasons on the show.
Colin Baker preferred a black velvet outfit, but John Nathan-Turner vetoed this as too similar to the Master
The new star and his producer were less like-minded on the topic of the Sixth Doctor's costume. Baker preferred a black velvet outfit, but Nathan-Turner vetoed this on the grounds that it was too similar to the Master's usual dress. Instead, the producer wanted something totally tasteless to replace Davison's understated cricketing garb, and costume designer Pat Godfrey had to go back to the drawing board several times before finally devising something which Nathan-Turner felt was sufficiently garish. Godfrey was instructed to omit the colour blue from his pallet (since this would interfere with special effects shots using the Colour Separation Overlay technique), and was asked to retain the question-mark collars that Nathan-Turner had introduced in 1980. For his part, Baker decided to add a cat badge to the ensemble, which he would often swap out; this was inspired by "The Cat That Walked By Himself", from Rudyard Kipling's 1902 anthology Just So Stories. Baker was otherwise reluctant to embrace Nathan-Turner's chosen design; indeed, years later, the producer admitted that the costume had been a mistake, and worked against the show.
Disaster nearly struck The Twin Dilemma in December, when a strike by the BBC's scenery shifters crippled Davison's farewell adventure, The Caves Of Androzani. One of the serial's two studio sessions was lost as a result, leaving Nathan-Turner no choice but to reallocate the first studio block for The Twin Dilemma, from January 10th to 12th, 1984, to the Fifth Doctor's swansong. One year earlier, a similar set of circumstances had caused the loss of the Season Twenty finale (eventually made as Resurrection Of The Daleks for Season Twenty-One). Fortunately, this time, Nathan-Turner was able to secure a new studio session for The Twin Dilemma, successfully arguing to his superiors about the importance of the new Doctor's introductory adventure.
Despite the postponement of production on his debut story, Colin Baker and his outlandish new costume were still unveiled to the press on January 10th. Despite Baker's ebullience, this was in fact a tragic time for his family: some weeks earlier, his two-month-old son Jack had fallen victim to Sudden Infant Death Syndrome (SIDS). Baker would go on to make the cause of SIDS research and awareness an important part of his life's work.
Peter Moffatt believed he had located twin girls who would be suitable to play the Sylvests, but John Nathan-Turner was opposed to the change of gender
As production neared on The Twin Dilemma -- now designated Serial 6S -- Moffatt found himself bedeviled with the difficulty of casting identical twin teenaged boys as Remus and Romulus Sylvest. At one point, Moffatt believed that he had located twin girls who would be suitable, but Nathan-Turner was opposed to the change of gender. At the last minute, Moffatt was approached by an agent representing Andrew and Gavin Conrad (the latter going by the stage name "Paul" to avoid confusion with another actor named Gavin Conrad). Moffatt was unimpressed by the boys' acting ability and lack of experience, but reluctantly hired them all the same.
Due to the delay incurred by the industrial action, recording for The Twin Dilemma began with what was originally to have been its second three-day block, from January 24th to 26th in BBC Television Centre Studio 8. The first two days dealt with scenes in the TARDIS and in the Titan Three safe house; also recorded on the 24th was material on "Edgeworth's" spacecraft (during which Colin Baker provided the voice of Jaconda Control), with the ducting set in use on the 25th. The last day of the block tackled more scenes on the spaceship, as well as those in the Sylvest twins' playroom and the ops room.
Two days of location filming were allocated to The Twin Dilemma. On February 7th, Springwell Quarry in Rickmansworth, Hertfordshire posed as the surface of Titan Three, while the next day, exterior scenes on Joconda were shot at Gerrards Cross Gravel Pits in Wapseys Wood, Buckinghamshire. By now, Baker and Nicola Bryant were beginning to warm up to each other after a frosty start to their relationship: Bryant had been nervous about suddenly becoming the senior member of the regular cast, and Baker had mistaken this for standoffishness on her part.
The rescheduled studio session for Serial 6S took place from February 14th to 16th in TC3. Taping took place on the sets for Mestor's throne room and various corridors on all three days, while Azmael's lab was also needed on the 14th and 15th. The TARDIS console room was once again required for the final day of recording, which drew the production of Season Twenty-One to a close.
In Sid Sutton's new title sequence, two images of Colin Baker were used to make the Doctor appear to smile
There was still work to be done before the new Doctor could make his televised debut, however. Most notably, a revised version of the credit sequence was required and this was assembled by Sid Sutton, who had introduced the "starfield" sequence for Tom Baker's final season in 1980. This time, he worked with Terry Handley to add a rainbow effect to the graphics, and used two images of Baker to make the new Doctor appear to smile. Sutton also revised the neon logo, changing the colour and slightly distorting its flat shape.
Heralded by this amended title sequence, viewers enjoyed their first full Sixth Doctor episode on March 22nd. Eight days later, on March 30th, the final installment of The Twin Dilemma brought Doctor Who's twenty-first season to a close.
Doctor Who: The Handbook: The Sixth Doctor by David J Howe, Mark Stammers and Stephen James Walker (1993), Virgin Publishing, ISBN 0 426 20400 8.
Doctor Who: The Eighties by David J Howe, Mark Stammers and Stephen James Walker (1996), Virgin Publishing, ISBN 1 85227 680 0.
Doctor Who Magazine #270, 21st October 1998, "Archive: The Twin Dilemma" by Andrew Pixley, Marvel Comics UK Ltd.
Doctor Who Magazine Special Edition #3, 22nd January 2003, "Doctor! Doctor!" by Andrew Pixley, Panini Publishing Ltd.
In-Vision #77, April 1998, "Production" edited by Anthony Brown, Cybermark Services.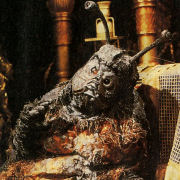 Original Transmission
Episode 1
Date
22nd Mar 1984
Time
6.41pm
Duration
24'42"
Viewers

(more)

7.6m (66th)
Appreciation
61%
Episode 2
Date
23rd Mar 1984
Time
6.41pm
Duration
25'09"
Viewers

(more)

7.4m (71st)
Appreciation
66%
Episode 3
Date
29th Mar 1984
Time
6.41pm
Duration
24'27"
Viewers

(more)

7.0m (59th)
Appreciation
59%
Episode 4
Date
30th Mar 1984
Time
6.43pm
Duration
25'04"
Viewers

(more)

6.3m (67th)
Appreciation
67%
---
Cast
The Doctor
Colin Baker
Peri
Nicola Bryant
Edgeworth
Maurice Denham
Hugo Lang
Kevin McNally
Mestor
Edwin Richfield
Sylvest
Dennis Chinnery
Noma
Barry Stanton
Drak
Oliver Smith
Fabian
Helen Blatch
Elena
Dione Inman
Romulus
Gavin Conrad
Remus
Andrew Conrad
Chamberlain
Seymour Green
Prisoner
Roger Nott
Jocondan Guard
John Wilson
---
Crew
Written by
Anthony Steven
Directed by
Peter Moffatt
Produced by
John Nathan-Turner
Title Music Composed by
Ron Grainer
Incidental Music
Malcolm Clarke
Special Sound
Dick Mills
BBC Radiophonic Workshop
Production Manager
Michael A Treen
Production Associate
June Collins
Production Assistant
Christine Fawcett
Assistant Floor Managers
Stephen Jeffery-Poulter
Beth Millward
Film Cameramen
John Baker
John Walker
Film Sound
Malcolm Campbell
Film Editor
Ian McKendrick
Visual Effects Designer
Stuart Brisdon
Video Effects
Dave Chapman
Vision Mixer
Dinah Long
Technical Co-ordinator
Alan Arbuthnott
Camera Supervisor
Alec Wheal
Videotape Editor
Hugh Parson
Lighting Director
Don Babbage
Studio Sound
Scott Talbott
Costume Designer
Pat Godfrey
Make-up Designer
Denise Baron
Script Editor
Eric Saward
Title Sequence
Sid Sutton
Terry Handley
Designer
Valerie Warrender
---
Working Titles
A Stitch In Time
A Switch In Time