Torchwood Episode 5:
Small Worlds
In a neighbourhood near an ancient Cardiff wood, strange forces are at work. A paedophile is suffocated by rose petals. School bullies are assailed by strange winds. Ethereal laughter follows a lonely young girl. And Jack must confront the seemingly magical creatures whose very existence seems to be intertwined with his own.
Peter J (PJ) Hammond had enjoyed a career in television spanning more than four decades, writing for everything from Z Cars, Thirty Minute Theatre and Emmerdale Farm to The Bill, Doctor Finlay and Midsomer Murders. He had gained perhaps his greatest acclaim -- at least amongst the science-fantasy set -- with Sapphire And Steel, a high-concept series which debuted in 1979 and starred Joanna Lumley and David McCallum. Subsequently, Hammond wrote "Paradise Five", a discarded entry into the sprawling The Trial Of A Time Lord story which made up Doctor Who's tumultuous twenty-third season in 1986.
Hammond was finally given the opportunity to have a Doctor Who-related script make it to screen when he was commissioned to write Small Worlds for Torchwood. The episode took some of its inspiration from the story of Frances Griffiths and Elsie Wright, teenaged cousins dwelling at Cottingley, in Bradford, Yorkshire who claimed to have captured five photographs of fairies between 1917 and 1920. The images were so convincing at the time that drew adherents including Sir Arthur Conan Doyle, creator of Sherlock Holmes, and Harold Snelling, then a foremost expert in photographic forgeries. Shortly before their deaths in the mid-Eighties, Griffiths and Wright admitted that most of the pictures had in fact been faked, although Griffiths remained adamant that the cousins had seen fairies and that one of the photos was genuine. The tale of the Cottingley Fairies endures as one of the most intriguing examples of twentieth-century British folklore.
Small Worlds joined Out Of Time as part of Torchwood's fourth recording block. The director was Alice Troughton, whose prior credits included Doctors, Holby City and EastEnders.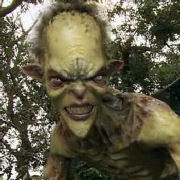 Original Transmission

| | |
| --- | --- |
| | |
| Date | 12th Nov 2006 |
| Time | 10.00pm |
| Duration | 46'43" |
| · BBC3 | 1.3m |
| · BBC2 | 2.4m |
| Appreciation | 85% |
---
Cast
Captain Jack Harkness
John Barrowman
Gwen Cooper
Eve Myles
Owen Harper
Burn Gorman
Toshiko Sato
Naoko Mori
Ianto Jones
Gareth David-Lloyd
Estelle
Eve Pearce
Jasmine
Lara Phillipart
Lynn
Adrienne O'Sullivan
Roy
William Travis
Goodson
Roger Barclay
Kate
Heledd Baskerville
WPC
Ffion Wilkins
Custody Sergeant
Nathan Sussex
Man In Street
Paul Jones
Bullies
Sophie Davies
Victoria Gourley
---
Crew
Written by
Peter J Hammond
Directed by
Alice Troughton
Produced by
Richard Stokes
Created by
Russell T Davies
Co-Producer
Chris Chibnall
1st Assistant Director
Nick Rae
2nd Assistant Director
Lynsey Muir
Location Manager
Paul Davies
Production Co-ordinator
Carmelina Palumbo
Continuity
Suzannah Binding
Script Editor
Brian Minchin
Camera Operator
Jenny Budd
Gaffer
Mickey Reeves
Chief Super Art Director
Stephen Nicholas
Supervising Art Director
Keith Dunne
Art Dept Prod Manager
Jonathan Allison
Standby Art Director
Jon Howes
Designer
Penny Harvey
Construction Manager
Matthew Hywel-Davies
Graphics
BBC Wales Graphic Design
3D Artists
Jean-Claude Deguara
Nicolas Hernandez
Costume Supervisor
Bobby Peach
Make-Up Supervisor
Claire Pritchard
Assistant Editor
Matt Mullins
Post Prod Supervisors
Helen Vallis
Chris Blatchford
Colourist
Mick Vincent
Dubbing Mixer
Tim Ricketts
Supervising Sound Editor
Doug Sinclair
Casting Director
Andy Pryor CDG
Production Accountant
Ceri Tothill
Sound Recordist
Dave Baumber
Costume Designer
Ray Holman
Make-Up Designer
Marie Doris
Music
Murray Gold
Ben Foster
Visual Effects
The Mill
Special Effects
Any Effects
Production Manager
Catrin Lewis Defis
Editor
Bobby Sheikh
Production Designer
Edward Thomas
Director of Photography
Ray Orton
Associate Producer
Terry Reeve
Production Executive
Julie Scott
Assistant Producer
Sophie Fante
Executive Producers
Russell T Davies
Julie Gardner