Torchwood Episode 6:
Countrycide
People have been disappearing without a trace in rural Wales, and the Torchwood team becomes worried that the Rift has widened, spreading alien activity across the countryside. Investigating, they find a village seemingly deserted -- leaving behind only bodies, stripped of their flesh. But are the murderers really extraterrestrial in origin, or is this a peculiarly human form of horror?
The third of Torchwood head writer Chris Chibnall's four scripts for the season, Countrycide was directed by Andy Goddard. Goddard's other credits included episodes of Stacey Stone, Twisted Tales and Hex; he directed Countrycide alongside Combat. The story was largely designed to further the relationship between Gwen and Owen, which Chibnall had introduced in Cyberwoman. Some debate arose during post-production over the climactic scene of Jack shooting the villagers. Goddard filmed Jack as being very emotional, while executive producers Russell T Davies and Julie Gardner had anticipated a more grimly silent version of the scene. A compromise was eventually reached by editing much of the sequence in slow-motion.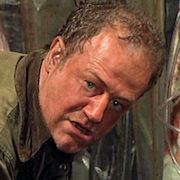 Original Transmission

| | |
| --- | --- |
| | |
| Date | 19th Nov 2006 |
| Time | 10.00pm |
| Duration | 46'50" |
| · BBC3 | 1.2m |
| · BBC2 | 2.3m |
| Appreciation | 83% |
---
Cast
Captain Jack Harkness
John Barrowman
Gwen Cooper
Eve Myles
Owen Harper
Burn Gorman
Toshiko Sato
Naoko Mori
Ianto Jones
Gareth David-Lloyd
Rhys Williams
Kai Owen
Evan Sherman
Owen Teale
Helen Sherman
Maxine Evans
Kieran
Calum Callaghan
Huw
Rhys op Trefor
Ellie
Emily Bowker
Martin
Robert Barton
---
Crew
Written by
Chris Chibnall
Directed by
Andy Goddard
Produced by
Richard Stokes
Created by
Russell T Davies
Co-Producer
Chris Chibnall
1st Assistant Director
Jon Williams
2nd Assistant Director
James DeHaviland
3rd Assistant Director
Rhian Salisbury
Runners
Glen Coxon
Llywarch Davies
Joney Lyons
Location Manager
Paul Davies
Unit Manager
Geraint Havard Jones
Production Co-ordinator
Carmelina Palumbo
Production Secretary
Margarita Felices
Script Secretaries
Helen Pugsley
Claire Thomas
Contracts Assistant
Beth Britton
Continuity
Llinos Wyn Jones
Script Editor
Brian Minchin
Camera Operator
Richard Mahoney
Focus Puller
Alwyn Hughes
Camera Assistant
Steve Davies
Grip
Dai Hopkins
Boom Operator
Tam Shoring
Gaffer
George Vince
Best Boy
Suzanne Sanders
Stunt Co-ordinator
Tom Lucy
Chief Super Art Director
Stephen Nicholas
Supervising Art Director
Keith Dunne
Art Dept Prod Manager
Jonathan Allison
Art Dept Ops Manager
Adrian Anscombe
Art Dept Co-ordinator
Matthew North
Standby Art Director
Dafydd Shurmer
Standby Props
Andy Harris
Standby Carpenter
Will Pope
Standby Rigger
Keith Freeman
Designer
Kay Brown
Property Master
Stuart Woodisse
Production Buyer
Zoe Hewett
Props Chargehand
Dewi Thomas
Props Fabrication Mngr
Barry Jones
Specialist Props Maker
Mark Cordory
Props Maker
Nick Robatto
Construction Manager
Matthew Hywel-Davies
Construction Chargehand
Scott Fisher
Graphics
BBC Wales Graphic Design
Costume Supervisor
Charlotte Mitchell
Make-Up Supervisor
Claire Pritchard
Make-Up Artists
Sarah Astley-Hughes
Kate Roberts
Casting Associate
Andy Brierley
Assistant Editor
Matt Mullins
Post Prod Supervisors
Helen Vallis
Chris Blatchford
Post Prod Co-ordinator
Marie Brown
On-Line Editor
Matthew Clarke
Colourist
Mick Vincent
Dubbing Mixer
Tim Ricketts
Supervising Sound Editor
Doug Sinclair
Sound Editor
Paul McFadden
Sound Effects Editor
Howard Eaves
Casting Director
Andy Pryor CDG
Production Accountant
Ceri Tothill
Sound Recordists
Dave Baumber
Jeff Matthews
Costume Designer
Ray Holman
Make-Up Designer
Marie Doris
Music
Murray Gold
Ben Foster
Special Effects
Any Effects
Prosthetics
Neill Gorton
Rob Mayor &
Millennium Effects
Production Manager
Marcus Prince
Editor
Richard Cox
Production Designer
Edward Thomas
Director of Photography
Mark Waters
Associate Producer
Terry Reeve
Production Executive
Julie Scott
Assistant Producer
Sophie Fante
Executive Producers
Russell T Davies
Julie Gardner