Torchwood Episode 8:
They Keep Killing Suzie
When a serial killer begins writing the word "Torchwood" in his victims' blood, Jack reluctantly agrees to let Gwen use the resurrection glove which had been the undoing of Suzie Costello. Soon, the words of the dead lead Torchwood to believe that the slayings are connected to Suzie herself. Jack is faced with the grim prospect of allowing the glove to be used one more time -- to revive his former friend and betrayer.
Executive producer Russell T Davies had always intended to leave the door open for Indira Varma to return to Torchwood and reprise the role of Suzie Costello, which she had originated in the series premiere, Everything Changes. The vehicle for Varma's second appearance on the programme was They Keep Killing Suzie -- initially referred to in press items as simply "They Keep Killing" in order to preserve the dual surprises of Suzie's death at the end of Everything Changes and her resurrection in this episode.
They Keep Killing Suzie was scripted by the neophyte writing team of Paul Tomalin and Daniel McCulloch. Tomalin and McCulloch were recommended to Davies by Shameless creator Paul Abbott (who had briefly been one of the scheduled contributors to the first season of the new Doctor Who series). Originally, They Keep Killing Suzie was intended to be an "overcommission" episode -- meaning that it would be used only in case of emergency, and otherwise would be held back until a hypothetical second season or abandoned altogether -- but Tomalin and McCulloch so impressed Davies that he decided to send it into production. The reference to the existence of a second resurrection glove, however, was Davies' own addition to the script.
The director of They Keep Killing Suzie was James Strong. It was made as part of the same recording block -- the third of the Torchwood season -- as Cyberwoman. They Keep Killing Suzie had to be quickly inserted into the production order in order to ensure Varma's availability, as the actress was shortly due to leave for the United States where she had accepted a starring role on the medical drama 3 lbs.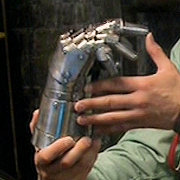 Original Transmission

| | |
| --- | --- |
| | |
| Date | 3rd Dec 2006 |
| Time | 10.00pm |
| Duration | 52'43" |
| · BBC3 | 1.1m |
| · BBC2 | 1.9m |
| Appreciation | 85% |
---
Cast
Captain Jack Harkness
John Barrowman
Gwen Cooper
Eve Myles
Owen Harper
Burn Gorman
Toshiko Sato
Naoko Mori
Ianto Jones
Gareth David-Lloyd
Suzie
Indira Varma
Swanson
Yasmin Bannerman
Alex Arwyn
Daniel Llewellyn-Williams
Mark Brisco
Gary Pillai
Max
Shend
Suzie's Father
Badi Uzzaman
---
Crew
Written by
Paul Tomalin &
Daniel McCulloch
Directed by
James Strong
Produced by
Richard Stokes
Created by
Russell T Davies
Co-Producer
Chris Chibnall
1st Assistant Director
Nick Brown
2nd Assistant Director
Guy de Glanville
3rd Assistant Director
Rhian Salisbury
Runners
Glen Coxon
Llywarch Davies
Location Manager
Paul Davies
Location Scouts
Nicky James
Christian Reynish
Unit Manager
Geraint Havard Jones
Production Co-ordinator
Carmelina Palumbo
Asst Prod Co-ordinator
Kate Powell
Production Secretary
Margarita Felices
Script Secretaries
Helen Pugsley
Claire Thomas
Accounts Assistants
Debi Griffiths
Beth Britton
Kath Blackman
Continuity
Llinos Wyn Jones
Script Editor
Brian Minchin
Camera Operator
Gareth Hughes
Focus Puller
Duncan Fowlie
Camera Assistant
Mani Blaxter Paliwala
Grip
Dai Hopkins
Boom Operator
Jeff Welch
Gaffer
Dave Fowler
Best Boy
Steve Slocombe
Stunt Co-ordinator
Tom Lucy
Chief Super Art Director
Stephen Nicholas
Supervising Art Director
Keith Dunne
Art Dep Prod Manager
Jonathan Marquand Allison
Art Dep Op Manager
Adrian Anscombe
Associate Designer
Matthew Savage
Art Dep Co-ordinator
Matthew North
Design Assistants
Ben Austin
Al Roberts
Standby Art Director
Dafydd Shurmer
Standby Props
Brian Patrick Henry
Standby Carpenter
Will Pope
Standby Rigger
Keith Freeman
Concept Artists
Ian Bunting
Peter McKinstry
Designer
Julian Luxton
Property Master
Nick Thomas
Production Buyer
Ben Morris
Props Storeman
Charlie Malik
Specialist Props Maker
Mark Cordory
Props Maker
Penny Howarth
Construction Manager
Matthew Hywel-Davies
Construction Chargehand
Scott Fisher
Graphics
BBC Wales Graphic Design
Costume Supervisor
Charlotte Mitchell
Costume Assistants
Bobby Peach
Sarah Morgan
Make-Up Supervisor
Claire Pritchard
Make-Up Artists
Sarah Astley-Hughes
Kate Roberts
Casting Associate
Andy Brierley
Assistant Editor
Matt Mullins
Post Prod Supervisors
Helen Vallis
Chris Blatchford
Post Prod Co-ordinator
Marie Brown
On Line Editor
Matthew Clarke
Colourist
Mick Vincent
Dubbing Mixer
Tom Ricketts
Supervising Sound Editor
Doug Sinclair
Sound Editor
Paul McFadden
Sound FX Editor
Howard Eaves
Senior Prod Accountant
Endaf Emyr Williams
Casting Director
Andy Pryor CDG
Production Accountant
Ceri Tothill
Sound Recordist
Jeff Matthews
Costume Designer
Ray Holman
Make-Up Designer
Marie Doris
Music
Murray Gold
Ben Foster
Visual Effects
The Mill
Visual Effects Producers
Will Cohen
Marie Jones
Visual FX Supervisor
Dave Houghton
On-Set Visual FX Supervisor
Barney Curnow
Prosthetics
Neill Gorton &
Millennium Effects
Production Managers
Debbi Slater
Marcus Prince
Editor
Mike Jones
Production Designer
Edward Thomas
Director of Photography
Mark Waters
Associate Producer
Terry Reeve
Production Executive
Julie Scott
Assistant Producer
Sophie Fante
Executive Producers
Russell T Davies
Julie Gardner