Torchwood Episode 9:
Random Shoes
A twentysomething UFO spotter named Eugene Jones awakens to discover that he's dead -- the apparent victim of a hit-and-run accident -- and invisible to the living. His recent past a mystery to himself, Eugene is desperate to uncover the events which led up to his demise. But he's not the only one: Gwen Cooper has also become absorbed by Eugene's strange case, and stands as the dead man's only hope.
Originally announced as "Invisible Eugene", Random Shoes was written by Jacquetta May. Although primarily an actress on series such as EastEnders, May had also written for New Tricks and Where The Heart Is. The director was James Erskine, who had earned credits on Holby City, 7/7: Attack On London and the film EMR; unlike the other episodes of the season (which were filmed in pairs), Random Shoes was the only installment handled by Erskine.
The week after Random Shoes aired, on December 12th, 2006, it was announced that Torchwood had been renewed for a second season to air in the autumn of 2007. With the success of the original slate episodes, the programme would be receiving a promotion from the digital arena of BBC3 to the terrestrial environs of BBC2.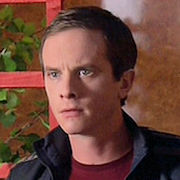 Original Transmission

| | |
| --- | --- |
| | |
| Date | 10th Dec 2006 |
| Time | 10.00pm |
| Duration | 49'14" |
| · BBC3 | 1.1m |
| · BBC2 | 2.3m |
| Appreciation | 83% |
---
Cast
Captain Jack Harkness
John Barrowman
Gwen Cooper
Eve Myles
Owen Harper
Burn Gorman
Toshiko Sato
Naoko Mori
Ianto Jones
Gareth David-Lloyd
Eugene
Paul Chequer
Young Eugene
Luke Bromley
Bronwen Jones
Nicola Duffett
Mr Garrett
Roger Ashton-Griffiths
Josh
Steven Meo
Gary
Celyn Jones
Linda
Robyn Isaac
Shaun Jones
Gareth Potter
Terry Jones
Joshua Hughes
Waitress
Amy Starling
Café Owner
Leroy Liburd
Pete
Ryan Chappell
---
Crew
Written by
Jacquetta May
Directed by
James Erskine
Produced by
Richard Stokes
Sophie Fante
Created by
Russell T Davies
Co-Producer
Chris Chibnall
1st Assistant Directors
Nael Abbas
Dae Arwyn Jones
2nd Assistant Director
Daniella Bowen
3rd Assistant Director
Rhian Salisbury
Nick Britz
Location Manager
Paul Davies
Unit Manager
Geraint Havard Jones
Location Scout
Iwan Roberts
Runners
Joney Lyons
Michael Green
Production Co-ordinator
Carmelina Palumbo
Asst Prod Co-ordinator
Kate Powell
Production Secretary
Margarita Felices
Script Secretaries
Helen Pugsley
Claire Thomas
Accounts Assistants
Debi Griffiths
Kath Blackman
Continuity
Sally Hope
Script Editor
Brian Minchin
Camera Operator
James Moss
Focus Puller
Chris Reynolds
Camera Assistant
Gareth Coop
Grip
Dave Logan
Boom Operator
James Drummond
Gaffer
George Vince
Best Boy
Suzanne Sanders
Stunt Co-ordinator
Roderick P Woodruff
Chief Super Art Director
Stephen Nicholas
Supervising Art Director
Keith Dunne
Art Dep Prod Manager
Jonathan Allison
Art Dep Op Manager
Adrian Anscombe
Art Dep Co-ordinator
Matthew North
Standby Art Director
Cathy Featherstone
Standby Props
Matt Bacon
Keith Pitt
Standby Carpenter
Gareth Thomas
Standby Rigger
Neil Ruck
Concept Painter
Clive Clarke
Designer
Penny Harvey
Property Master
Stuart Wooddisse
Production Buyer
Catherine Samuel
Props Chargehand
Dewi Thomas
Props Fab Manager
Barry Jones
Construction Manager
Matthew Hywel-Davies
Construction Chargehand
Scott Fisher
Graphics
BBC Wales Graphic Design
Costume Supervisor
Charlotte Mitchell
Costume Assistants
Dan Summerville
Maxine Brown
Make-Up Supervisors
Claire Pritchard
Sarah Astley-Hughes
Make-Up Artists
Hayley Watkins
Ellen Rhian
Anwen Hughes
Vicky Owen
Casting Associate
Andy Brierley
Assistant Editor
Matt Mullins
Post Prod Supervisors
Helen Vallis
Chris Blatchford
Post Prod Co-ordinator
Marie Brown
On Line Editors
Jon Everett
Matthew Clarke
Colourist
Mick Vincent
Dubbing Mixer
Tom Ricketts
Sound Editor
Paul McFadden
Super Sound Editor
Doug Sinclair
Sound FX Editor
Howard Eaves
Casting Director
Andy Pryor CDG
Production Accountant
Ceri Tothill
Sound Recordist
Jeff Matthews
Costume Designer
Ray Holman
Make-Up Designer
Marie Doris
Music
Murray Gold
Ben Foster
Visual Effects
The Mill
Vis Effects Producers
Will Cohen
Marie Jones
Vis Effects Supervisor
Dave Houghton
On-Set Vis FX Super
Barney Curnow
Special Effects
Any Effects
Editor
Phil Hookway
Production Designer
Edward Thomas
Director of Photography
Simon Butcher
Associate Producer
Terry Reeve
Production Executive
Julie Scott
Executive Producers
Russell T Davies
Julie Gardner
---
Working Titles
Invisible Eugene