K·9 And Company
A Girl's Best Friend
Sarah Jane Smith arrives at the home of her Aunt Lavinia in the cozy village of Moreton Harwood, only to find that Lavinia is nowhere to be found. A second surprise is also waiting for Sarah: K·9 Mark III, a gift left for her by her old friend, the Doctor. With the help of K·9 and Lavinia's young ward, Brendan Richards, Sarah Jane starts investigating her aunt's disappearance. In the process, they discover that Moreton Harwood is home to a coven worshipping the pagan god Hecate... and Brendan is next on their list of sacrificial victims.
The robot dog known as K·9 was devised by writers Bob Baker and Dave Martin for their 1977 Doctor Who serial The Invisible Enemy. Then-producer Graham Williams saw the appeal of Baker and Martin's creation -- especially to the programme's juvenile audience -- and decided to retain K·9 as a regular character. K·9 became a mainstay of Doctor Who for the next three years.
On June 7th, 1980, however, it was revealed that K·9 would be written out of Doctor Who partway through the show's eighteenth season. New producer John Nathan-Turner had decided to drop the character because he felt that K·9 was excessively jokey, and served as an overly convenient plot device whose presence helped make the Doctor too invulnerable. Immediately, however, there was a public outcry from the programme's fans, with newspapers such as the Sun campaigning to "save" K·9.
After the public outcry over K·9's departure, John Nathan-Turner considered the possibility of a spin-off series
The attention gave Nathan-Turner reason to rethink K·9's future. Although he was still determined that the character should be removed from Doctor Who -- an event which ultimately came to pass in 1981's Warriors' Gate -- Nathan-Turner began considering the possibility of developing a spin-off series which would feature the robot dog. Doctor Who's nineteenth season was planned to run for twenty-eight episodes, but around the start of 1981, Nathan-Turner obtained permission to use the budget for two of these episodes to fund a pilot for his proposed spin-off. Nathan-Turner announced his intentions on January 16th, by which time John Leeson -- who had voiced K·9 during Doctor Who's fifteenth, sixteenth and eighteenth seasons -- had agreed to participate in the project.
Despite K·9's popularity, Nathan-Turner did not think that the metal dog could carry a programme by himself. During the summer of 1980, he had considered bringing a former companion back to Doctor Who, and engaged in discussions about the return of both Sarah Jane Smith and Leela. He now felt that Sarah Jane -- whose last Doctor Who appearance had been in 1976's The Hand Of Fear -- would be an ideal counterpart for K·9 in the new series. The programme thus obtained the working title of Sarah And K·9.
On April 29th, Nathan-Turner prepared a treatment for the pilot episode under the new title of One Girl And Her Dog. He now envisaged the show as harkening back to the fantasy-adventure spirit of the Sixties programme The Avengers. Nathan-Turner's proposal saw Sarah retiring from journalism to write cooking books in Moreton Harwood (at this point spelt "Morton Harwood"). Aunt Lavinia leaves her ward, Brendan, with Sarah Jane before departing for America. Sarah brings K·9 with her to the village, having discovered his crate while preparing to move. During the subsequent investigations into a black magic cult, however, it would transpire that this K·9 was actually despatched as a trap by the Doctor's Time Lord archfoe, the Master (who had recently been revived after an absence of several years in the Doctor Who serial The Keeper Of Traken). Fortunately, Brendan is able to reprogram K·9 before he can fulfill his sinister mission.
Nathan-Turner then worked on revising his storyline in conjunction with outgoing Doctor Who script editor Antony Root; the new version was issued on May 1st. The notion of K·9 initially being evil was scrapped, and Sarah was now moving to Moreton Harwood to write a novel, having recently lost her newspaper job due to a merger. It was also suggested that Sarah Jane had newly acquired some martial arts skills. The title changed again, to A Girl's Best Friend. Later in May, the storyline was passed along to Terence Dudley, who was commissioned to script the pilot. Dudley was a veteran screenwriter who had recently completed Four To Doomsday and Black Orchid for Doctor Who's nineteenth season.
On May 12th, Elisabeth Sladen agreed to reprise the character of Sarah Jane Smith
On May 12th, Elisabeth Sladen agreed to reprise the character of Sarah Jane Smith in A Girl's Best Friend. At this point, the plan was for a ninety-minute pilot to air at Christmas, and possibly lead to a season of six fifty-minute episodes in the autumn of 1982. (It was intended that Sarah Jane and K·9 would appear in each of these episodes, supported by Brendan or Aunt Lavinia depending on the needs of the plot.) Nathan-Turner wanted to record the pilot during June and July, when production of Doctor Who's nineteenth season would be paused to permit star Peter Davison to make the second season of his sitcom Sink Or Swim. However, Sladen was not available on these dates due to her commitments to the classics serial Gulliver In Lilliput. This forced the taping of A Girl's Best Friend to be postponed until November.
One of the main proponents of A Girl's Best Friend within the BBC was Head of Drama Shaun Sutton. During the summer, however, Sutton was succeeded by David Reid, who was less impressed with the pilot episode. Reid felt that the plot did not merit a ninety-minute timeslot and ordered that it be cut to fifty minutes. Meanwhile, around September, the title changed again. It now became K·9 And Company, due to the BBC's insistence that K·9 be featured prominently in the name of the programme. A Girl's Best Friend was retained as the title of the pilot episode specifically. Around this time, Dudley's relationship with Eric Saward -- who had replaced Root as script editor -- became strained due to the number of changes Saward was making to A Girl's Best Friend. Dudley finally went over Saward's head to Nathan-Turner, a move which antagonised the script editor.
To compose the theme music for K·9 And Company, Nathan-Turner approached Ian Levine. Levine was a successful record producer, and also an ardent Doctor Who fan who was assisting the production team in an unofficial capacity as an advisor on Doctor Who continuity. Levine and Nathan-Turner were both keen to develop a kinetic American-style theme tune, and this was conveyed to Levine's songwriting partner, Fiachra Trench, who was asked to arrange Levine's composition. Trench worked on a synthesiser, with the intention being that the music would then be orchestrated by Peter Howell of the BBC Radiophonic Workshop, who was also handling the episode's incidental music. However, Howell largely retained the synthesised flavour of the demo, much to Levine and Trench's surprise.
John Black envisaged the opening title sequence as being in the vein of American action series
The director assigned to A Girl's Best Friend was John Black, who had completed the Doctor Who serials The Keeper Of Traken and Four To Doomsday during the past year. He was originally given two weeks of location filming, but this had to be cut in half when the length of the programme was abbreviated. Black's first order of business was to record the title sequence on November 12th; this took his team to the Gloucestershire communities of Miserden, Daneway, Sheepscombe, Wishanger and Bisley. Nathan-Turner envisaged this sequence as being in the vein of American action series such as Hart To Hart, featuring a lot of rapid intercutting. The final version of the titles was subsequently completed by Bob Cosford of the BBC Graphics Department.
The first day of filming on the episode itself was November 13th. This was based in Miserden, where the Miserden Park Estate Lodge served as the Traceys' cottage, and the Miserden Park Estate Nursery was the market garden. Roadway scenes were completed on the 14th, at Wishanger Farm and Miserden Park Estate. The next day, cast and crew visited the church ruins in North Woodchester, which posed as the site of the black magic rituals. November 16th involved recording at several venues: Barnsley House in Barnsley was Lavinia's home, while filming also took place at St Andrew's Church and a petrol station in Miserden, as well as at a crossroads in Sapperton (although this material was not used in the finished programme). Finally, on the 17th, recording was conducted at the post office and the police station in Bisley.
Only two studio days were required to complete A Girl's Best Friend. No space was available in London, so cast and crew instead repaired to the BBC's Pebble Mill studios in Birmingham, where the Doctor Who serial Horror Of Fang Rock had been recorded in 1977. Black chose to record the episode's remaining scenes in story order, roughly completing the first half on November 29th and the second half on the 30th. In the final scene, K·9 had been scripted as reciting While Shepherds Watch Their Flocks By Night, but in the event this was replaced by the more secular We Wish You A Merry Christmas.
A Girl's Best Friend was originally intended to air during Christmas week, on Monday, December 21st. However, much to Nathan-Turner's disappointment, the airdate was delayed by a week to December 28th at fairly short notice. To make matters worse, much of the Northwest was unable to watch the programme due to an outage at the Winter Hill transmitter. Despite these setbacks, A Girl's Best Friend nonetheless secured a respectable audience of 8.4 million viewers: better than any episode broadcast during Doctor Who's eighteenth season.
The idea of a spin-off series was formally abandoned around April 1982
Even still, it quickly became clear that K·9 And Company would not proceed to a full season. Another of the pilot's chief supporters, BBC1 Controller Bill Cotton, had recently left his position, to be replaced by Alan Hart. Hart was underwhelmed by the idea of a K·9 And Company series, and the project was formally abandoned around April 1982.
Nonetheless, the pairing of Sarah Jane Smith with K·9 was not completely forgotten. The two were seen together again two years later in The Five Doctors, a 1983 special celebrating Doctor Who's twentieth anniversary. In 2006, they returned to greater fanfare in the Doctor Who story School Reunion. This, in turn, lead to the commissioning of a fully-fledged Sarah Jane spin-off series, The Sarah Jane Adventures, which premiered on New Year's Day 2007. K·9 has continued to make cameo appearances opposite Sarah since then, but he has been withheld from taking on a regular role in The Sarah Jane Adventures due to the efforts of his cocreator, Bob Baker, to develop a series spotlighting K·9 himself. Featuring a mixture of live action and animation, plans currently call for The K·9 Missions to debut in 2009.
Doctor Who: The Eighties by David J Howe, Mark Stammers and Stephen James Walker (1996), Virgin Publishing, ISBN 1 85227 680 0.
Doctor Who Magazine Holiday Special 1992, "Archive: K·9 And Company" by Andrew Pixley, Marvel Comics UK Ltd.
Doctor Who Magazine Special Edition #9, 22nd December 2004, "Another One Bites The Dust" by Andrew Pixley, Panini Publishing Ltd.
In-Vision #53, October 1994, "Production" edited by Anthony Brown, Peter Anghelides and Justin Richards, Cybermark Services.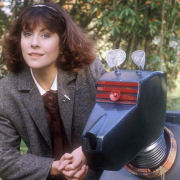 Original Transmission
Date
28th Dec 1981
Time
5.45pm
Duration
49'56"
Viewers

(more)

8.4m
---
Cast
Sarah Jane Smith
Elisabeth Sladen
Voice of K·9
John Leeson
Commander Pollock
Bill Fraser
Brendan Richards
Ian Sears
George Tracey
Colin Jeavons
Peter Tracey
Sean Chapman
Aunt Lavinia
Mary Wimbush
Juno Baker
Linda Polan
Lilly Gregson
Gillian Martell
Howard Baker
Neville Barber
Henry Tobias
John Quarmby
Sergeant Wilson
Nigel Gregory
PC Carter
Stephen Oxley
---
Crew
Written by
Terence Dudley
Directed by
John Black
Produced by
John Nathan-Turner
Title Music by
Fiachra Trench
Ian Levine
Arrangement & Incidental Music
Peter Howell
Special Sound
Dick Mills
Production Manager
Robert Gabriel
Production Associate
Angela Smith
Production Assistant
Yvonne Collins
Assistant Floor Manager
Sue Hedden
Film Cameraman
Michael Williams
Film Sound
Dave Brinicombe
Film Editor
Michael Lomas
Visual Effects Designer
Mat Irvine
Video Effects
Nick Moore
Vision Mixer
Mark Kershaw
Technical Manager
Barry Chatfield
Senior Cameraman
Phil Wilson
Videotape Editor
John Burkill
Property Buyer
Michael Preece
Graphic Designer
Bob Cosford
Studio Lighting
Barry Hill
Studio Sound
David Hughes
Costume Designer
Ann Arnold
Make-Up Artist
Susie Bancroft
Script Editors
Eric Saward
Antony Root
Designer
Nigel Jones
---
Working Titles
Sarah And K·9
One Girl And Her Dog