Serial 6A:
Black Orchid
The Doctor, Adric, Nyssa and Tegan find themselves in 1925 England, where through a case of mistaken identity they become involved in a charity cricket match at Cranleigh Halt. There, Nyssa discovers that Charles Cranleigh's fiancee, Ann Talbot, is her exact double. The Cranleighs harbour a dark family secret, however: a hideous monster hidden in a secret wing of their house. Fixated on Ann, it breaks out during a costume ball and attempts to kidnap her... but takes Nyssa by mistake.
For Doctor Who's eighteenth season, producer John Nathan-Turner had secured a budget for twenty-eight episodes -- two more than had previously been the norm. This meant that the year could consist solely of four-part stories, rather than incorporating a six-episode adventure as had been the tradition since the mid-Seventies; Nathan-Turner felt that serials of this length were no longer viable. Season Nineteen was originally planned to follow this format as well. Around the start of 1981, however, Nathan-Turner decided to use two of the episodes allocated to Season Nineteen to make a one-hour pilot for a proposed spin-off series, called K·9 And Company. This meant that he would now require a two-part story for Doctor Who -- the first time an adventure of this length had appeared in the programme's schedule since The Sontaran Experiment in 1975.
In February, script problems with "Project Zeta-Sigma", intended to be the premiere story for Season Nineteen, threw the Doctor Who production schedule into chaos. Fortunately, Terence Dudley had written his scripts for Four To Doomsday very quickly, meaning that it could be slotted into the recording order in place of "Project Zeta-Sigma". As a way of thanking Dudley, Nathan-Turner decided to commission from him a two-part story called "The Beast". Dudley had previously discussed this idea with former script editor Christopher H Bidmead around August 1980. At the time, Bidmead had been unimpressed with the notion of an Agatha Christie-style murder mystery because it did not fit the mold of strong, science-based storylines that he and Nathan-Turner wanted for Doctor Who.
Black Orchid was the first Doctor Who story without any science-fiction trappings since 1967
Nathan-Turner disliked Dudley's original title for his serial, so by February 9th, when formal permission was sought for Dudley to write the scripts, "The Beast" had become Black Orchid. Nathan-Turner liked the fact that Black Orchid (now designated Serial 6A) would put Nyssa in the spotlight; other Season Nineteen stories were already focussing on her fellow companions (Tegan in Kinda and Adric in "The Enemy Within", later replaced by Earthshock) and with so many regular characters, the producer felt that this would help the audience relate to each one. He was also keen on the fact that Black Orchid would be the first Doctor Who story without any science-fiction trappings at all since The Highlanders in 1967.
No Doctor Who producer had directed an episode of the programme since Barry Letts in the early Seventies. Nathan-Turner contemplated bucking this trend and directing Black Orchid himself, but by the summer his work on the remainder of the season, as well as K·9 And Company, precluded this. John Black -- who had just completed Four To Doomsday -- was then considered. However, Black was also assigned to direct K·9 And Company, and since this would go into production soon after Black Orchid was recorded, it was agreed that he could not feasibly helm both stories.
Instead, Nathan-Turner decided that, given its brevity, Black Orchid would be a good serial to assign to a novice director. Until becoming Doctor Who's producer, Nathan-Turner had worked as a production unit manager, and he was aware that one of his colleagues, Ron Jones, had recently completed the BBC's internal directors course. Jones had briefly worked in radio before moving into television as an assistant floor manager, and had directed some segments for Blue Peter. Black Orchid would be his first proper credit as a director.
The story which preceded Black Orchid into production was Castrovalva, and much of its location filming had taken place on the grounds of Buckhurst Park in Withyam, East Sussex. The cast and crew had been warmly welcomed by the estate's owner, Earl De La Warr, and so in late September, Nathan-Turner approached the Earl about using the main residence as Dalton Hall. The Earl was less eager to feature the house itself in Doctor Who, but ultimately consented on the condition that personal photography was strictly controlled.
Sarah Sutton was disappointed that Vanessa Paine, her double as Nyssa and Ann, did not resemble her more closely
First, however, Jones' team spent October 5th at Quainton in Buckinghamshire. The roadway material was filmed on Quainton Road, while the police station was actually an abandoned house on the same thoroughfare. Cranleigh Halt was in fact the Quainton Road Railway Station. Although Jones planned his shots to keep Nyssa and Ann Talbot from appearing together as much as possible, this was not always feasible. Vanessa Paine was therefore hired to double as either Nyssa or Ann depending on the requirements of the shot. Sarah Sutton was disappointed that the actress did not resemble her more closely.
The next four days were then spent at Buckhurst Park. On October 6th, the stunt in which George Cranleigh plummets off the roof went awry, with stuntman Gareth Milne missing his cushioned target and striking the ground with his legs. Fortunately, Milne was not hurt in the incident. Sutton and Janet Fielding were delighted to take part in the dance sequences, filmed on the 7th and 8th. Matthew Waterhouse was less enthusiastic, and suggested that Adric should be more interested in the food so that he would not have to participate in the choreography.
Black Orchid was accorded just two studio days: October 20th and 21st, in BBC Television Centre Studio 3. The first day dealt with all of the material in the TARDIS, Nyssa and Tegan's guest bedroom, the secret corridor and the small annexe, along with some scenes in the drawing room, George's cell, and the landing. These were completed on the 21st, together with sequences on the stairs, in the Doctor's guest bedroom, and in Ann's room. Unfortunately, taping on this day was badly delayed due to an industrial dispute by the electricians' union. Although Jones worked quickly and Nathan-Turner authorised a costly one-hour overrun, two scenes in Ann's bedroom, in which she is covertly watched by George, had to be abandoned. Jones subsequently tried to repair the damage by using shots of George which had been recorded the previous day. Nonetheless, Nathan-Turner was impressed by how Jones had handled such difficult circumstances, and immediately hired him to helm the season finale, Time-Flight, which had just lost its intended director.
Doctor Who: The Handbook: The Fifth Doctor by David J Howe and Stephen James Walker (1995), Virgin Publishing, ISBN 0 426 20458 9.
Doctor Who: The Eighties by David J Howe, Mark Stammers and Stephen James Walker (1996), Virgin Publishing, ISBN 1 85227 680 0.
Doctor Who Magazine #298, 13th December 2000, "Archive: Black Orchid" by Andrew Pixley, Panini Publishing Ltd.
Doctor Who Magazine Special Edition #1, 2001, "Prince Charming" by Andrew Pixley, Panini Publishing Ltd.
In-Vision #59, August 1995, "Production" edited by Anthony Brown, Cybermark Services.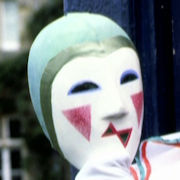 Original Transmission
Episode 1
Date
1st Mar 1982
Time
6.57pm
Duration
24'56"
Viewers

(more)

9.9m (57th)
Episode 2
Date
2nd Mar 1982
Time
7.04pm
Duration
24'41"
Viewers

(more)

10.1m (55th)
---
Cast
The Doctor
Peter Davison
Adric
Matthew Waterhouse
Nyssa
Sarah Sutton
Tegan
Janet Fielding
Ann
Sarah Sutton
Lady Cranleigh
Barbara Murray
Sir Robert Muir
Moray Watson
Lord Cranleigh
Michael Cochrane
Brewster
Brian Hawksley
Tanner
Timothy Block
Latoni
Ahmed Khalil
Charles Cranleigh
Gareth Milne
Sergeant Markham
Ivor Salter
Constable Cummings
Andrew Tourell
---
Crew
Written by
Terence Dudley
Directed by
Ron Jones
Produced by
John Nathan-Turner
Incidental Music
Roger Limb
Special Sound
Dick Mills
Production Manager
Jim Capper
Production Associate
Angela Smith
Production Assistant
Juley Harding
Assistant Floor Manager
Val McCrimmon
Film Cameraman
Peter Chapman
Film Sound
Ron Blight
Film Editor
Mike Houghton
Visual Effects Designer
Tony Auger
Video Effects
Dave Chapman
Vision Mixer
Carol Johnson
Technical Manager
Alan Jeffery
Senior Cameraman
Alec Wheal
Videotape Editor
Rod Waldron
Studio Lighting
Fred Wright
Studio Sound
Alan Machin
Costume Designer
Rosalind Ebbutt
Make-Up Artist
Lisa Westcott
Script Editor
Eric Saward
Title Sequence
Sid Sutton
Designer
Tony Burrough
---