Serial 4V:
Horror Of Fang Rock
The TARDIS materialises near a lighthouse on an island in the English Channel, where a boat carrying several high-society passengers has just capsized. The lighthouse itself has suffered mysterious energy drains and the death of one of its technicians. The Doctor and Leela discover that a shapeshifting Rutan has infiltrated the island and is about to summon its mothership to Earth. As the lighthouse's occupants are killed off one by one it appears that, this time, the Doctor may be too late to save anyone.
One of the first writers approached by Robert Holmes to contribute to Doctor Who's fifteenth season was Terrance Dicks, Holmes' predecessor as the programme's script editor. Dicks' last Doctor Who adventure had been Season Thirteen's The Brain Of Morbius, which had experienced some growing pains to bring it in line with Holmes and former producer Philip Hinchcliffe's more gothic vision of the series. In the hope of conceiving a story idea that would be more to Holmes' liking, Dicks drew on some elements of a rejected vampire serial called "The Haunting" he had submitted in 1974. The result was a new storyline entitled "The Witch Lords", which was in development by the end of November 1976.
Dicks' adventure was commissioned under the title "The Vampire Mutation" on January 11th, 1977. Although it was favoured to be the first story of Doctor Who's fifteenth season, it was intended to be made second after The Invisible Enemy, and so was designated Serial 4U. When script delays arose on The Invisible Enemy in late January, the production slate was brought into line with the planned transmission schedule, with "The Vampire Mutation" now leading off Doctor Who's fifteenth recording block.
The Vampire Mutations was abandoned for fear that it would be seen as a parody of the BBC's forthcoming Dracula adaptation
In February, however, calamity struck: Holmes and producer Graham Williams were informed by Head of Drama Graeme McDonald that "The Vampire Mutation" should be abandoned, due to fears that it would be viewed as a parody of the BBC's prestigious forthcoming adaptation of Bram Stoker's novel Dracula. With no replacement script immediately available, this forced The Invisible Enemy back into the first slot of the recording schedule.
Nonetheless, Holmes was still eager to involve Dicks in Season Fifteen, and the writer was agreeable to supplying a new script at very short notice. Holmes suggested a story involving a small number of characters and sets based around a lighthouse, offering Wilfrid Gibson's 1912 poem Flannan Isle as suitable inspiration. The poem itself was based upon true events which occurred in 1900, when a supply ship discovered that the lighthouse crew on the Flannan Isles in the Outer Hebrides had vanished without a trace. Dicks also recalled Ray Bradbury's 1951 short story The Fog Horn, about an aquatic dinosaur which has survived in the ocean's depths but is attracted by the call of a lighthouse's fog horn.
By early March, Dicks had prepared a treatment entitled "Rocks Of Doom", which he quickly began turning into full scripts (these were retroactively commissioned on March 29th). Several character names were changed in the process: Joshua Crockett became Reuben, Davy Williams became Vince, Lord Peach-Palmer became Lord Palmerdale, and Herbert Burkin became Harker. Skinsale's first name changed from John to Jimmy, while Adelaide's surname went from Couchon to Lessage. One character -- Skinsale's wife, Veronica -- was deleted entirely.
Holmes suggested that the monster in the story should be a Rutan; these aliens had previously been described as the Sontarans' eternal foe in Holmes' own The Time Warrior (which had been script edited by Dicks). Holmes also asked Dicks to include the sequence in which Leela's eyes change from blue to brown. Williams had promised this development to Louise Jameson when she signed her contract for Season Fifteen, because she found her coloured contact lenses to be very uncomfortable.
Dicks worked quickly, completing his scripts by the end of March. In the interim, new titles such as "The Monster Of Fang Rock" and "The Beast Of Fang Rock" were apparently considered, before Horror Of Fang Rock was finally selected. This was now referred to as Serial 4V (since the "4U" code had been dropped to avoid confusion in production paperwork).
There was no space available at BBC TV Centre, so Horror Of Fang Rock would be made at Pebble Mill in Birmingham
Having originally been contracted for "The Vampire Mutation", the director assigned to Horror Of Fang Rock was Paddy Russell, returning to Doctor Who after a two-year absence since Pyramids Of Mars. Unfortunately, Russell felt that Horror Of Fang Rock was a much poorer story than Dicks' original effort, and was particularly underwhelmed by the lighthouse locale. Not only would this mean dealing with a lot of curved sets (which made filming laborious), but the exterior walls of the lamp room -- in which much of the action took place -- would have to be largely glass and hence transparent, with a background achieved via Colour Separation Overlay, limiting Russell even further.
Meanwhile, yet another problem arose when it was discovered that there was no space available at BBC Television Centre to record Horror Of Fang Rock. Ultimately, it was decided to record the serial at Pebble Mill in Birmingham, marking the first time in Doctor Who history that studio taping had taken place outside London. However, this move aroused concern in several members of the crew: Doctor Who would be by far the most ambitious drama production ever staged at Pebble Mill, and would even require the installation of new equipment.
First, though, model filming took place on the Visual Effects Department Model Stage in London between April 26th and May 2nd, followed by filming of the scenes on the rocks at the Ealing Television Film Studios from May 4th to 6th. Rehearsals for Horror Of Fang Rock marked a turning point in the relationship between Tom Baker and Louise Jameson. To date, Baker had been quite dismissive of his costar, both because he felt that Leela's violent tendencies were inappropriate for Doctor Who, and because he did not want to be saddled with a companion of any sort. By now, Jameson had been on Doctor Who long enough that she began to stand up for herself and her character, and this led to Baker finally apologising for his attitude towards her.
Also in a state of evolution at this point was the Doctor Who production team. Holmes had originally considered departing at the end of Season Fourteen, but Williams had persuaded him to stay on for six extra months. By the end of April, Holmes had confirmed to Williams that he still intended to leave as scheduled. As his replacement, Holmes first suggested his own predecessor: Dicks himself, who was not interested in returning to the Doctor Who production office full-time.
The Pebble Mill staff were keen to attract productions away from London, and made an exceptional effort to be helpful
Holmes then recommended Anthony Read, a longtime acquaintance of both himself and Williams who had recently approached the Doctor Who production office about contributing to the series. Read was a former producer and script editor on programmes such as The Troubleshooters, and had also written for Sutherland's Law and Z Cars. Graeme McDonald was interested in bringing Read back into the BBC fold, and script editing Doctor Who proved to be just the lure McDonald needed. In early May, Read agreed to handle the final serials of the current season, as well as the entirety of Season Sixteen.
Meanwhile, good news finally greeted Horror Of Fang Rock as cast and crew arrived in Birmingham. Despite the misgivings about Pebble Mill's ability to handle Doctor Who, Russell and her team quickly discovered that the studio's lack of pedigree was a blessing in disguise. The Pebble Mill staff were keen to attract even more productions away from London, and consequently made an exceptional effort to be as helpful and efficient as possible -- even stealing cameras from an adjacent studio to ensure that one sequence was recorded the way Russell wanted.
The first studio block took place on May 25th and 26th, covering episodes one and two, respectively. This was followed by a three-day session from June 7th to 9th. The first day dealt with part three, while the final installment was recorded across the remainder of the block. June 9th was also used for various special effects sequences, as well as the point-of-view shots of the lamp room in part two. Unfortunately, the inadequacies of Pebble Mill became particularly obvious during the final day of recording. Colour Separation Overlay had only rarely been used at Pebble Mill in the past but was employed liberally throughout Horror Of Fang Rock. Consequently, there were numerous delays in completing these shots, causing many tempers to fray on set.
In addition to all of the technical and logistical difficulties on Horror Of Fang Rock, Russell had also developed a tense relationship with Baker and Jameson, who found the director too uncompromising. Exhausted and frustrated after the serial's completion, Russell vowed never to work on Doctor Who again; the debut installment of her final Doctor Who serial rang in Season Fifteen on September 3rd. Russell went on to helm episodes of The Omega Factor (with Jameson), Emmerdale Farm and other programmes before retiring from television in the early Eighties. She passed away on November 2nd, 2017.
Doctor Who: The Handbook: The Fourth Doctor by David J Howe, Mark Stammers and Stephen James Walker (1992), Virgin Publishing, ISBN 0 426 20369 8.
Doctor Who: The Seventies by David J Howe, Mark Stammers and Stephen James Walker (1994), Virgin Publishing, ISBN 1 85227 444 1.
Doctor Who Magazine #319, 24th July 2002, "Archive: Horror Of Fang Rock" by Andrew Pixley, Panini Publishing Ltd.
Doctor Who Magazine Special Edition #8, 1st September 2004, "Nobody Does It Better" by Andrew Pixley, Panini Publishing Ltd.
In-Vision #24, May 1990, "Production" edited by Justin Richards and Peter Anghelides, Cybermark Services.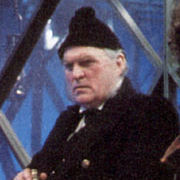 Original Transmission
Episode 1
Date
3rd Sep 1977
Time
6.18pm
Duration
24'10"
Viewers

(more)

6.8m (52nd)
Appreciation
58%
Episode 2
Date
10th Sep 1977
Time
6.15pm
Duration
24'10"
Viewers

(more)

7.1m (51st)
Episode 3
Date
17th Sep 1977
Time
6.18pm
Duration
23'12"
Viewers

(more)

9.8m (23rd)
Appreciation
60%
Episode 4
Date
24th Sep 1977
Time
6.16pm
Duration
23'49"
Viewers

(more)

9.9m (28th)
Appreciation
57%
---
Cast
Doctor Who
Tom Baker
Leela
Louise Jameson
Reuben
Colin Douglas
Vince
John Abbott
Ben
Ralph Watson
Lord Palmerdale
Sean Caffrey
Skinsale
Alan Rowe
Harker
Rio Fanning
Adelaide
Annette Woollett
---
Crew
Written by
Terrance Dicks
Directed by
Paddy Russell
Produced by
Graham Williams
Incidental Music by
Dudley Simpson
Title Music by
Ron Grainer and
the BBC Radiophonic Workshop
Title Sequence by
Bernard Lodge
Production Assistant
Peter Grimwade
Production Unit Manager
John Nathan-Turner
Lighting
Bob Gell
Sound
David Hughes
Film Cameraman
John Walker
Visual Effects Designer
Peter Pegrum
Special Sound
Dick Mills
Costume Designer
Joyce Hawkins
Make-up Artist
Jackie Hodgson
Script Editor
Robert Holmes
Designer
Paul Allen
---
Working Titles
Rocks Of Doom
The Monster Of Fang Rock
The Beast Of Fang Rock